Tesla Supercharger Report
in Carlsbad, California, which went live on 17 Aug 2021, 16 V3 stalls;
Compared to adjacent EVgo charger; Compared to home charging.
January 5, 2023
Photos and text by Carl Morrison,
Carl@TeslaTouring.com
http://teslatouring.net/CarlsbadSupercharger2022/
---
---
We vacation at Tamarack Beach Resort in Carlsbad, California, each New Year's week.

We have always taken advantage of the nearby Tesla Supercharger on El Camino Real, about 6.8 miles from the resort. However, in checking this year how to get back there to charge, I noticed a second Tesla Supercharger in Carlsbad 10 minutes away on Paseo Del Norte, commonly known as being at "the Flower Fields" or the "Carlsbad Premium Outlets".
The new Tesla Supercharger
Carlsbad, CA - Paseo Del Norte Tesla Supercharger description from Tesla.com
(Click any image for a larger copy; Click Back in your browser to return to this report.)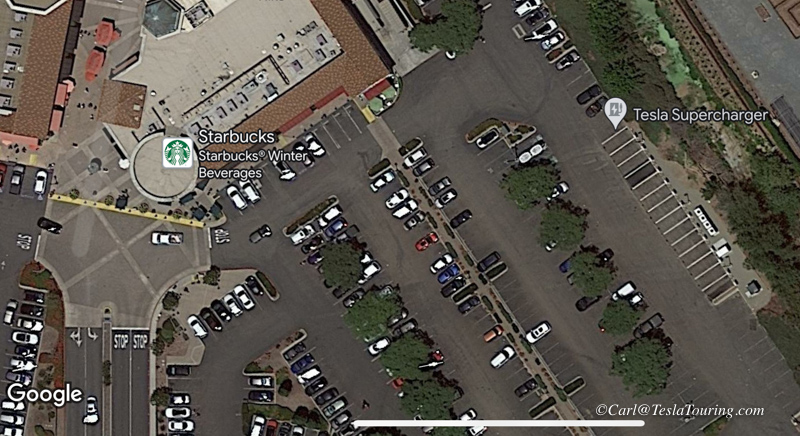 Carlsbad, CA - Paseo Del Norte Tesla Supercharger Google Maps view.

This new Tesla Supercharger is located in the Carlsbad Premium Outlets, next to the Flower fields at 5620 Paseo De Norte. The location ID says 16 Supercharger cabinets, but only 14 are visible. The other 2 are to the left of where I was when I took this photo.


It opened about 17 August 2021 and is very popular, being right off I-5 between San Diego and Orange County, California. When I pulled in (above) it seemed full but before I could take a photo, the waiting Tesla in front of me found a place and the blue Tesla on the right pulled out. I finally went to the charger where the black Tesla is pulling out.
I like to see how fast the maximum charge speed is when I plug in. Since this was a V3 Supercharger, I anticipated a fast charge. You may not be able to see in the screen shot above right, but this is the best speed that I observed at this charger for my Model 3:

Charging at 585 miles per hour! When people ask, "How long does it take to charge on the road" I usually say, "About 15 minutes." since thats about 146 miles of charge. I can hardly get to the restroom and/or coffee shop and back in that amount of time at my age!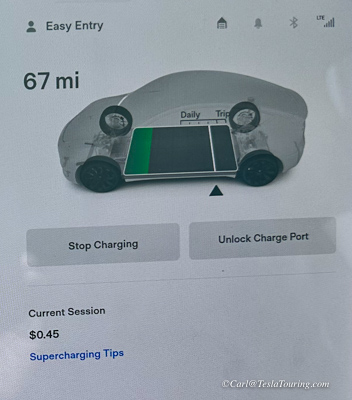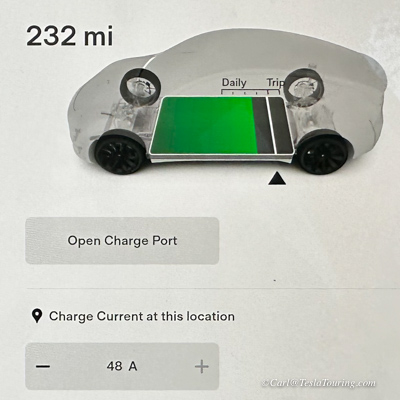 Screen shots of my charging session. The invoice at the end of the session showed I spent 15¢ per mile of charge. At home I spend 0¢ per mile since I have solar that covers all my electrical expenses.
My invoice for the charging session. $ .60 /kWh is very high. Perhaps because it was a V3 or"Very Busy" or midday.
Charge Rates for different Tesla Models.
The Superchargers as I walked to nearby Starbucks.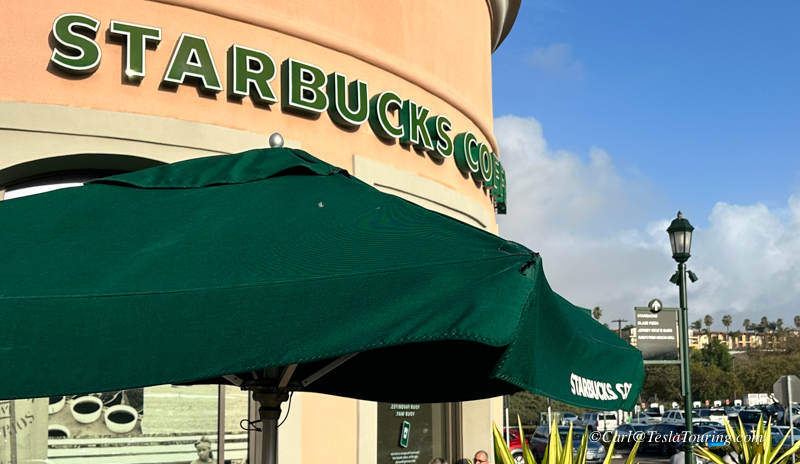 You can see the Tesla Superchargers (lower right) from the Starbucks at the Premium Outlets.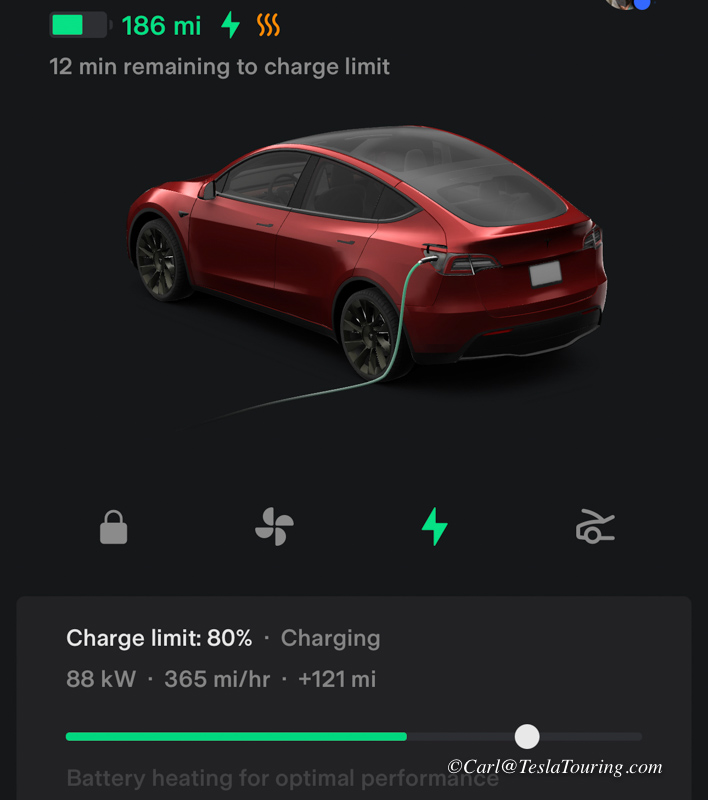 From your iPhone Tesla App, you can watch the progress of your charging session. At busy Tesla Chargers, like this one in Carlsbad, you will be asked to limit your charge to 80% to avoid "idle fees". I have found that if I am away from my Tesla and I get the warning that it is time to continue my trip to avoid idle fees, I simply raise the charge limit and go unplug the car. The "bacon" heating image right of the 186 mi at the top of the screen might mean the battery is heating to increase the rate of charge. When I input my destination as a charging station, I usually see a message such as, "Preparing batter for charging." before I arrive at the charging station.
On the way back to my car, I took note of the two non-Tesla chargers nearby (right above).
There was a Ford Mustang Mach-E charging at the EVgo chargers.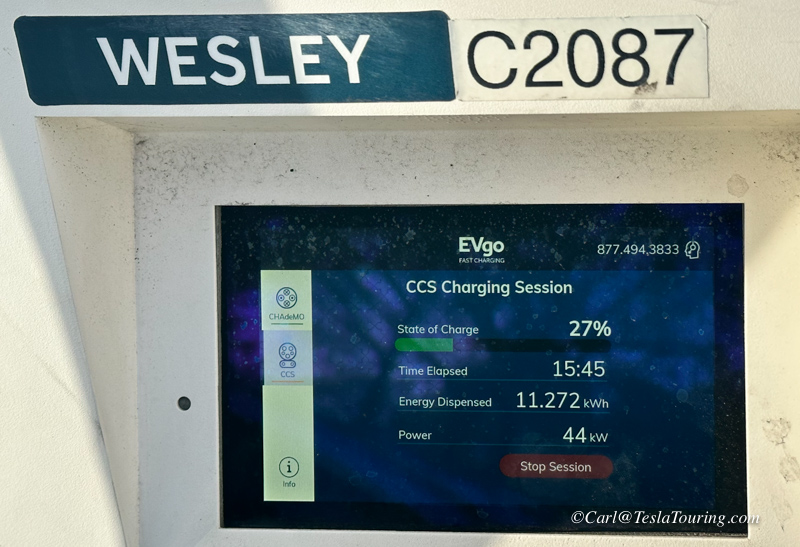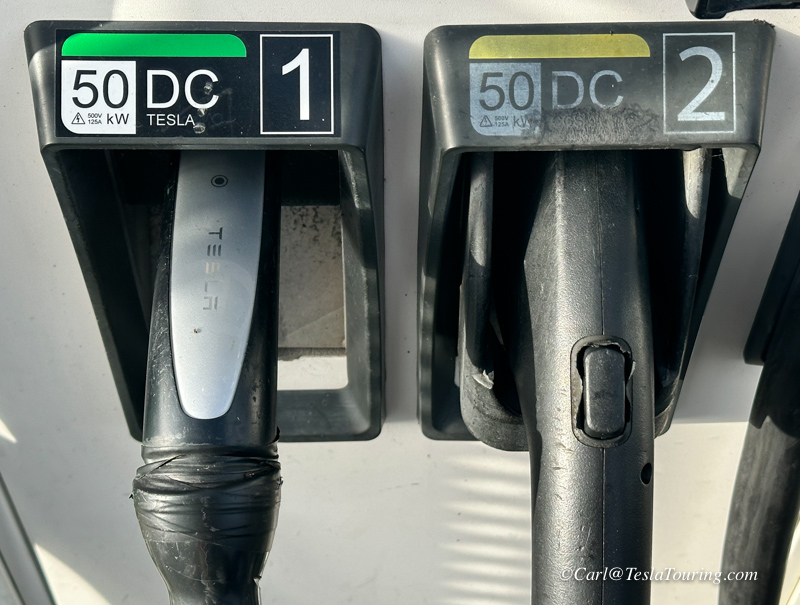 (Click any image for a larger copy; Click Back in your browser to return to this report.)

I don't know if you can calculate from the screen on the left above how fast this EVgo cabinet charges. I did note that they had a Tesla charging nozzle that was DUCT TAPED to one of the cable which was labeled 50 kW. I did not create an account to see how fast it charged and for what price.
50 kW is slower than the oldest/slowest Tesla Supercharger. Version 1 Tesla Superchargers are 72kW, V 2 are 150kW, and the current V3 is 250 kW. The 16 Tesla Superhargers steps away are 250 kW in power.
EVgo had this temporary information about making a "reservation"?
Their website says their "fast chargers can charge EVs in as little as 15 to 45 minutes. Coming Soon!" (But not yet?)
From: https://www.evgo.com/ev101/
According to their website, the highest rate would be $ .64 per kWh before 4 pm; $ .55 between 4 and 9 pm in San Diego Area. PLUS a $3 Reservation fee and $ 1 per month.
From: https://www.evgo.com/pricing/tou/california/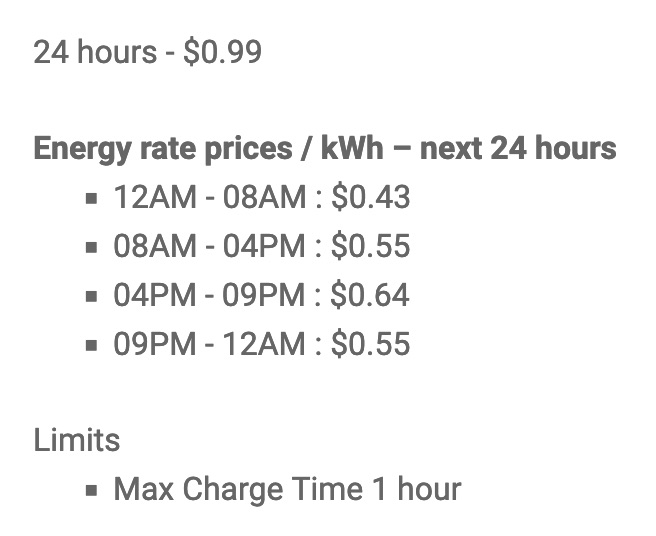 Rates for "Wesley" at:
https://account.evgo.com/findCharger?33.1249660,-117.3195070,19z,WESLEY,267st,268sk#

Therefore, my EV charge at slower EVgo could have been $ 27 to $30.88, if it worked and wasn't occupied.


Typically, 92% of EV owners charge at home, as we do above. My using a Tesla Supercharger comes on trips along I-5 to vacations in San Diego County, California, and trips on California Highway 395 to Reno, Nevada, from our home in Placentia, Orange County, California.

This is the in-car statistics of the Model 3 showing that I saved $111 in the last 31 days by using electricity over gasoline.
---
[
Top of this Report
|
Other TeslaTouring.com Reports by Carl Morrison
| Slideshow ]
Comments welcomed:
Carl@TeslaTouring.com
or on our
Facebook Page