Aptera Headquarters Tour, Carlsbad, California


Electric Vehicle Association (EVA) Annual Meeting January 28, 2023


Photos and Report by Carl Morrison, Carl@TeslaTouring.com

http://teslatouring.net/EVAptera2023/

---
The Electric Vehicle Association (EVA) announced that their 2023 Annual Meeting would take place at the Aptera Headquarters in nearby Carlsbad, California. I immediately joined EVA for $55 allowing me to attend their meeting on January 28, 2023.
This report on the tour of the Aptera "Autocycle" Headquarters includes: Photos of the Aptera vehicle "SOL" and other versions in its development; Videos of Jay Leno's and Sandy Munro's evaluation of the Aptera; and The Keynote address of Aptera CEO Chris Anthony at the EVA Annual Meeting.

(Click on any image for a larger copy; Click BACK to return to this report.)
The Annual Meeting was from 1 to 4 pm
.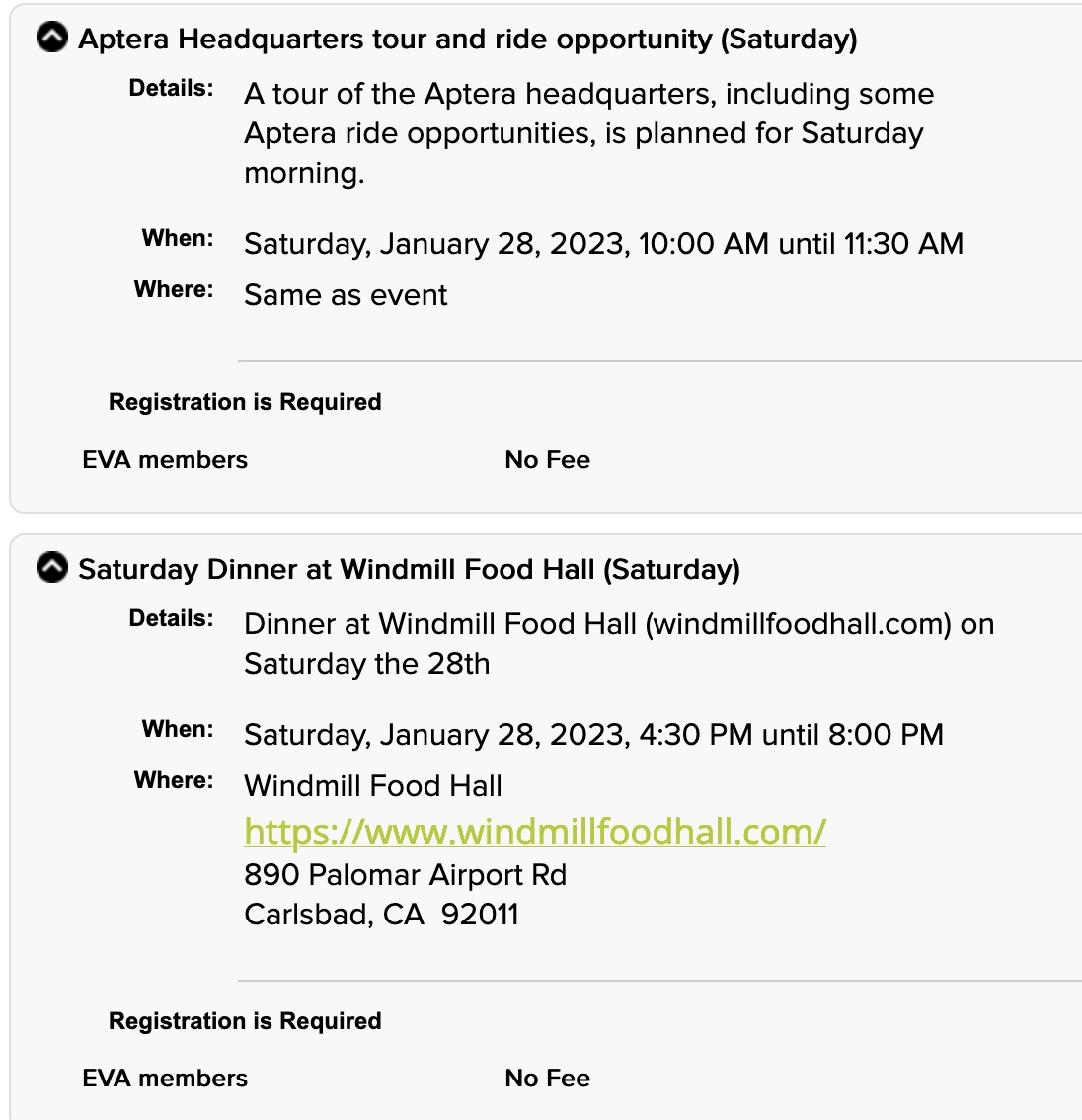 Before the annual meeting was a tour of Aptera and opportunity for a ride (above),
and a dinner in the evening.

What is Aptera?
Aptera will create the most efficient transportation on the planet. We achieve this by leveraging breakthroughs in battery efficiency, aerodynamics, material science, and manufacturing.
Aptera's Launch Edition vehicle is the first product in a portfolio of Solar Electric Vehicles (sEVs) being produced by Aptera Motors that are powered by the sun and won't need charging for most daily use. We are an efficiency-obsessed brand offering an array of safe, comfortable, and fun-to-drive vehicles. Through innovation and intelligent efficiency, we pride ourselves on our creative solutions to problems previously thought impossible.
Aptera is 14.8 ft long (4.55 m), 7.3 ft (2.23 m) wide, and 4.6 ft (1.4 m) high. Aptera has 32.5 cubic feet of luggage capacity.
You can plug Aptera in like any other electric vehicle to get up to 1,000 miles in range on a single charge. We offer 250, 400, 600, and 1,000-mile battery packs. The built-in solar power is an added bonus— adding up to 40 miles a day of range powered by the sun that trickles down to charge your battery pack and top off any electric charge.
Aptera pricing is between $25,900 to $46,000+ depending on range and options.
From: https://aptera.us/faq/

My guess is that the 1,000-mile battery pack with solar panels will be at the $46,000 end of the price range.

Meet Delta, our production-intent vehicle design. For the first time, we're showcasing the union of the continuous improvements we made throughout our Alpha, Beta, and Gamma development phases. This is important, because Delta will pave the way for the Launch Edition Aptera: our first and most exclusive vehicles we'll start production on.
In 2023 the Aptera team will begin systems integration and build Delta vehicles of various forms to be used for validation and crash testing. Once the crash testing and validation stages are complete, we will begin production of our Launch Edition vehicles.
From: https://youtu.be/PQuLuHzR52M


About the solar panels on the Aptera above.

Click Here for a Video of the unveiling of newest model of Aptera in San Diego in 2022.


---

Tour of Aptera Headquarters

Attending Member's Vehicles


(Click on any image for a larger copy; Click BACK to return to this report.)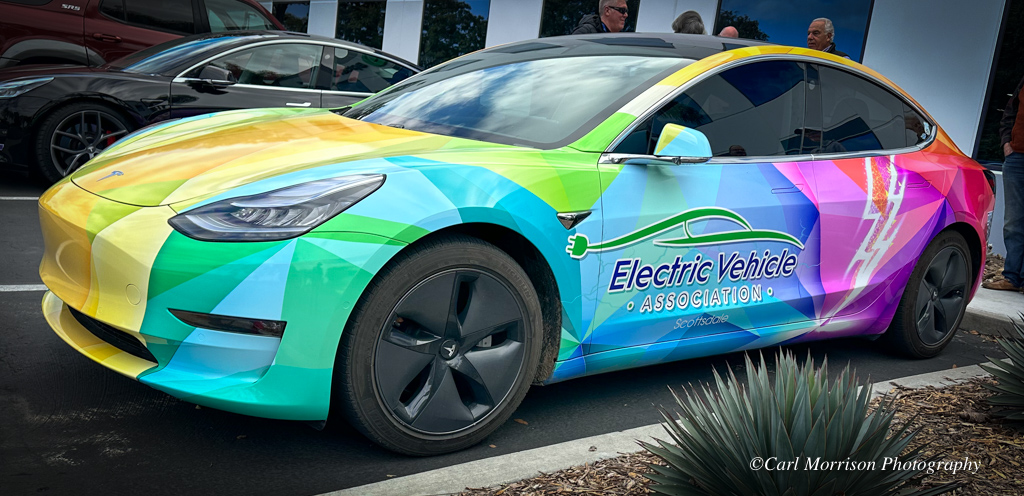 Tesla Model 3 of the San Diego Electric Vehicle Association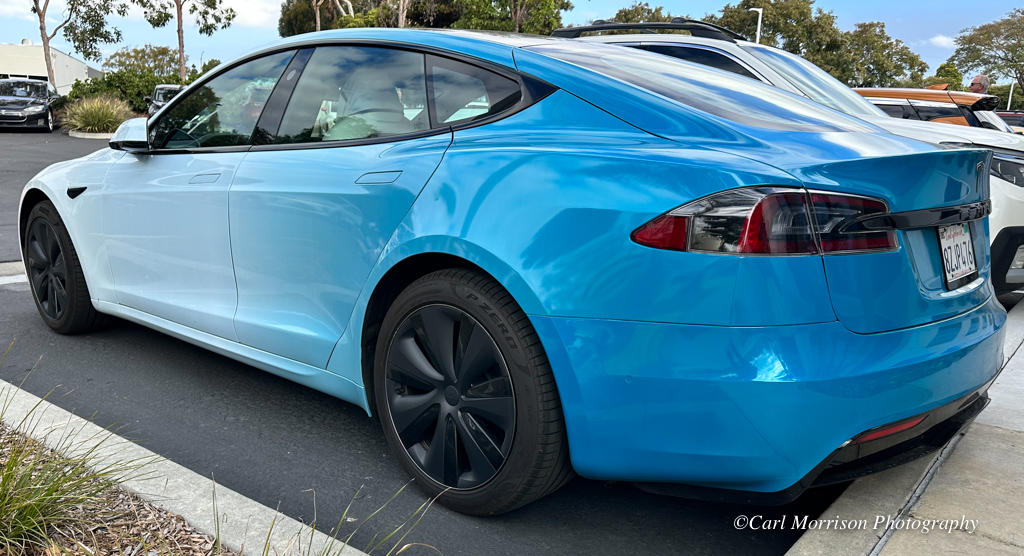 A Tesla Model S owned by another EVA member.



Member's Polstar 2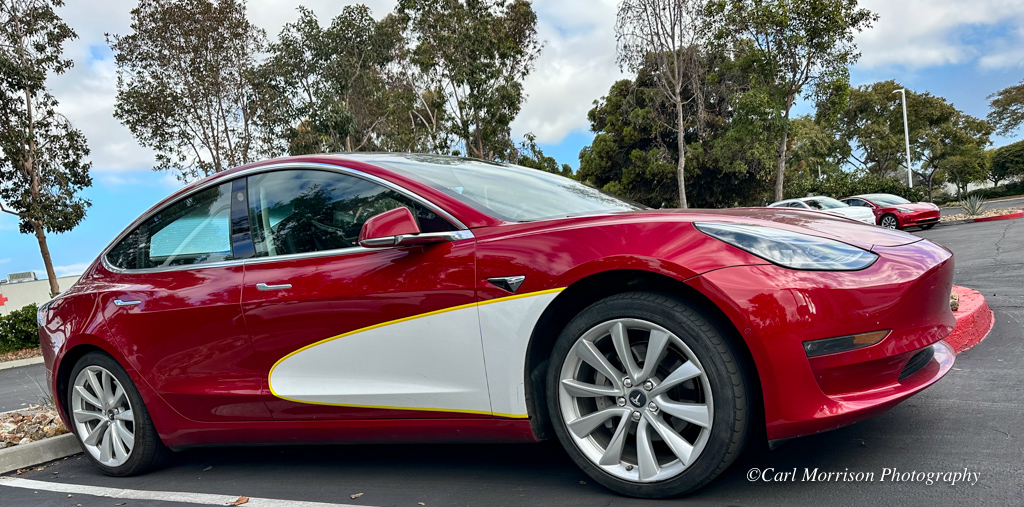 This member's EVRANDY Tesla Model 3 sported a corvette side paint scheme.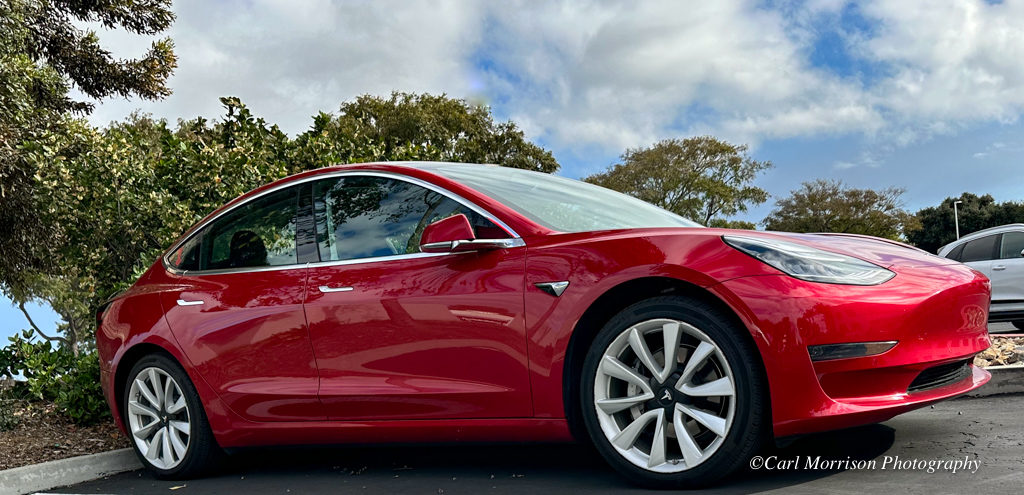 My PHOTO MO Tesla Model 3, first outing as Electric Vehicle Association member.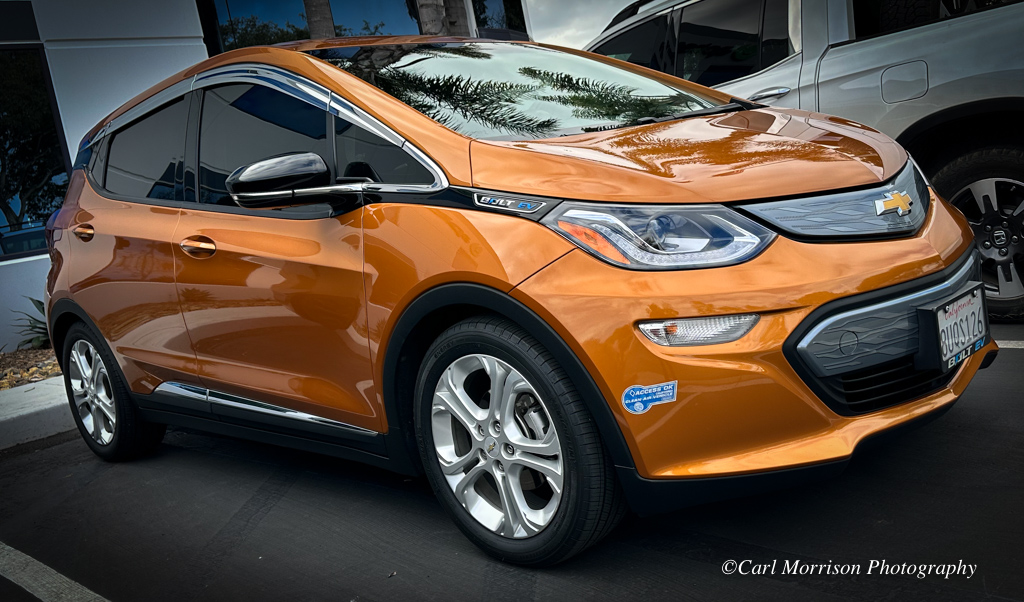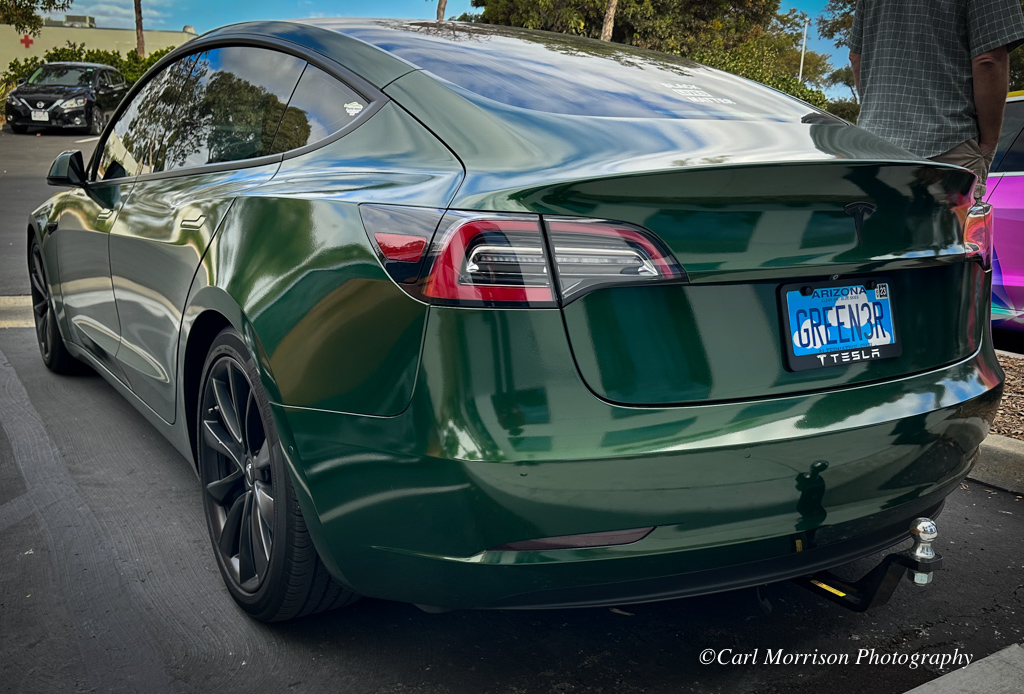 Chevy Bolt, above left, and Tesla Model 3 GREEN 3R from Arizona, right.



Above left, Tesla Model X SUN SUV. Above right, even a one-wheel Electric Vehicle used by one arriving member.



This Honda Ridgeline hybrid pickup from Tucson was all in with EVA and Aptera stick ons.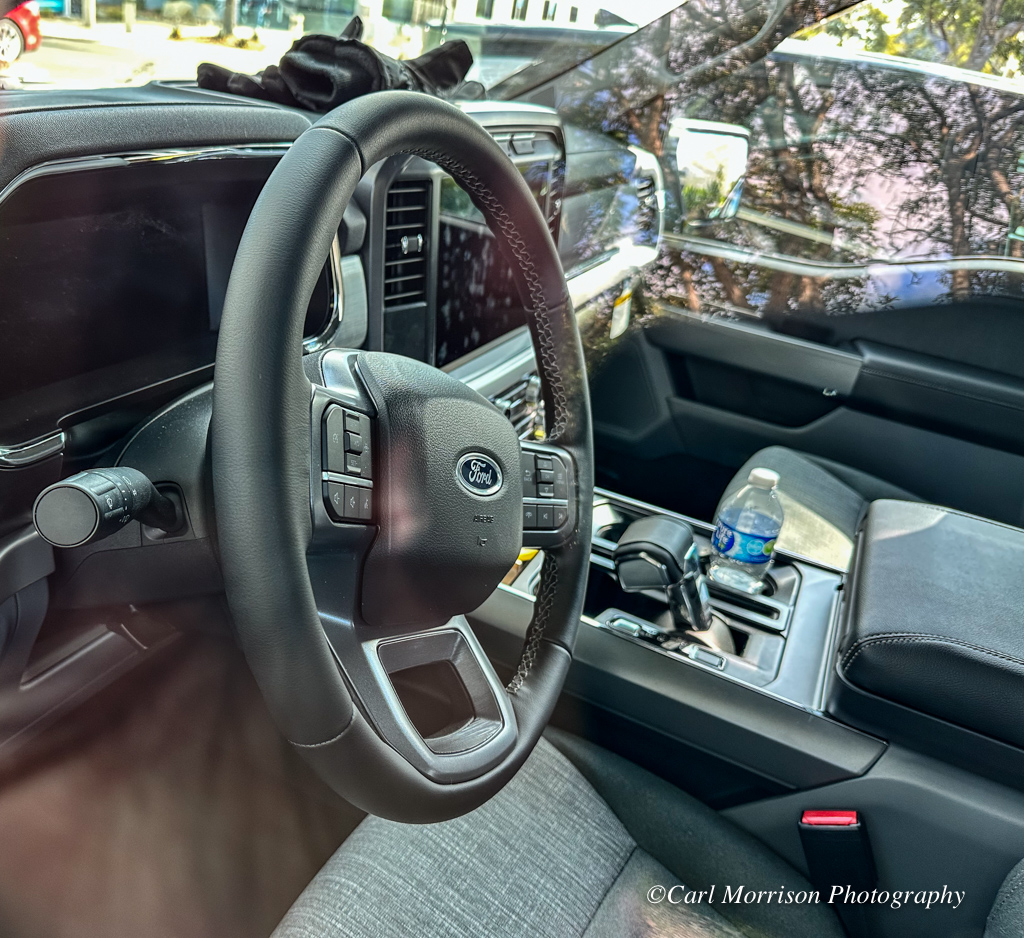 For Lightning Electric Pickup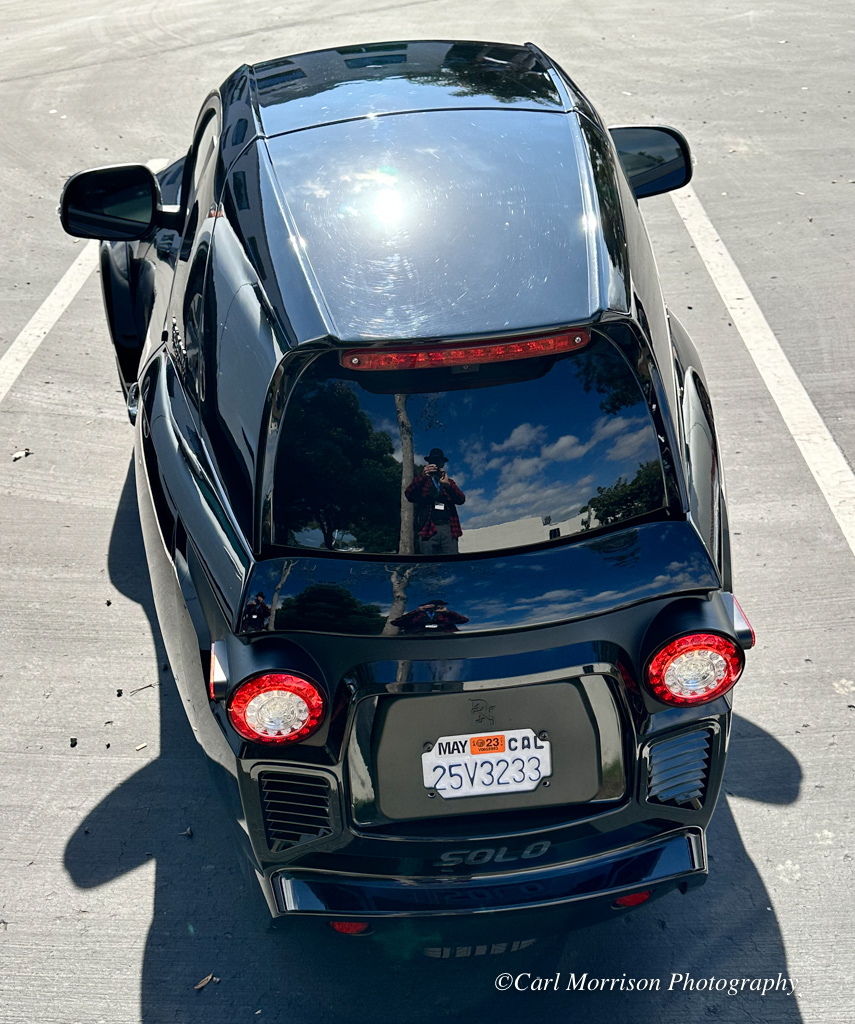 Solo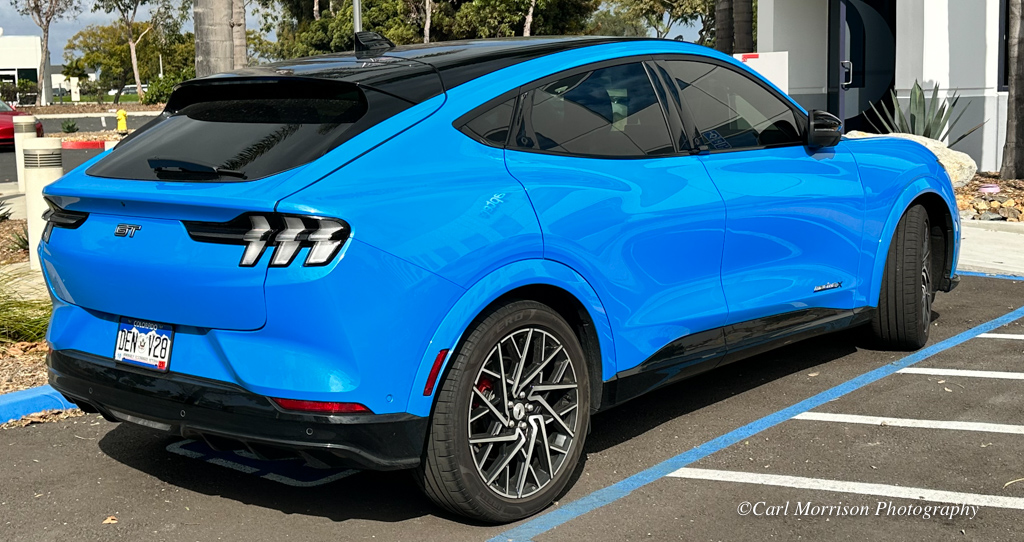 Inside Aptera Headquarters, where production will take place, EVA meeting setup.




Where the production line will take place.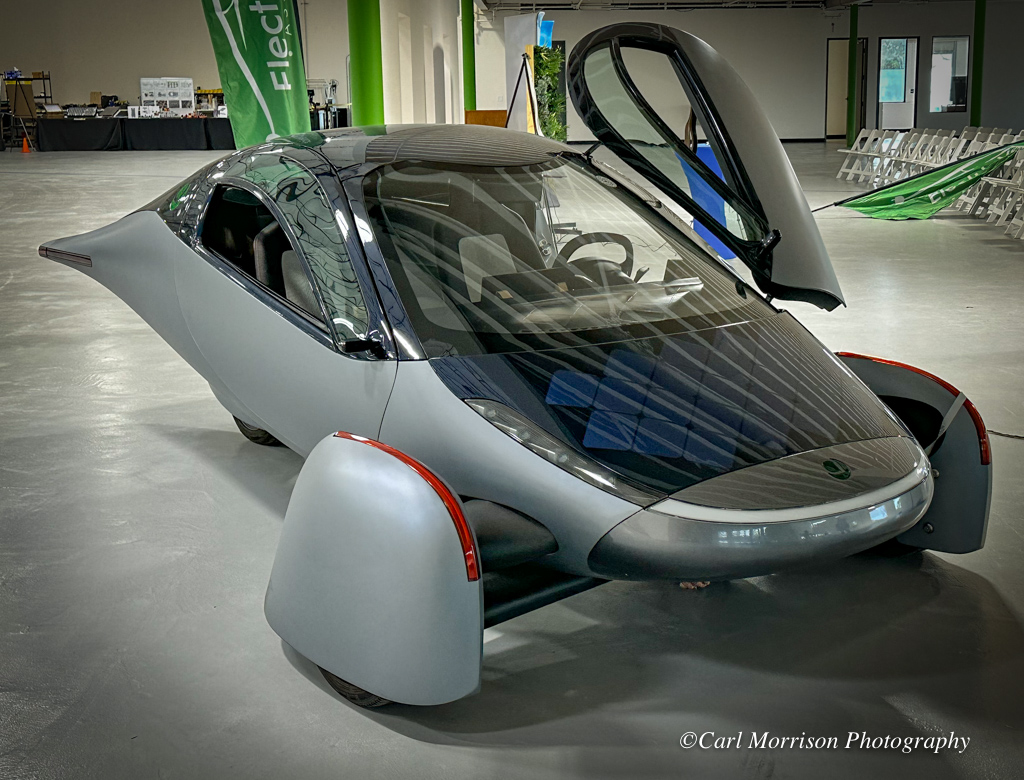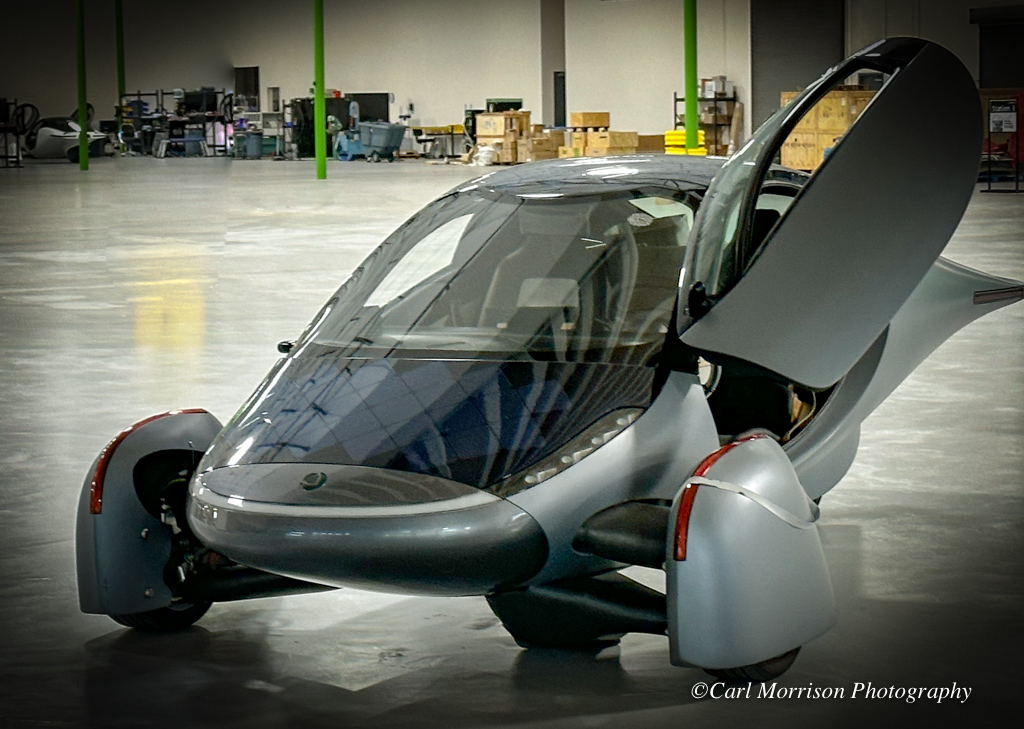 The newest Aptera "Gamma" next to our meeting area was open to try for size.

Aptera is 175 inches long, 88 in. wide, 53.5 in tall, and it has a 109 in wheelbase.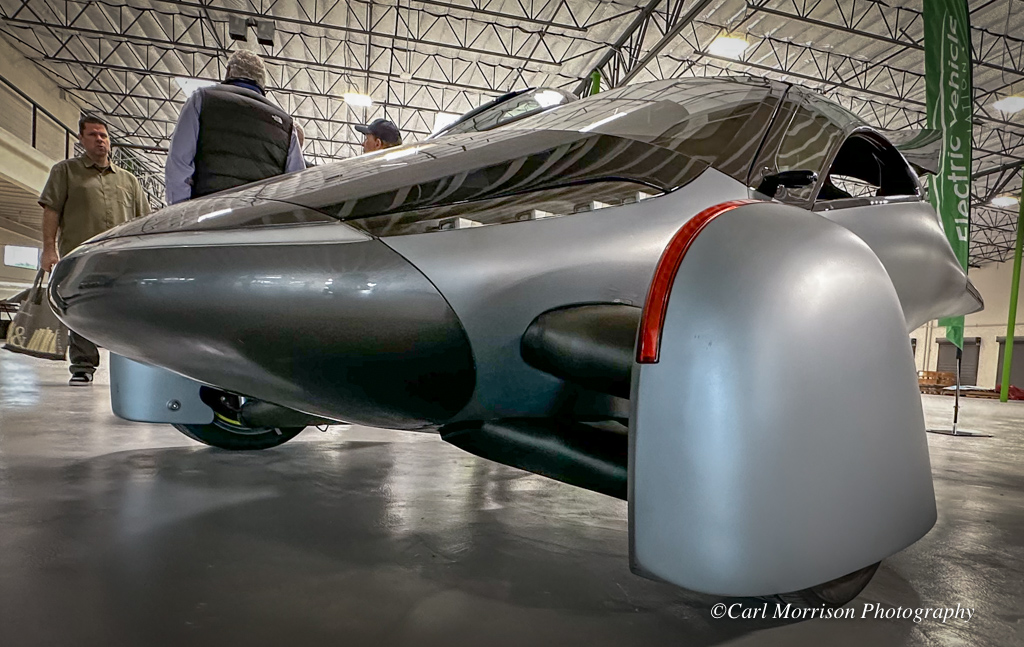 CEO Chris Anthony, left above, said the current model, above, had a longer, lower nose.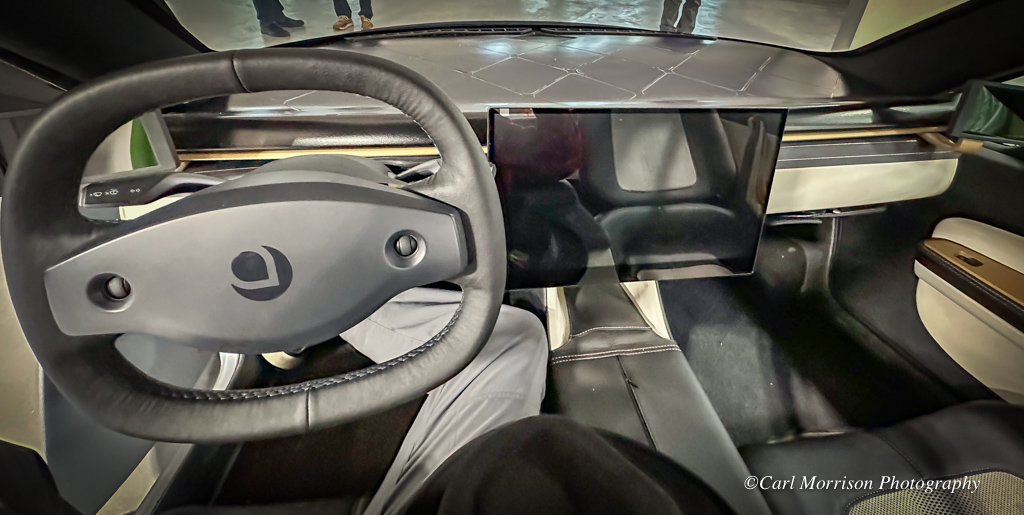 (Click on any image for a larger copy; Click BACK to return to this report.)

Interior of the current (2023) version of the Aptera.



US Auto Regulators do not allow outside cameras (left) instead of side mirrors.
The image from the outside rear view camera is projected on the inside screen, above right.



View from the open back hatch of the two seats and the dash, with my reflection on the screen.



Solar panels on four sections of the Aptera. Front hood above.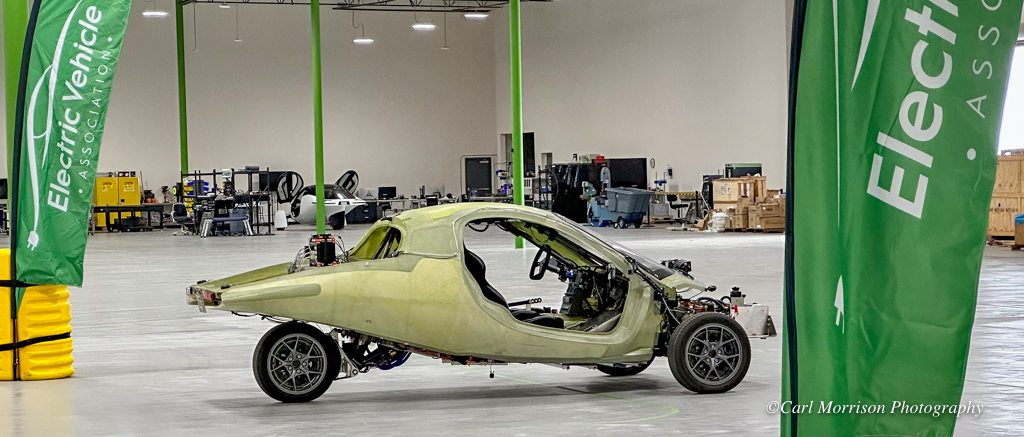 This Aptera was used for rides by attendees.




"Bare Bones Aptera"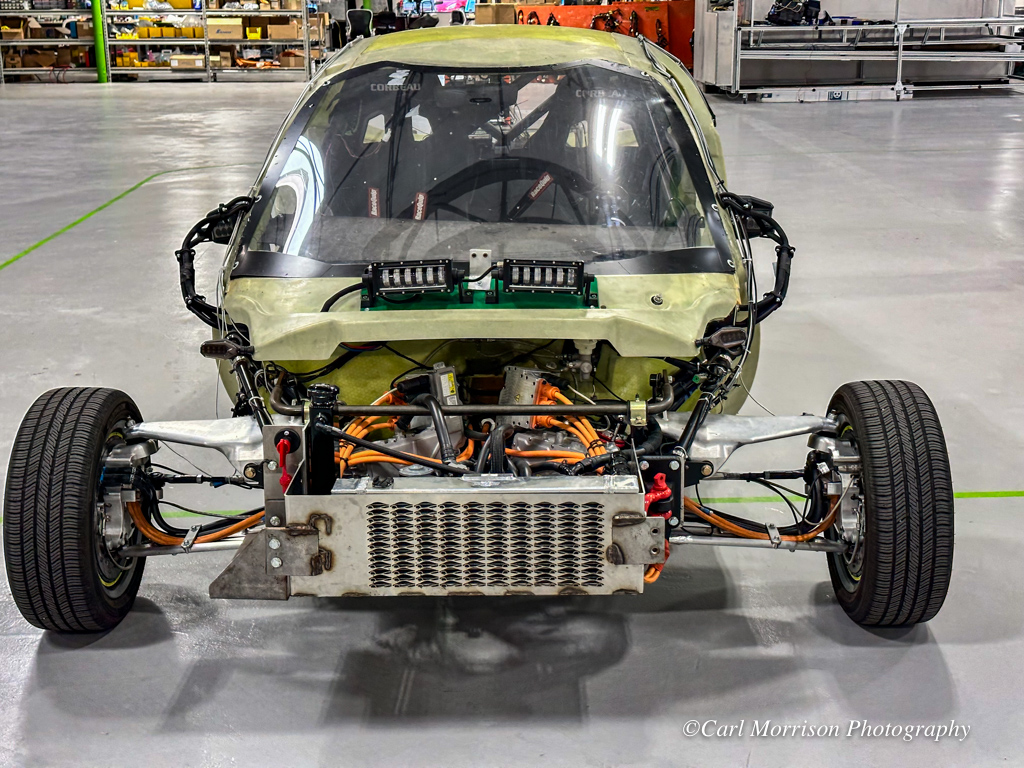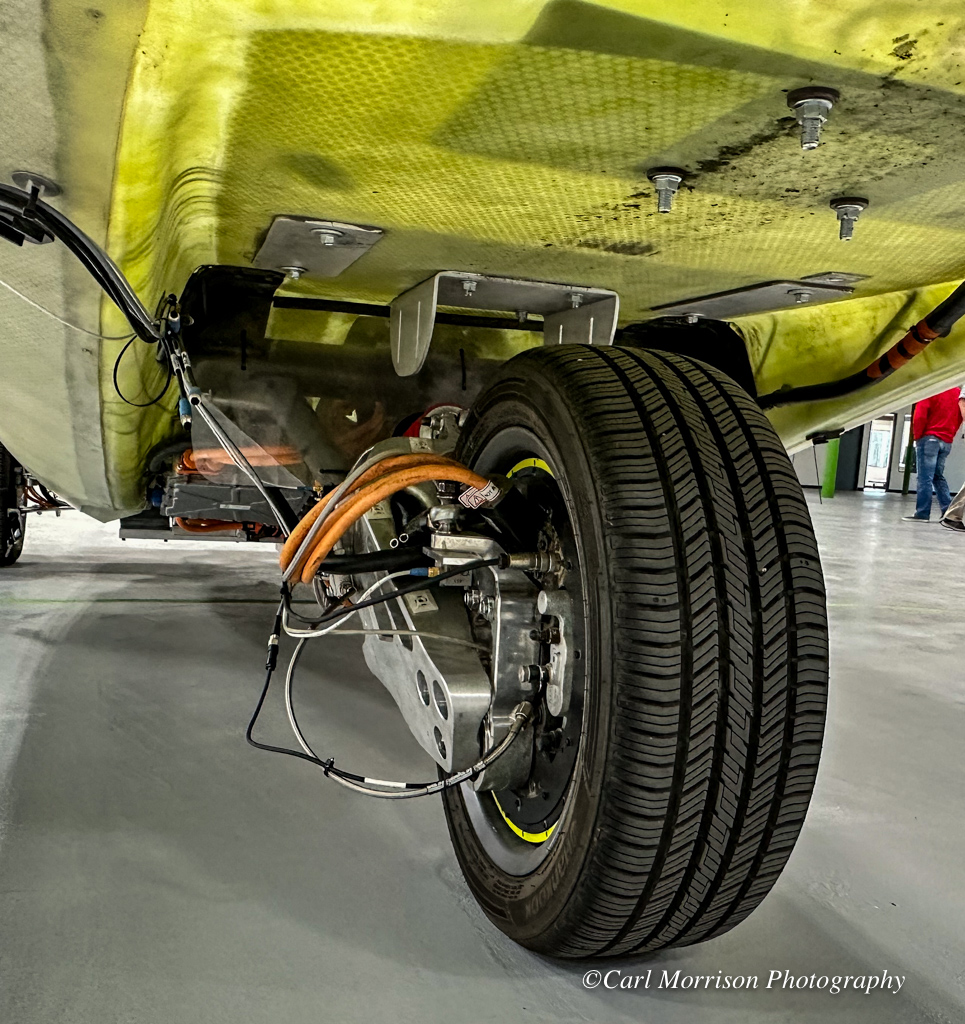 Left, rear single drive wheel. Right, inside of one front wheel.


Later in the day, rides were given to attending members who signed up the previous evening.




Aptera personnel, left, led the members on a tour of the future assembly building.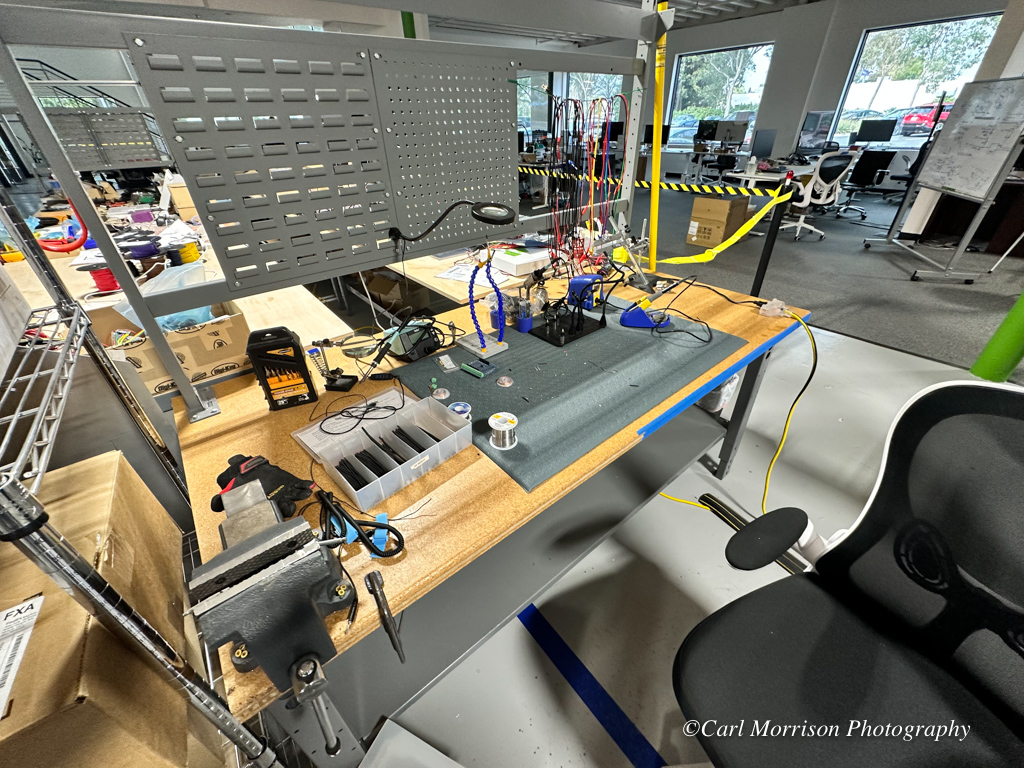 Summary
Final Assembly Line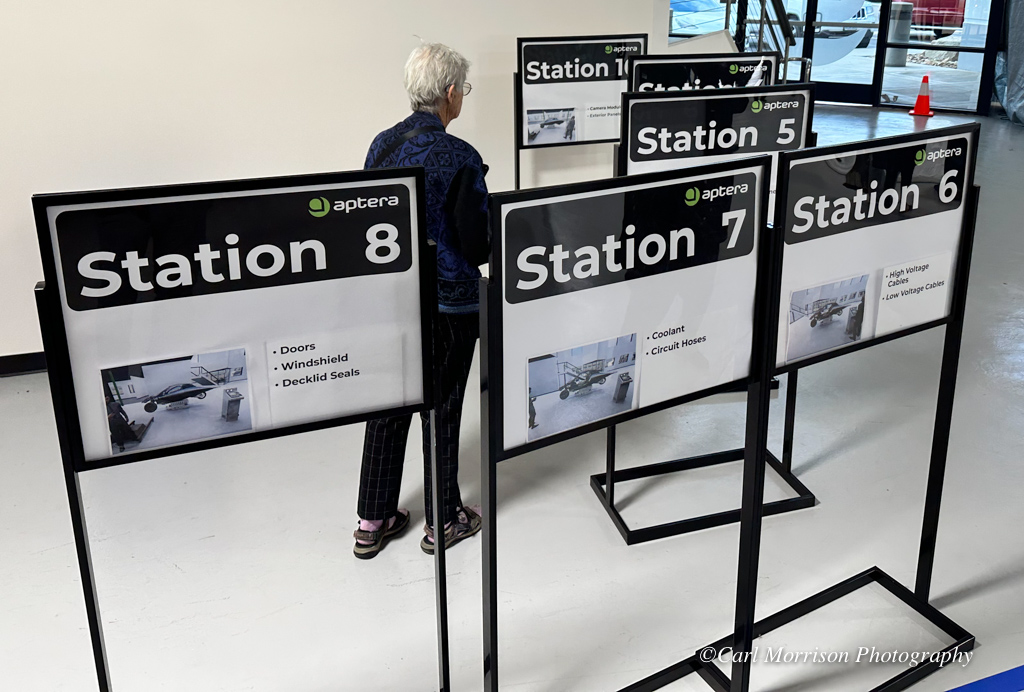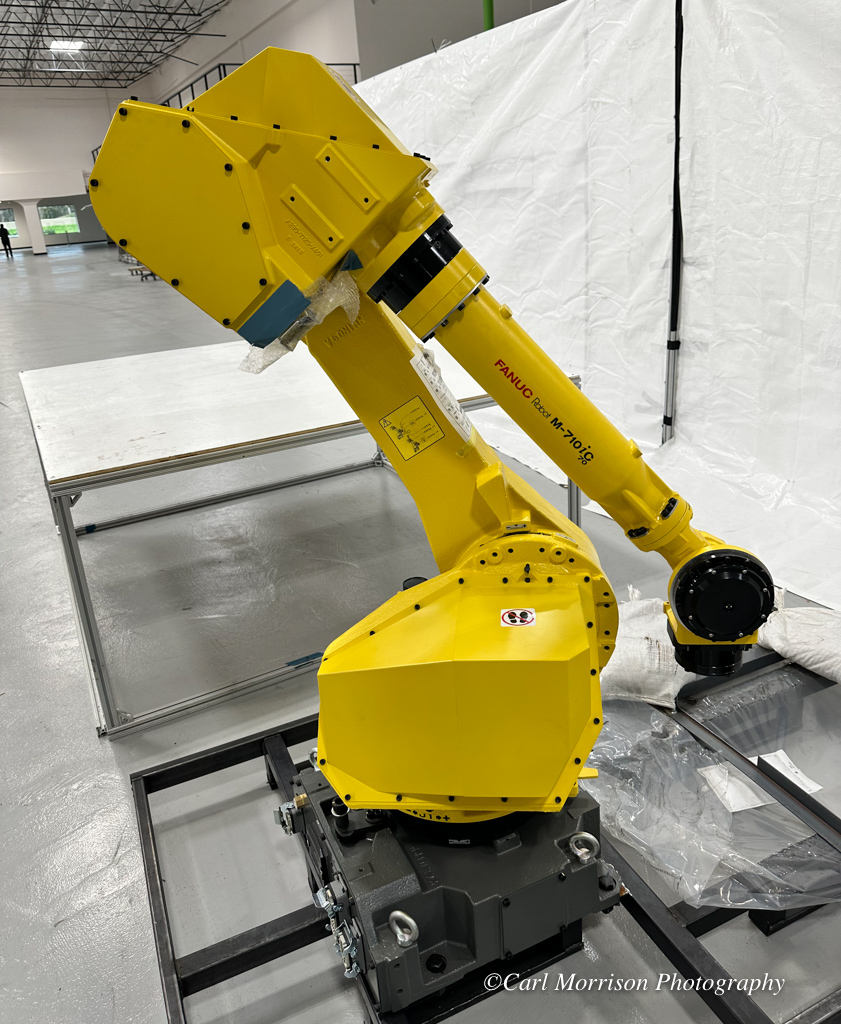 Assembly Station Signs, left, robot, right.




This station had an early Aptera "Alpha" with maximum solar panels.


Aptera is 175 inches long, 88 in. wide, 53.5 in tall, and it has a 109 in wheelbase.



Large code on windshield connected to invest.aptera.us, Plugs were for Tesla Superchargers.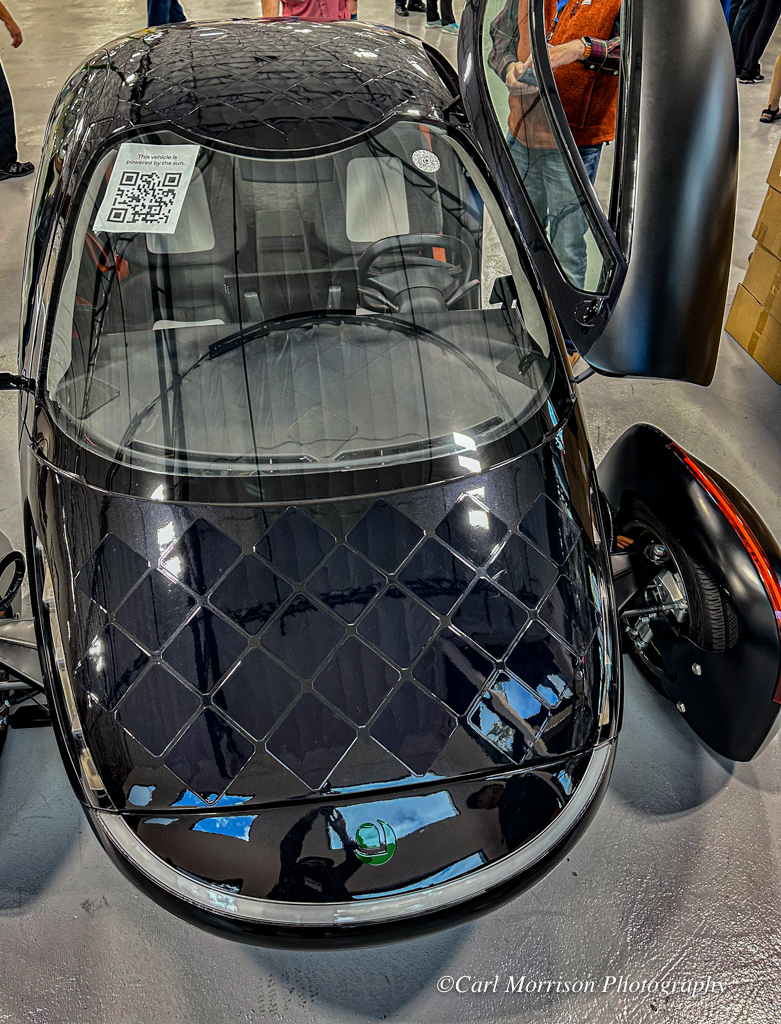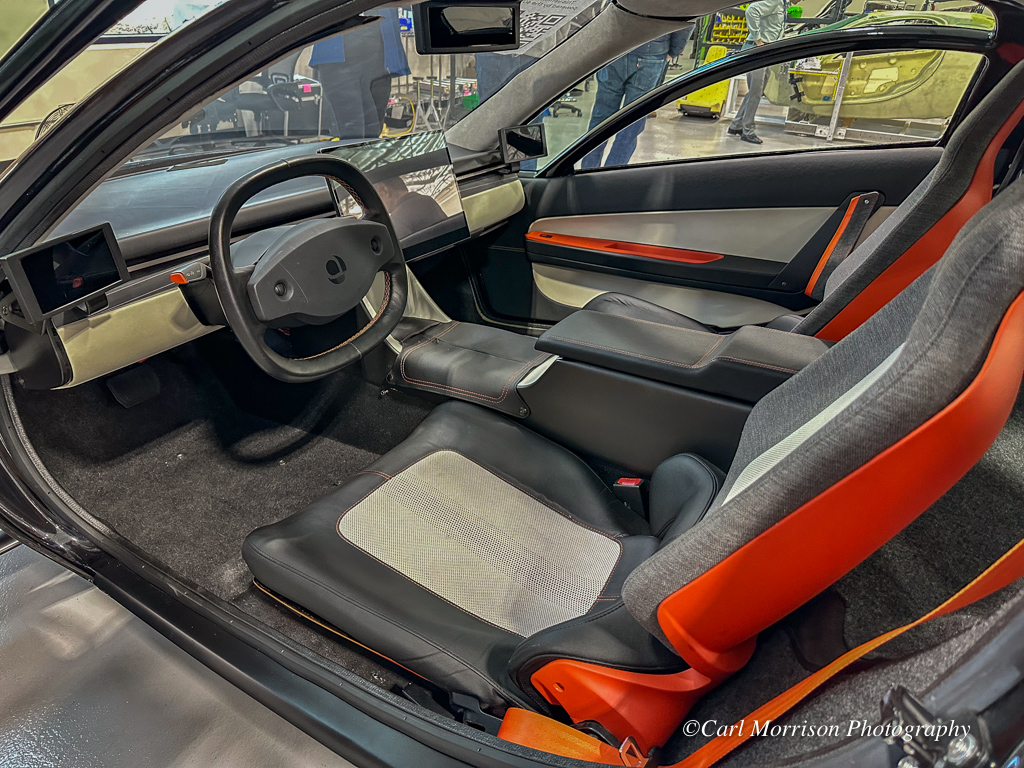 Left, solar panels on roof and hood. Right, Two-passenger interior.



The door swings up and out so one must put butt in first then swing in legs. Plenty of foot/leg room once you are in.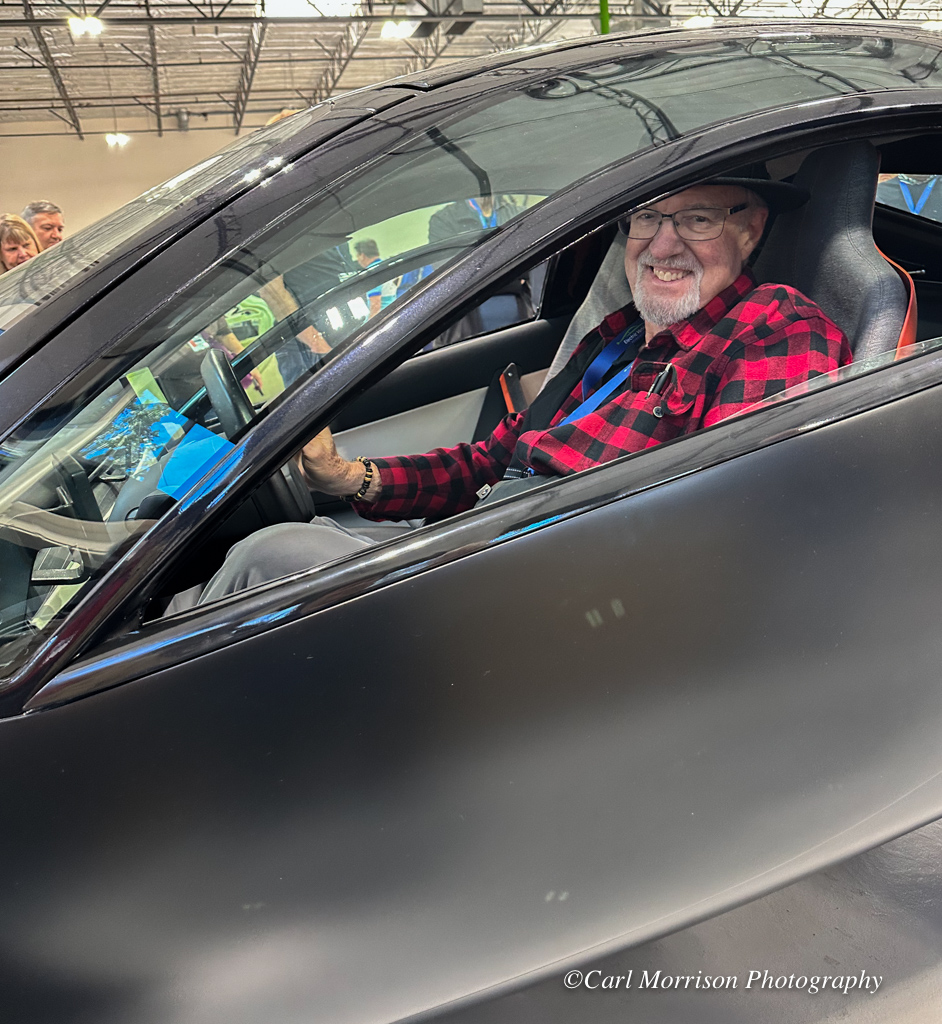 Soft handle to pull door down and in. Does the side window close?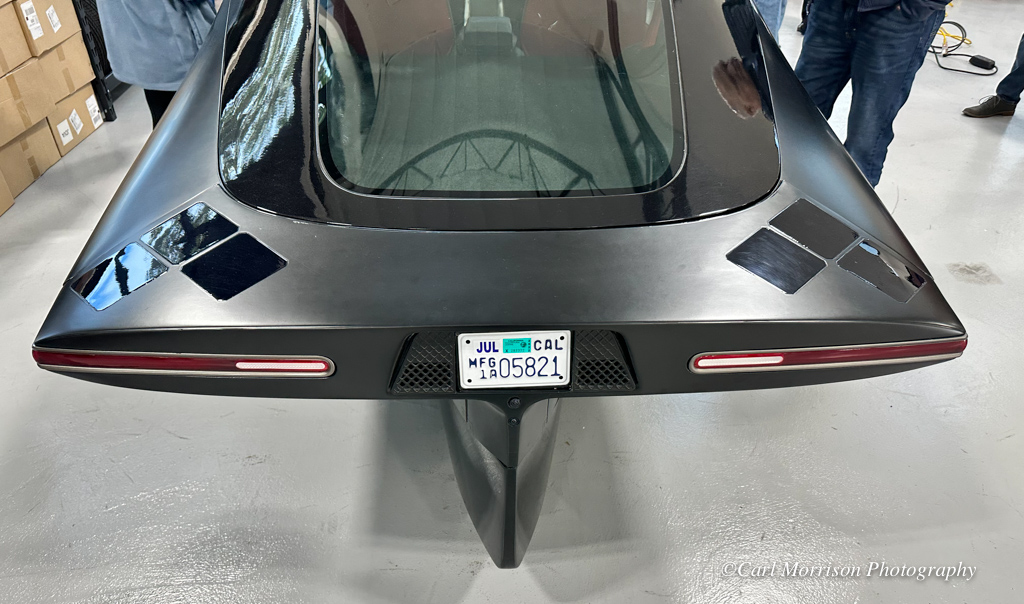 Rear deck with motorcycle license plate since it is rated as a motorcycle, but enclosed with no helmet requirement or motorcycle driving test required.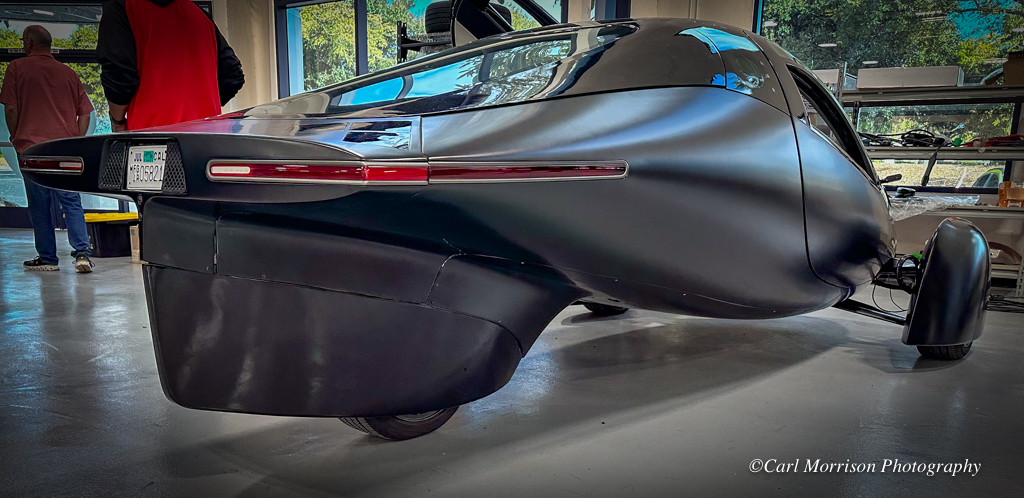 Wheel covers for best aerodynamics. Aptera displaces less air than a Ford pickup side mirror.



In the next bay was a carbon fiber body that looked similar to a helicopter. No paint booth or painting will be done, wrap instead, which will decrease environmental negativity.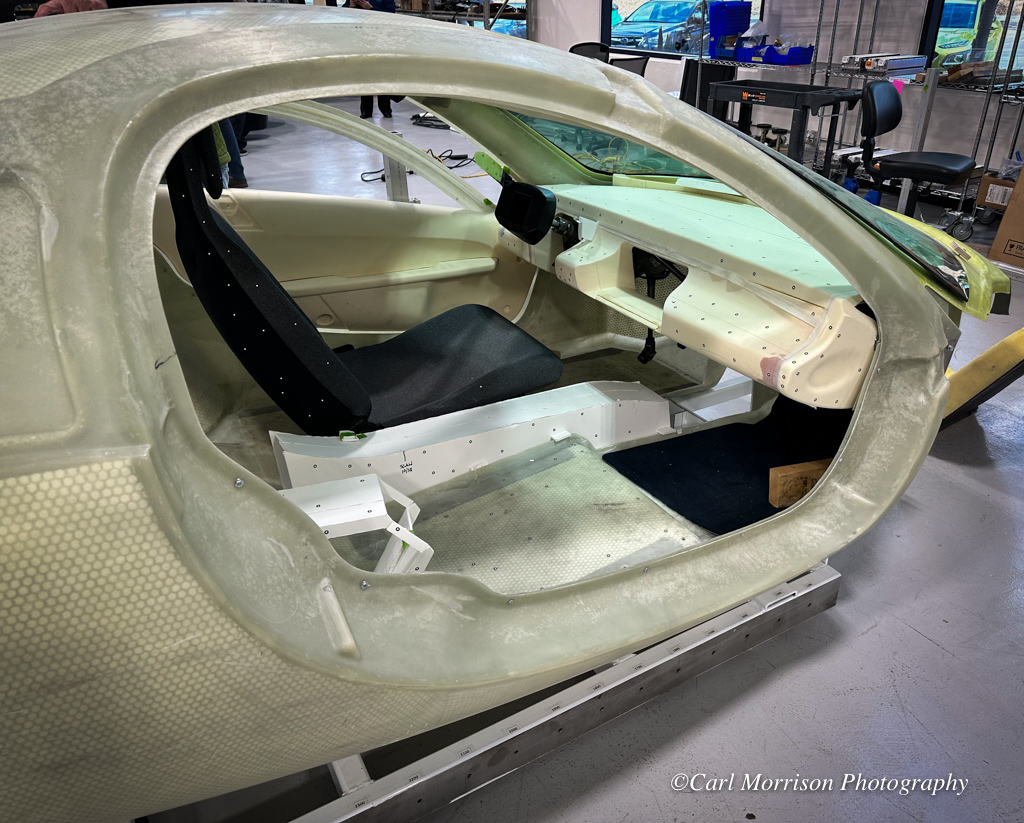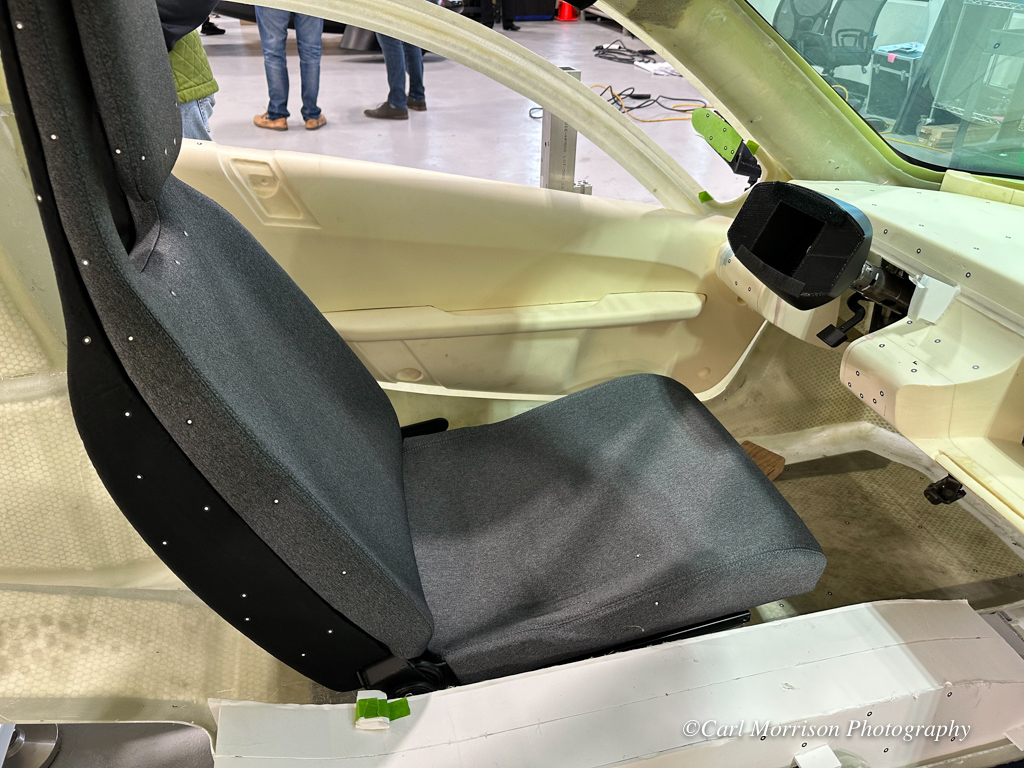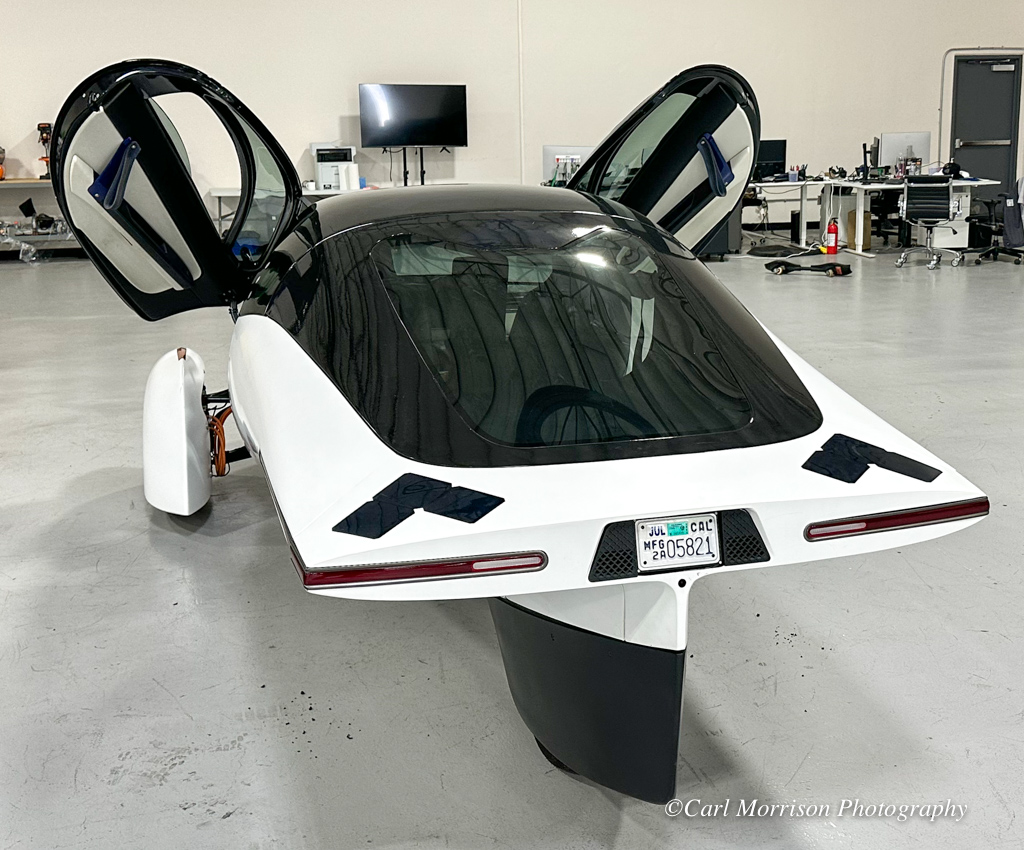 In the next bay was "SOL" its pearly white prototype. I like the black and white color scheme.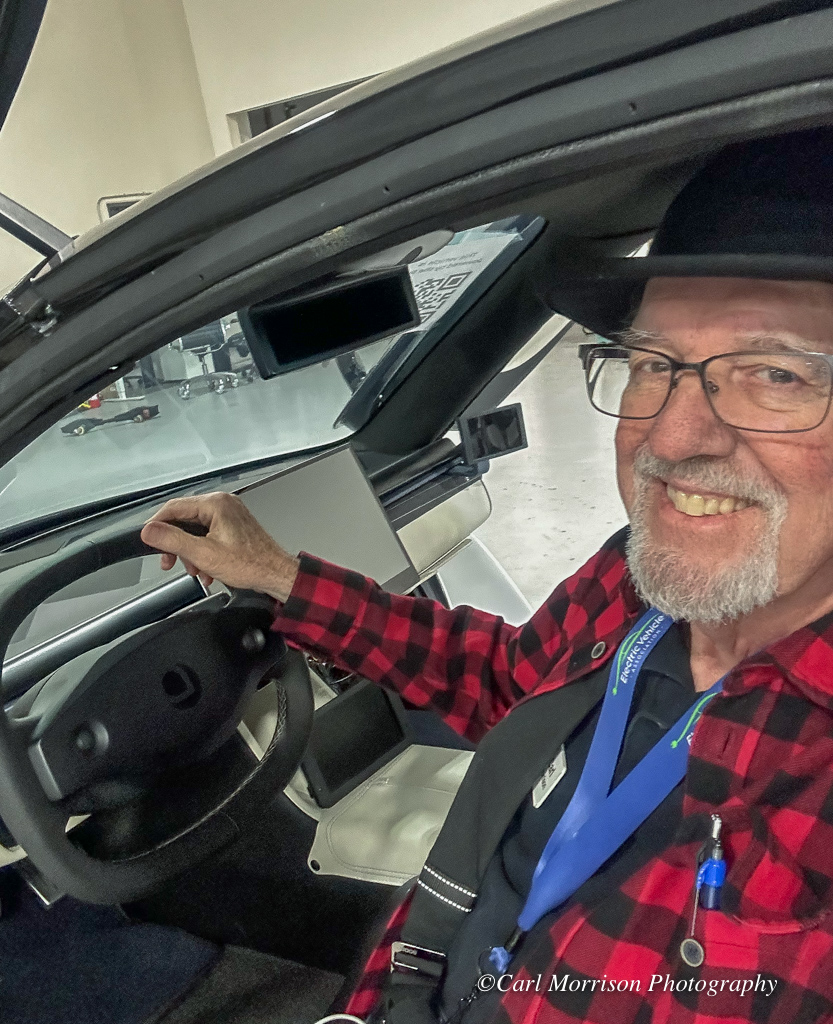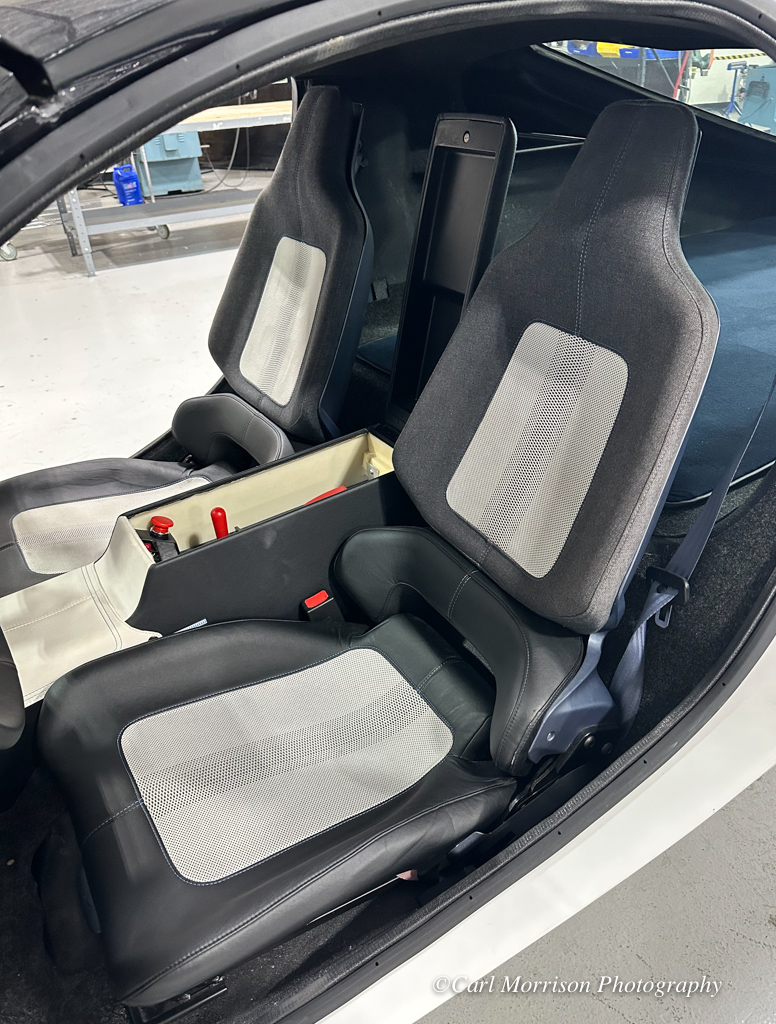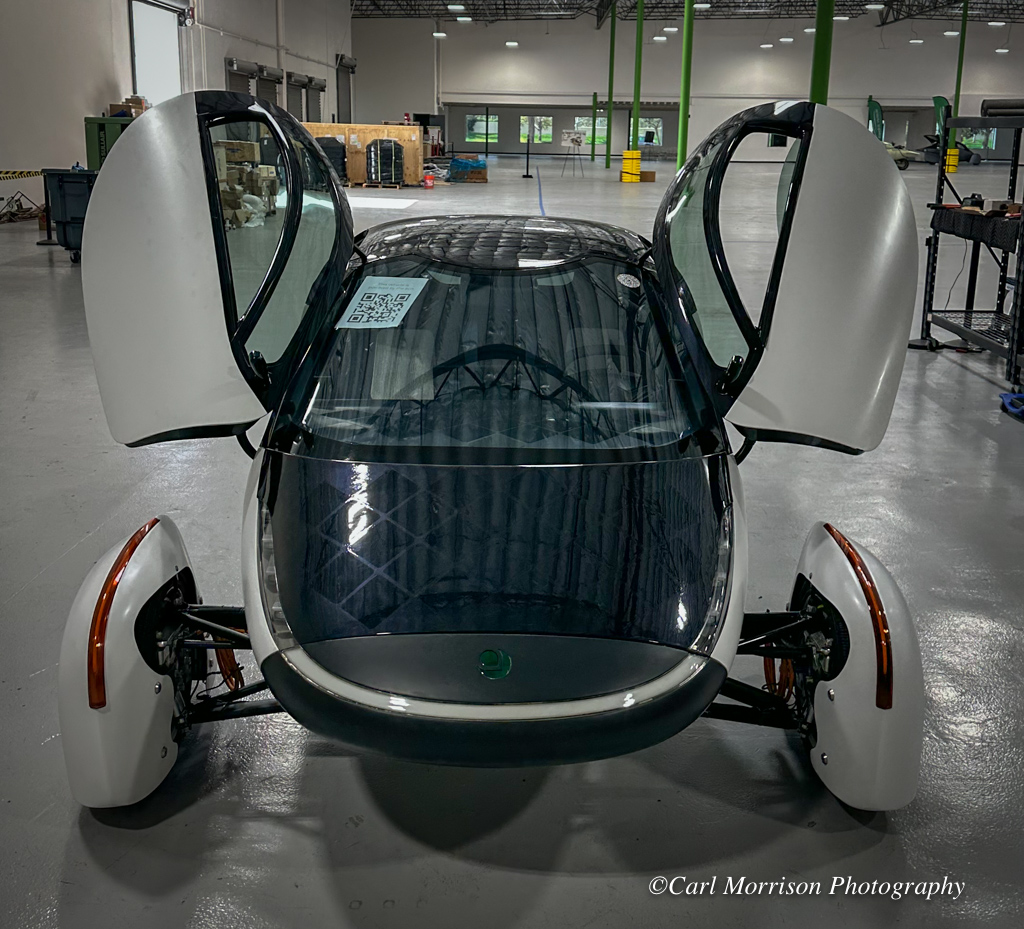 Again a front facing image looks like a helicopter to me.



After the EVA meeting, I returned to SOL for some selfies with my 6' 1" as size indicator.
There was a 6' 5" fellow there who said he was able to sit in one of the Apteras.
Aptera is 175 inches long, 88 in. wide, 53.5 in. tall, and it has a 109 in. wheelbase.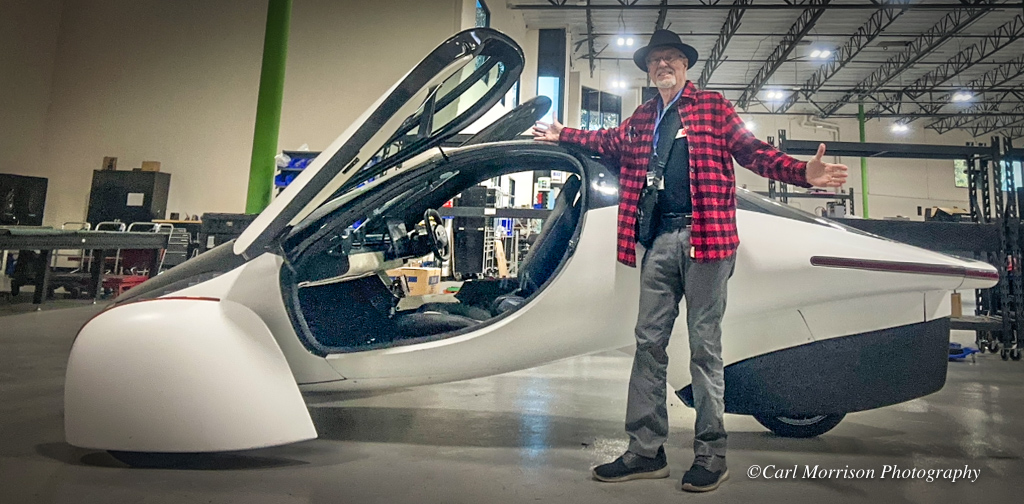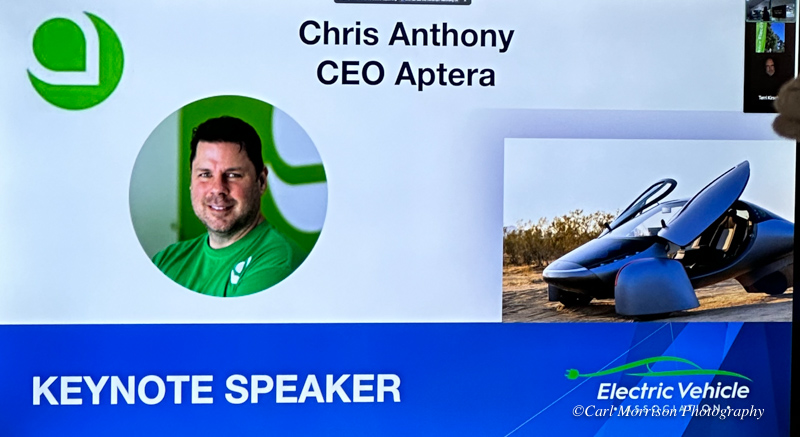 The Annual Meeting of the Electric Vehicle Association took place with Keynote Speaker, Chris Anthony, CEO Aptera.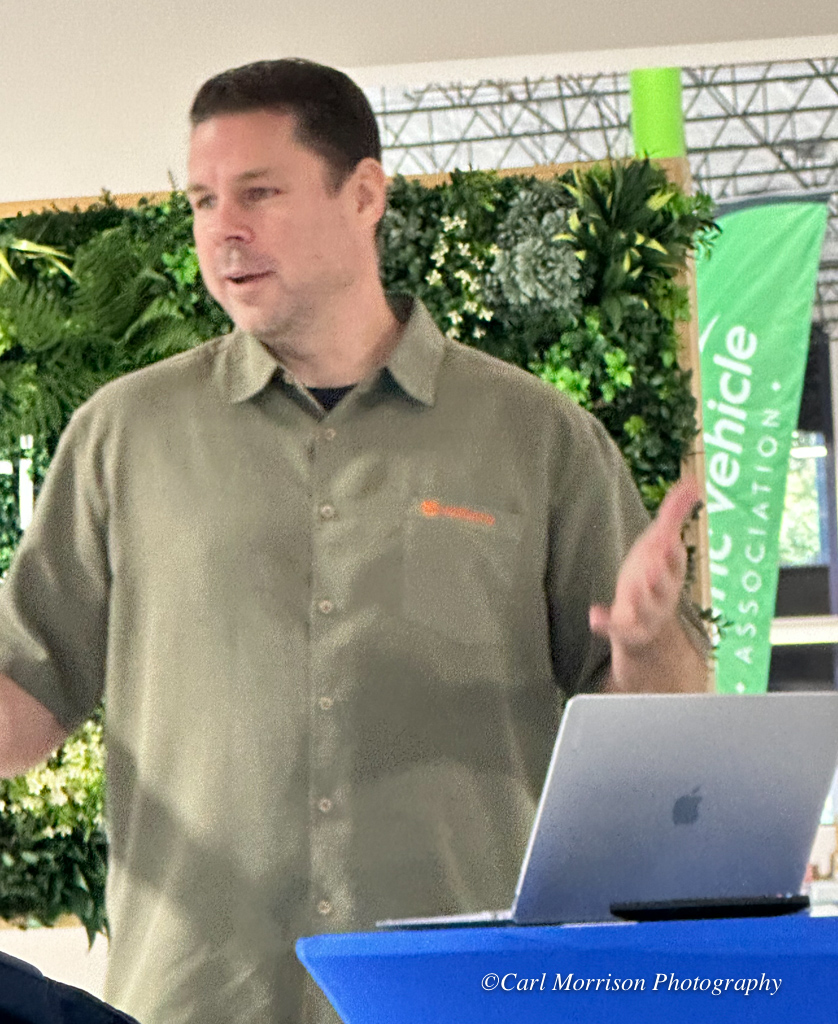 Chris Anthony, CEO Aptera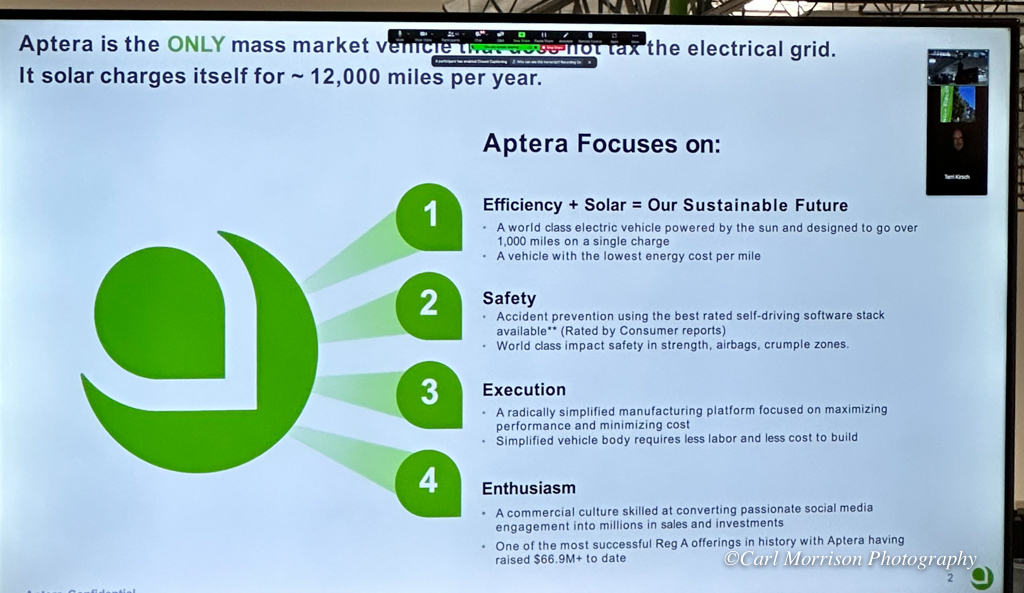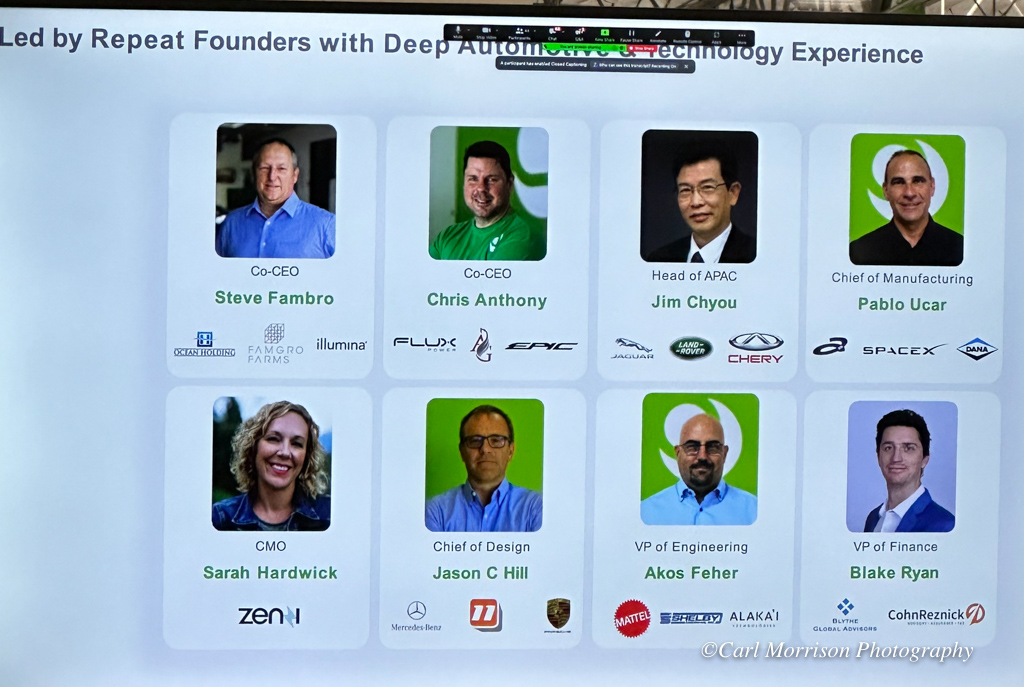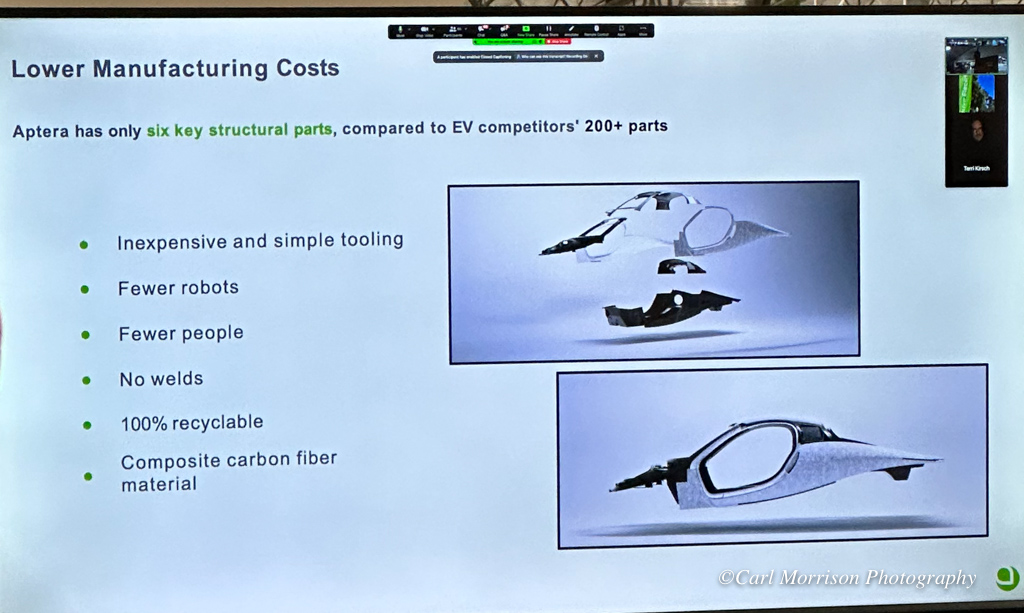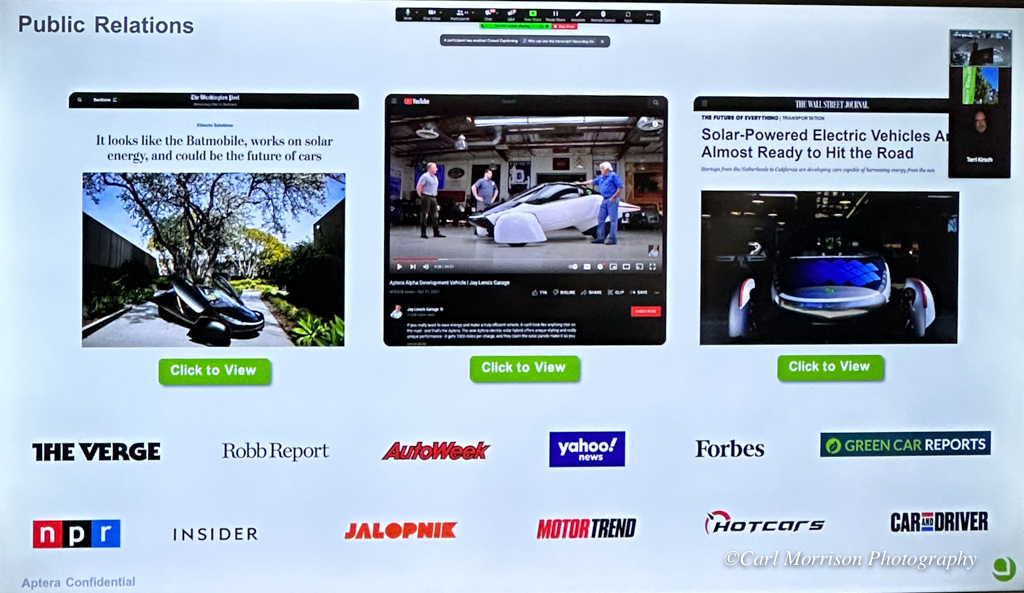 Jay Leno Aptera video from above center: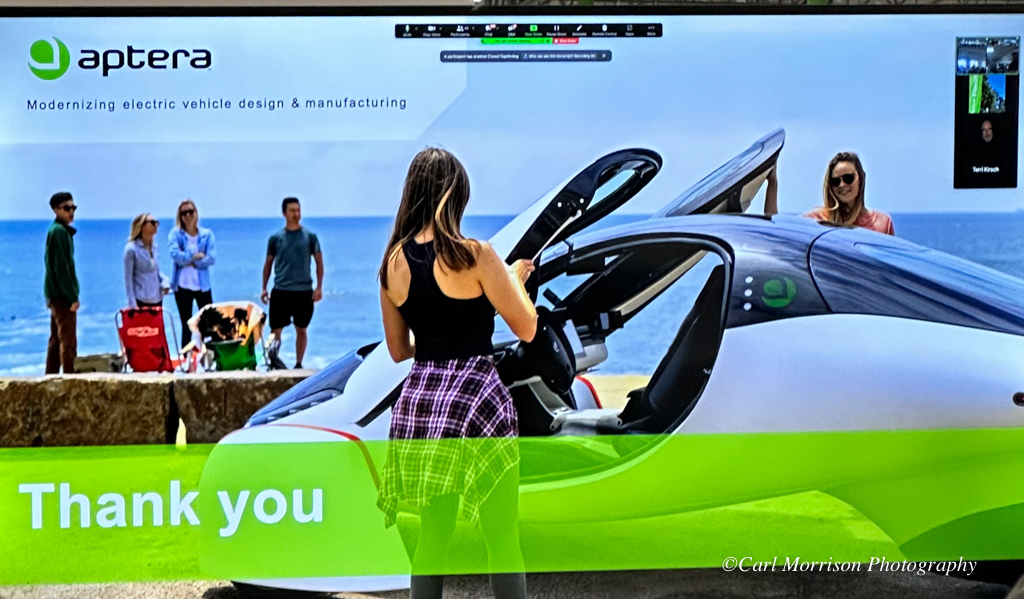 Aptera is using Sandy Munro as a consultant and here is his video about Aptera's future:
Sandy answers the question: "What will be the market for the Aptera?"



If you follow "Now You Know" on YouTube with Father/Son "Zak and Jesse" you will enjoy their "In Depth" on Aptera:




Some more facts about Aptera that I did not present above:


By Jeremy Johnson Dec 24 2022 - 3:54pm
Aptera - the 1,000 Mile Range EV That Will Change Everything
Aptera Motors is making a 1,000 mile range EV. This is an ambitious project, but if they can pull it off, they'll have an EV that is unrivaled in terms of range and efficiency.
Aptera Motors is making a 1,000 mile range EV and this is going to change everything. It's one of the most unique vehicles you will ever see and its efficiency blows every other EV out of the water.
A 1,000 mile range EV is unheard of today as the average is anywhere between 200 to 300 miles, with higher end EVs at around 400 miles of range. How is Aptera able to produce an EV with so much range?
The answer is pretty simple. They've created a lightweight EV that has 3 wheels, which reduced friction on the ground. They've also made the weight of the EV about 50% of the average weighted EV. They've also added solar panels to be built into the EV, further increasing range.
These innovations are what allows Aptera to sell a 1,000 mile range EV. I think many people are going to order one of these to see how they do. Sandy Munro sees Aptera doing very well and that by 2028, there will be 50% EVs and 50% gas cars.
Cost and Future of EVs
When you look at buying an Aptera EV, you have to realize the cost of it. The lowest end model will be sold

for $25,900. This is with a range of 250 miles.

This is a very small and simple EV.
The 400 range model has a base cost of $29,800. The 600 mile range Aptera has a range of $34,600 and the 1,000 mile range version costs $44,900.

A young person who has home charging will be able to afford the $25,900 EV.
You can also add solar panels to the roof, dashboard, hood, and rear hatch for $900.

There are solar panels on the roof and dashboard for free. These solar panels will help keep the car charged while driving or while parked outside.
There are 3 wheels on the car and one thing that I wonder is how this will handle objects and rocks on the road as well as pot holes. Will this cause problem with the vehicle due to it having 3 wheels?
The design for the Aptera is a dome shape. With the 1,000 range version, most likely you will never have to charge, especially if you live in a sunny area.
Still, Aptera is a new company and most likely they are going to go through the same growing pains any new company goes through. To reach volume production is a truly difficult thing.


The Electric Vehicle Association then conducted their Annual Meeting with many Awards to Chapters and Individuals. Those proceedings and the acceptance peaches by award winners in attendance and watching from home on Zoom from across the US will be on their website, https://myeva.org or their Facebook page: https://www.youtube.com/@electricvehicleassociation7162/featured
To contact the EVA via email, use this webpage: https://www.myeva.org/contact
---
LINKS

Aptera: https://aptera.us/
Tesla: https://www.tesla.com/
Electric Vehicle Association: https://www.myeva.org/
Polstar: https://www.polestar.com/us/
Chevy Bolt: https://www.chevrolet.com/electric/bolt-ev
Ford Lightning Pickup: https://www.ford.com/trucks/f150/f150-lightning/2022/
Electra Meccanica SOLO: https://www.emvauto.com/

[ Top of this Report | Other TeslaTouring.com Reports by Carl Morrison | Slideshow ]

Comments welcomed: Carl@TeslaTouring.com or on our Facebook Page



.