Electrify Expo: Industry/Press Day
Long Beach Convention Center, CA - May 19, 2023
Photos and Report by Carl Morrison,
Carl@TeslaTouring.com
http://TeslaTouring.net/ElectrifyExpo2023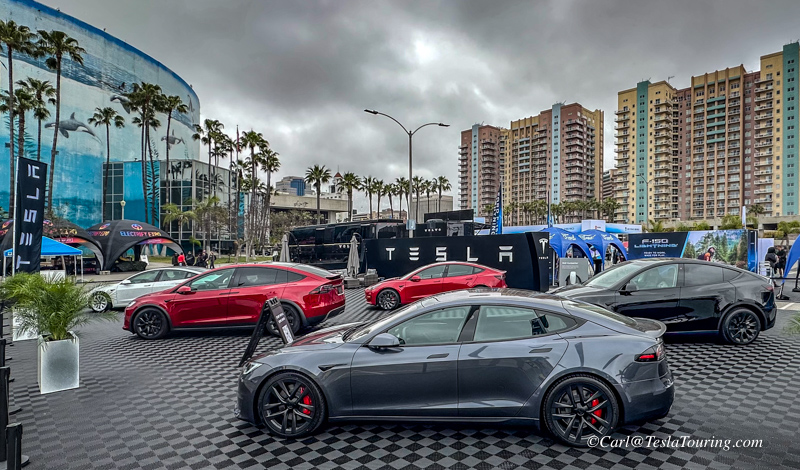 ---
I attended Electrify Expo's Industry/Press Day launch at the Long Beach Convention Center Friday May 19, 2023. Below are my notes and photos:
•
Future ELECTRIFY EXPOs
•
Keynote Speaker,
Loren McDonald
's notes on EV Adoption by 2030
,
•
Sandy Munro's comments about "Tearing apart the EV competition" from his Fireside Chat
,
•
E-Bike Policy
,
•
How to Drive EV Adoption among Consumer Concerns
,
•
Bridgestone unveils a tire designed to enhance the EV driving experience as the industry moves toward electrification
.
•
New PHEVs and BEVs at the Expo.
•
Private owners of customized cars.
•
Classic Car Conversions to Electric Motors
•
E-Mobility Displays Outside
•
EV BUILDER'S GUIDE

publication
•
Kyle Conner's video summary of

Electrify Expo

for his

Out of Spec Review

on his

Youtube Channel
ELECTRIFY EXPO is a festival where you can
experience and demo your favorite electric car, truck, e-motorcycle, e-bike, e-scooter, e-skateboard, e-surfboard, e-foil and other electric brands as they show off their latest products and technology. Visit their fun interactive displays, talk with EV experts, and best of all, take a test drive on one of our thrilling demo courses. Kids, check out our huge Kids Zone for 2023 filled with electric go-carts, e-bikes + more!
With over 1,000,000 square feet of exhibit and festival space, Electrify Expo is a full day of electrified fun mixed with great food, drinks, music and more. Yes, this is an e-mobility party and everyone is invited!
From: https://www.electrifyexpo.com/attend

Future ELECTRIFY EXPOs

Next: SAN FRANCISCO JUNE 24-25 Alameda Point / Alameda CA

WASHINGTON DC JULY 22-23 RFK Stadium / Washington, DC

NEW YORK AUG 12-13 Nassau Coliseum / Long Island, NY

SEATTLE SEPT 9-10 Marymoor Park / Redmond, WA

MIAMI OCT 14-15 Miami Dade Fairgrounds

AUSTIN NOV 10-12 Circuit of the Americas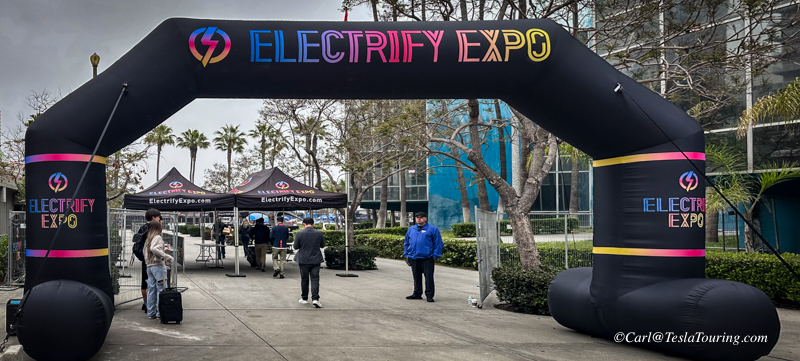 Electrify Expo entrance to outdoor test drive area and indoor speaker area.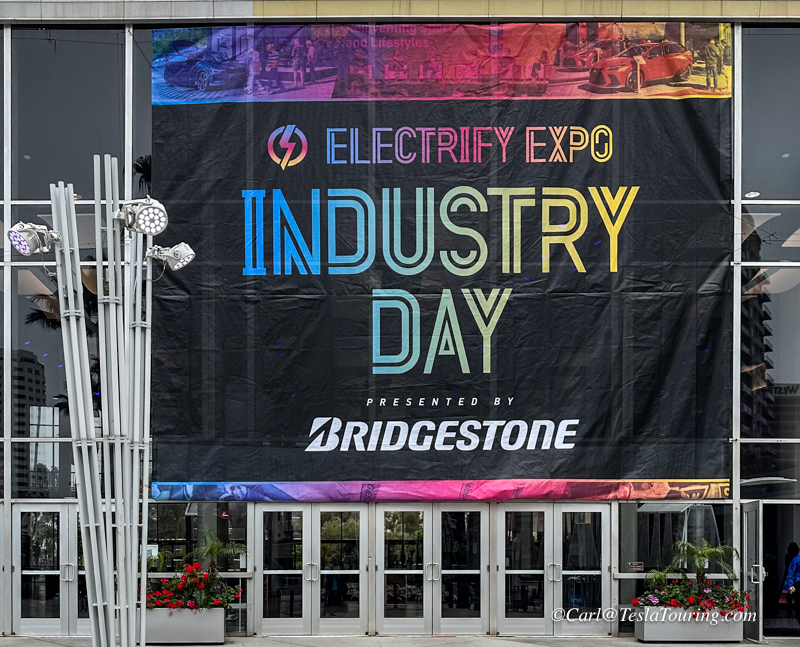 Large speakers area was set up perfectly with speakers in the center and large screens on both sides for the other 2/3 of seated guests.
Very large area for guests with each having table room.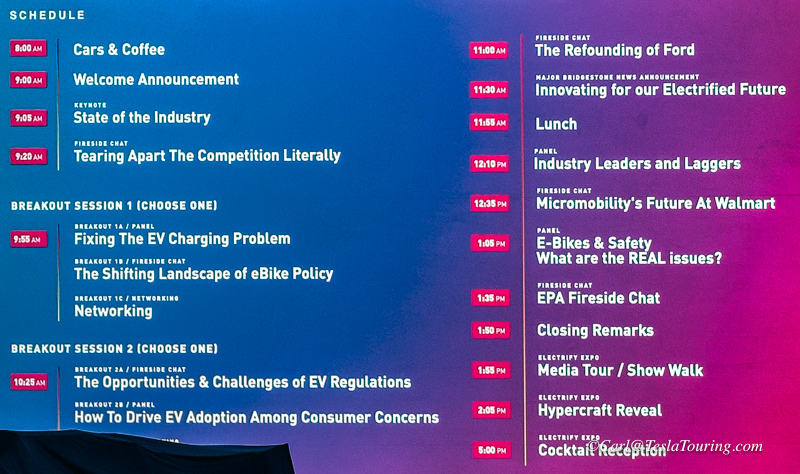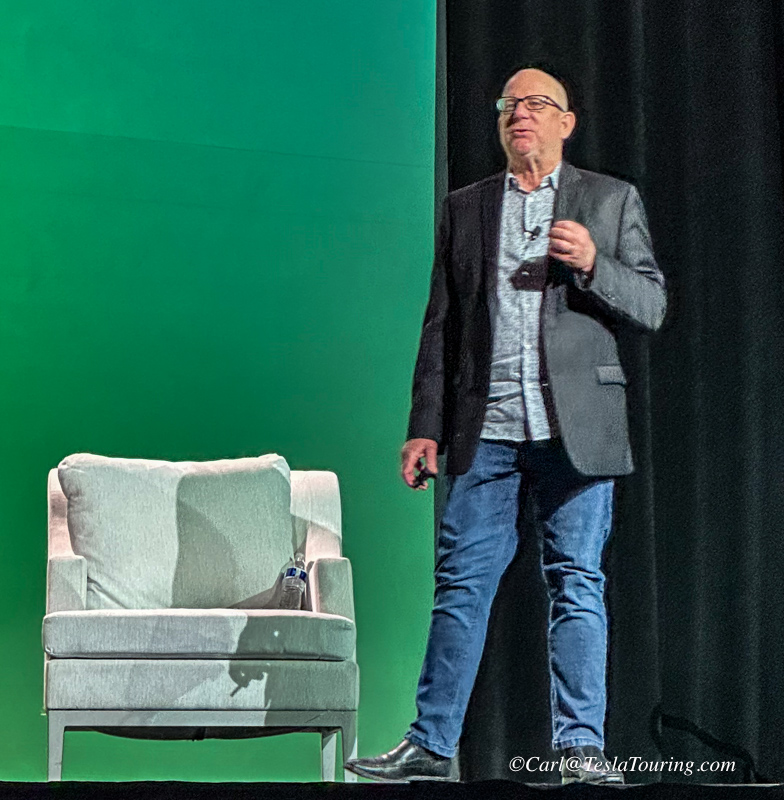 Keynote: Loren McDonald
Program said, "...will provide valuable insights into the nation's EV adoption rates, share his forecast for 2030, and outline the key challenges that must be overcome in the transition to electric vehicles."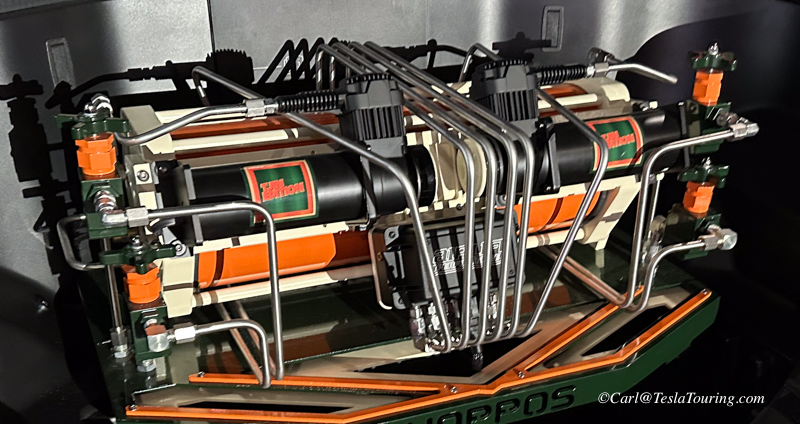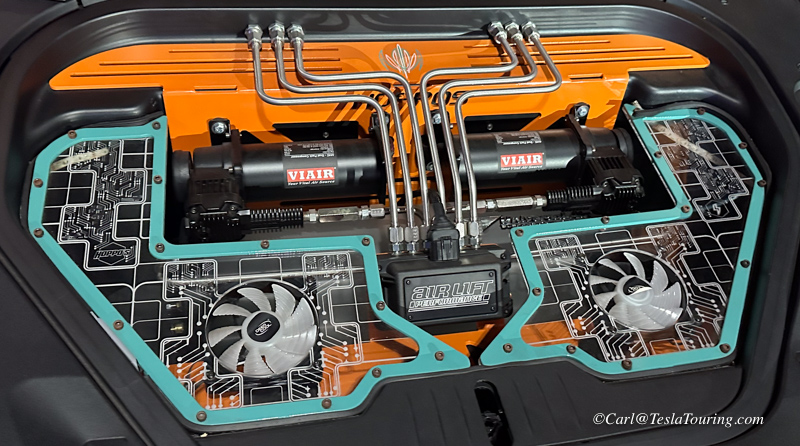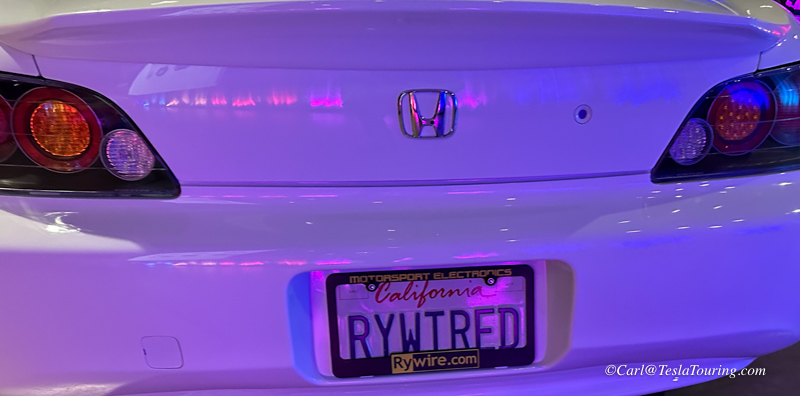 "Tesla" Corvair called by "Electrovair" by Wrenchology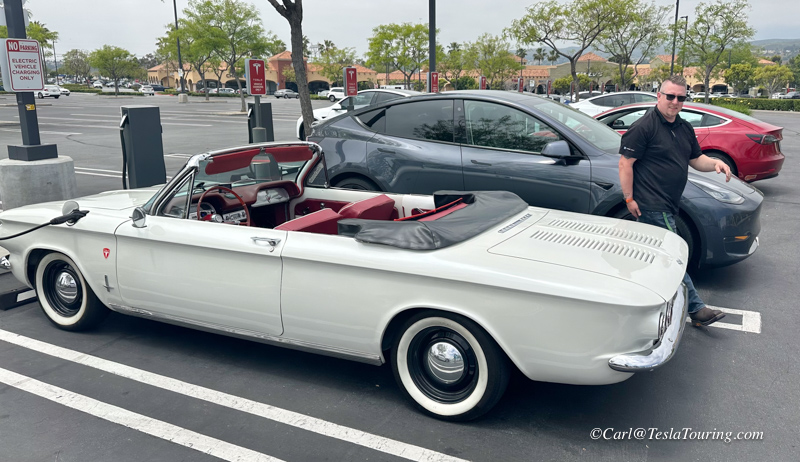 He said it is easier to put an electric motor in an original rear-engine vehicle, thus the popularity of converting VW bugs and busses to EVs.
I like it when you know it is a electric motor.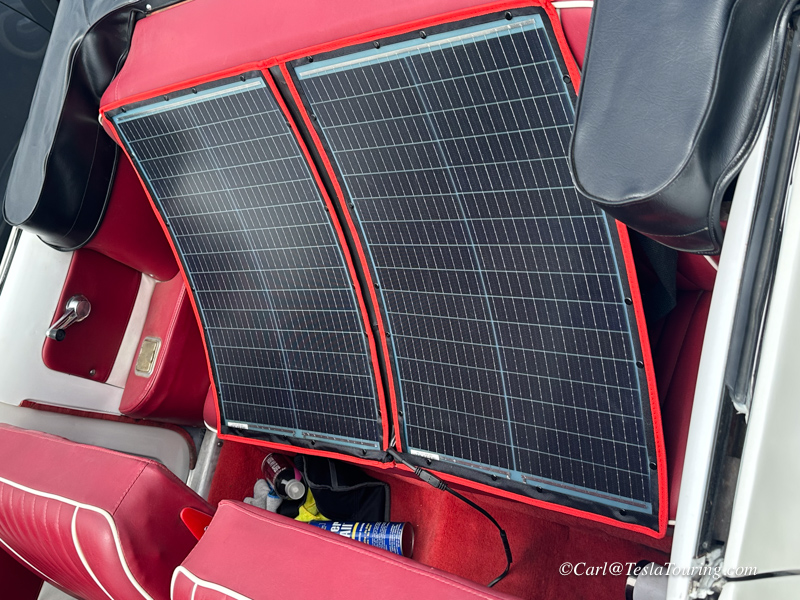 I had seen this "Electrovair" converted Corvair a few days earlier at the local Yorba Linda Tesla Supercharger and talked with the builder and learned he had been invited to the Electrify Expo.
Learn more about him and his wife at Wrenchology.com
.
I noticed the solar panels in his back seat and he said he used to charge his phone from the car, but why use the mileage for that so he charges his phone with those panels.
E-Mobility Displays Outside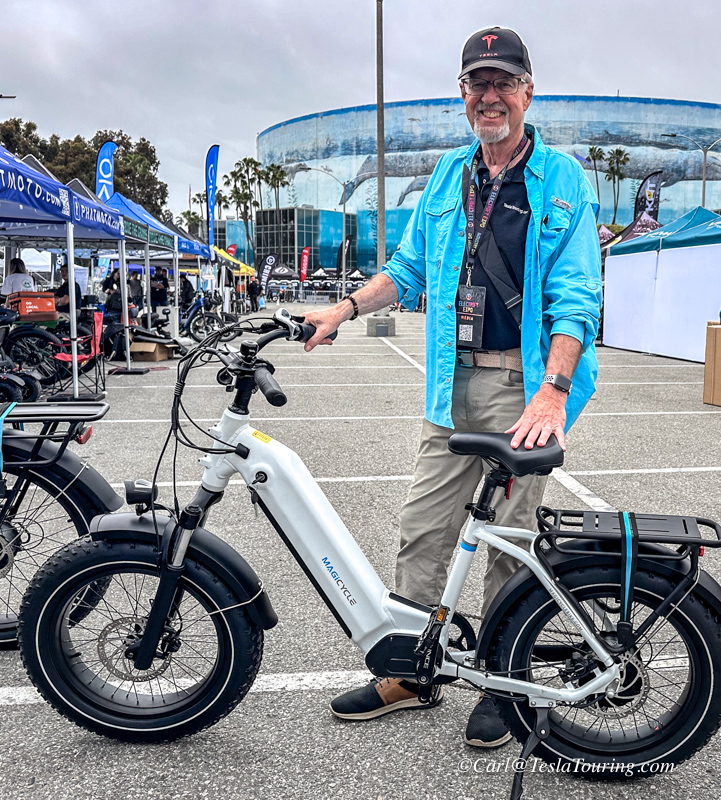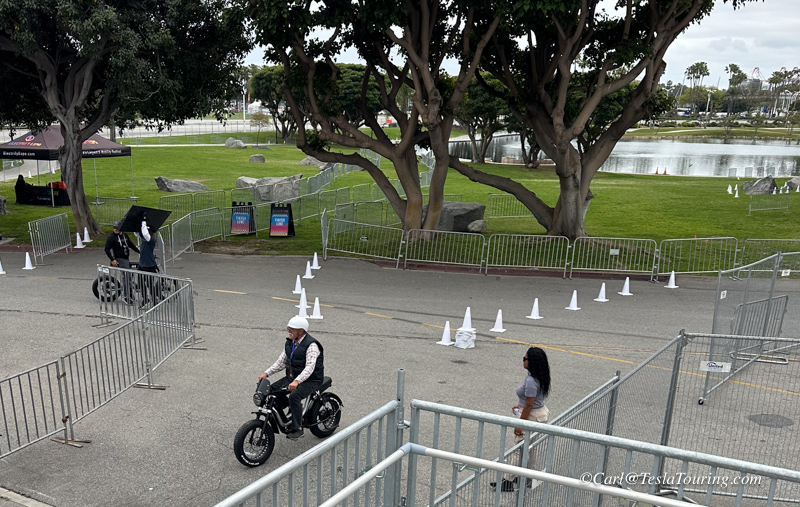 I test drove a Magicycle Ocelot Pro recommended for heights of 4'10" to 6'2"

Richard Shaw, above left, showed me all the details and settings and instructed me how to turn. He set it to class 2 and I was off within the tented area. There was a larger course for those with longer rides.
Contact information for Richard Shaw: 213 900 7090 - Richard@magicyclebike.com - www.magicyclebike.com - 3095-200 cedar street, Ontario, California 91761.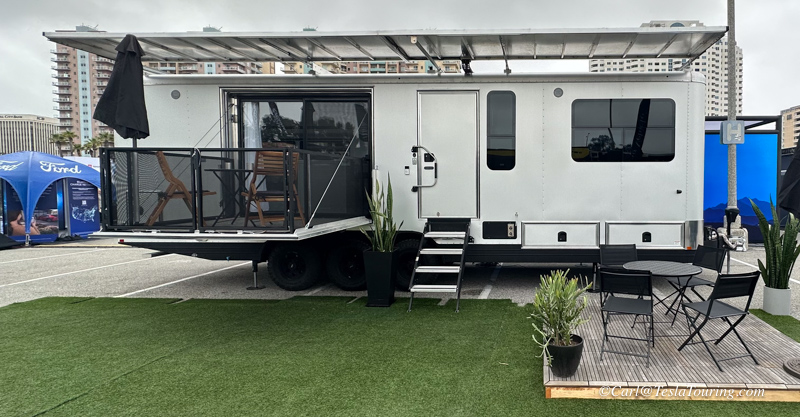 Electric Trailers
(This vendor space was not staffed.)
Lightship display was fully staffed and answered all my questions.
The Lightship folds down for travel and Sandy Munro was taping an interview as he looked at it.
It has power assist to help the towing vehicle.
Lightship L1: The First Purpose-built All-electric RV - a solar-powered travel trailer with a high-capacity battery and self-propulsion system that enables near zero range or mile-per-gallon efficiency loss for the vehicle towing it
.
•A hyper-efficient design that is three times more aerodynamic than a traditional travel trailer for longer range and greater efficiency, which means a 300-mile range electric vehicle (EV) used to tow it remains a 300-mile range EV, and a 25-mpg gas truck remains a 25-mpg gas truck.

•An electric powertrain with up to 80kWh of onboard battery capacity allowing the trailer to propel itself and achieve near-zero range or efficiency loss for the tow vehicle.

•A no-compromise battery system that can provide a week of off-grid power without charging. Coupled with up to 3kW of solar power, the RV can power the living needs of its occupants and eliminates the reliance on propane and other fossil fuels.

•An ecosystem of all-electric appliances, connected features,and modern amenities for a seamless camping experience.
The Lightship L1 has a starting price of $125,000 or $118,400 after an available tax credit and is available now for a $500 reservation at www.lightshiprv.com. Production is expected to begin in late 2024.
From: https://lightshiprv.com/l1

Several engine and tire vendors had displays as well as miscellaneous parts.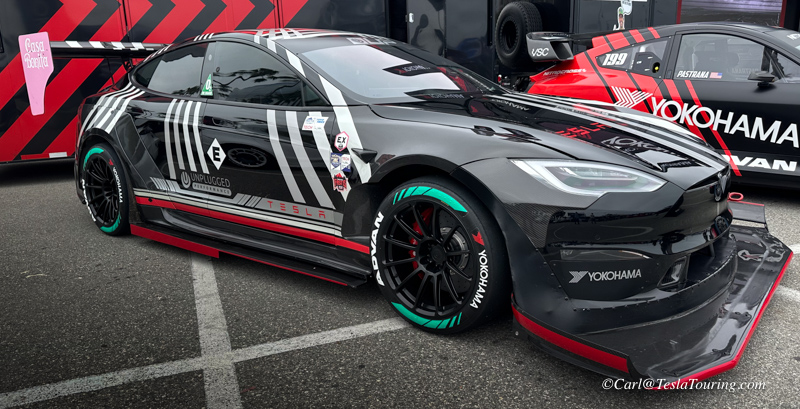 Yokohama had Randy Pobst's Pikes Peak Hill Climb winning Tesla S there.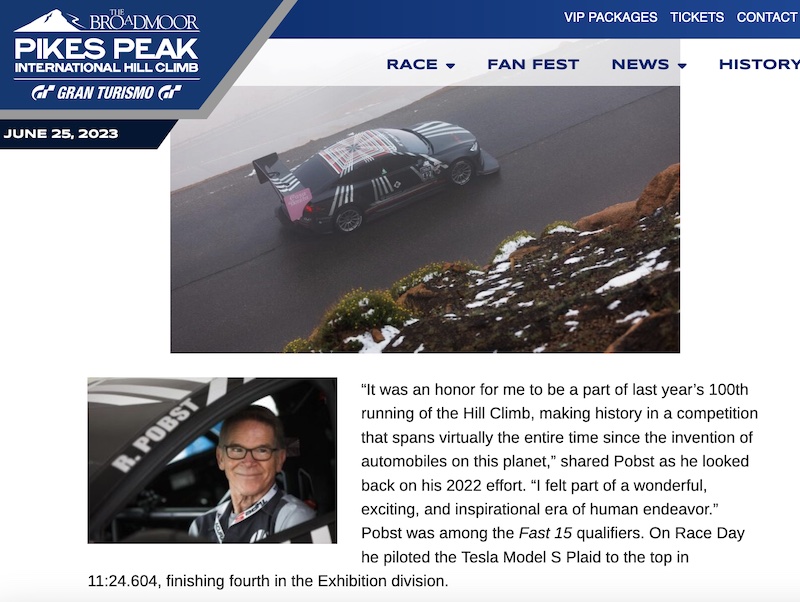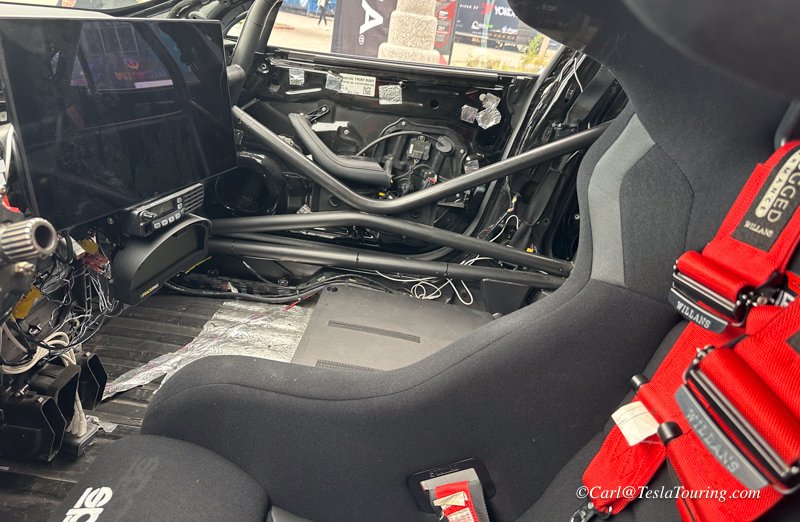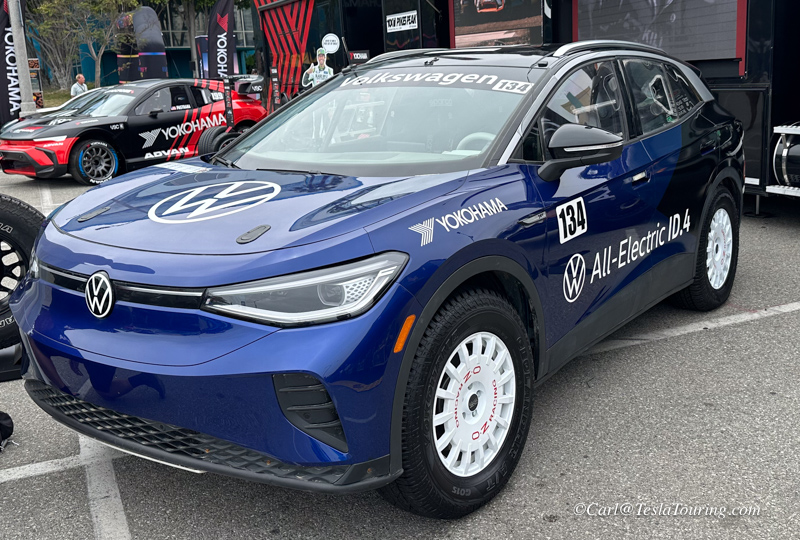 Yokohama also had this VW ID.4 race car there.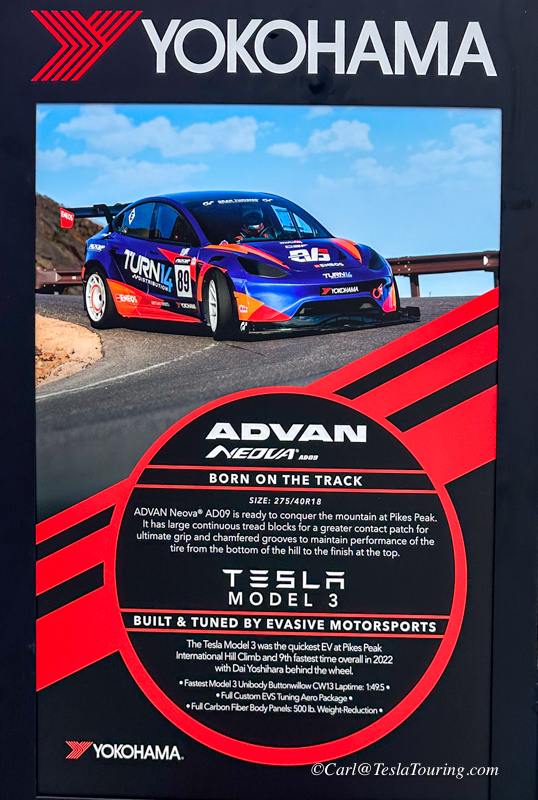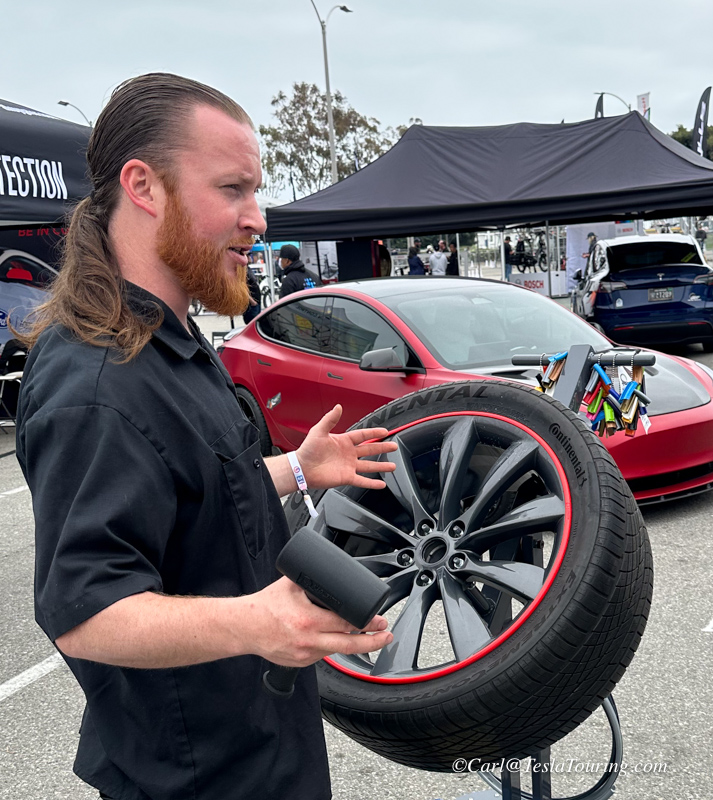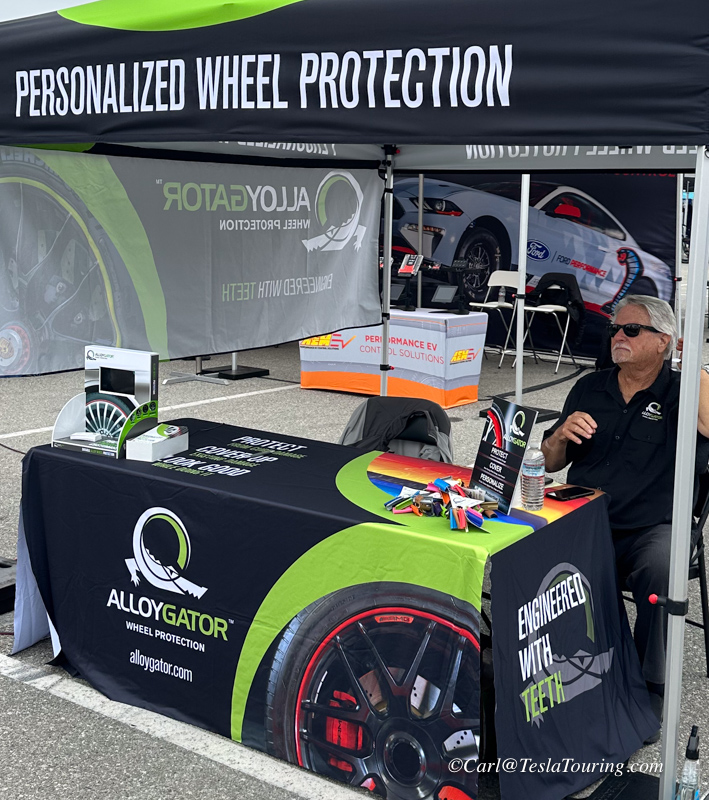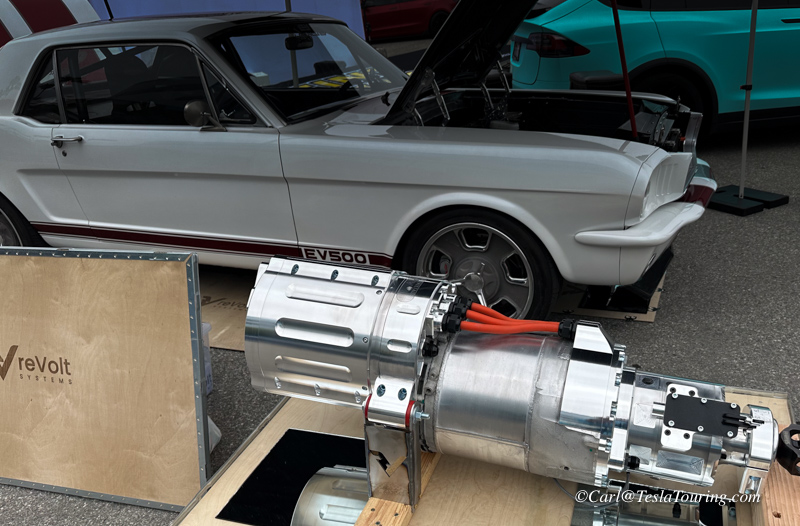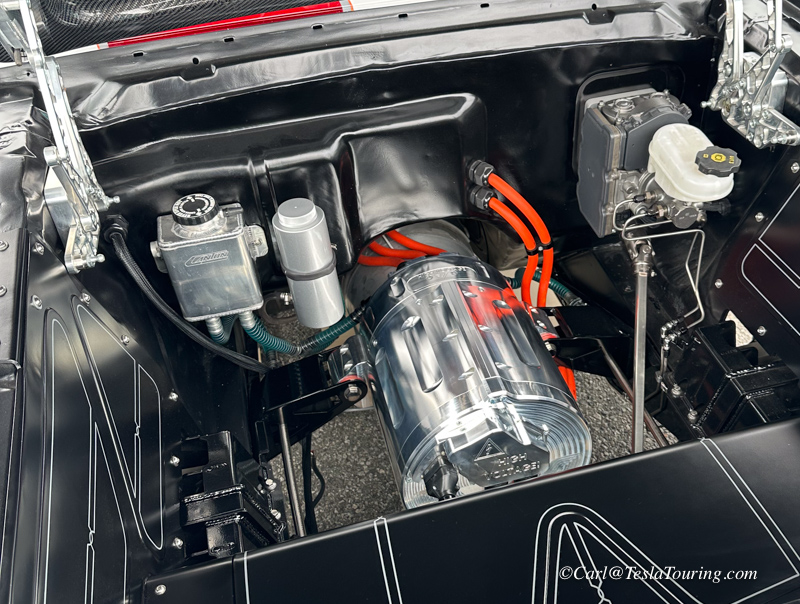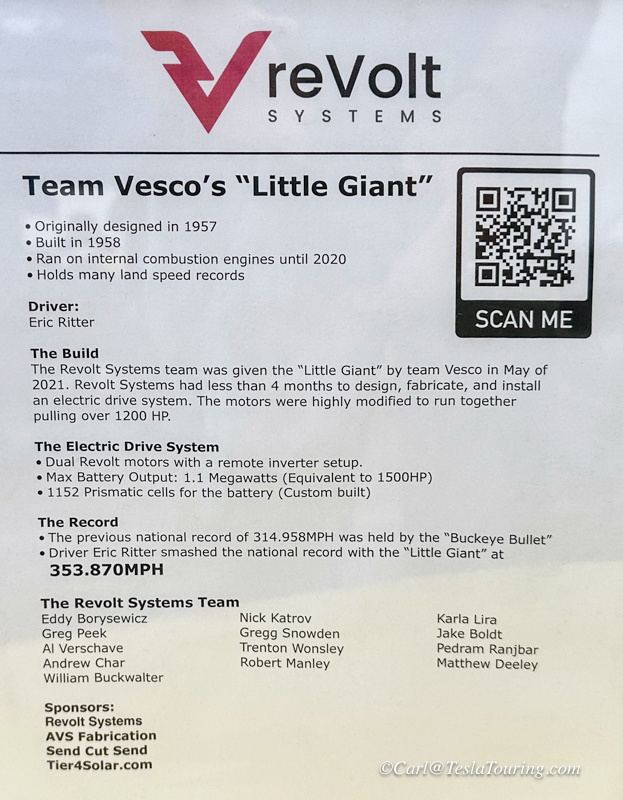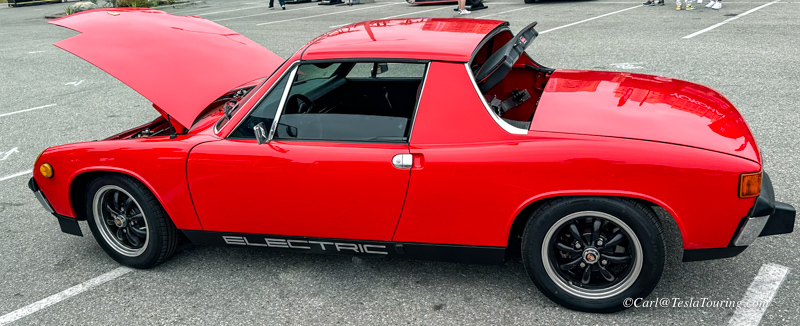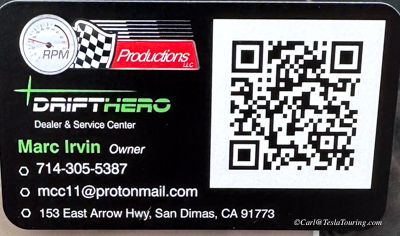 ---
Very timely...when I was in a Barnes and Noble store, in the magazine section I saw: EV Builder's Guide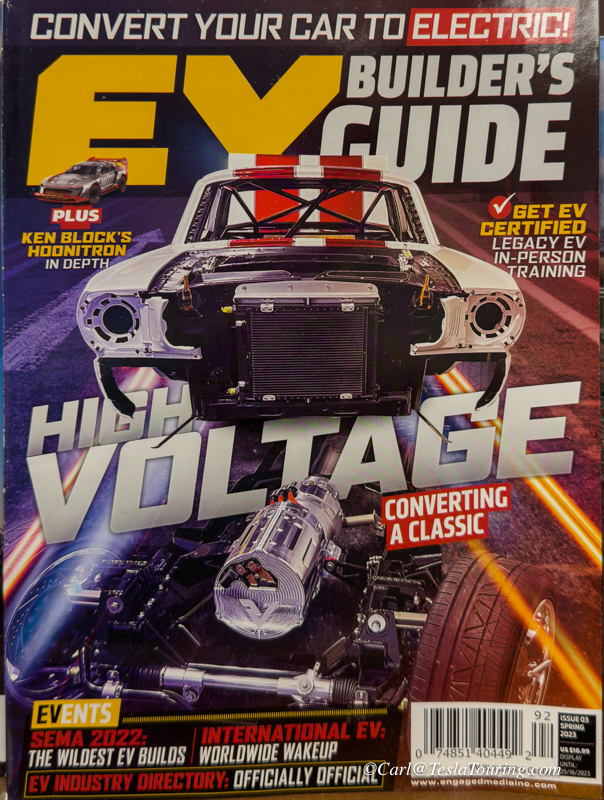 EV Builder's Guide

EV Builders Guide is a publication based solely on the lifestyle surrounding vehicles that have had a combustion engine removed and replaced with an electric motor. Our editorial team has been given the green light to scour the country in search of the highest quality hot rods that burn 0 miles per gallon. We also traveled across the country to experience the first-ever Holley High-Voltage EV fest in California. To add to our journalistic integrity. We have signed up to become official EV certified technicians through the national EV certification network that Legacy EV has established. With this training, our team will have the core knowledge it takes to explain the engineering and document our discoveries. These are exciting times and we're proud to be at the forefront of electric vehicle journalism.
In the current issue of the magazine were several of the cars at this Electrify Expo and some of the electric motors used in several classic cars. Several article headlines seemed appropriate for those involved with replacing ICE engines with an electric motor.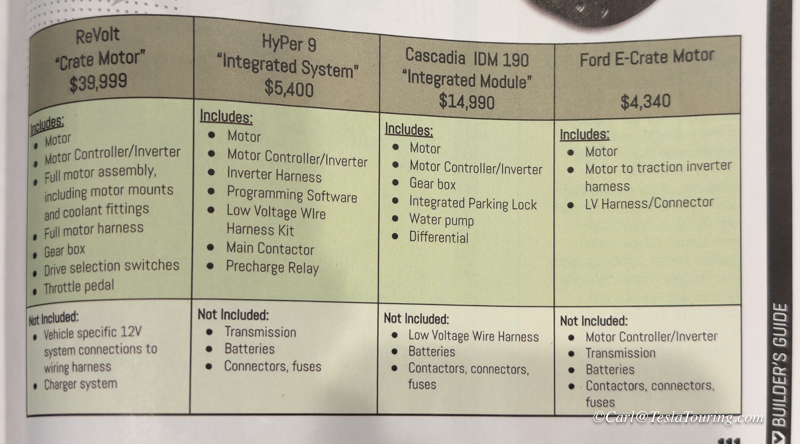 EV Builder's Guide compared replacement electric motors.
Remember:
(Double click any image for a larger copy: Click BACK in your browser to return to this page.)


---
EV Builder's Guide

hosted this Kyle Conner summary of Electrify Expo for his

Out of Spec Review

on his

Youtube Channel:
If the video above does not work, go here: https://www.evbuildersguide.com/heres-what-youve-missed-at-electrify-expo-long-beach-ca/
---
LINKS
[
Top of this Report
|
Other TeslaTouring.com Reports by Carl Morrison
| Slideshow ]
Comments welcomed:
Carl@TeslaTouring.com
or on our
TeslaTouringFacebook Page
.