Tesla Model 3 - 1,000+-Mile Emissions-Free Road Trip
Orange County, California, to Reno, Nevada, Round Trip via Hwy. 395.
For Reno's 2022 Hot August Nights 5,000+-vehicle classic car show.
August 3 - 7, 2022
http://teslatouring.net/HotAugustNights2022/index.html
---
(Images with a gold border can be clicked for a larger copy.)
Our 2020 Model 3 RWD Standard Range+ ready for the Road Trip
Table of Content
I.
Planning the Road Trip
II.
Tesla Road Trip to Hot August Nights
a.
RIVIAN Chargers, first sighting.
III.
Hot August Nights in Sparks and Reno Nevada

a.
Swap Meet
b.
Grand Sierra Resort (GSR) Show Cars
c.
Brightwork on show cars at Grand Sierra Resort
d.
Reno Downtown Cruise
e.
Show Cars at the Pepper mill

f.
Show Cars at Atlantis
g.
Motorsports Action Groups (MAG) Auction
IV.
Tahoe City, Lake Tahoe, California
a.
Tour of New Construction Lake Tahoe, California
b.
Ehrman Mansion, Pine Lodge, Lake Tahoe
V.
Tesla Road Trip Tahoe Lake Tahoe, California, to Orange County, California, via Hwy. 395
VI.
Summary of Travel Statistics
VII.
Tesla free charging in Reno/Sparks, Nevada

I like to use "A Better Route Planner" to plan the entire trip (very detailed)
and
Tesla's onboard computer for stop-to-stop navigation.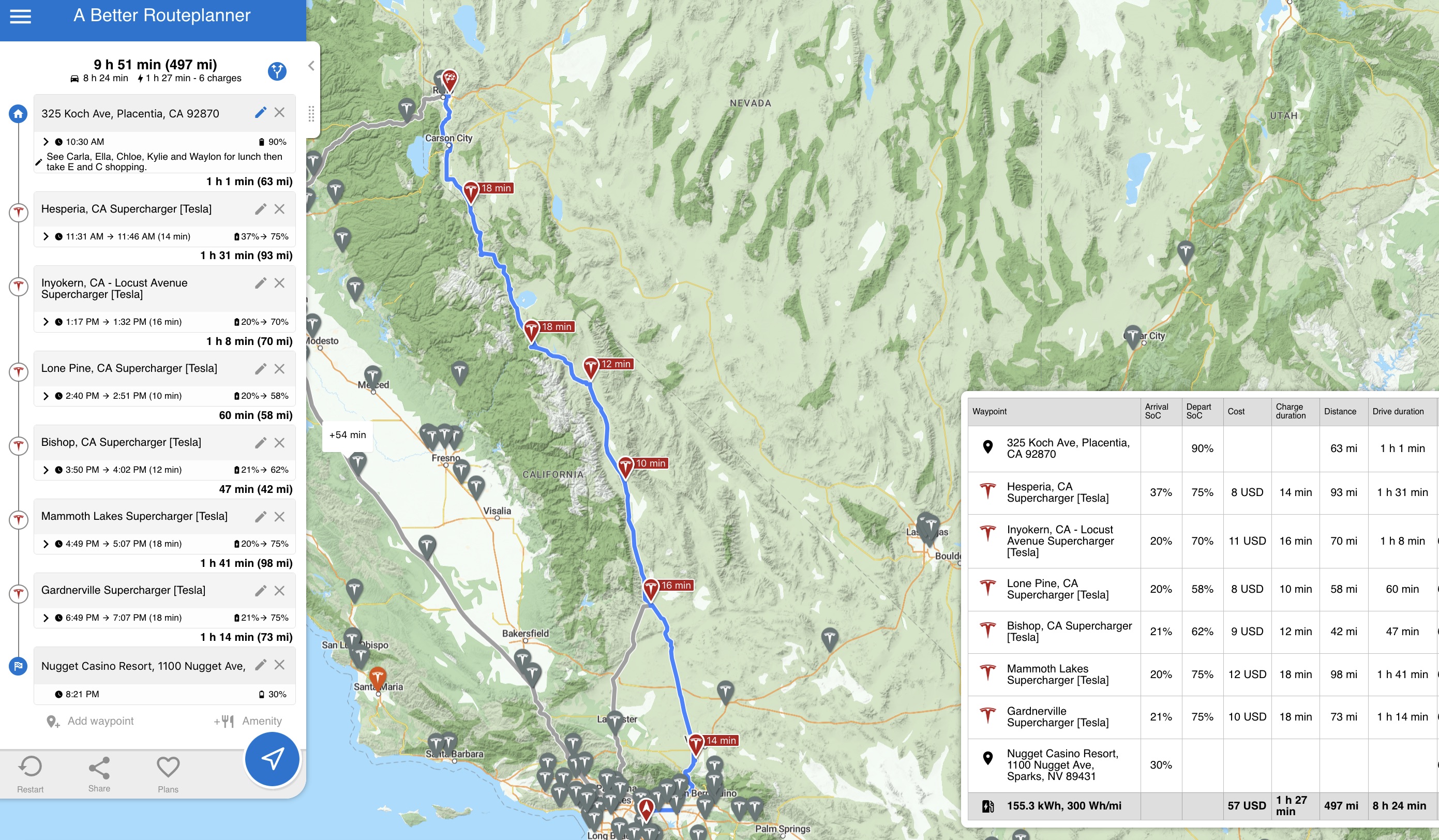 A Better Route Planner (ABRP), above, gives an Itinerary (left side), overall map, and
a table (right) of the stops with State of Charge on Arrival, and Departure, Cost, Charge Destination , Distance, and Drive Duration (time to get to the next charger).
The last line of the table gives total cost of charging for the trip ($57) amount of time spent charging (1 hr. 27 min.), miles for this segment (497) and the drive duration (8hr 24 min).
The time of day in the table on the left is the time I made the itinerary before the trip.
The image above is static, but this dynamic map can be sent to the car and brought up on the screen, it would be real time and you could click different parts to enlarge.



A Better Route Planner's specific information I put in about my car and other variables.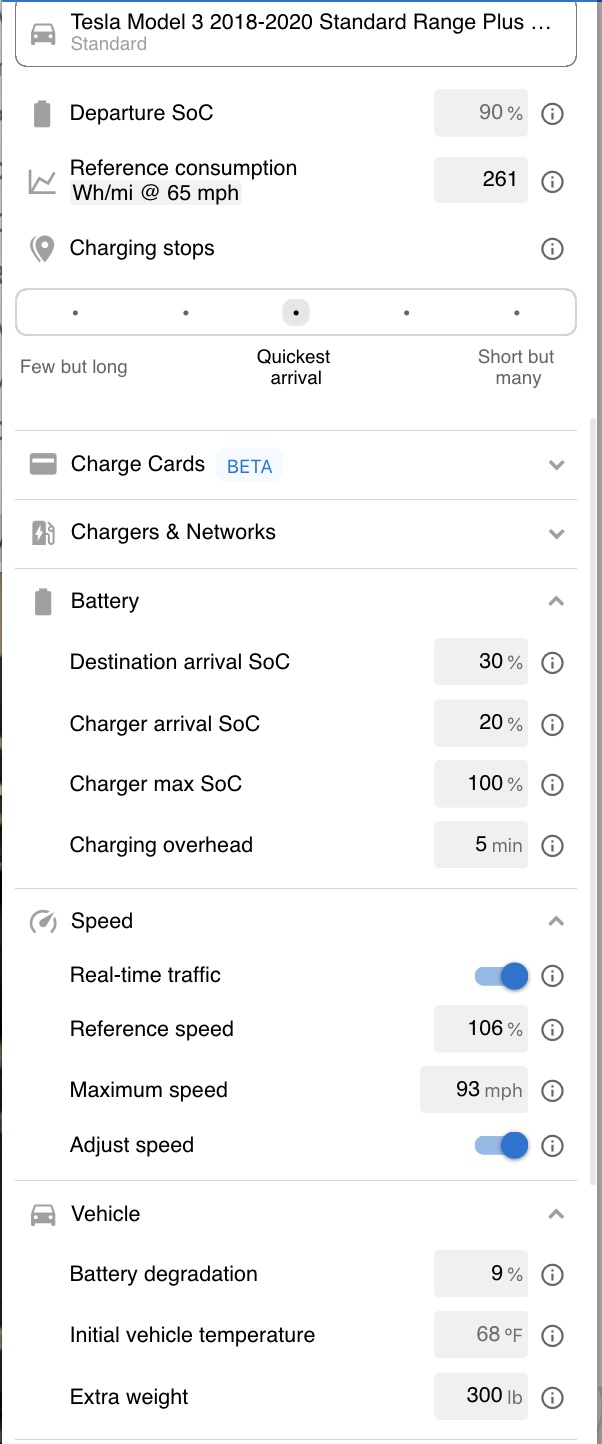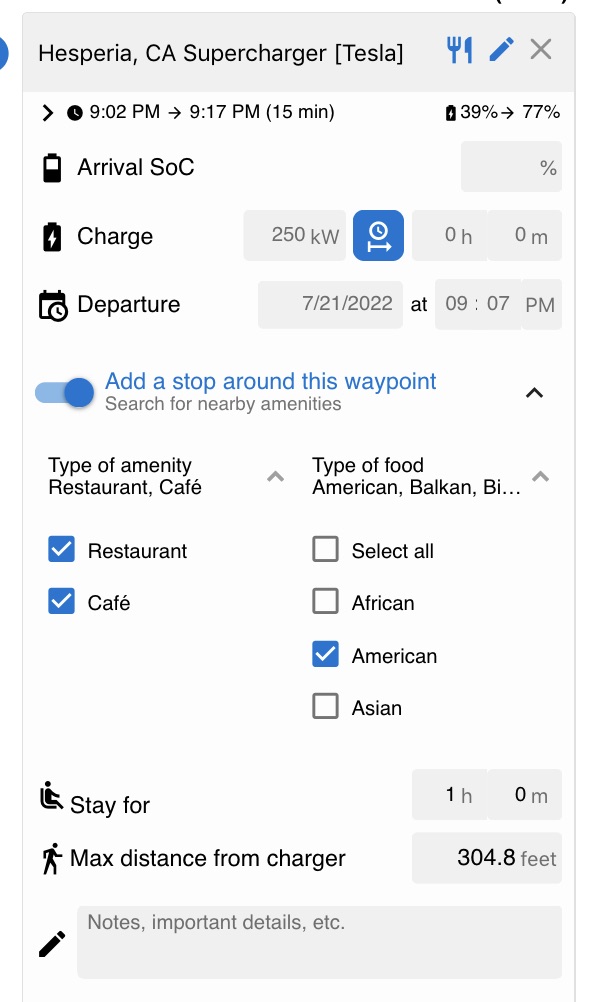 An advantage of ABRP over the onboard Tesla computer, is the table above left.
You can enter many many variables to make the stop predictions and times more accurate.
Note the "Extra weight" at the bottom. We will be taking a couple of overdrives to deliver in Reno, and ABRP allows for this extra weight.

The table on the right is an enlargement of ABRP's information about our first charging stop, Hesperia (Photo of that stop above right)
An important detail in selecting this Supercharger is next to "Charge" which is "250 kW" the current most powerful Supercharger (Older ones might be 150, 75, or 35).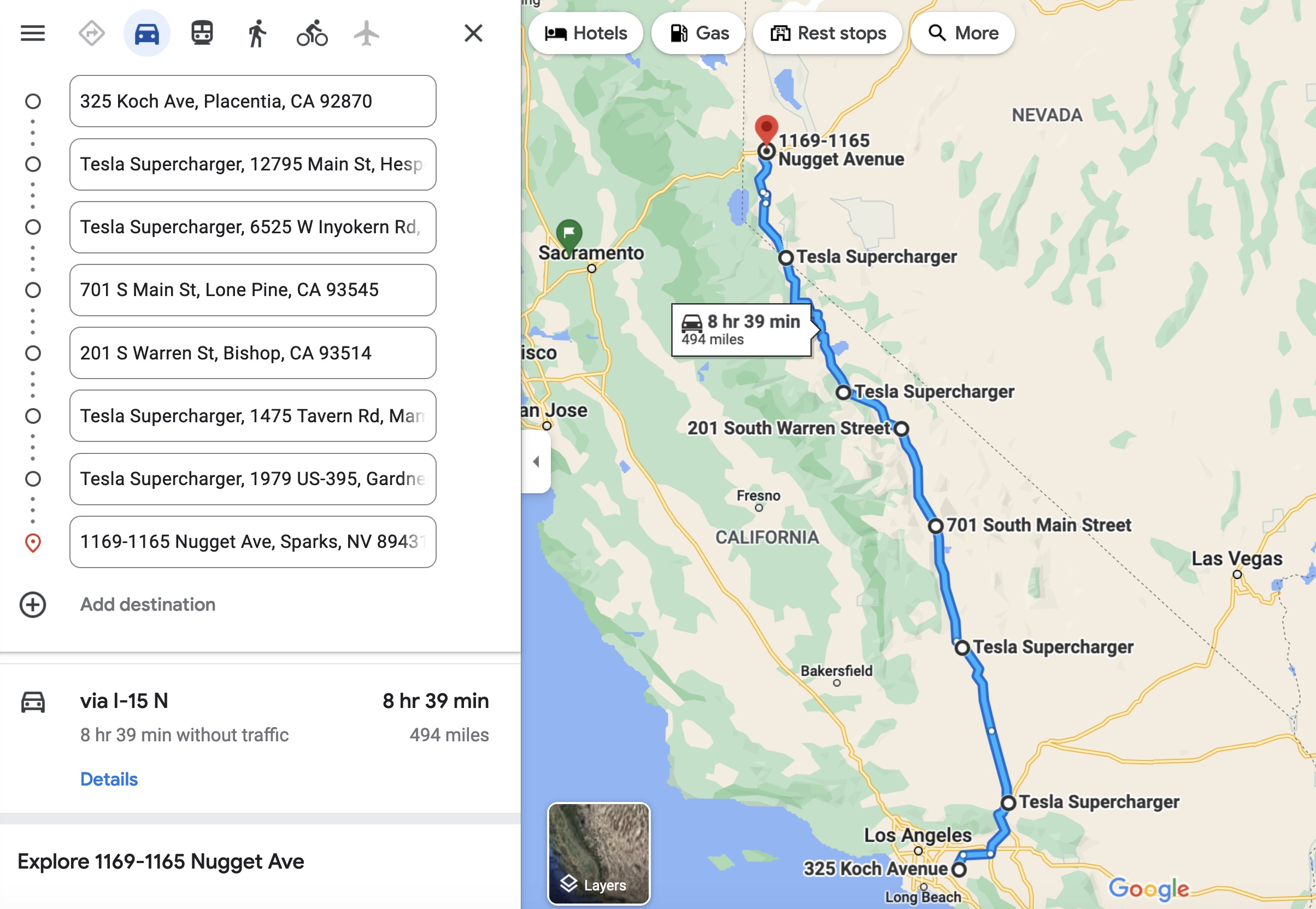 ABRP can also EXPORT your itinerary to Google Maps which you could have on your phone for reference.

ABRP can also EXPORT the table format of the itinerary as a spreadsheet. You could have this live on your laptop and enter actuals in place of the predictions.
---
Tesla's in-car computer itinerary for the same trip from Placentia, CA, to Reno, NV.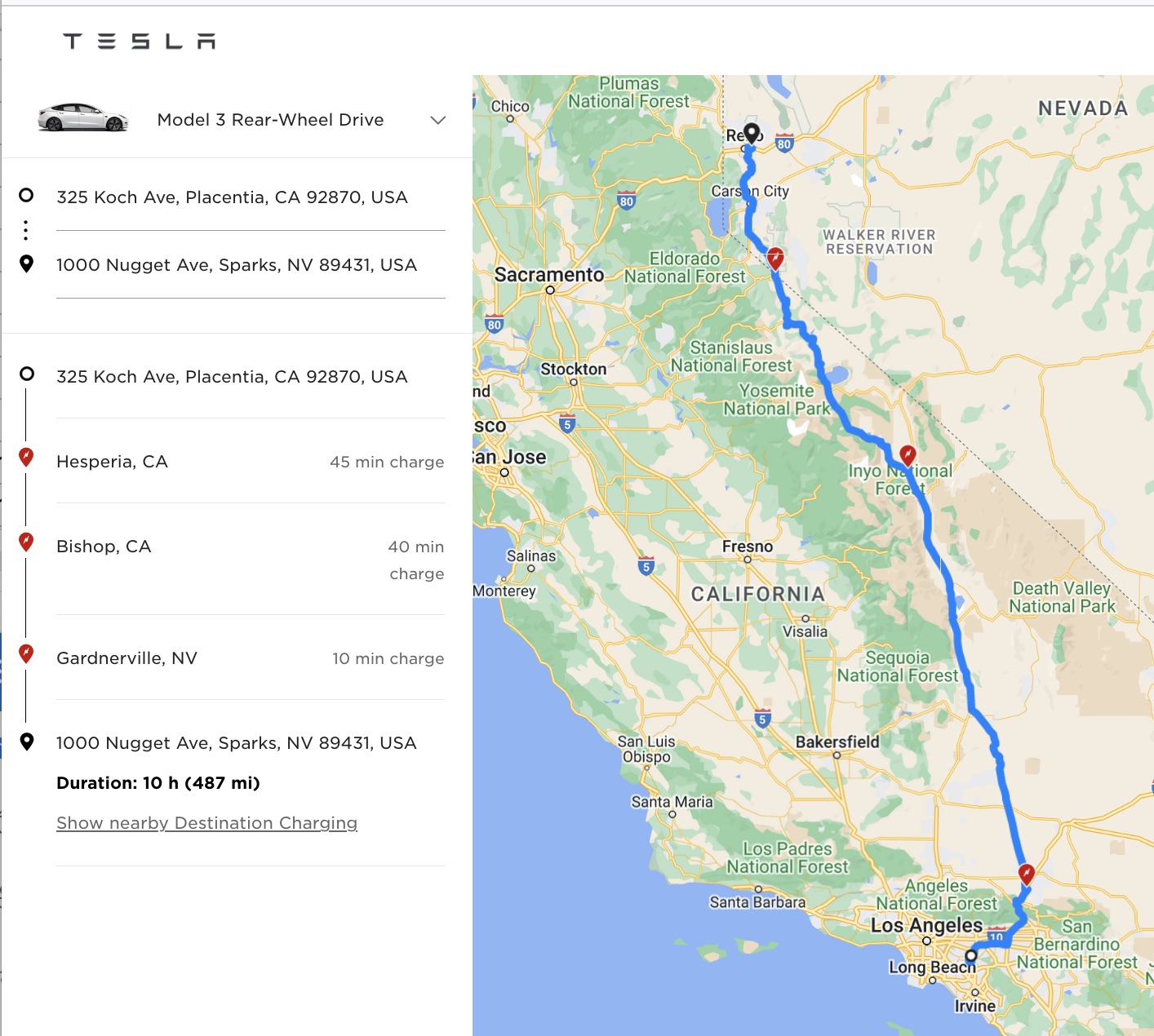 Tesla says 1/2 the stops, BUT only asks what model of Tesla I have and nothing about how much I want left "in the tank" at each stop (in case we take some short side trips.) or how much weight we are taking.
This image above shows the Tesla details you get for the Supercharger stop in Hesperia. I like Tesla's specific listing for Restrooms, Restaurants, Shopping and Lodging.
---
Tesla 500-Mile Road Trip to Hot August Nights Classic Car Show in Reno/Sparks
(Images with a gold border can be clicked for a larger copy.)
Our first stop was without charging; breakfast in Cajon Pass not far from a westbound UP train with a DPU locomotive mid-train. McDonalds, being remodeled at Hwy. 15 and 138.
Second stop was for charging at the Hesperia Tesla Supercharger. Above right, Tesla.com showed restrooms at Target, but they were not open yet, so we went to Five Guys Burgers.
We charged for 11 minutes for $4.73 for 46 miles of range, more than enough for our next charge in Inyoken.
Back on Hwy. 395 with Fred at the wheel.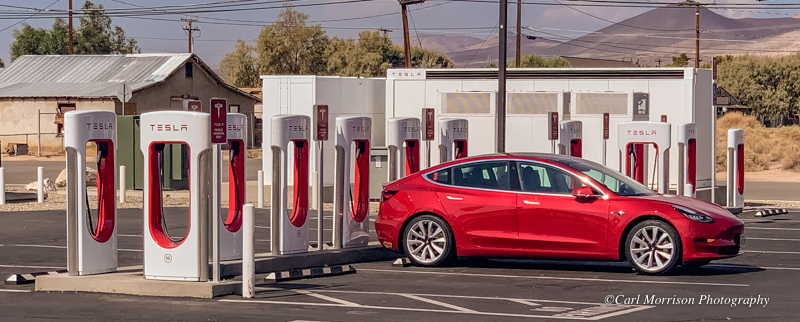 At our second charging stop, Inyokern, the original 4 cabinets were still there, but nearby were these 12 new stalls.
From our charging spot, we could see the new RIVIAN chargers across the new lot.
We charged for 15 minutes for $7.20 for 67 miles of range, more than enough charge to get us to Lone Pine.
If you forget to record a charge, Tesla sends you an invoice for each charge (which is paid with your recorded credit card) and all supercharges are in a summary online in your account).
This was at Hesperia on our return trip.
Return to Table of Contents
---
RIVIAN Chargers, first sighting.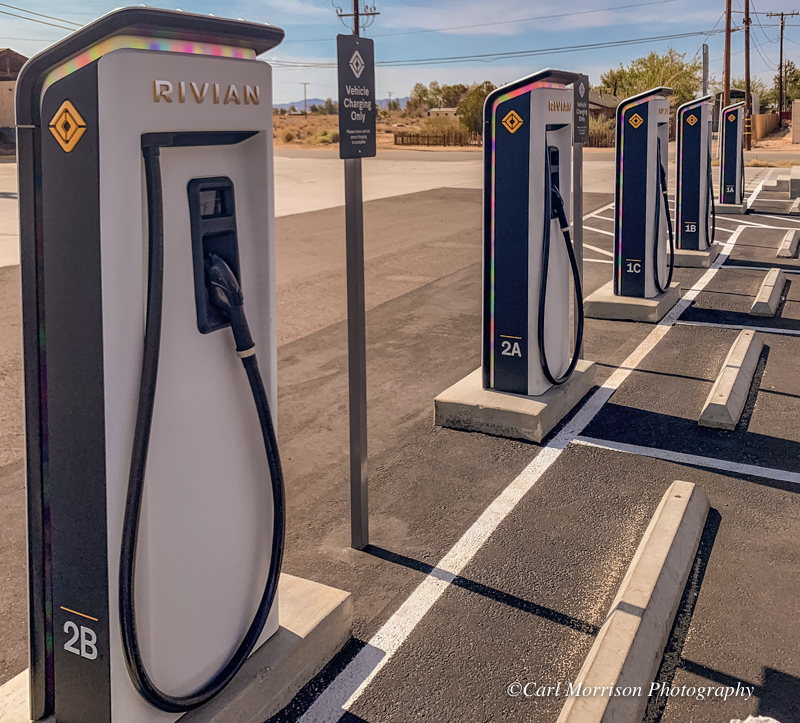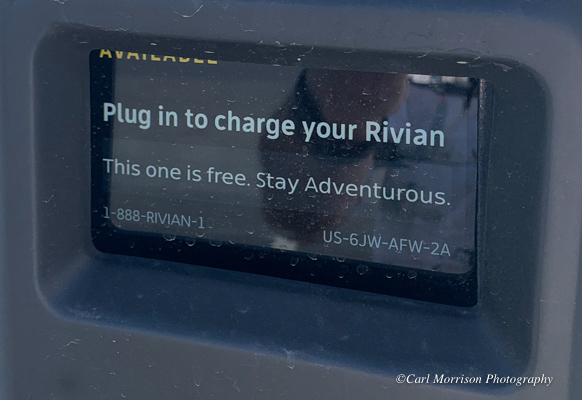 In the same lot were these brand new RIVIAN chargers, with the screen message that they were FREE!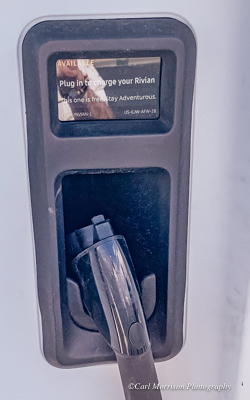 The RIVIAN-only plug.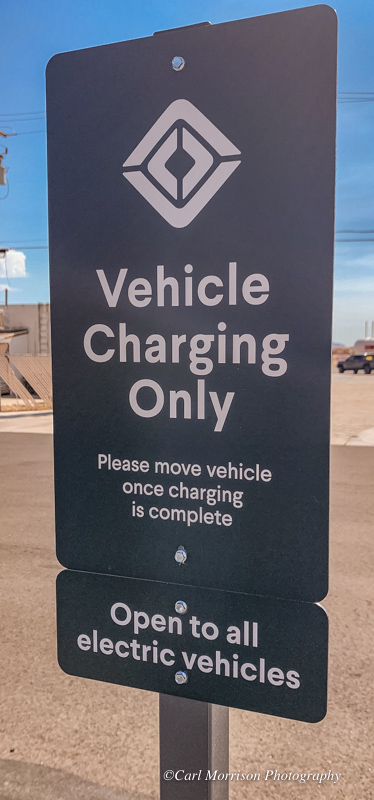 Even more impressive was the different cabinets marked RIVIAN that were "Open to all electric vehicles," with the plug shown in the center above.
When I got home, I found the converter above that came with my 2020 Tesla 3 Mobile Connector cable and it would have worked on the 2 RIVIAN "all electric vehicles" chargers.
The next challenge in using the RIVIAN charger would have been how to pay for it since it would not have recognized my Tesla Account.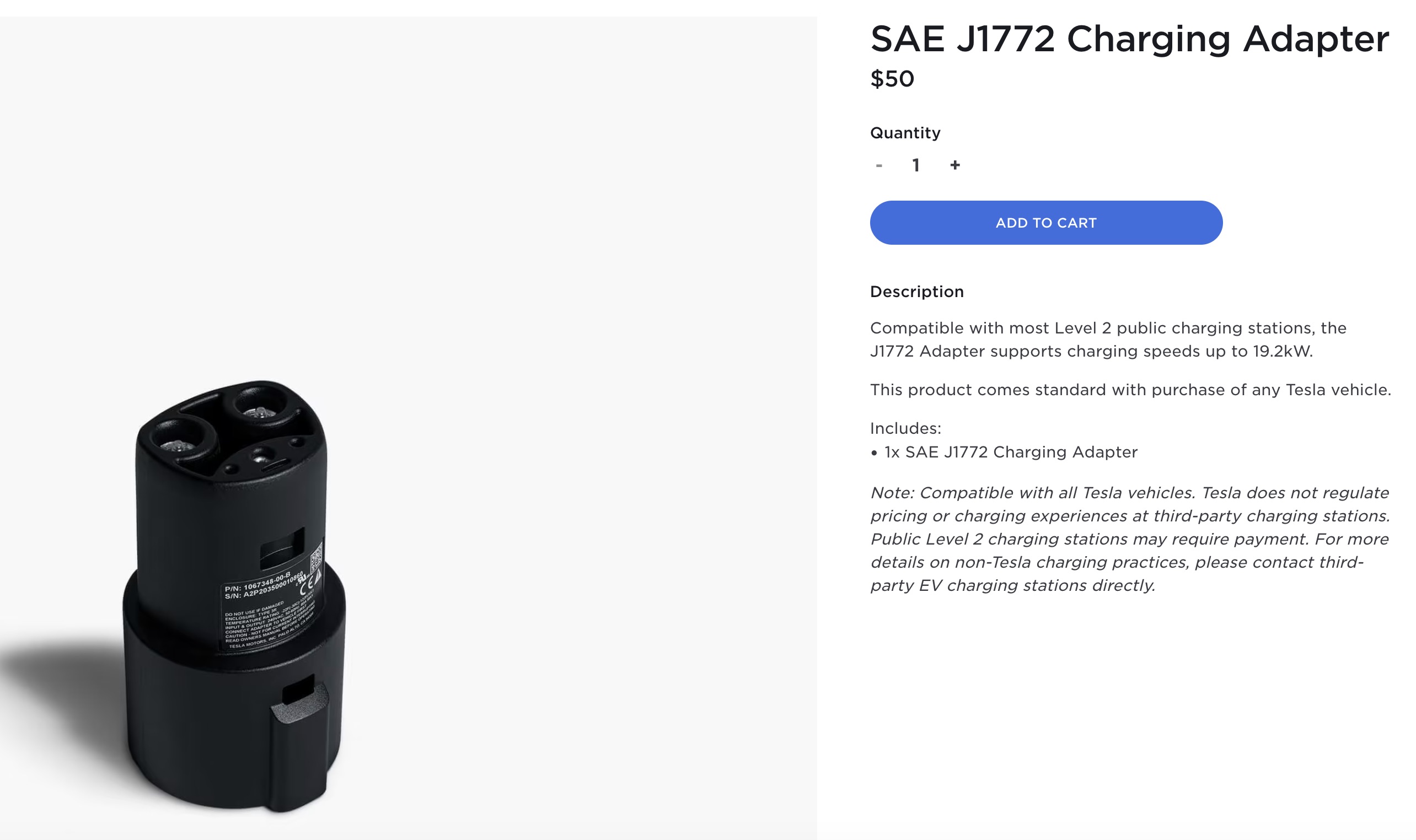 .
The info. to purchase the Tesla-to-RIVIAN converter says, "...comes standard with purchase of any Tesla vehicle." as it did with our 2020 Model 3.
RIVIAN says, "...Our RIVIAN Adventure Network is a comprehensive network of fast-charging stations across the U.S. and Canada — capable of adding up to 140 miles of range in 20 minutes."
"Where's RIVIAN" Click the map above then look for the yellow pins where there are active RIVIAN chargers.
Seems we found 1 of the 3 active chargers in the US in Inyokern. The others are in Bishop, CA, 128 miles up Hwy. 395, and Salida, CO.
All RIVIAN vehicles come standard with our 18' Portable Charger that's designed to plug into a 240V NEMA 14-50 outlet for up to 16 miles of charge per hour, or a standard 120V outlet for a few miles of charge per hour.
RIVIAN website shows plugging one in at a campsite, but you'd better plan on camping overnight to get a full charge.
https://rivian.com/experience/charging

From the App Store:
Looks like the app has many features like the Tesla app.

Eastern Sierra from Hwy. 395 north of Inyokern, California
These two show cars passed us going at least 15 mph over the 55 mph limit for trailers.
This Auburn was traveling with a 50 Mercury.
Next charging stop was Lone Pine, California.
We charged for 40 minutes (including lunch) for $11.25 for 104 miles of range, more than enough for our next charge in Mammoth.



Although ABRP suggested that we stop in Bishop, we skipped it and went 100 miles on to Mammoth.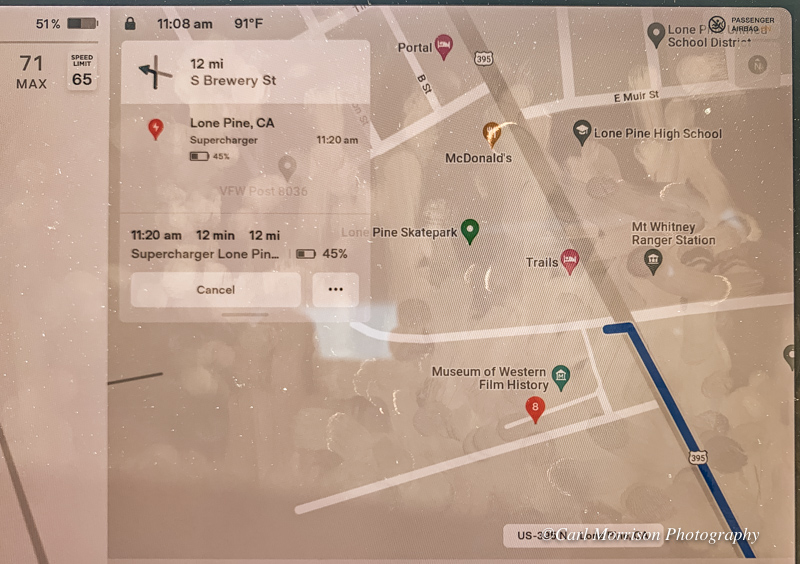 Above left, the Tesla screen showing how to get to the Tesla Supercharger. We walked to the McDonalds for lunch.
Above right, the iPhone screen while away from the car while it is charging showing the current charge at top and the 157 mi/hr charging rate.
Giant beanie at Big Pine advertising Mammoth skiing. Thunder clouds forming at 1:13 in the afternoon at Alta Vista north of Bishop on Hwy. 395.
Mammoth's eight pull-through Tesla Superchargers.
We charged for 18 minutes for $10.80 for 100 miles of range, more than enough charge to get us 98 miles to Gardnerville.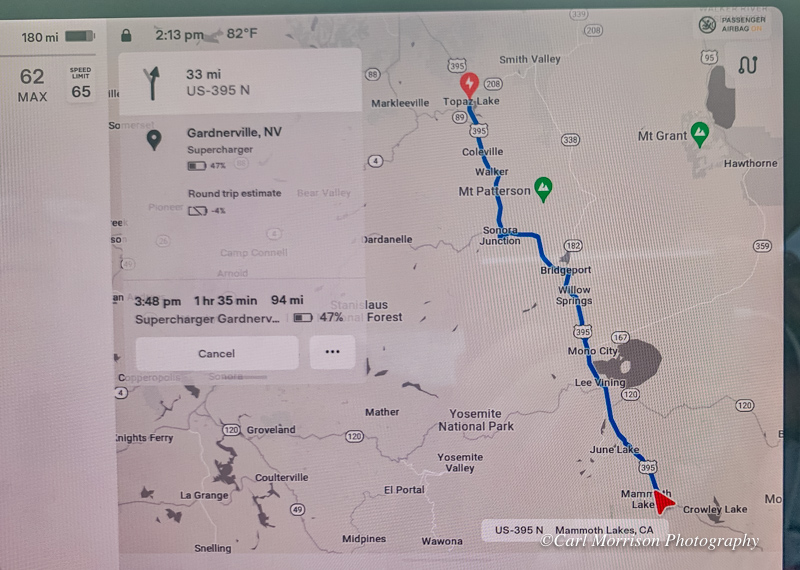 Left, image on phone while charging at Mammoth showing state of charge, 145 mi, and charging at 299 mi/hr
Right, Map on Tesla screen showing next charging location, Topaz Lake/Gardnerville, miles and driving time to get there, 94 1hr 35min, and state of charge upon arrival, 47%, top left of screen.
Mono Lake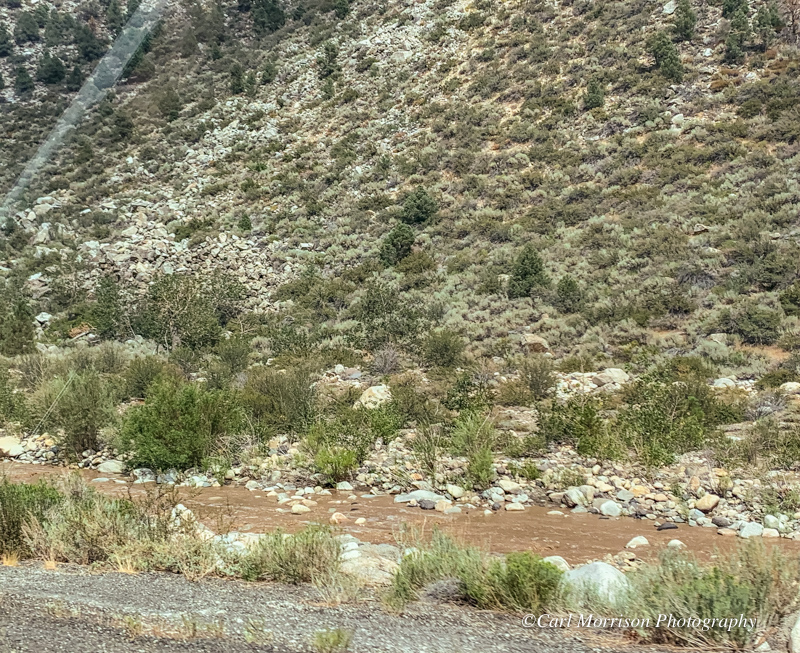 Left, Walker River muddier than usual. Right, the exit side of the California Agricultural Inspection.
Nevada state line. Gardnerville/Topaz Lake Tesla Supercharger.
We charged for 11 minutes for $6.80 for 71 miles of range, more than enough charge to get us 73 miles to the Nugget Hotel in Sparks.
A couple of interesting things at the store at the Topaz Lake Tesla Supercharger.
---
Return to Table of Contents
Hot August Nights, Reno and Sparks, Nevada. August 3 - 5, 2022
We traveled on to our Hot August Nights accommodations in
Sparks, Nevada, The Nugget Hotel,
which provides free Tesla charging for guests on the second floor of the parking structure.
From there it is a convenient walk across the pedestrian bridge to the elevator to our 18th floor room.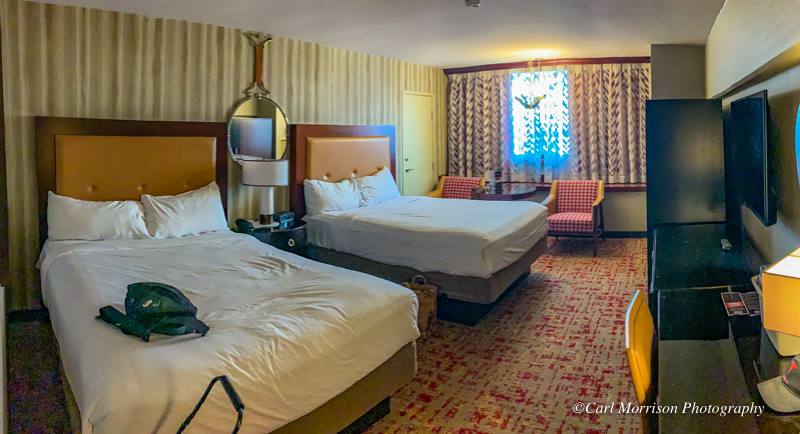 Although it costs over $300 for the two nights, the free, covered parking, free charging, and walking distance to the Sparks Cruise and food, we like it.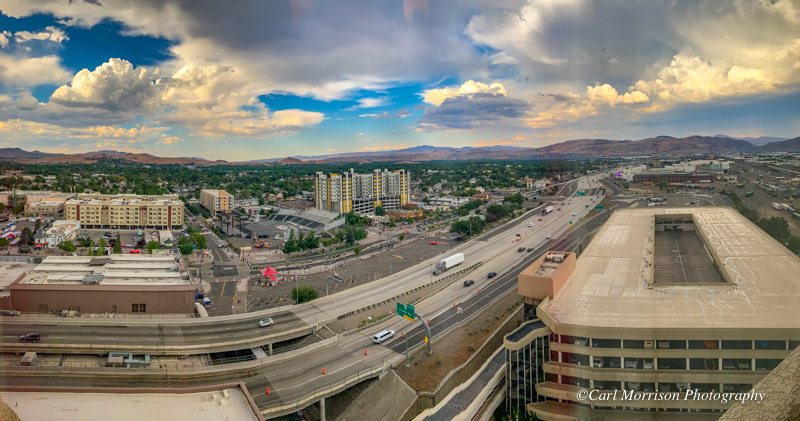 Above left, view northeast from our 18th floor room at The Nugget showing I-80, the Sparks cruise route, and the parking garage. Only show cars can park on the top floor.
Above right, view south from 18th floor showing UP rail yard east of Reno Amtrak Station, GSR Hotel where many show cars are on display. Downtown Reno and Virginia Avenue are to the right out of the photo.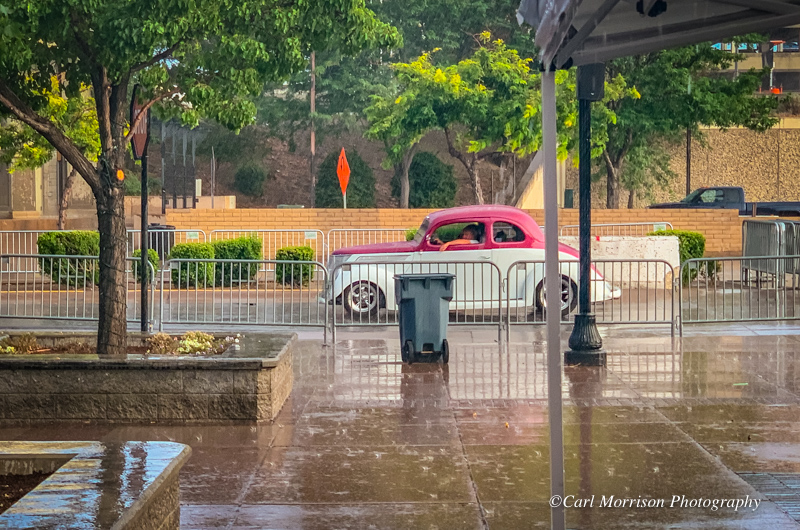 Our routine is to check into the Nugget, walk under I-80 to Victorian Avenue to the In-N-Out then set up our chairs to watch the Wed. night cruise. That worked until a 1/5 in. thunder storm.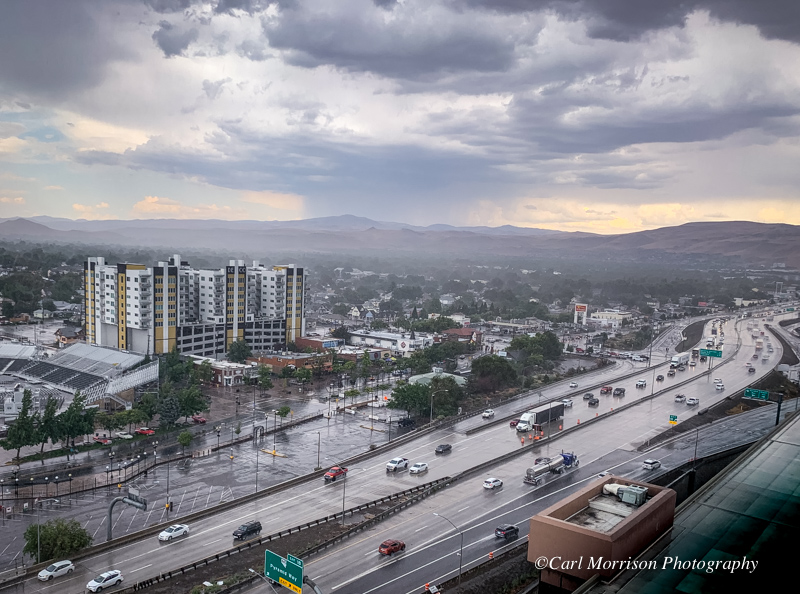 Early Thursday morning view south and northeast. Still wet after 1.5 inches of rain.
Return to Table of Contents
---
Swap Meet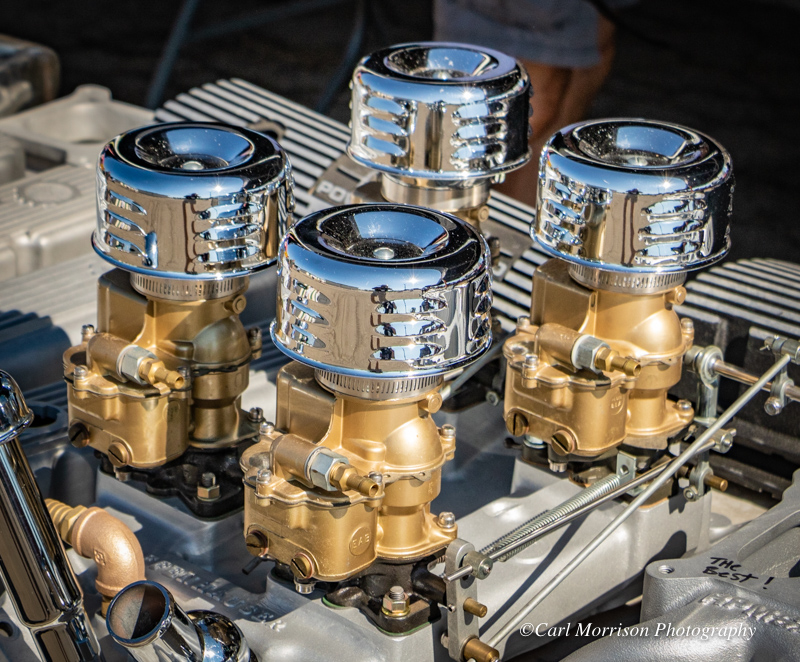 Thursday is the Swap Meet and Car Corral at the Reno/Sparks Events Center 1350 N. Wells Avenue. Center, Friends Tom and Fred.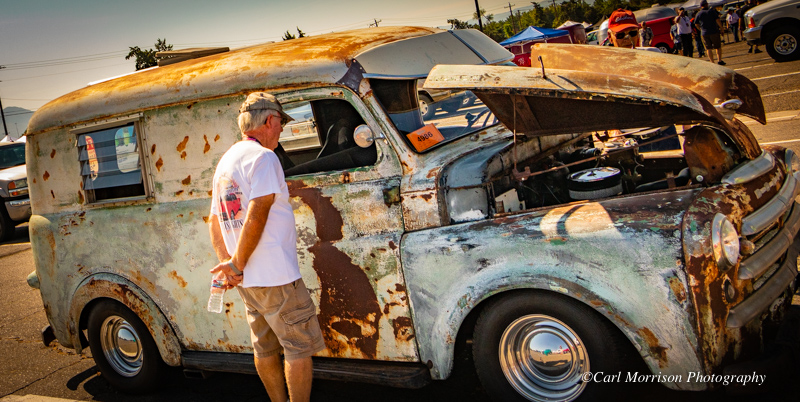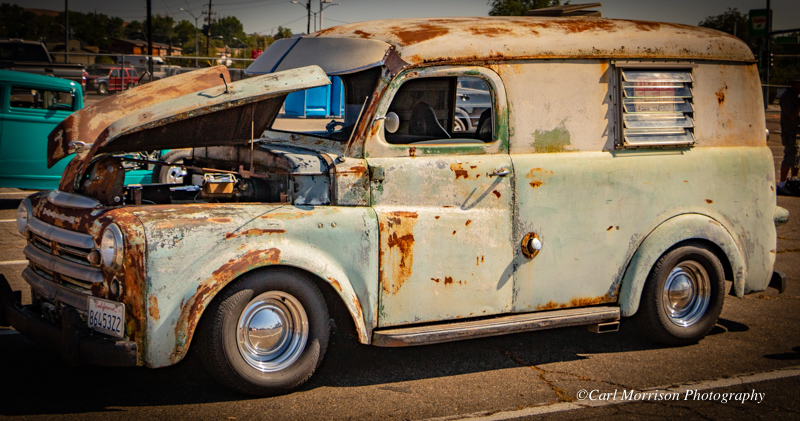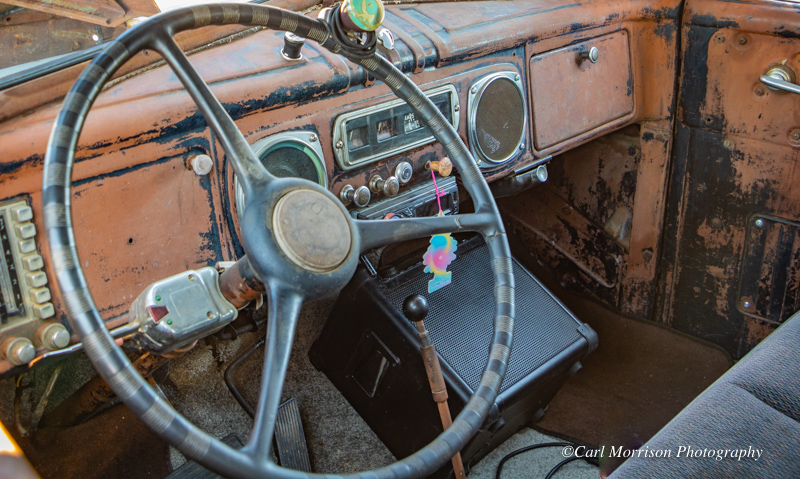 Fred trying to see "the vision" of this 1948 Dodge Panel, $25K. We saw this vehicle in the Reno Cruise that night so it is a daily driver.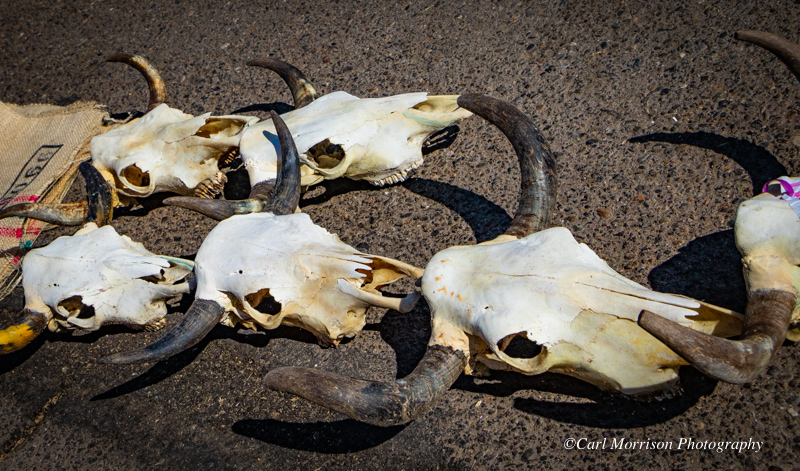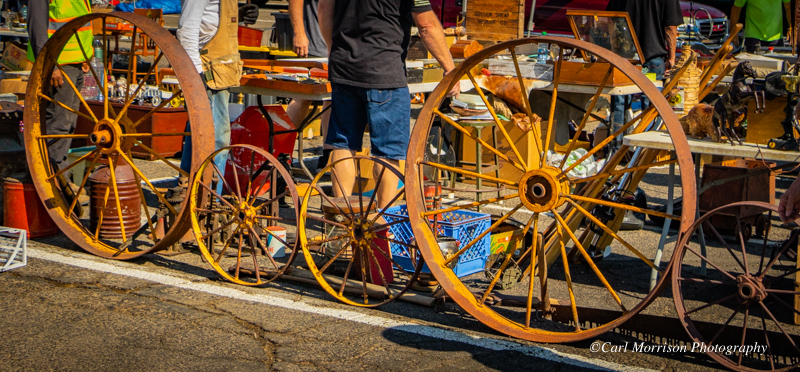 Plenty of the unusual.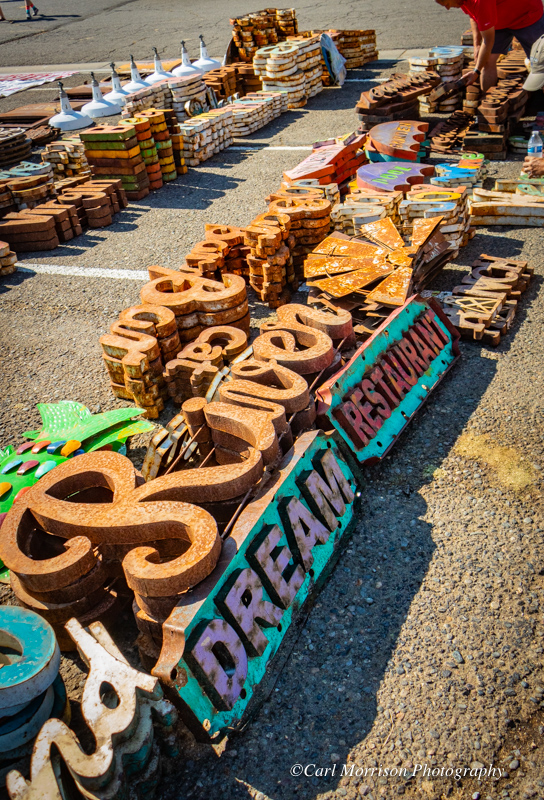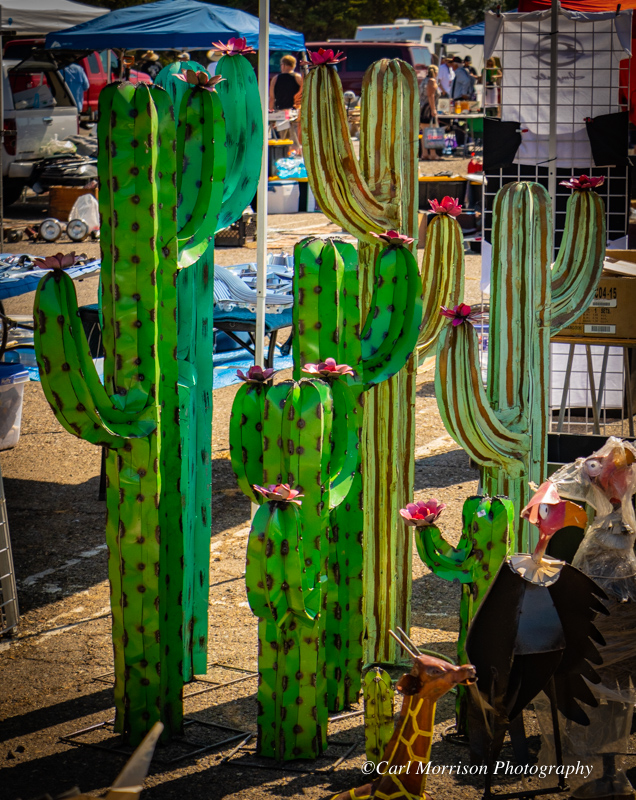 Unusual items and attendees.
The license plates lining the bed might be worth more than the Studebaker truck itself.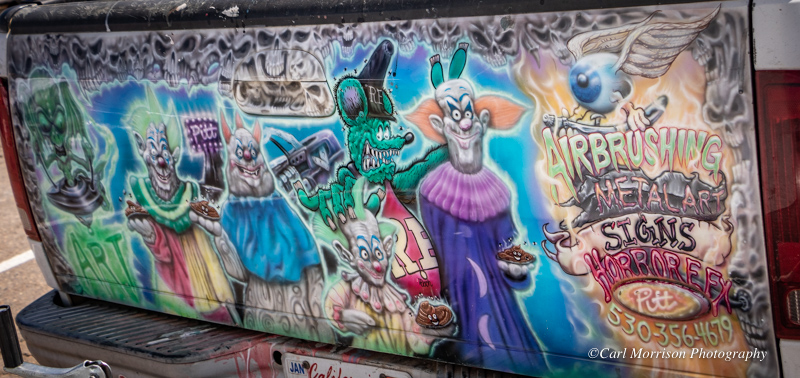 Some vendors vehicles were most interesting.
Inside the arena was the "Cool Car" showroom, usually filled with rows of cars for sale.
As the story goes, the center threw away the carpet that used to cover the arena floor and the car owners didn't like the dirt so they were lined around the top above the seats.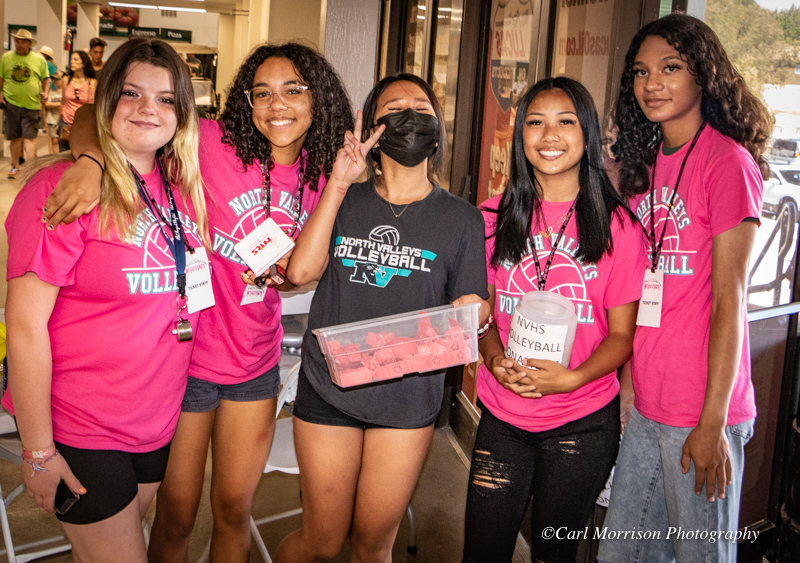 North Valleys Volleyball team members handle ticket taking and ask for donations. Above right, one of the cars for sale in the "Cool Car Showroom" around the top of the arena.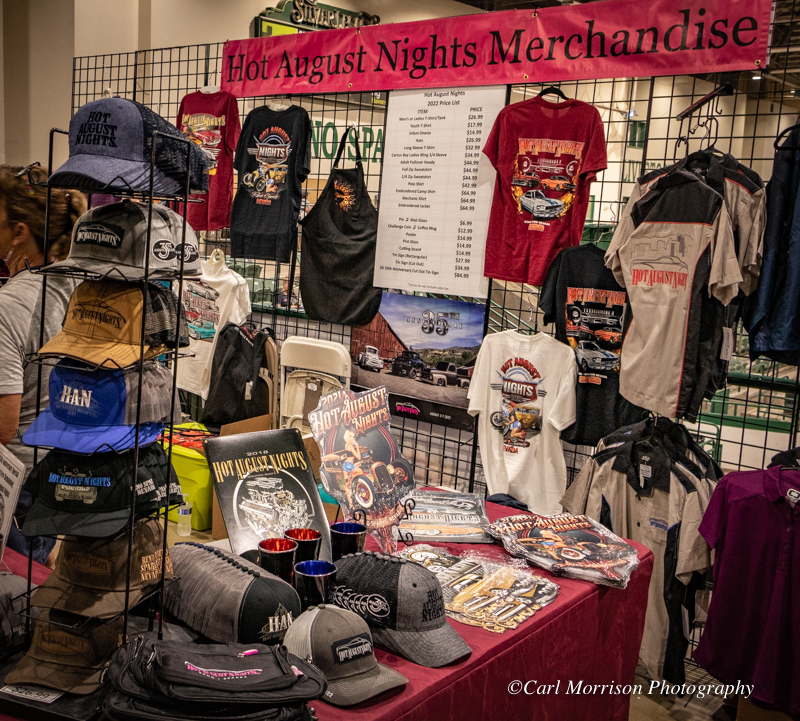 Vendors were inside as well including over-priced past Hot August Nights merchandise.
Return to Table of Contents
---
Grand Sierra Resort (GSR) Show Cars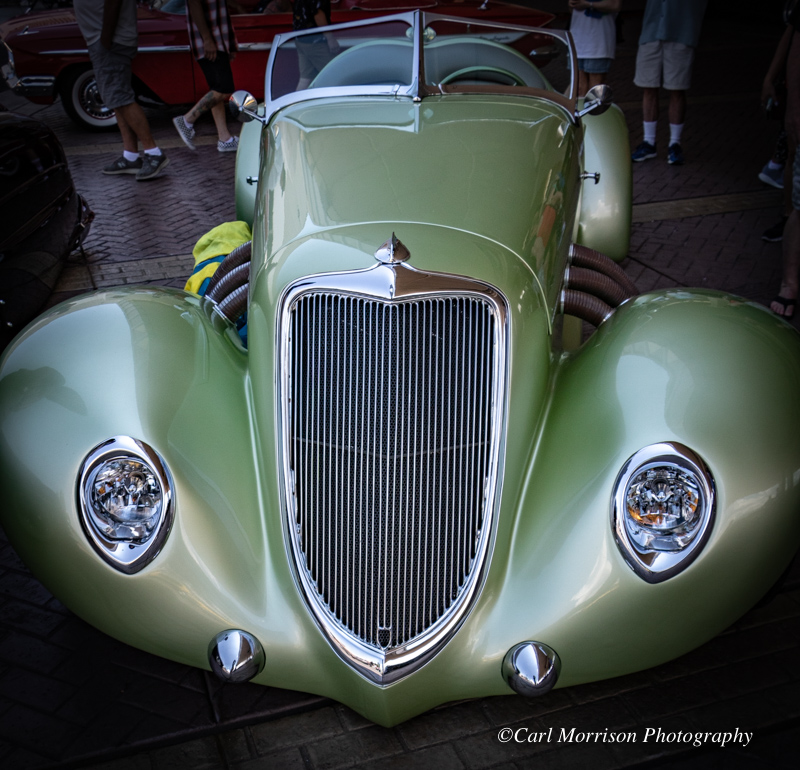 Next, the Grand Sierra Resort, under the portico where special show cars are parked....guess what was there - the Auburn we saw on a trailer coming up Hwy. 395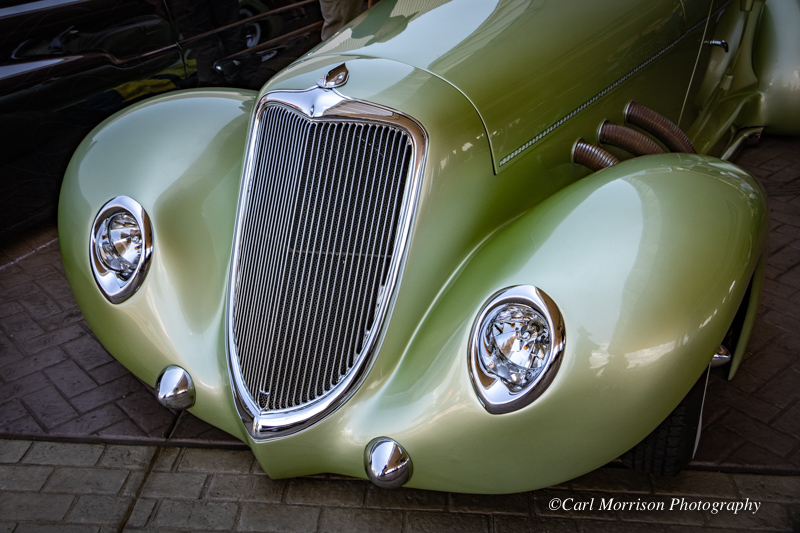 since it was the nicest car at the show in my mine, I tried to do a photographic study of it. Under the portico made a good light as opposed to bright sun or lights as in the Auction.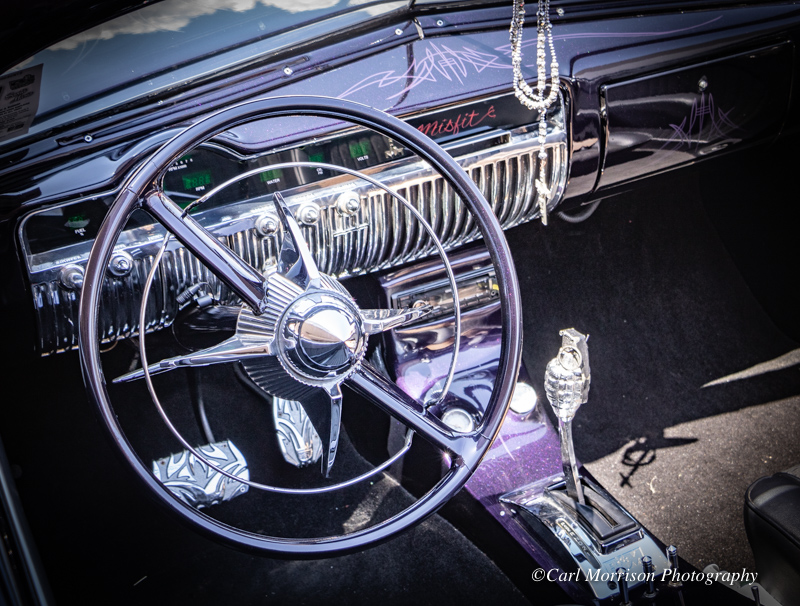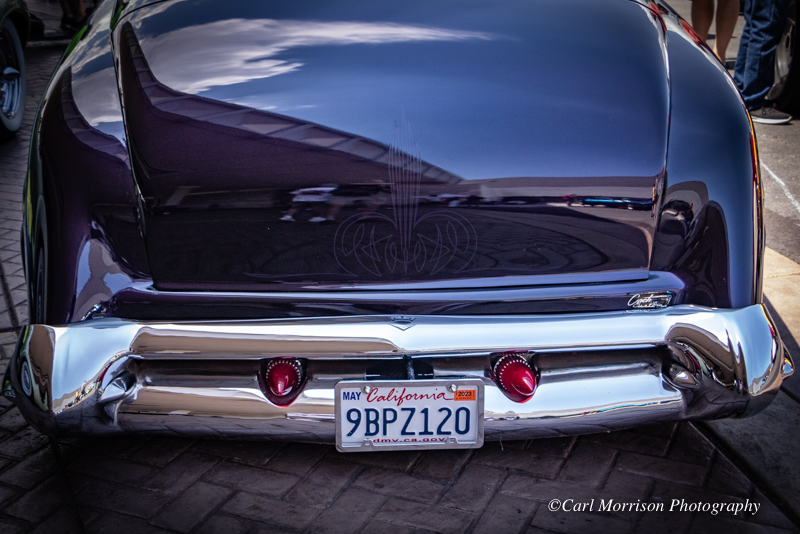 We saw this car coming up with the Auburn - '50 Mercury

Glass tailgates and new colors.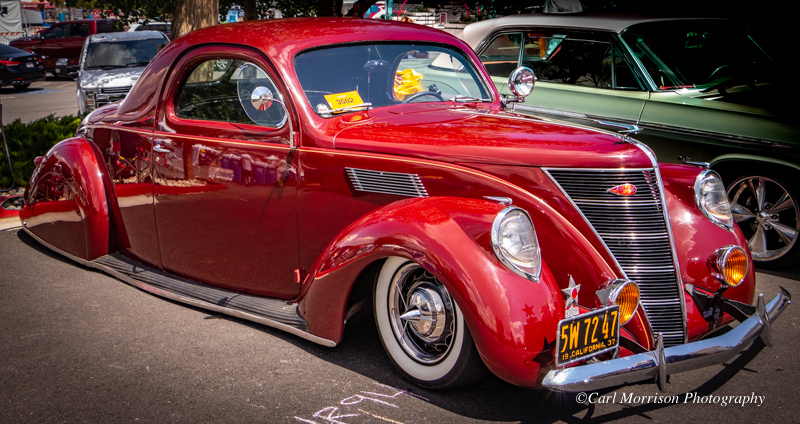 Fender skirts, vent glass, hubcaps, and fog lights.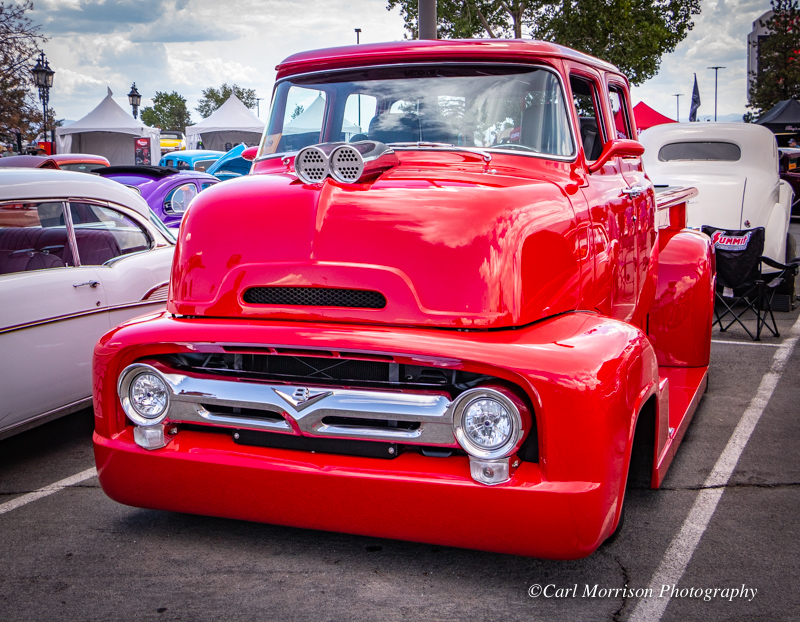 Several Cab-Over-Engine (COE)
Trucks of all sizes and shapes.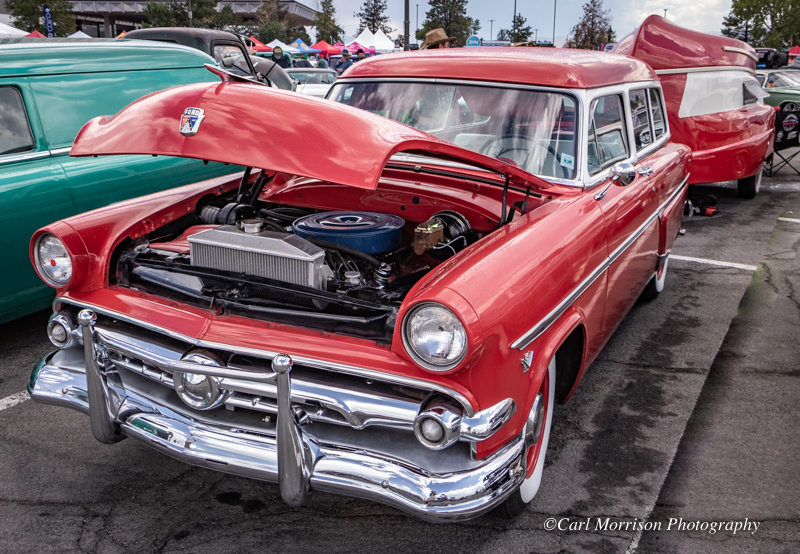 This unique Ford wagon, trailer, and boat show up each year.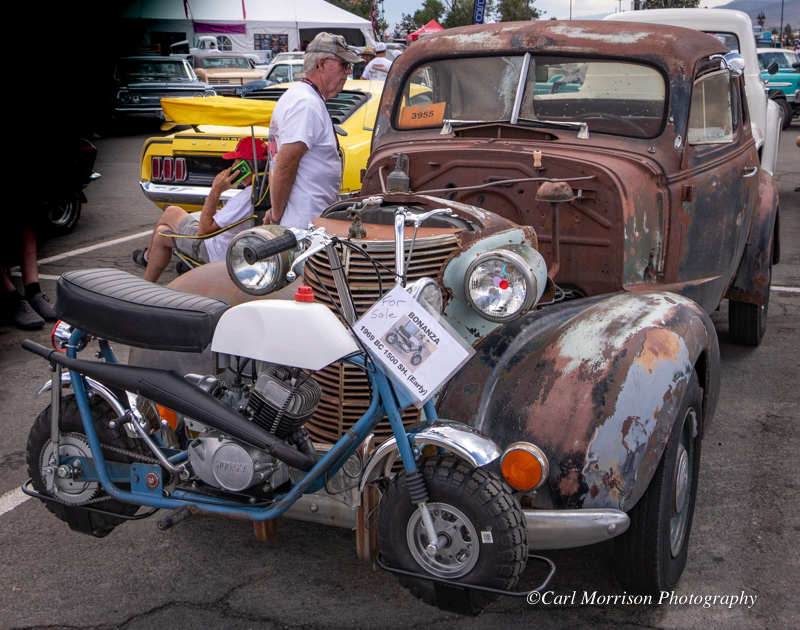 Some, you read the label and you still are not sure what it is, or was.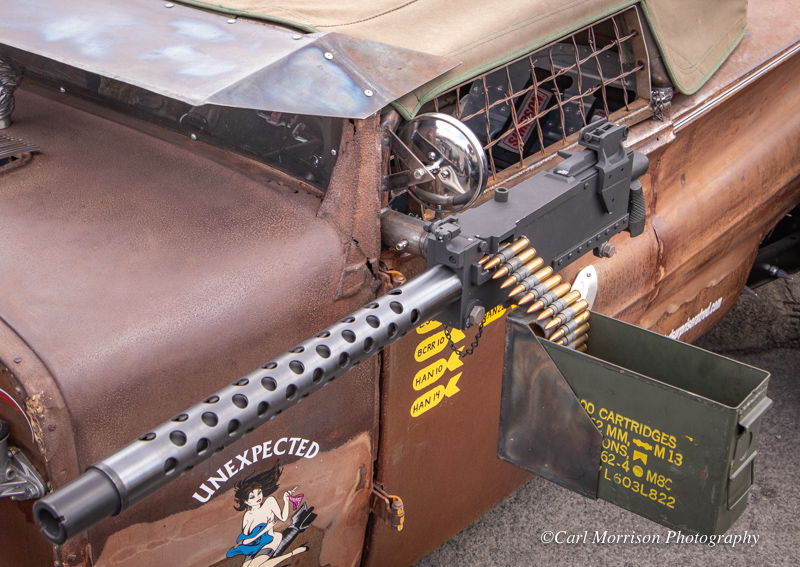 No comment
Return to Table of Contents
---
Brightwork and Autoscript at the Grand Sierra Resort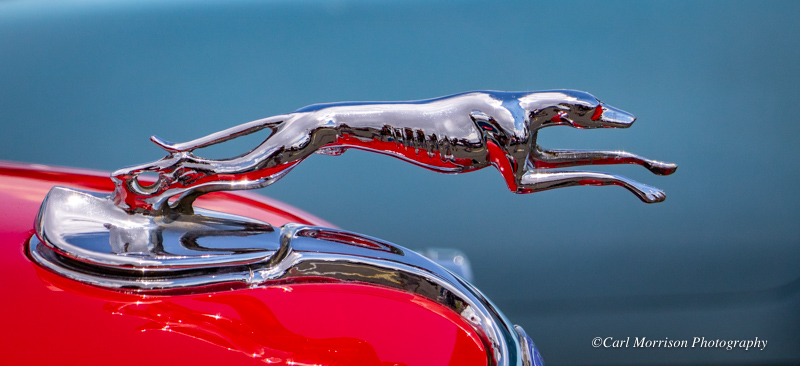 Ford Greyhounds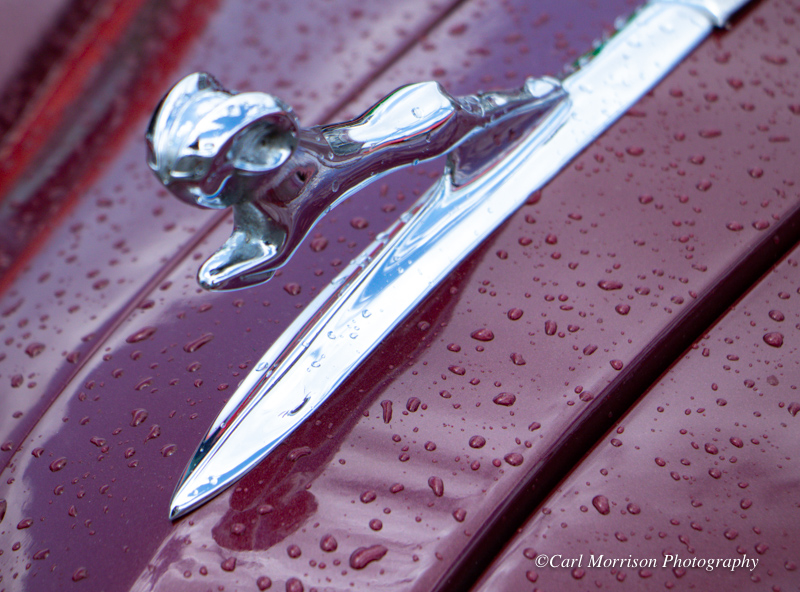 Edsel, Corvette, and Dodge Ram with beaded raindrops on waxed show car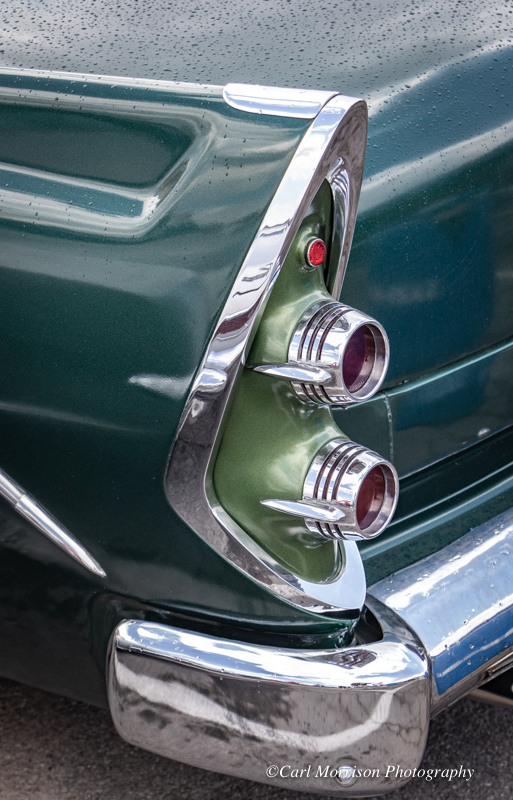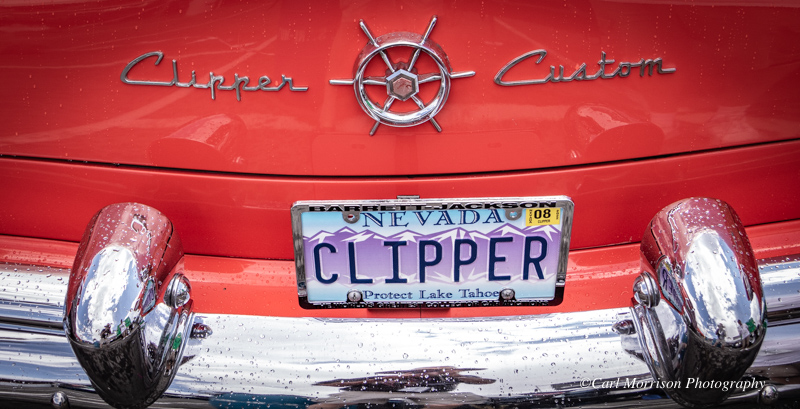 Dodge, Packard and ?.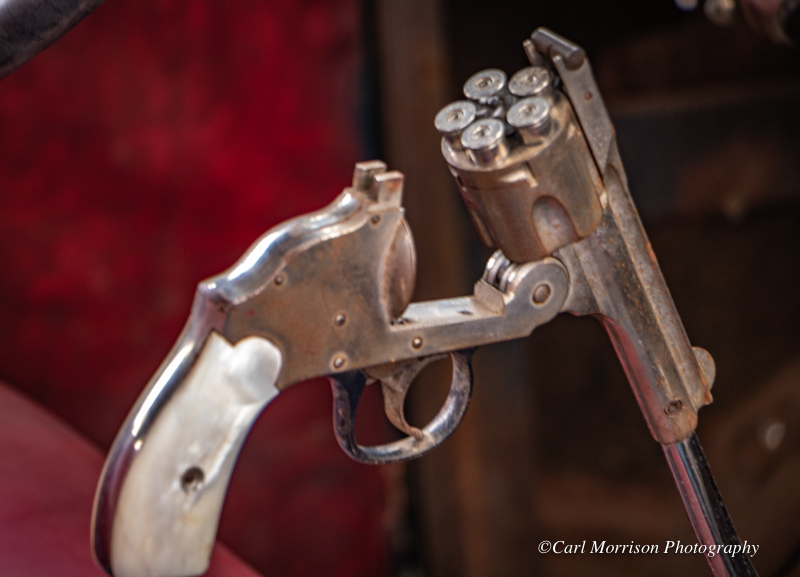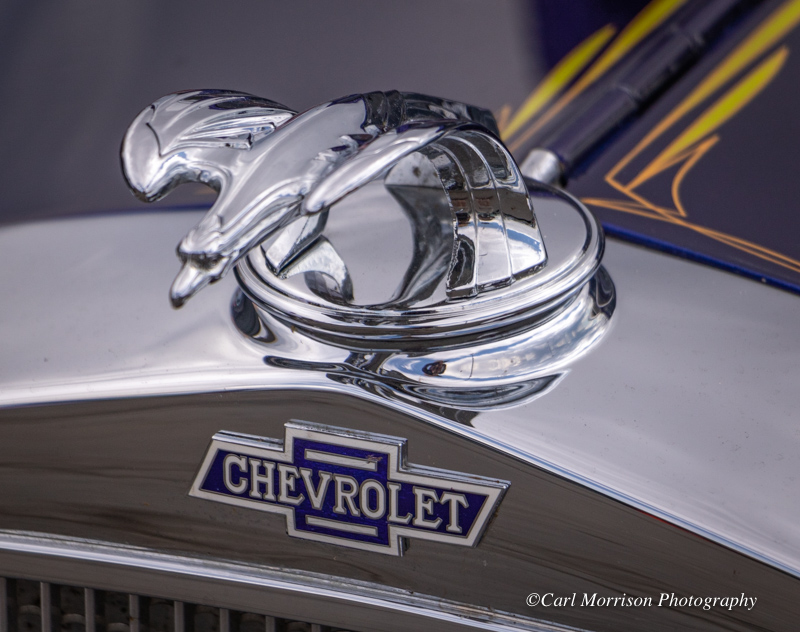 Shifter, '56 Chevy, Chevrolet
Return to Table of Contents
---
Reno Downtown Cruise
We like to take our chairs and sit on the Truckee River Bridge on Virginia St. where we enjoyed the sunset and the cars.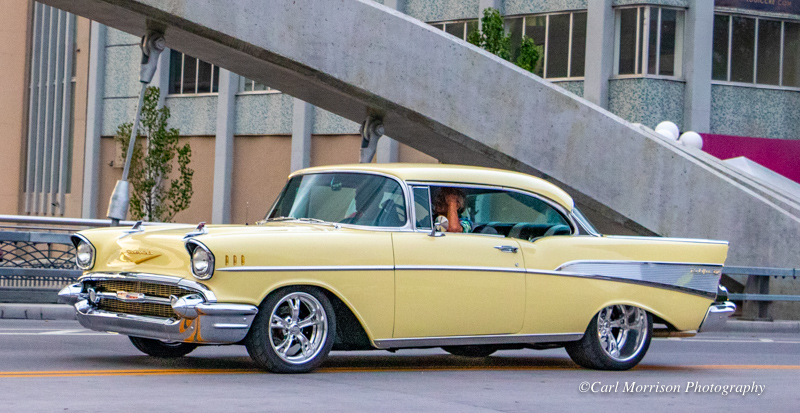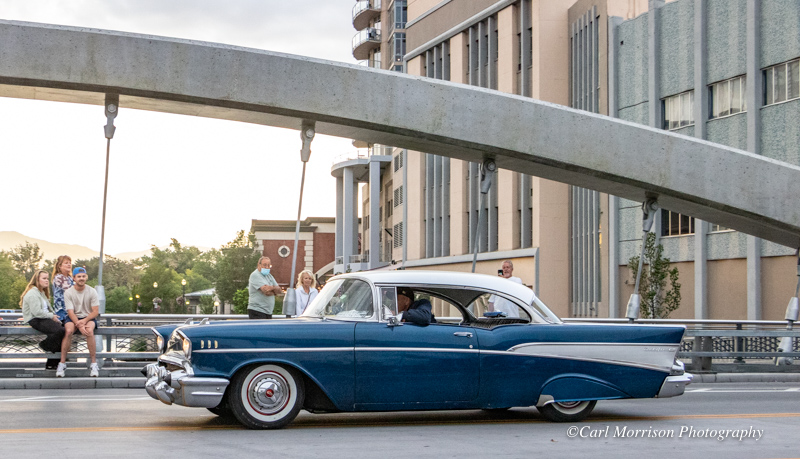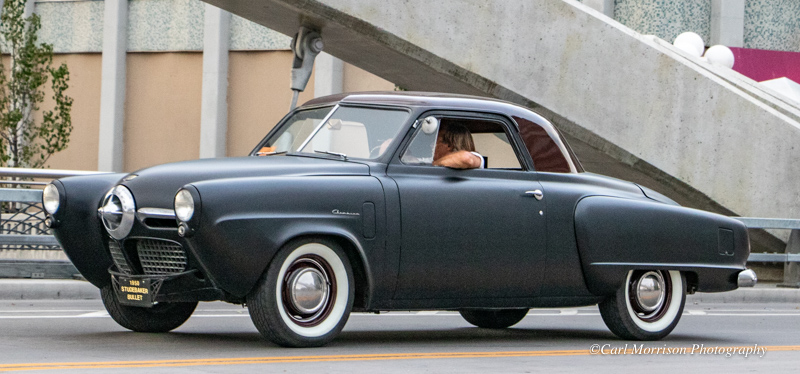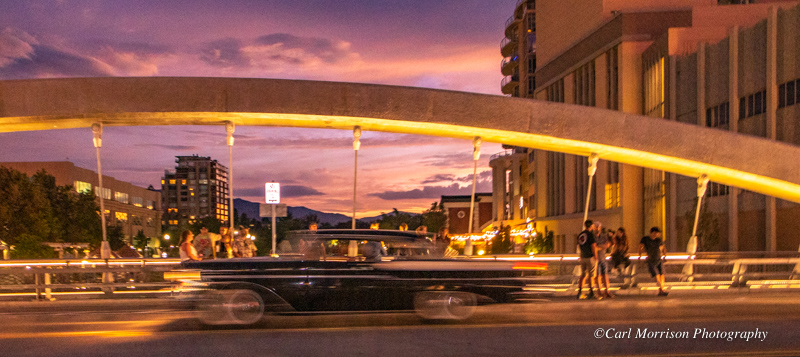 .
The cruise runs from 7 to 10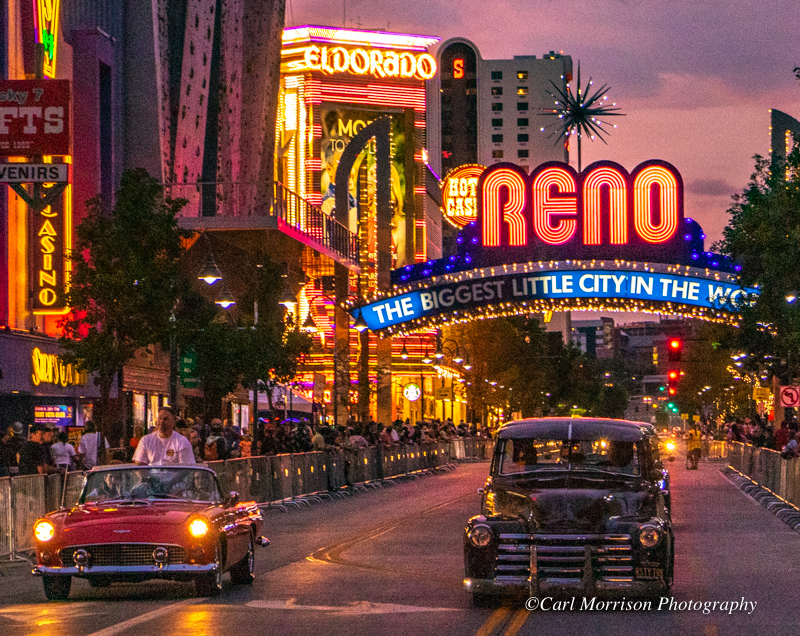 I like to walk a few blocks north to try for some photos of the cruise under the RENO sign. These show the south side of the sign.
The north side of the sign looking south toward the Truckee River.
Return to Table of Contents
---
Cars at the Pepper mill
Note to Tesla owners: The Pepper mill Reno Casino has free Tesla chargers on the south parking lot of the casino. Hook up and walk through the casino to the north parking lot to see the show cars. These are 33 mph chargers (slow) and they are not monitored by Tesla, so you can stay parked/charging here and not have to worry about returning to your car before you have looked at all the show cars you like.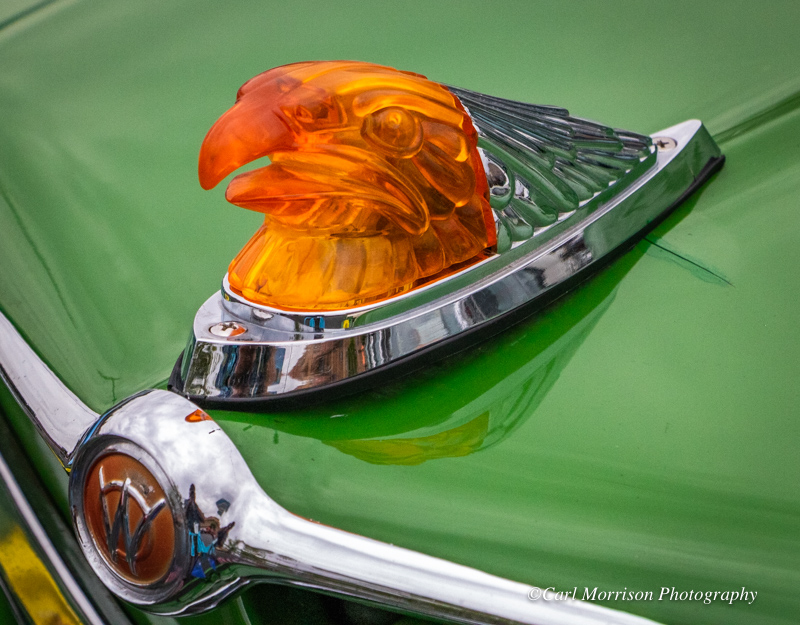 We saw this "Redneck Edition" at several casinos.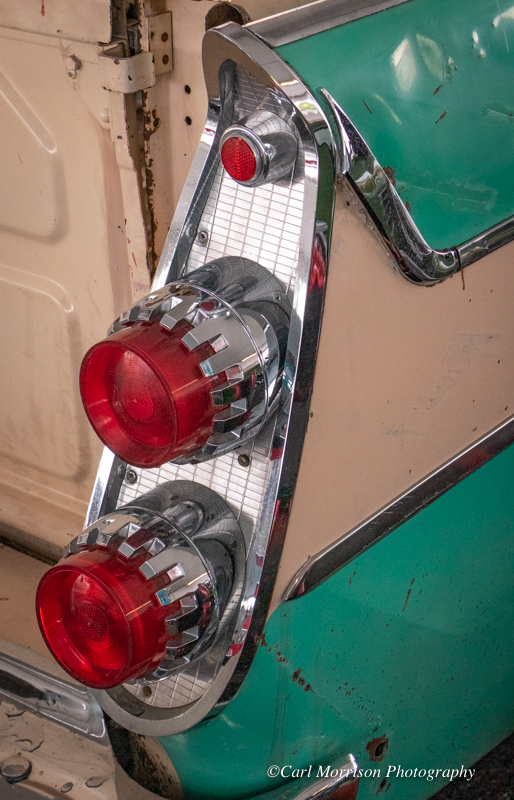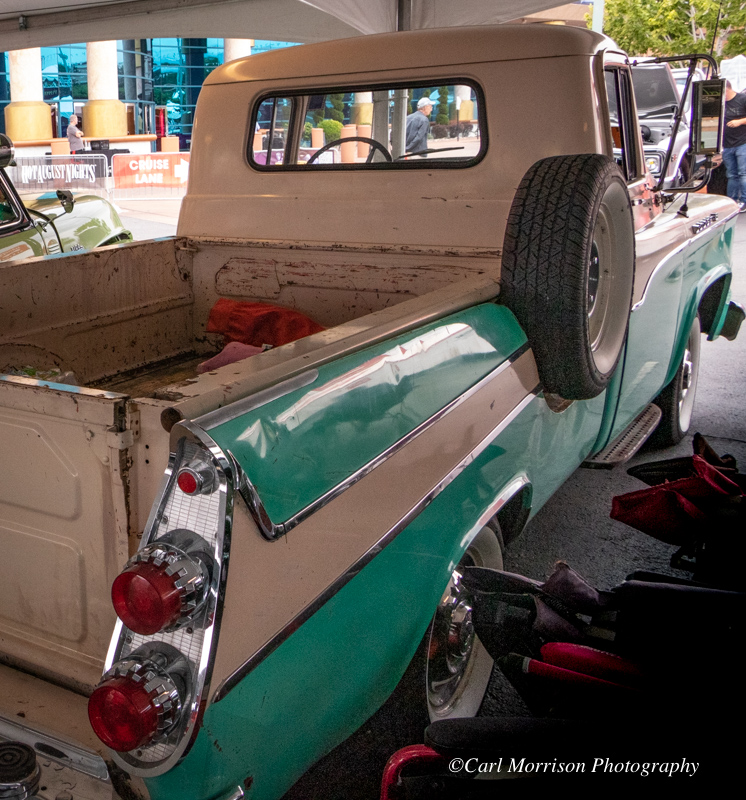 Dodge's answer to the Chevy Cameo pickup.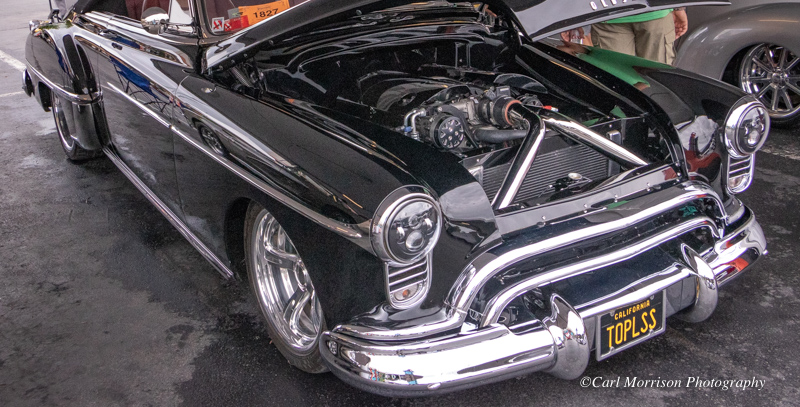 Not a stock engine.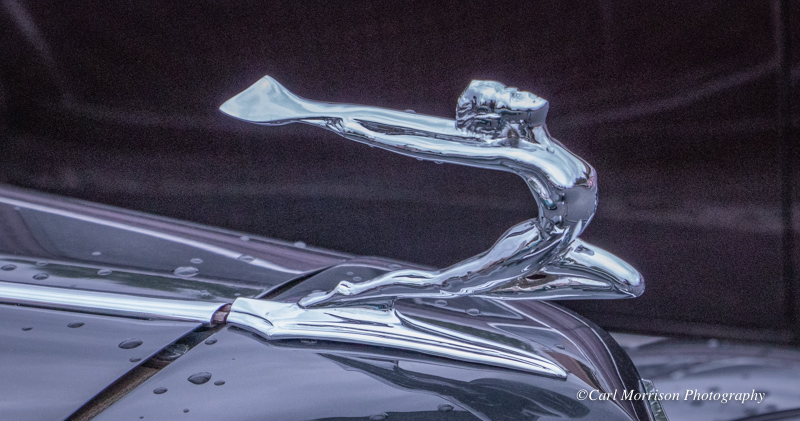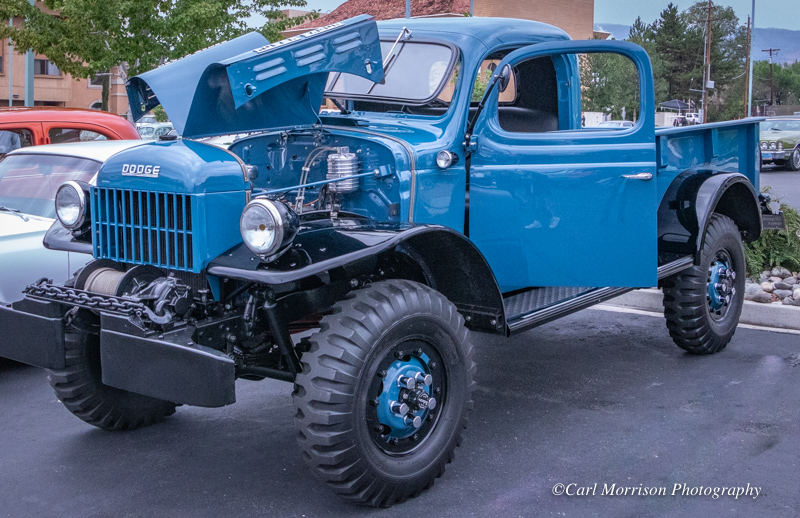 Brightwork and a 1948 Dodge Power Wagon
Pepper mill Brightwork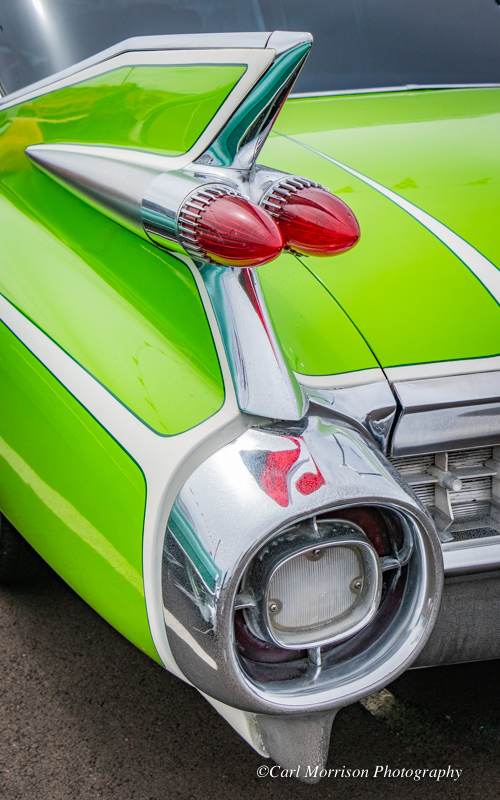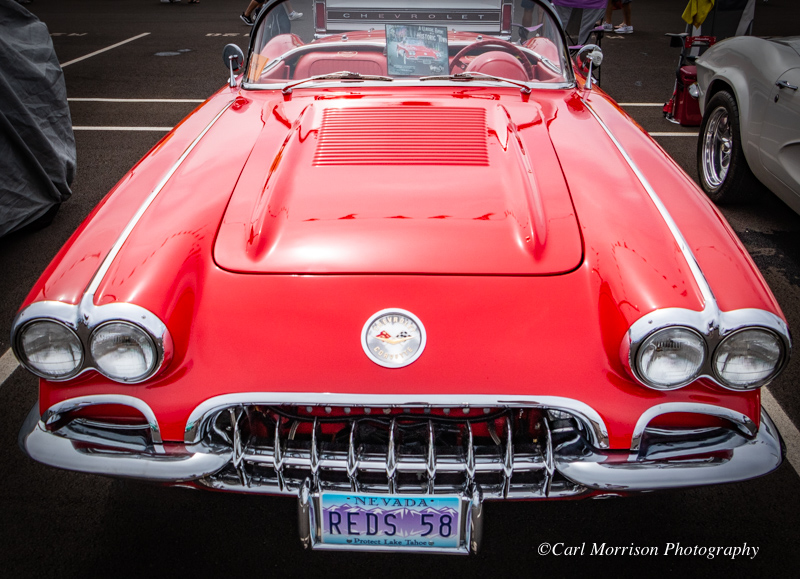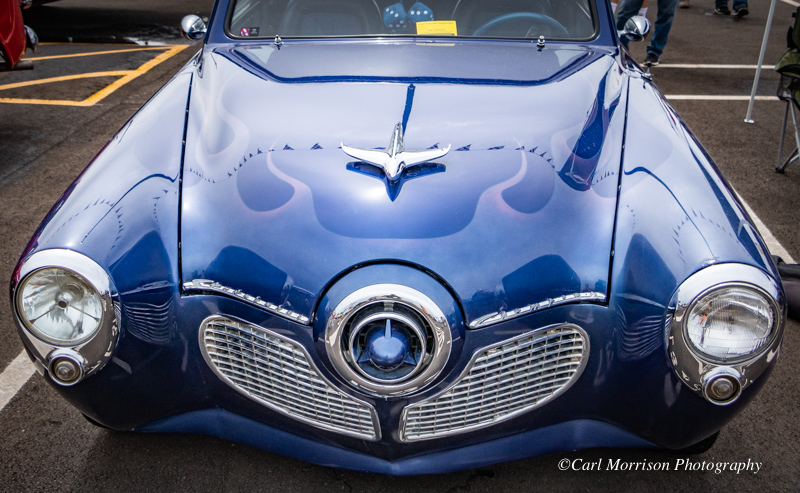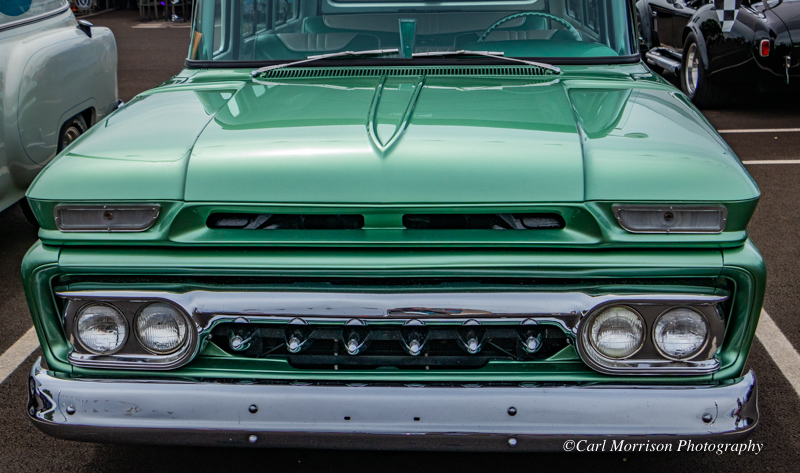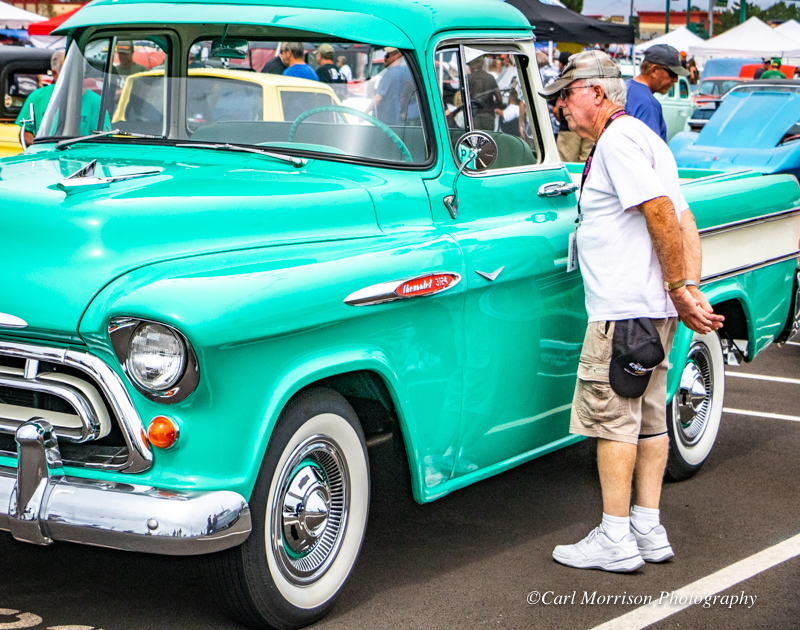 Seeing this Cameo reminded us of our Car Buddy - Paul Clifford R.I.P. - on this "Second Memorial Paul Clifford HAN Run".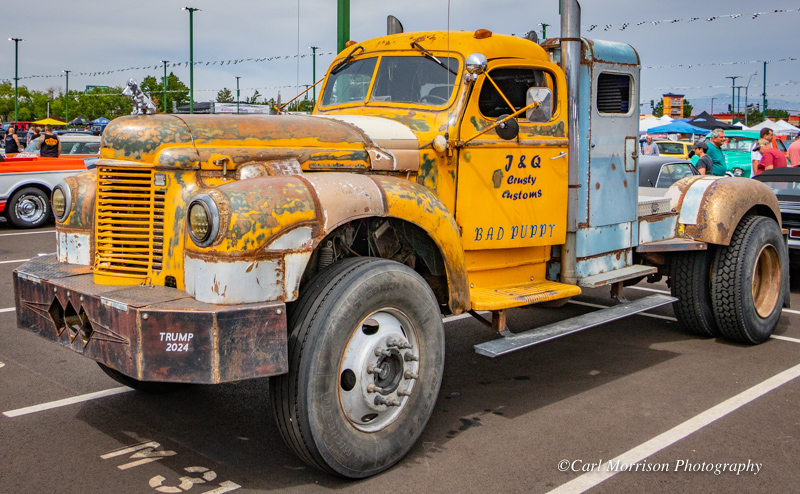 Pretty much the type of contrasting vehicles you see at HAN. High dollar and low dollar, but all interesting in their own way.
Return to Table of Contents
---
Show Cars at Atlantis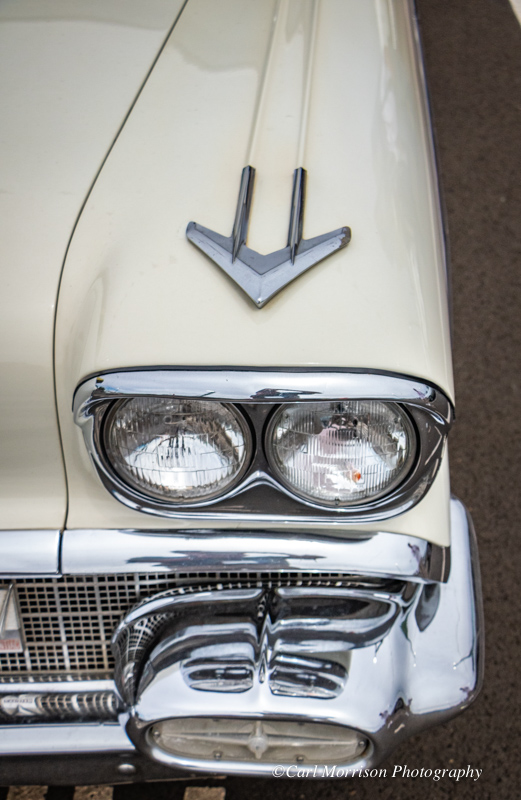 Ford Woody and Oldsmobile Rocket brightwork.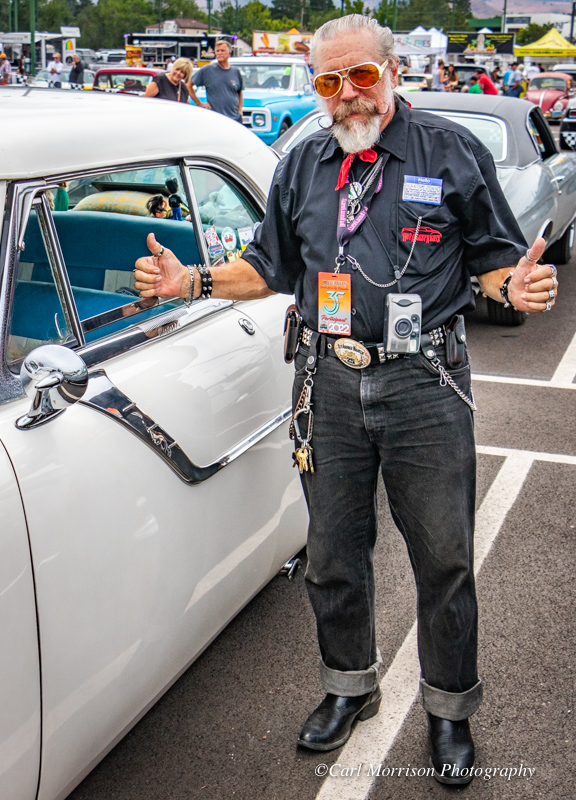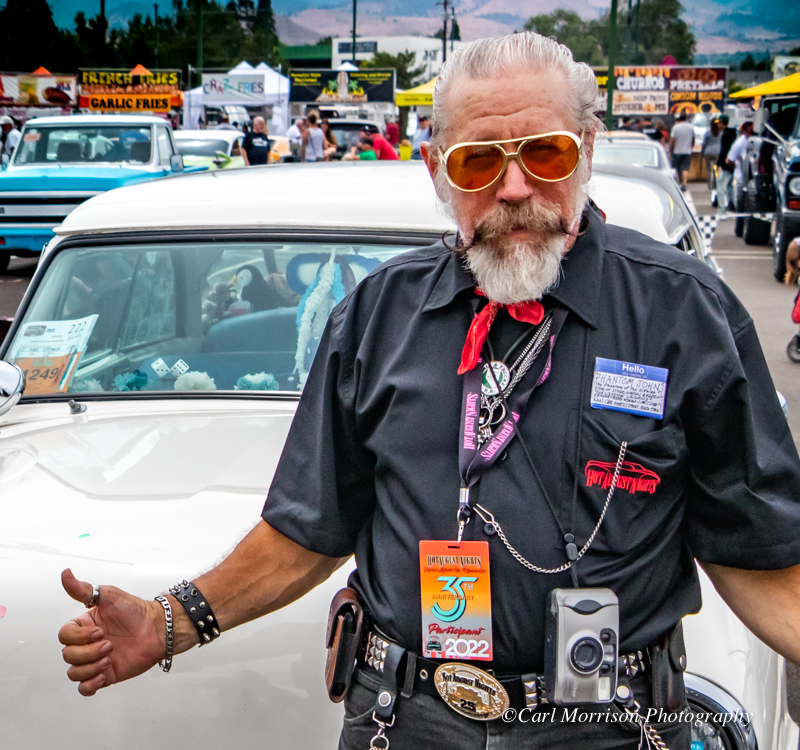 Phantom John has been to all 37 Hot August Nights since 1986.
Return to Table of Contents
---
Motorsports Action Groups (MAG) Auction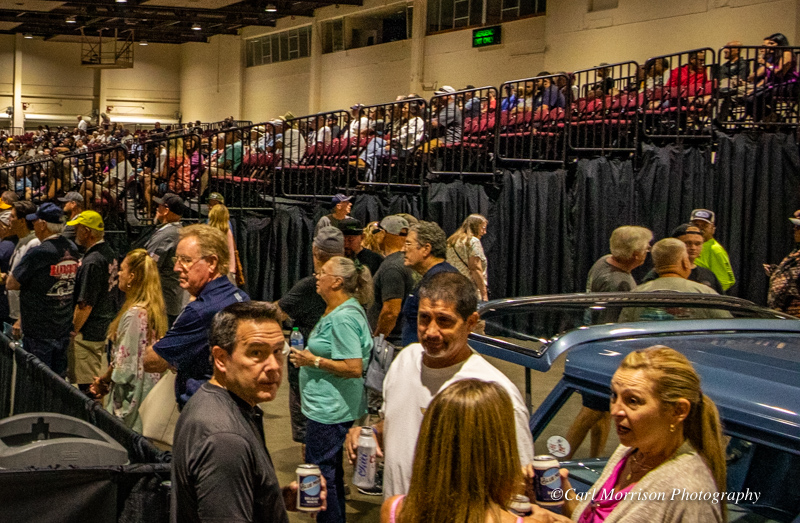 The auction attracts many bidders on the floor and viewers in the stands.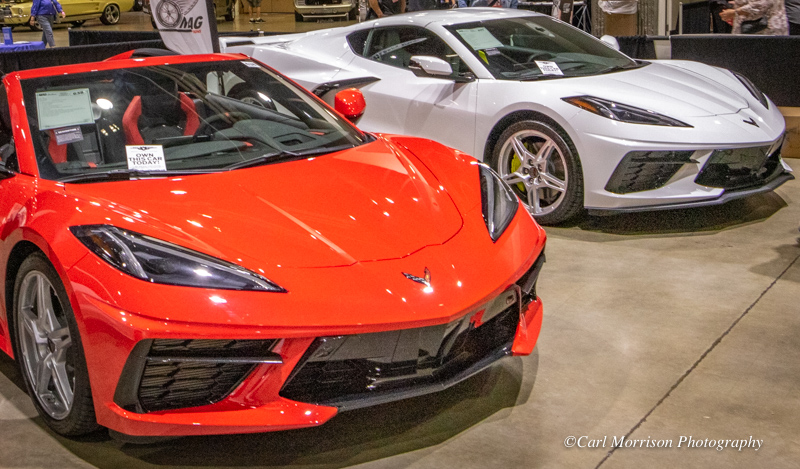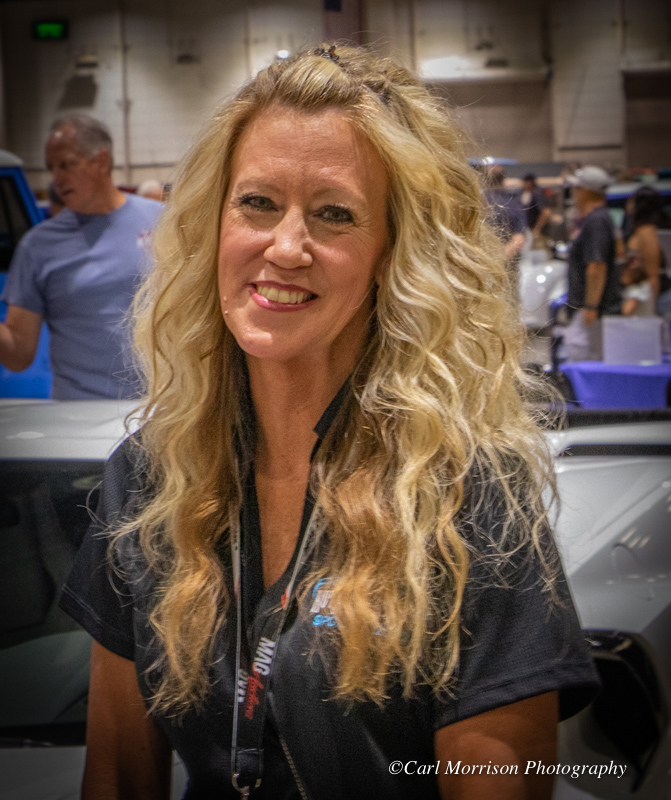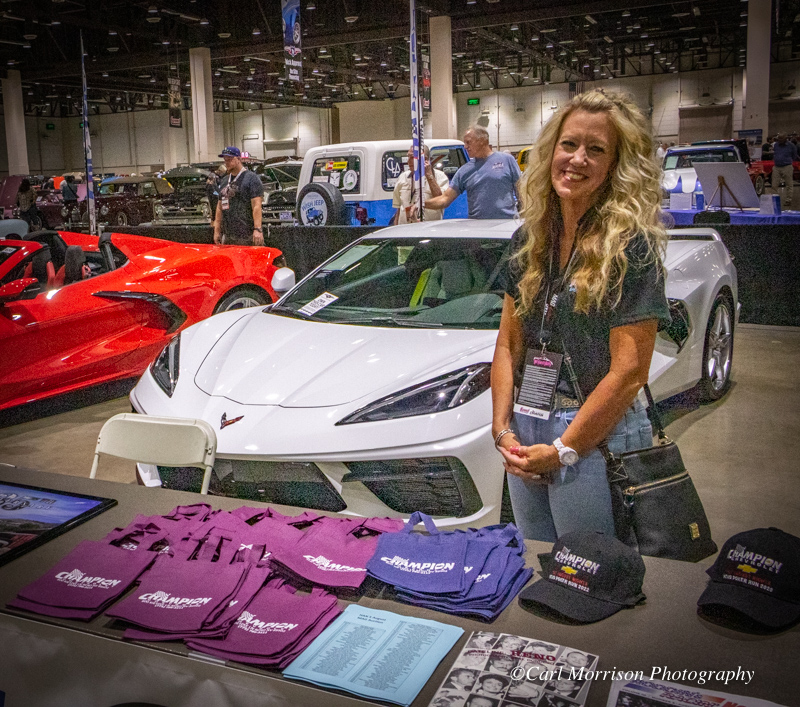 Champion Chevrolet, a Reno dealer, had a display of Corvettes and "free stuff" on a table hosted again by a lady-employee. Got a new, black Hot August Nighs hat!.
Brightwork and Autoscript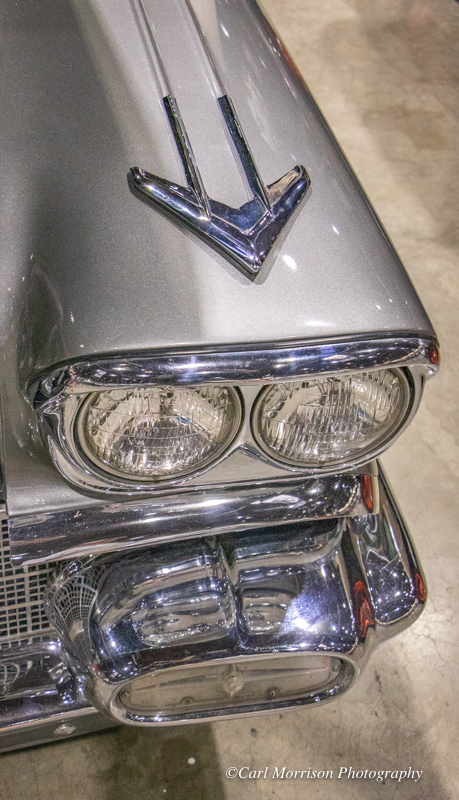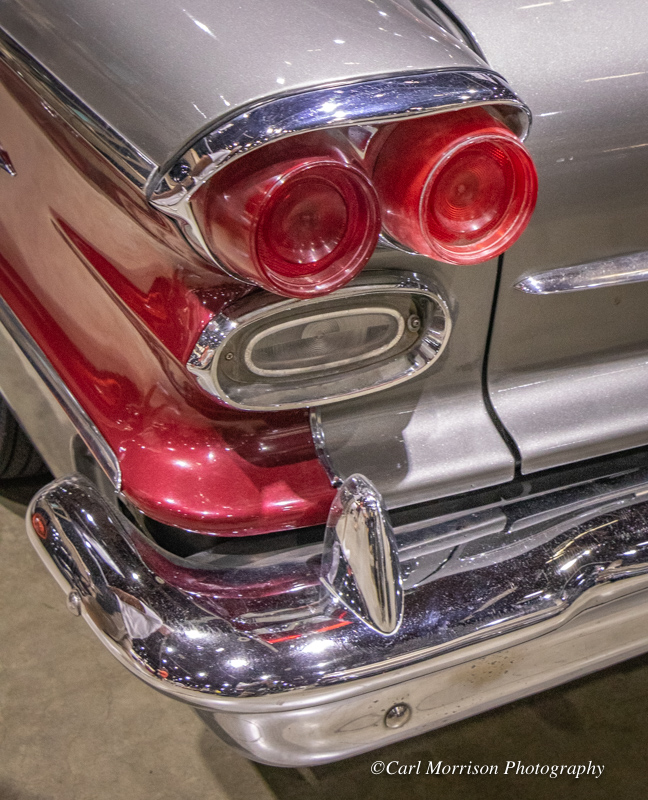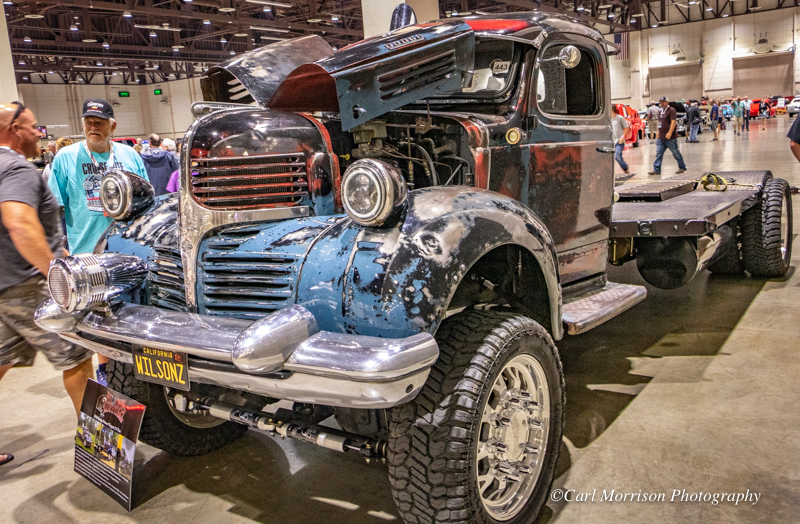 The new thing in paint jobs seemed to be sanding to show previous colors, then clear coating.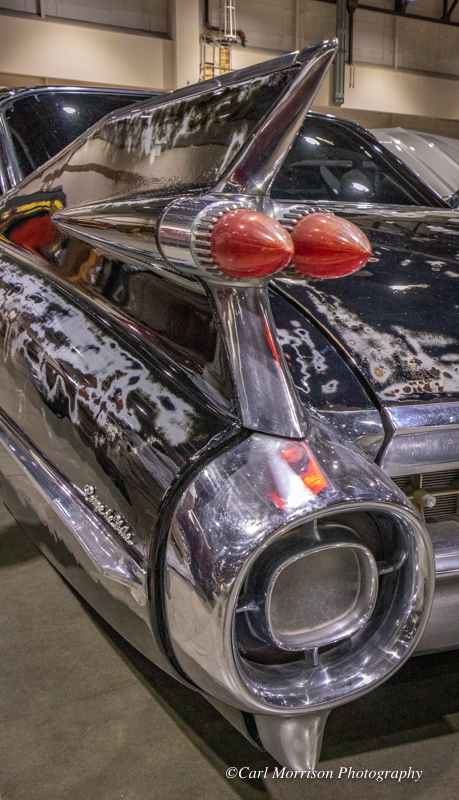 This '59 Caddy didn't even patch the rust, just clear coated the whole thing, rust and all.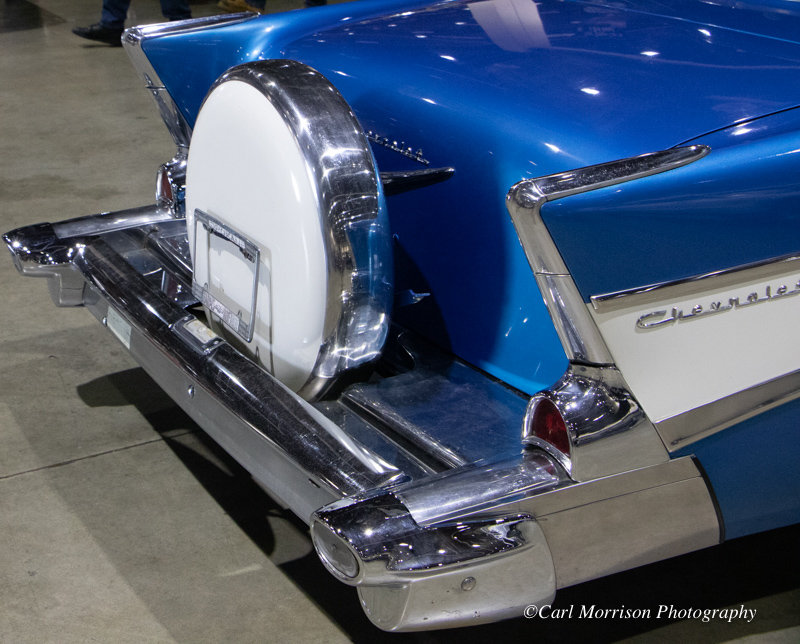 Continental kits, older and old. Plus the only rumble seat in the house.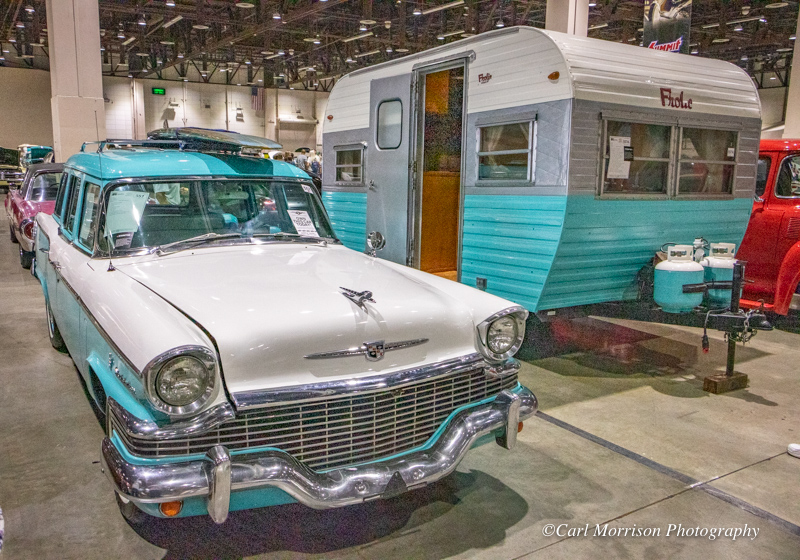 Another wagon/camper combo, but this time without a boat, and Studebaker wagon.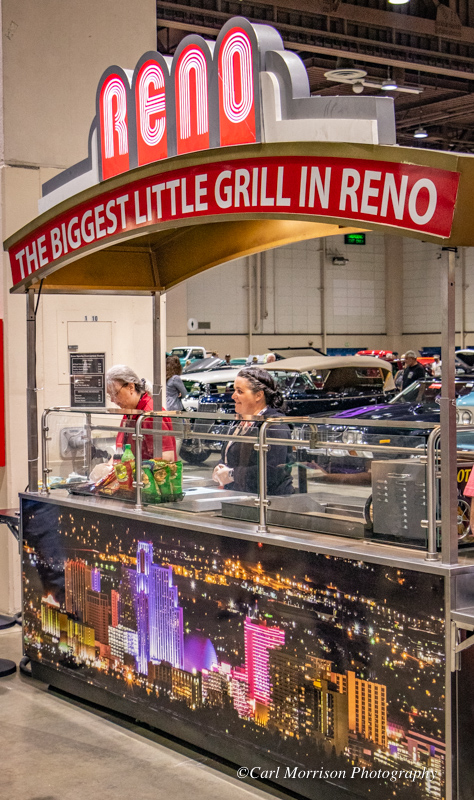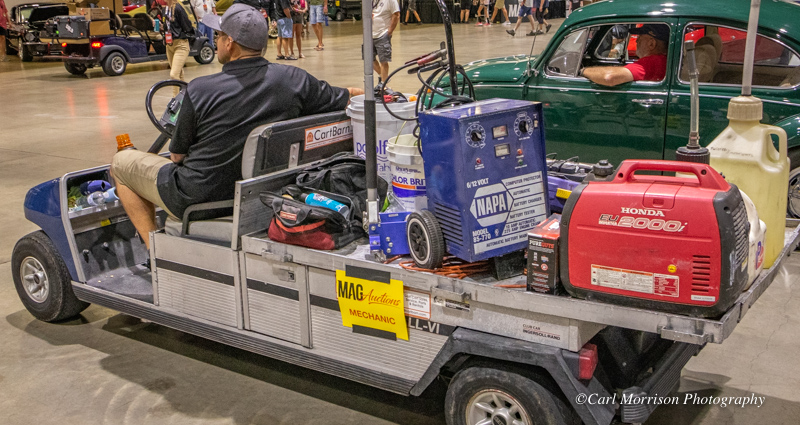 Essential Auto Auction items: Food and Mechanic to start vehicles to drive onto the auction block.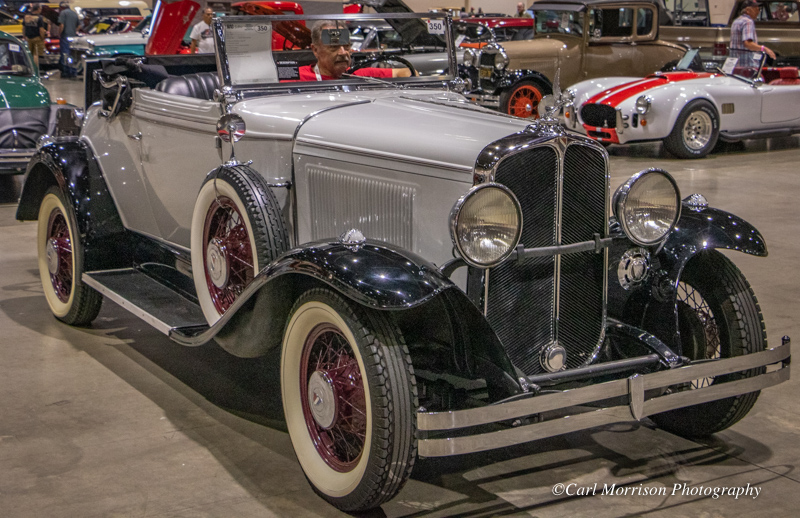 I like stock or upgraded vehicles from this era.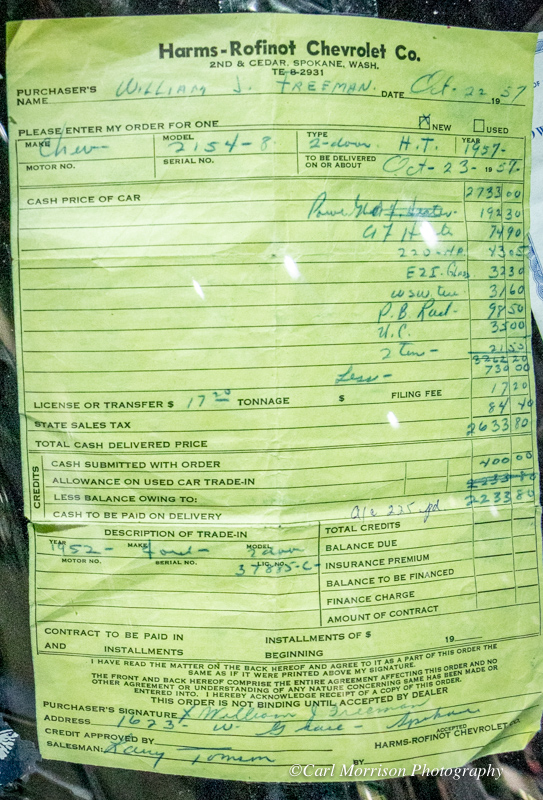 (click to enlarge original sales slip)
This '57 Chevy 210 had the original invoice, above, but after it went across the auction block, above right, it came back after refusing $35,000.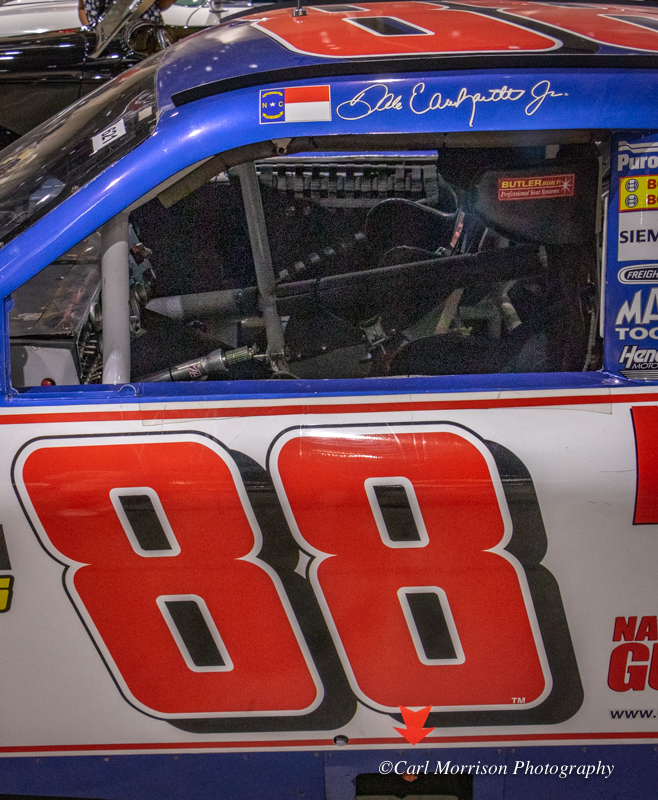 Guess this is about the only place to sell this car.
I thought this was a rare Corvette wagon, but the note above says not.
(Click to enlarge any gold bordered image.)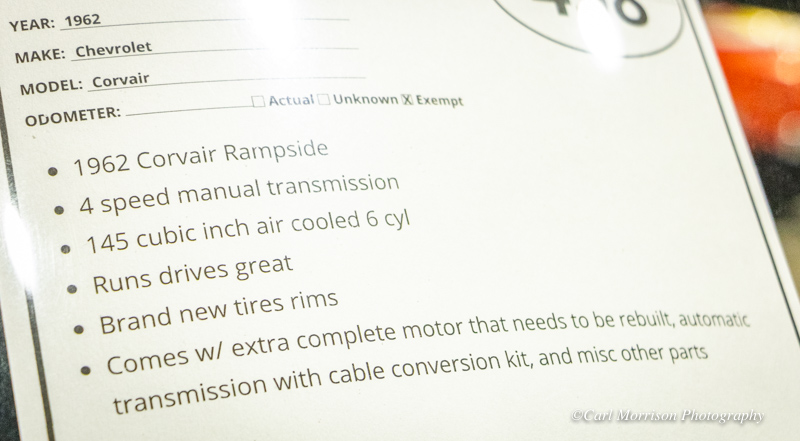 1962 Corvair Rampside with extra parts.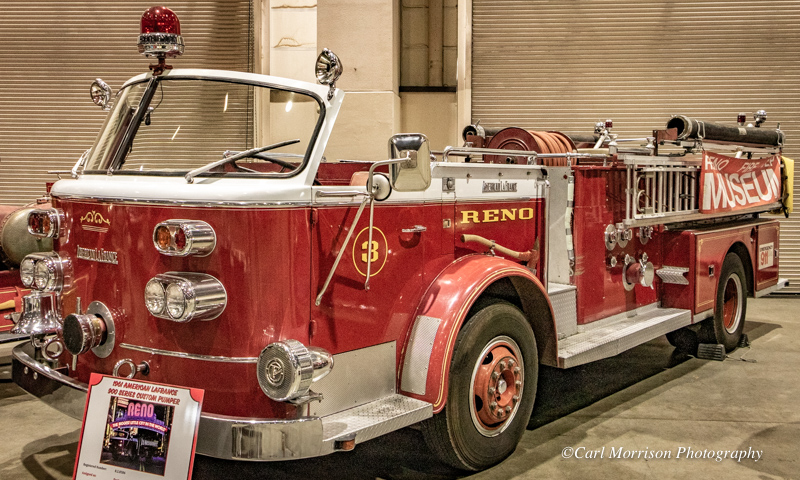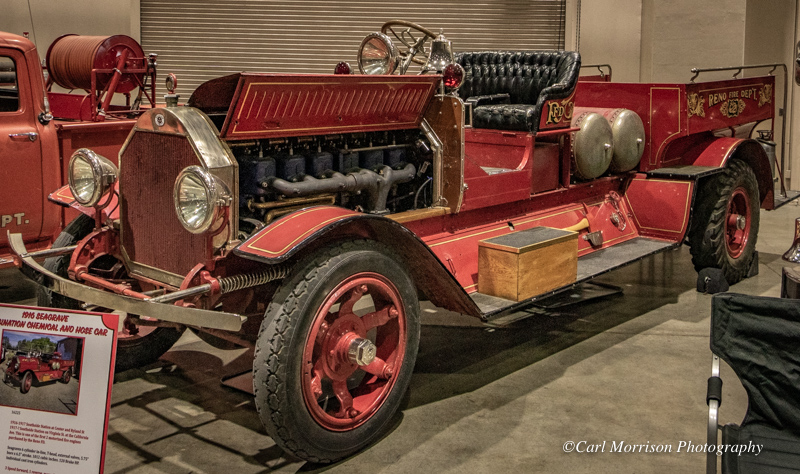 Gary Hess's favorite subject.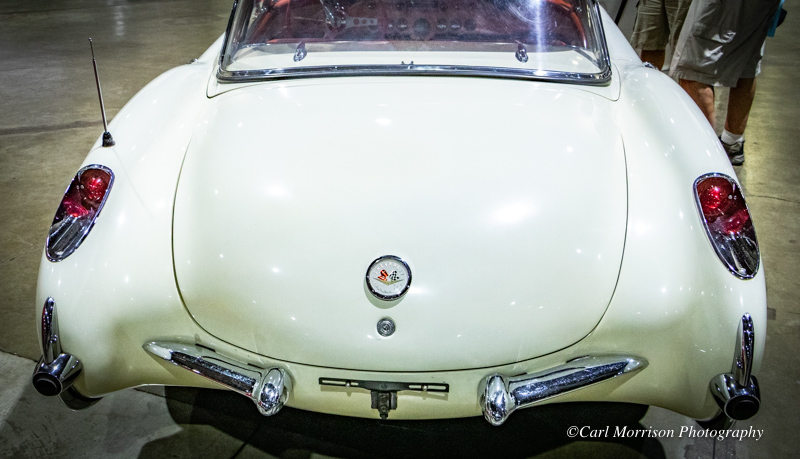 1956 Corvette
Return to Table of Contents
---
Tahoe City, Lake Tahoe, California
Tour of New Construction Lake Tahoe, California
Dennis L Schlumpf & Associates Inc
P O Box 6405
Tahoe City, CA 96145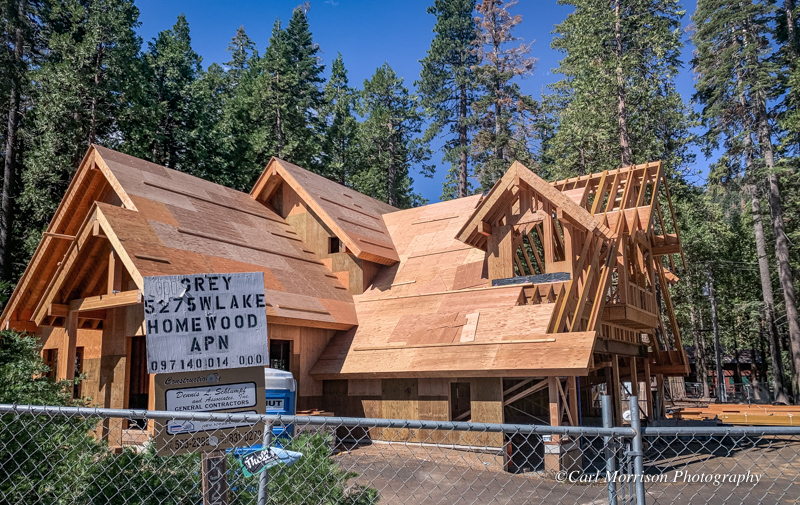 Dennis gave us a Hummer ride to one of his projects.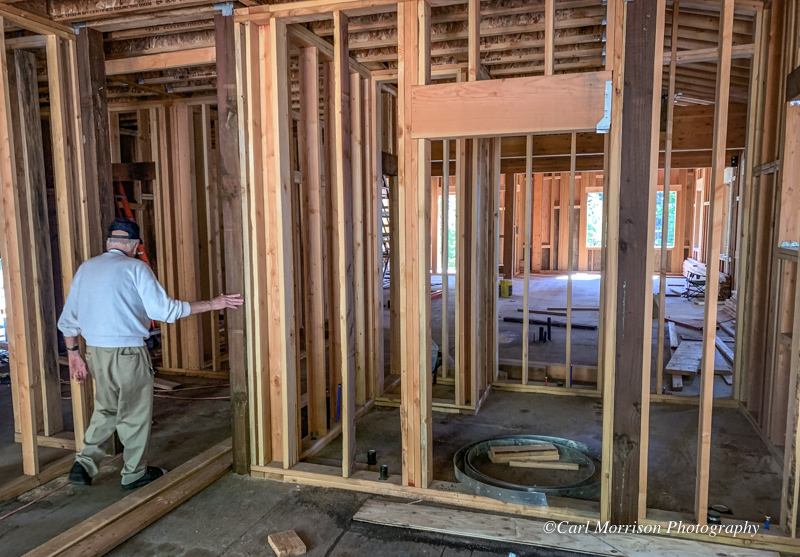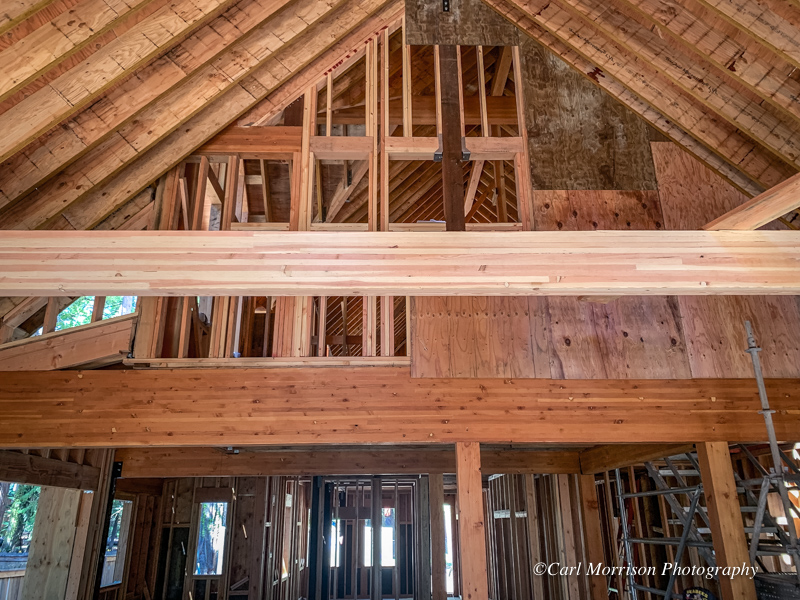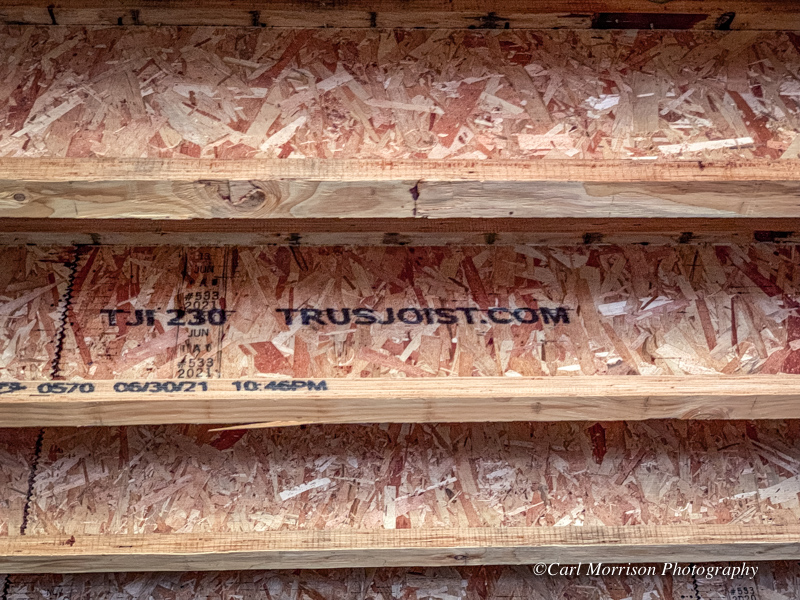 Return to the Table of Contents
---
Ehrman Mansion, Pine Lodge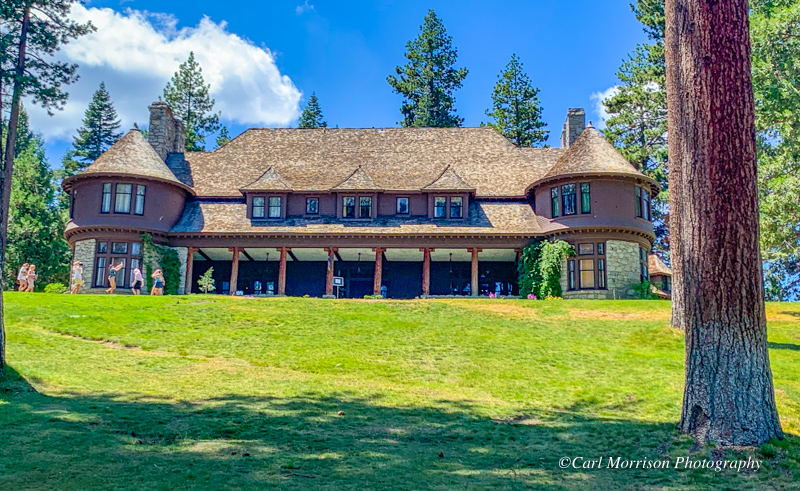 Hellman-Ehrman Mansion History

In 1897, San Francisco businessman, I. W. Hellman, began buying property at Sugar Pine Point and by 1913 had acquired nearly 2000 acres. His grand but informal summer home, called Pine Lodge, was completed in 1903 and was considered to be one of the finest in the high Sierra. His daughter, Florence Hellman Ehrman inherited the estate and she and her husband Sydney spent many summers here entertaining family and friends.
The building site was originally a sand hill. Tons of topsoil was brought from the back country to provide the base for lawns and gardens. Most of the building materials for the house were obtained locally; the granite from Meeks Bay and the lumber from Hobart Mills, north of Truckee.
The house, designed by Walter Danforth Bliss, was equipped with the best and most modern utility systems including electric lights and complete indoor plumbing. Steam generators produced electricity until commercial power was available in 1927. Water was obtained from General Creek and later pumped directly from the Lake.
Outlying buildings include a caretaker's cottage by the lake, the children's house by the tennis court, maids' quarters, butler's cabin, ice house, coach house, power house, a dressing room, a pump house, two boat houses and the boatman's cabin. The Ehrmans owned two boats, Comet and Cherokee.
Comfortable wicker lounge furniture and a billiard table were to be found on the porch. The north stone room was used for luncheons and furnished with an oak dining set. The south stone room was a game room and displayed the family's collection of Indian baskets and Navajo rugs.
The fireplaces in the living room and the dining room were the primary source of heat for the house. The living room was furnished in dark, overstuffed furniture with matching floral drapes. The dining room paneling is hand-woven strips of redwood and the upper paneling is of hand-woven grass. The elevator was installed in 1958 to ease access to the second floor.
The wing to the northwest contains the kitchen, pantry and staff dining room. Two full time cooks and several helpers were employed to prepare meals for the family, their numerous guests and a live-in staff of twenty-seven. Wood stoves and an icebox were used in the kitchen until 1945 when a large commercial gas range and refrigerator were installed.
The spiral staircase rises to the second floor where a hall runs north and south joining the eight bedrooms and seven bathrooms. The family and guests would stay here in rooms furnished simply with brass beds and Navajo rugs. The wing over the kitchen contained a sewing room, linen closet and storage rooms. A back staircase leads to the 3rd floor staff quarters consisting of four bedrooms, one bath and many storage closets.
Guests of the Ehrmans participated in various activities on a regular basis. Mrs. Ehrman usually scheduled hikes, swimming, riding, fishing, boating, tennis, picnics, croquet and other games.
In 1965 the house and 1,975 acres of the estate were acquired by the California State Park System. Today the house is maintained by the Sierra State Parks Foundation as a house museum and as an example of the opulent tradition in Tahoe summer homes.
Hellman-Ehrman Mansion Tours
Explore the Hellman-Ehrman Mansion – a Lake Tahoe Lake front Legacy


Step back in time and enjoy a tour of the historic grounds and The Mansion – also known as Pine Lodge – located in the Day Use side of Sugar Pine Point State Park. Constructed in 1903, the property is one of the finest examples of a by-gone era of summer retreats found along the shores of Lake Tahoe. The house was built by San Francisco financier I.W. Hellman for his beloved family to enjoy the clean air and refreshing waters of Lake Tahoe. The property, containing the estate and 2,000 acres, was sold to the State of California in 1965. This National and State landmark is now open to the public for tours during the summer months by the Sierra State Parks Foundation. All proceeds from the tours benefit the restoration and interpretation of this very unique piece of California heritage.

TOUR SEASON DATES: Tuesday-Saturday, May 28 – September 30, 2022

TOUR HOURS: Tours 10:30 am – 3:30pm, on the half hour only. Tours last 45 minutes.

TICKETS:
$12 for adults
$10 students 7-17 years and valid college ID/active duty military/seniors

Free: Children under 7 years

Purchase tickets at the Visitor Center which is open daily, during the tour season, from 10 am – 4:30 pm.

---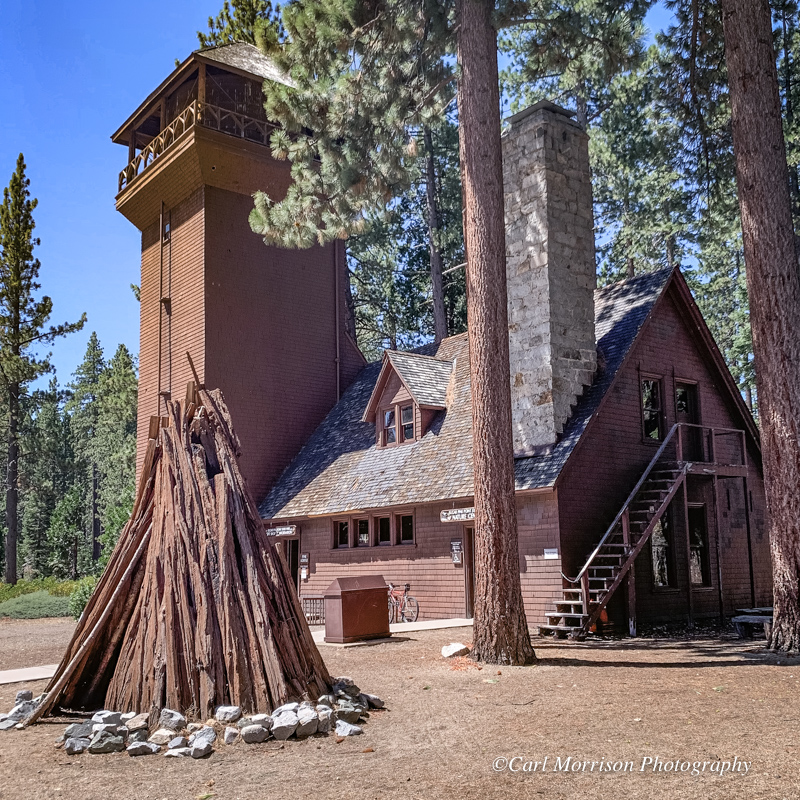 We arrived and purchased tickets at the Visitors Center/Tank House with about 25 minutes before the tour.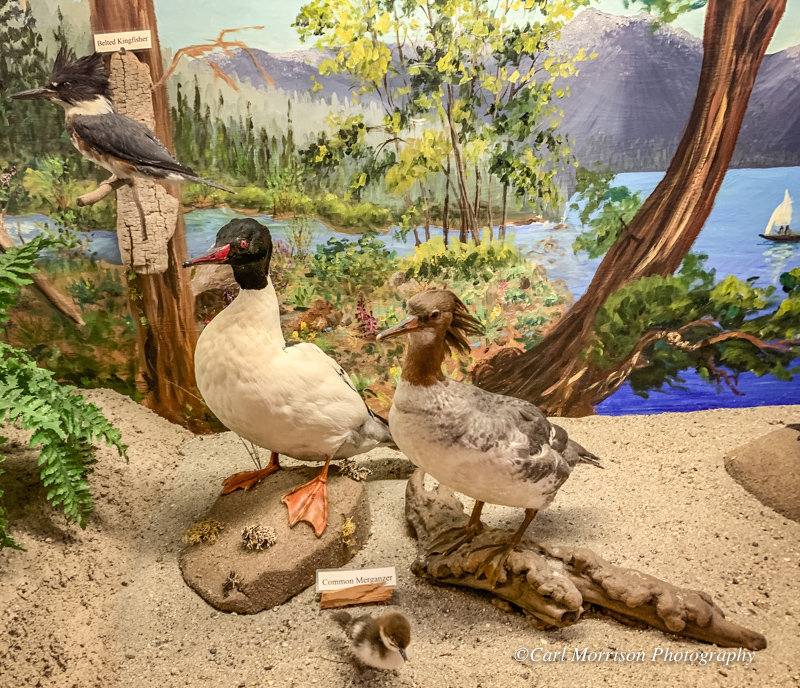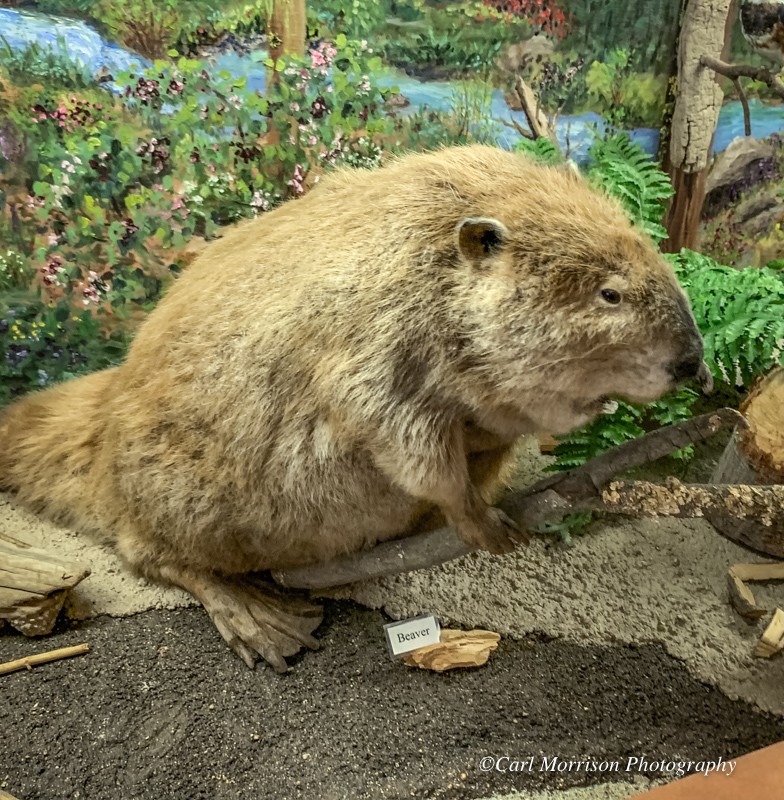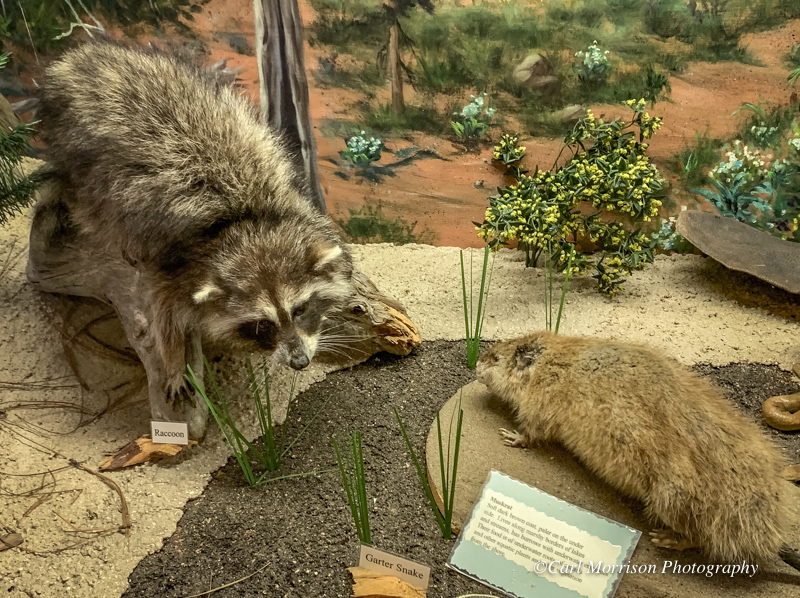 In the Visitors Center are some very nice dioramas of local wildlife
We walked toward the Pine Lodge past the Butler's Cabin and Maid's Cabin

Once on the lake side, you can see what attracted the family to this location in 1903.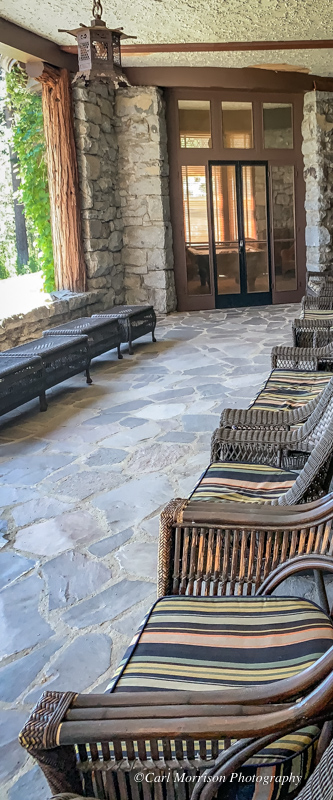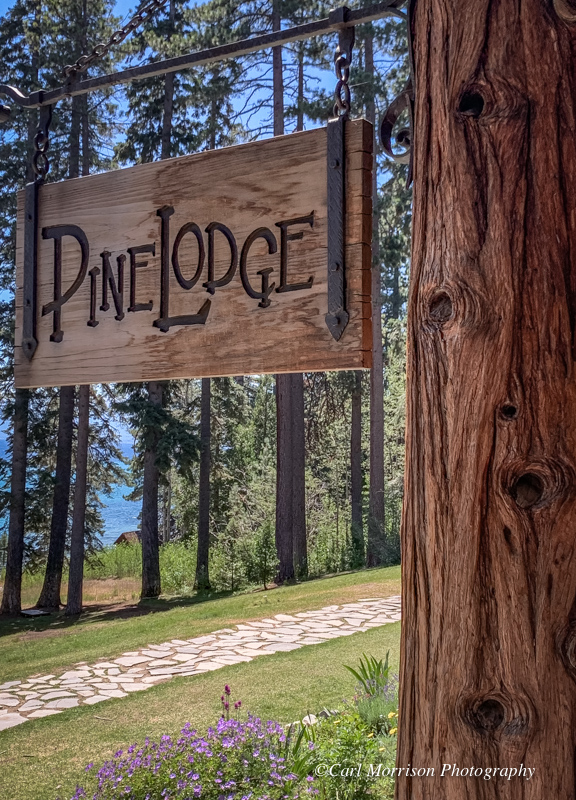 The View from the porch. Seating and the south screened in rock room with pool table. Sign Post.
Path down to the dock and now state park beach.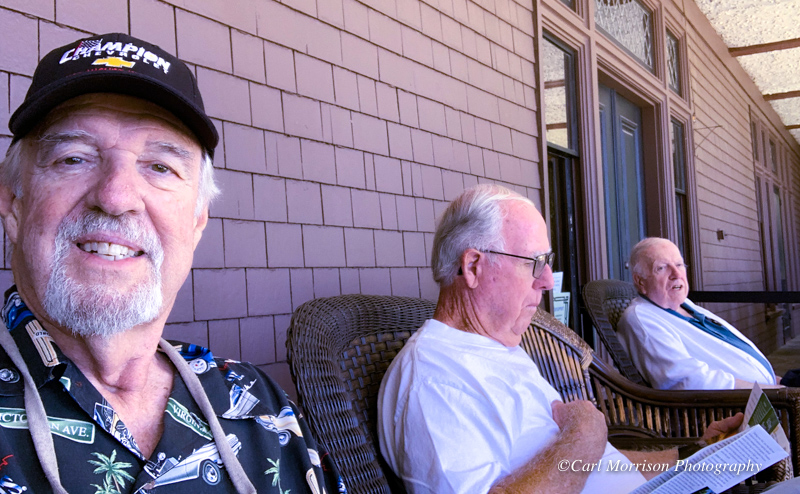 Awaiting our guide of Pine Lodge while enjoying the view and shade. Emilie our volunteer guide with 15 years experience
Brothers Fred and Dennis grew up near here and their dad worked as a caretaker. Fred and Dennis washed windows one year for 2 weeks, 6 days a week before the family returned for he summer.
Erhman Mansion Tour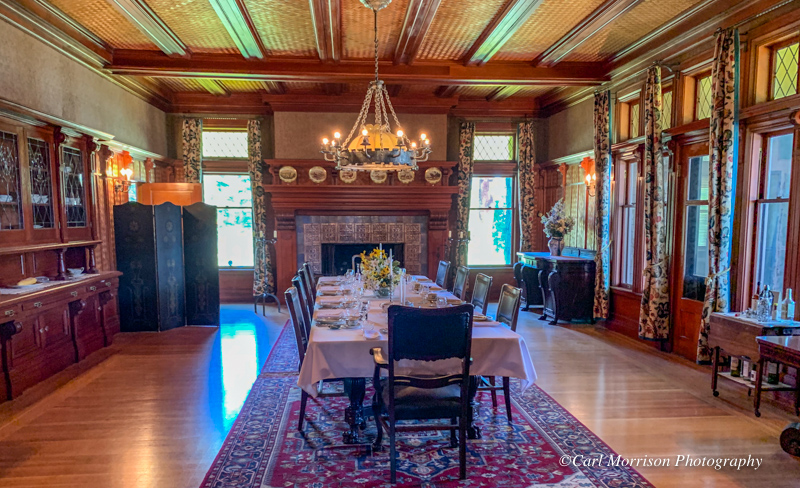 First floor, Room on the left with piano, Stairway, Dining Room on the right.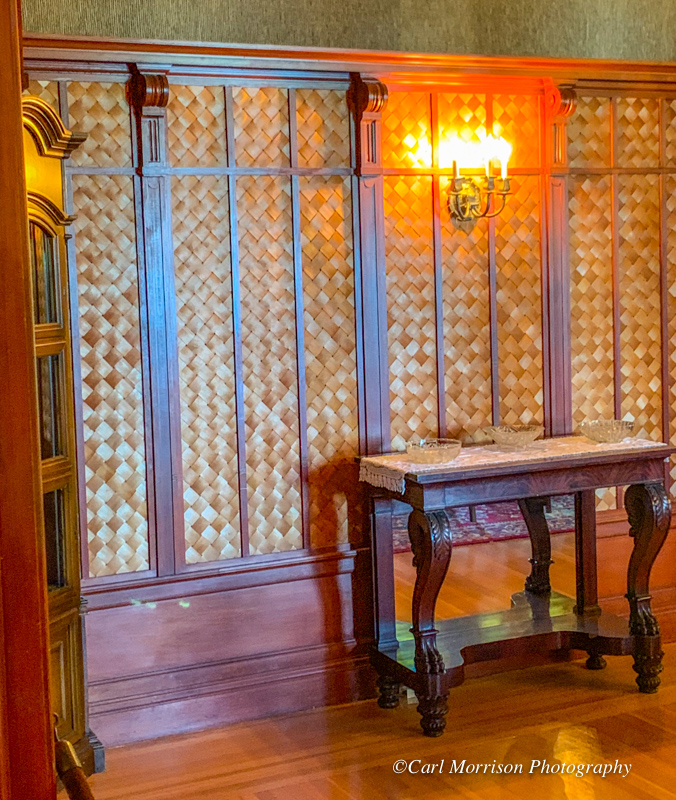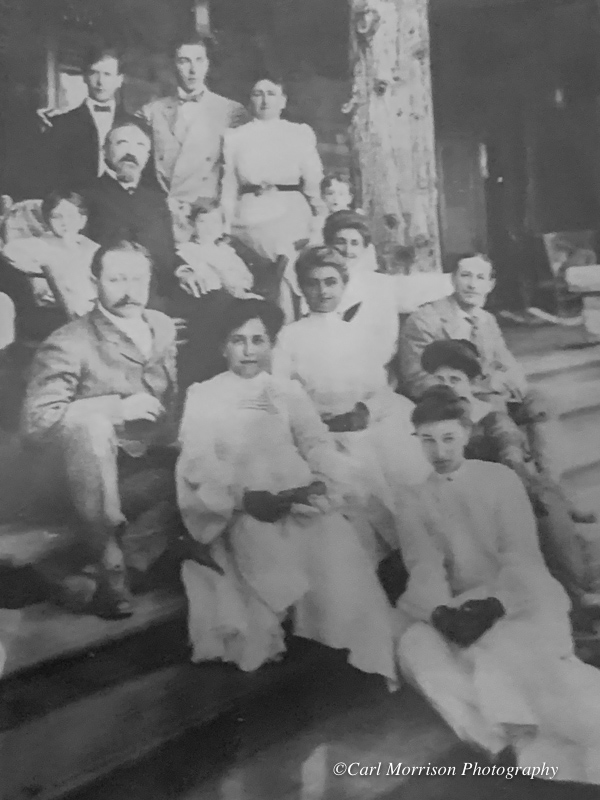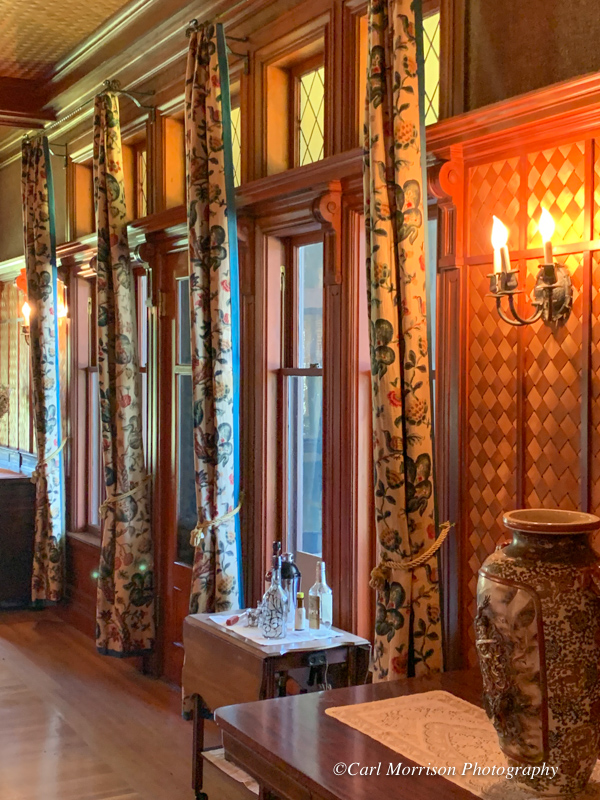 The dining room had woven redwood paneling. Family in the center, Lake-view windows and more paneling on the right.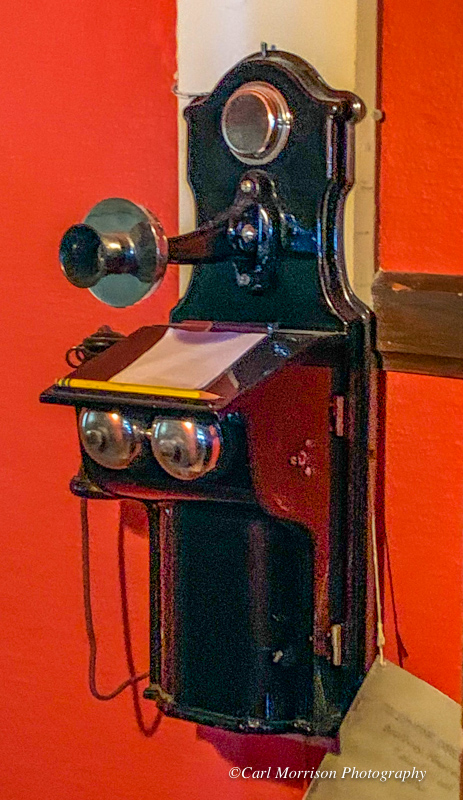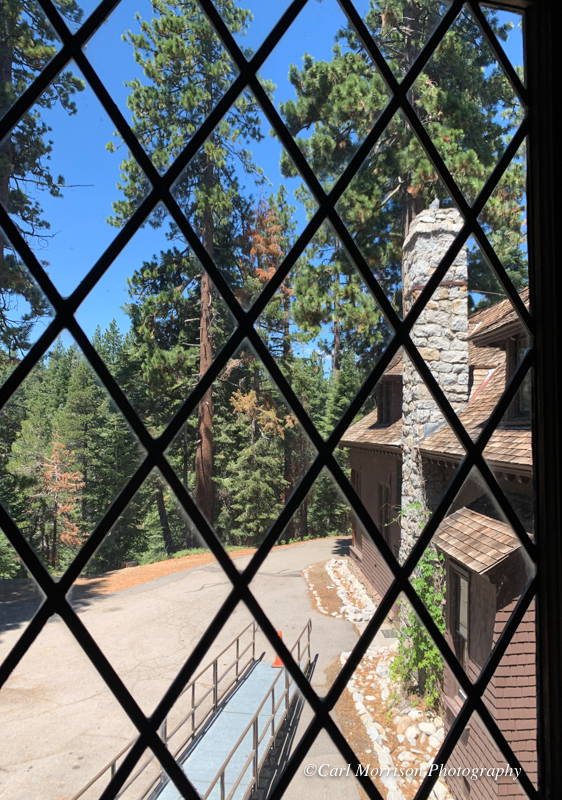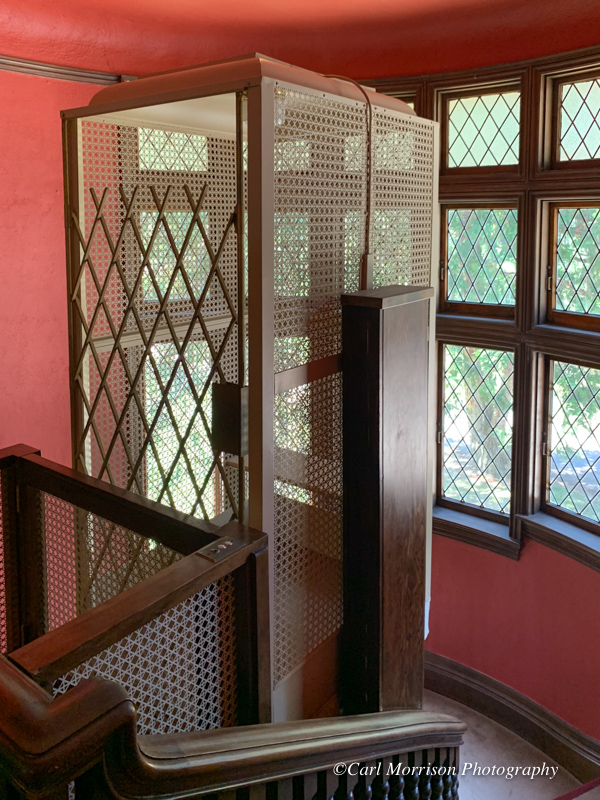 View from the dining room. Early telephone. One of the windows Fred and Dennis washed in 1960. Elevator added in the 50s.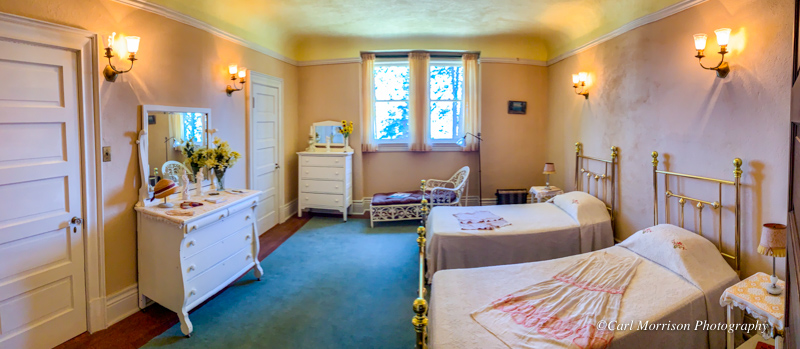 Unique features for the time were build in bathrooms and closets.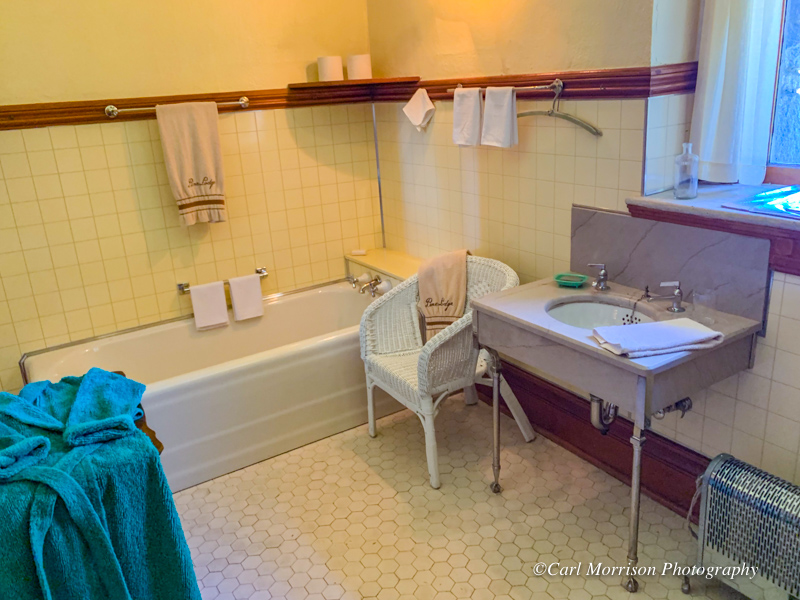 Running water and flush toilets in all rooms.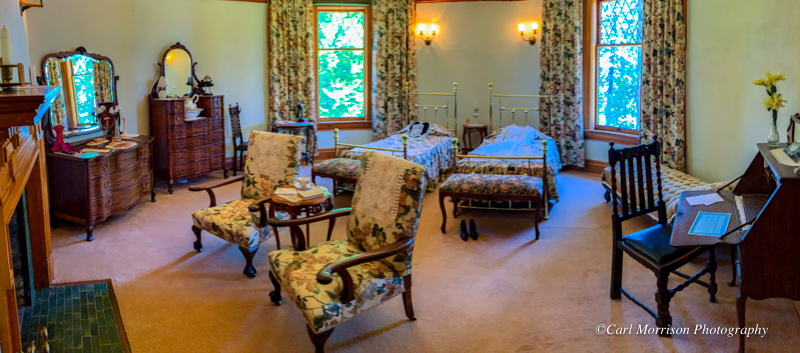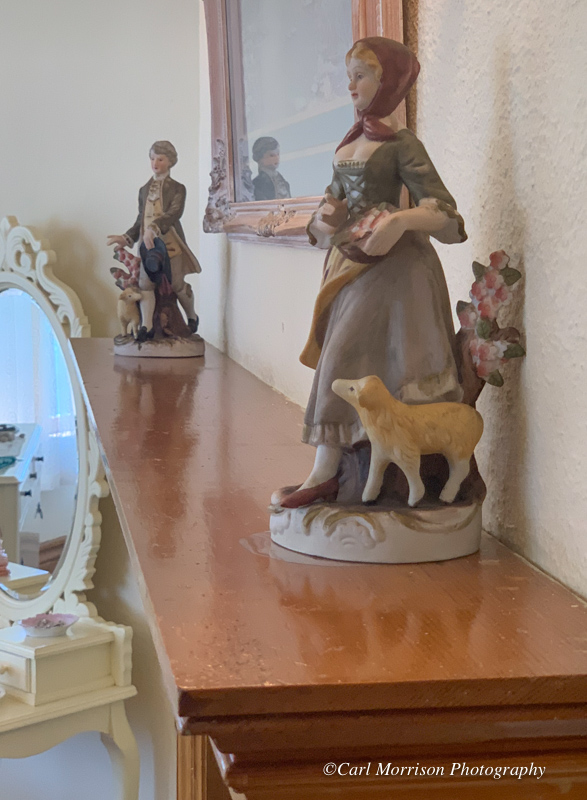 Worker bedroom on 3rd floor and worker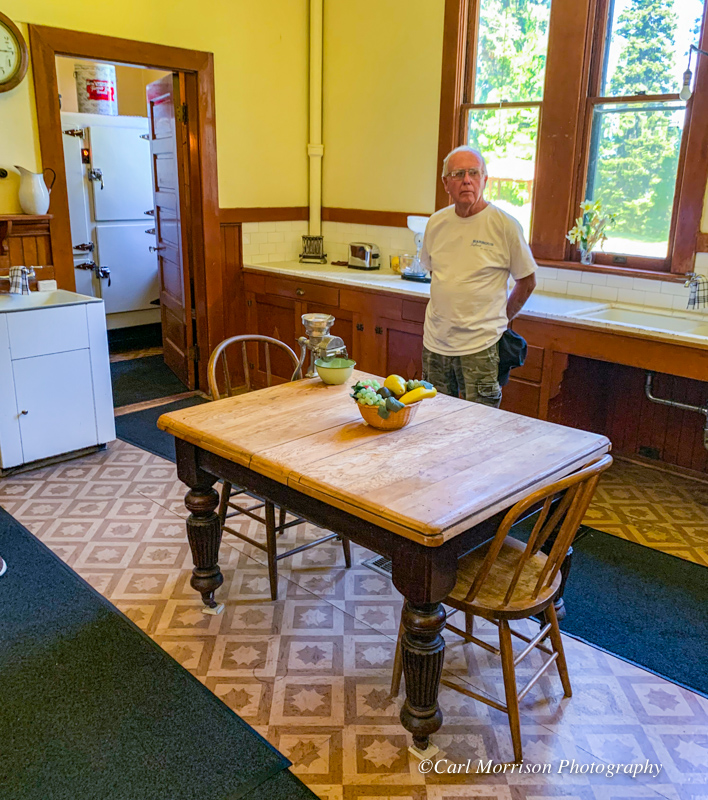 Pantry, kitchen stoves, kitchen work table and sink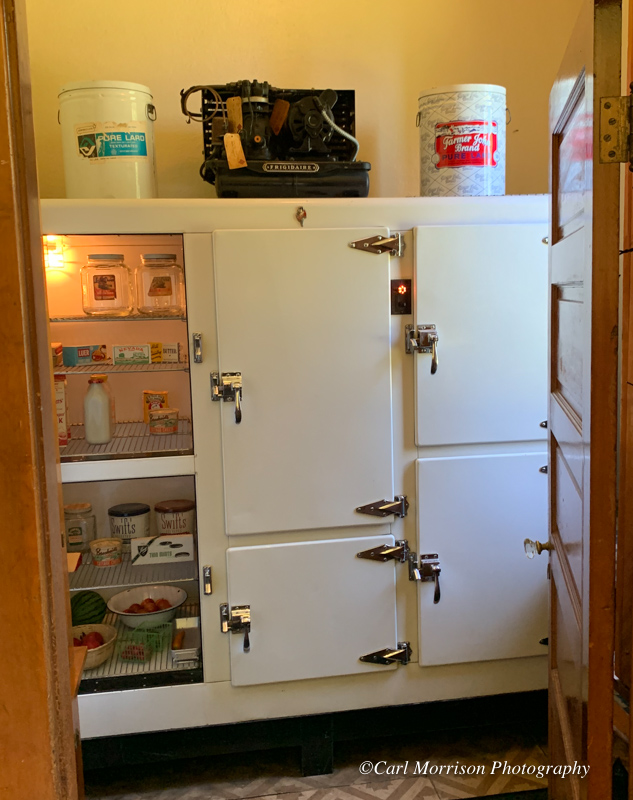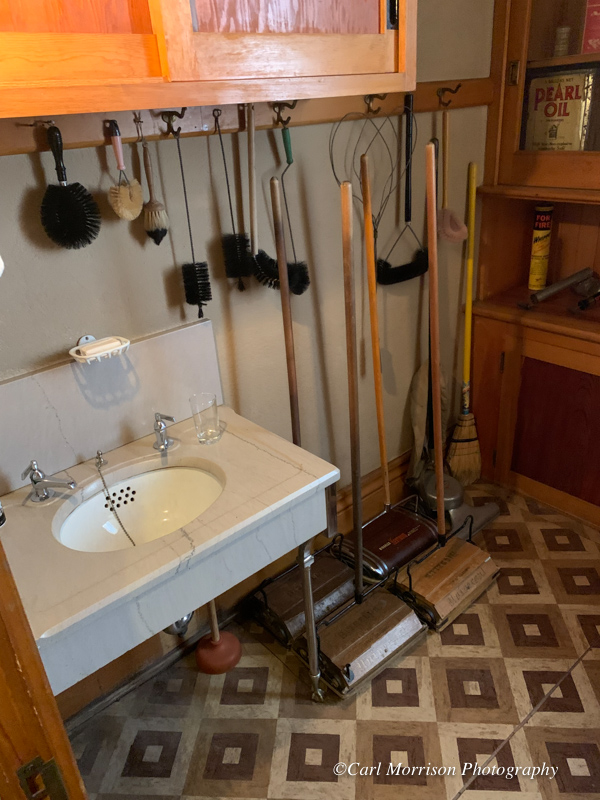 Refrigerator from later, earlier they had ice box and ice from ice house by the lake. Fish cooker. Housekeeping tools.
Fred enjoyed conversations with Guide, John Harbison about old times in the area.

We headed down to lake level and the buildings there.
Yellow trail was at lake level, starting with the Ice House.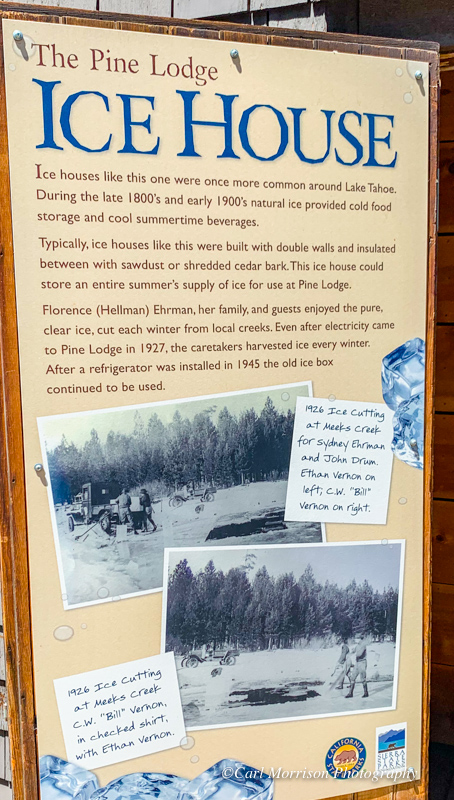 (Click any framed photo for a larger copy.)

Excellent beach open to the public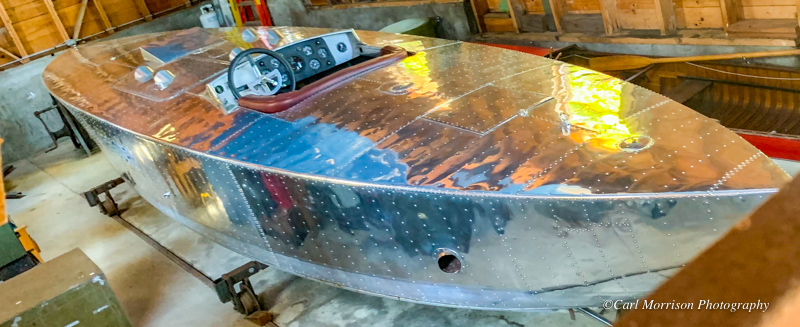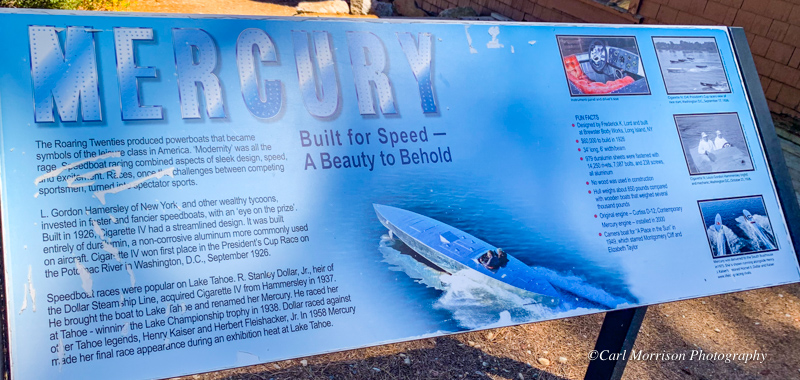 That could be Fred's dad in the photo since he was a mechanic on the Mercury.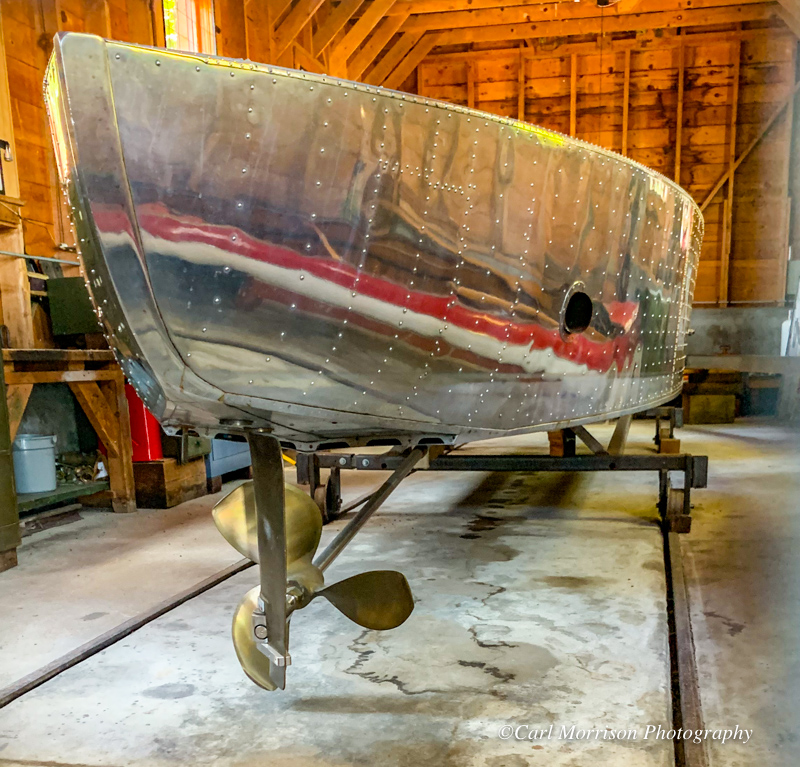 Tracks for bringing the boats into the boathouse and adjoining beach, blue Lake Tahoe, and Nevada beyond.
Return to the Table of Contents
---
---
Tesla Road Trip Tahoe City, Lake Tahoe, California, to Orange County, California, via Hwy. 395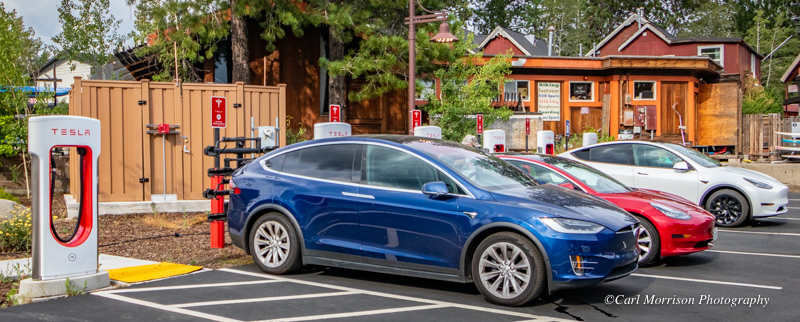 The previous evening we used the nearby Tahoe City Tesla Supercharger to get miles for the first segment Tahoe City to Carson City, Nevada. One of the most interesting areas while charging.
We charged for 37 minutes (but we did a walk about while charging) for $9.75 for 104 miles of range, more than enough for our next charge in Gardnerville.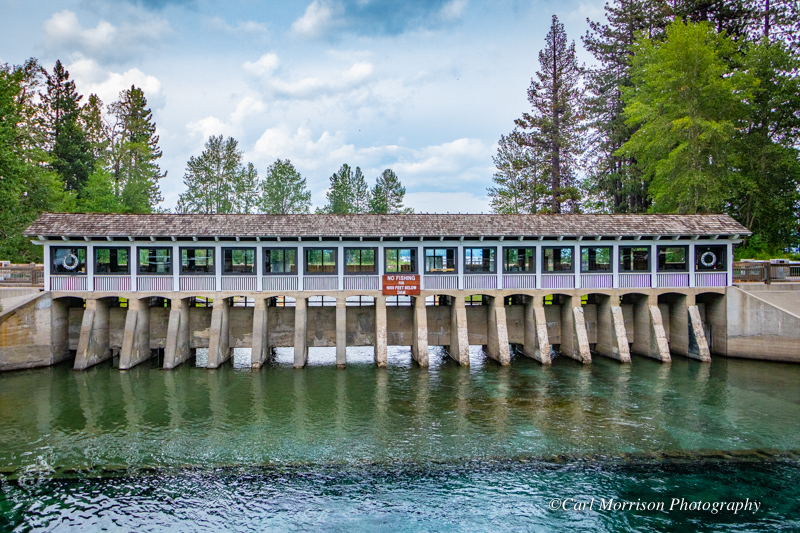 Truckee River Outlet and dam is within walking distance from the Tahoe City Tesla Supercharger. Note the highway bridge on the left in upper right photo.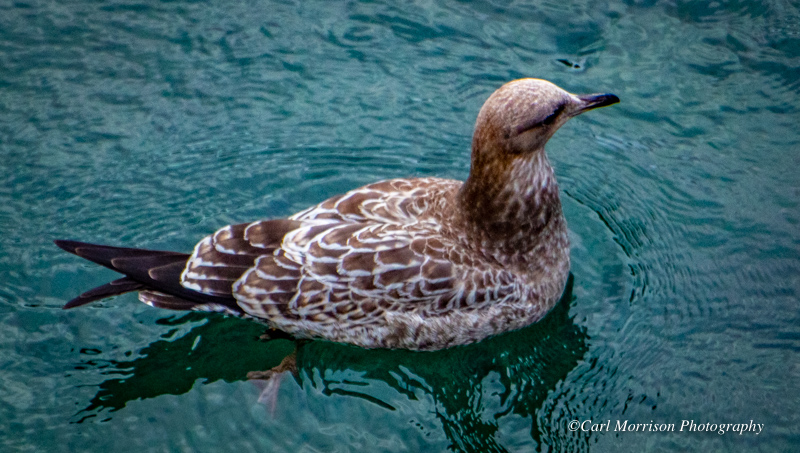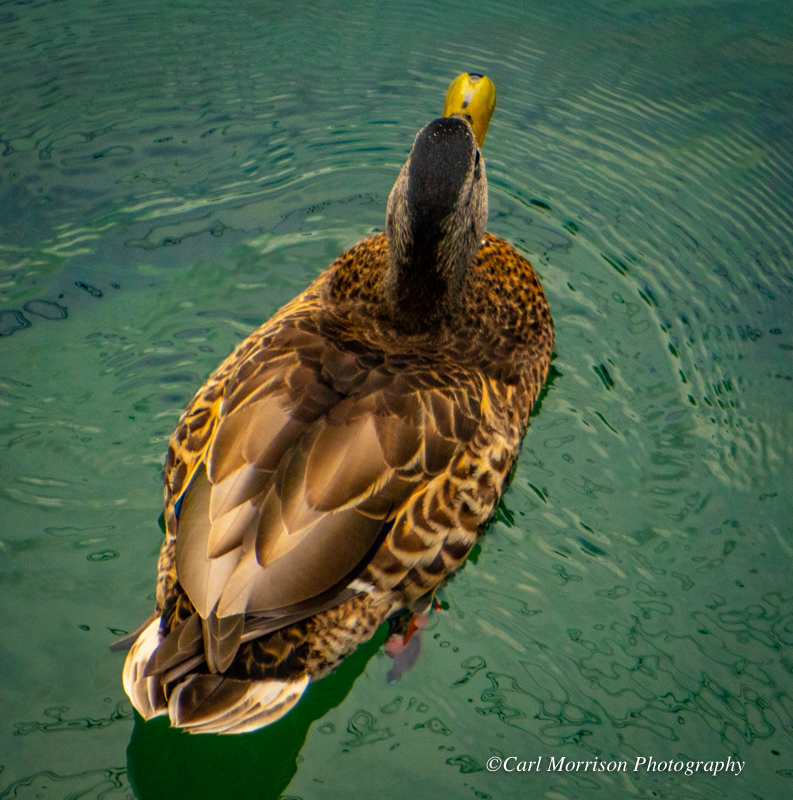 From the highway bridge one could see the birds below that knew it was a good place for small fish or crumbs thrown from the bridge by people.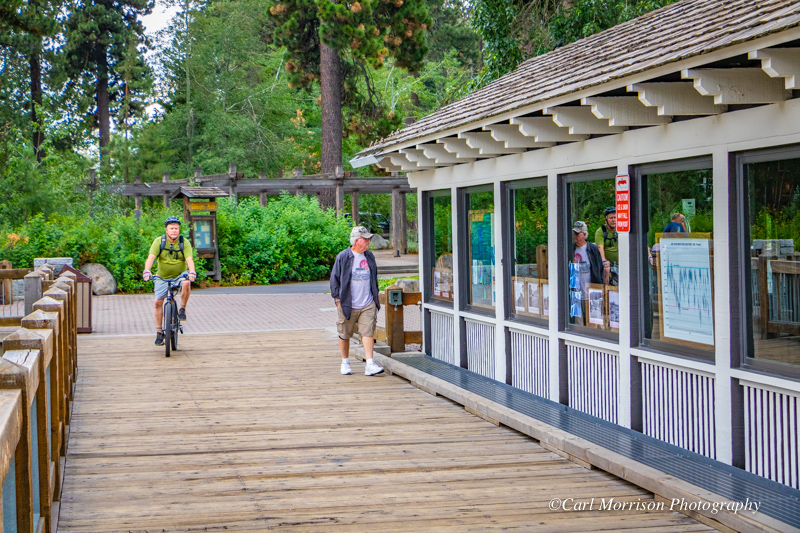 Bike trail across the dam says, "Walk your bike." Evidently a bear had walked where Fred was walking.
View from outlet to Lake Tahoe and Nevada at dusk.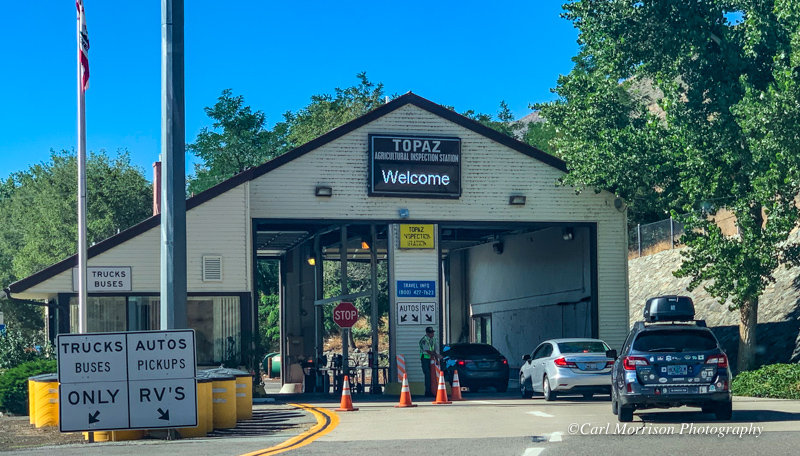 First stop for charging was the Gardnerville, Nevada, Tesla Supercharger which is actually at Topaz Lake a few yards north of the State Line and the California Agriculture Inspection Station.
We charged for 22 minutes for $8.80 for 92 miles of range, more than enough for our next charge in Mammoth Lakes.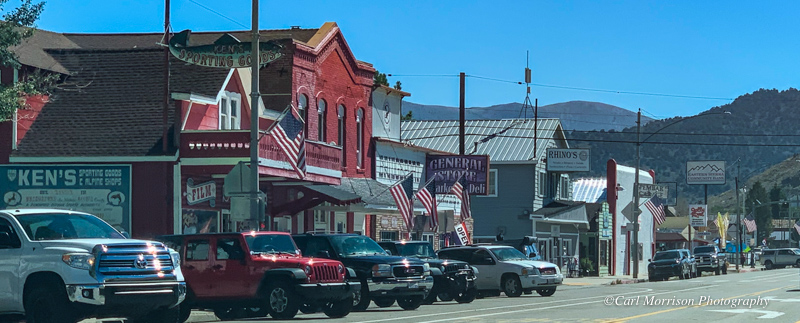 Bridgeport where I noticed gass was $7.09 a gallon. With our 141 gas equivalent Tesla we would be paying 5¢ a gallon.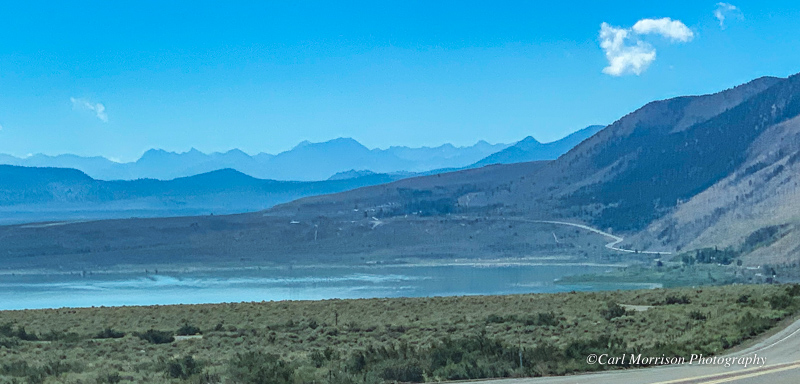 We squeezed between Mono Lake and the Sierra Mtns. on Hwy. 395.
Eastern Sierra provide multiple opportunities to take a nice landscape photograph. Especially on this beautiful day.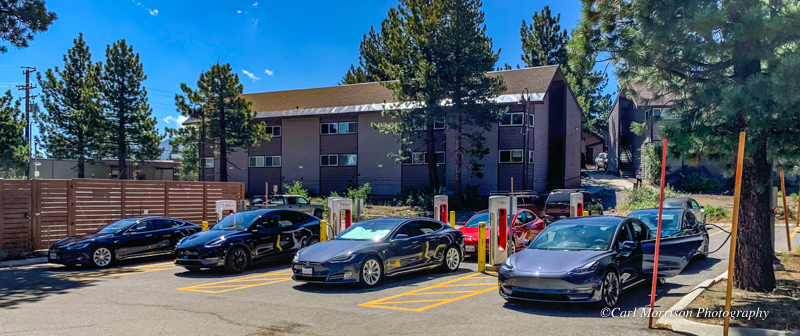 The 8 pull-through Mammoth Lakes Superchargers have never been this full, but we took the last one and others soon left.
We charged for 22 minutes for $10.35 for 96 miles of range, more than enough for our next charge in Lone Pine.



We pass Starbucks on the way to the chargers, so we ventured back there for coffee and restrooms.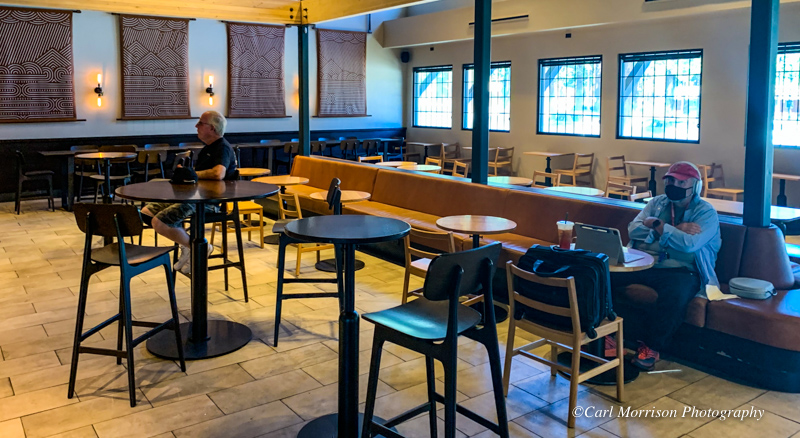 It is the biggest Starbucks I have ever been to.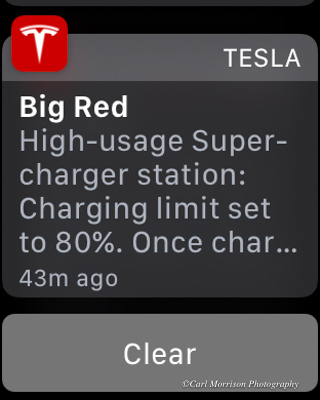 When you are charging at a busy supercharger, you may get these notices on your phone. Idle fees may start 5 minutes after your charge is complete, which you have preset.
To avoid idle fees, on my phone, I raise the charge limit to 100% which buys time and keeps charging until I returned and unplug.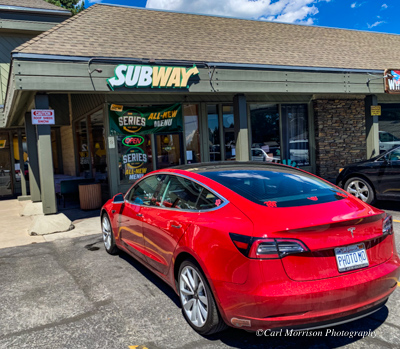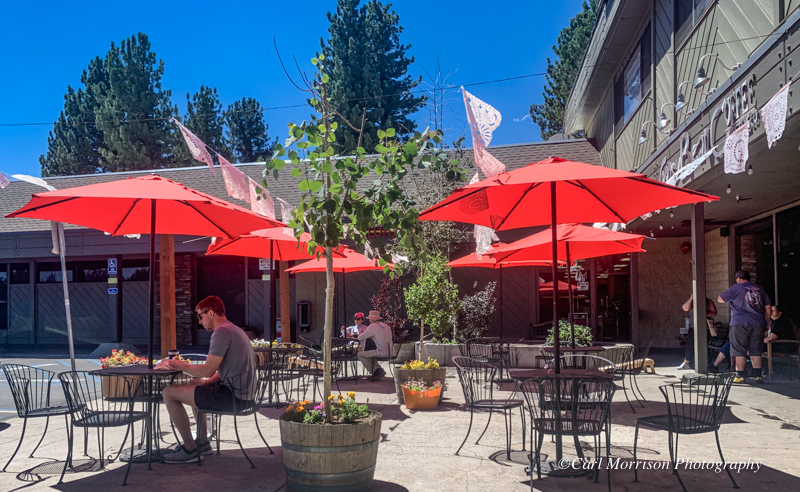 Since we were charged and still needed lunch, we drove to our normal lunch stop in Mammoth, Subway, before returning to Hwy. 395 south.
What the Tesla's screen looks like during the drive from Lone Pine to Inyokern. I like the information on the destination with the % left in the battery when you get there. Also, at the top is the time and temperature.
We charged at
Lone Pine
for 16 minutes for $9.90 for 92 miles of range, more than enough for our next charge in Inyokern.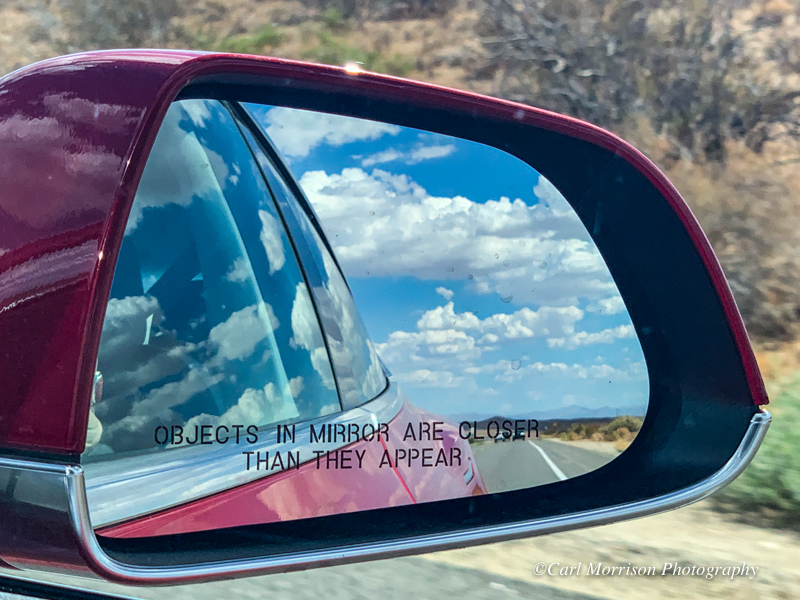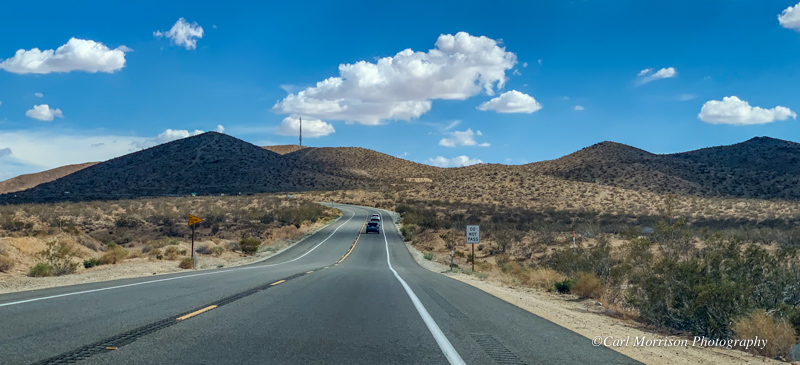 Southbound between Inyokern and Hesperia on Hwy.395.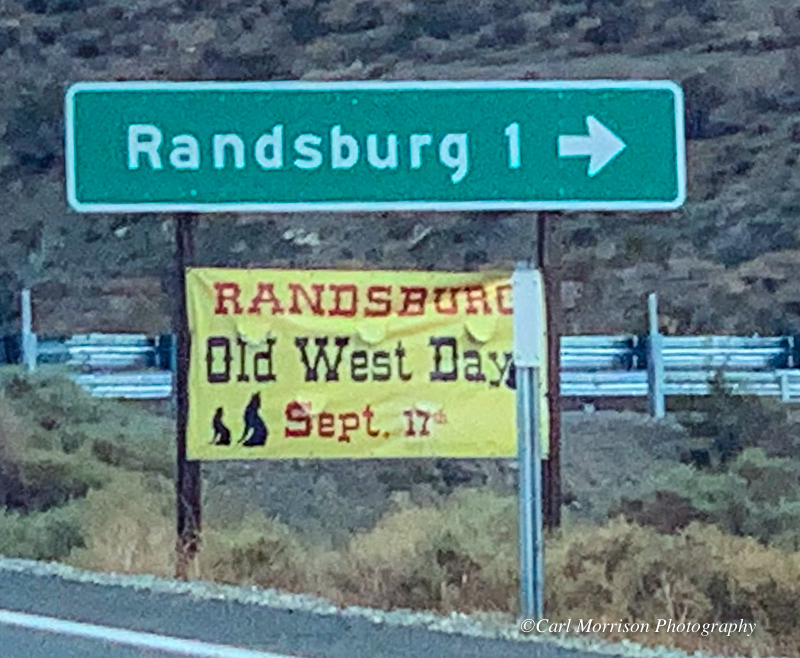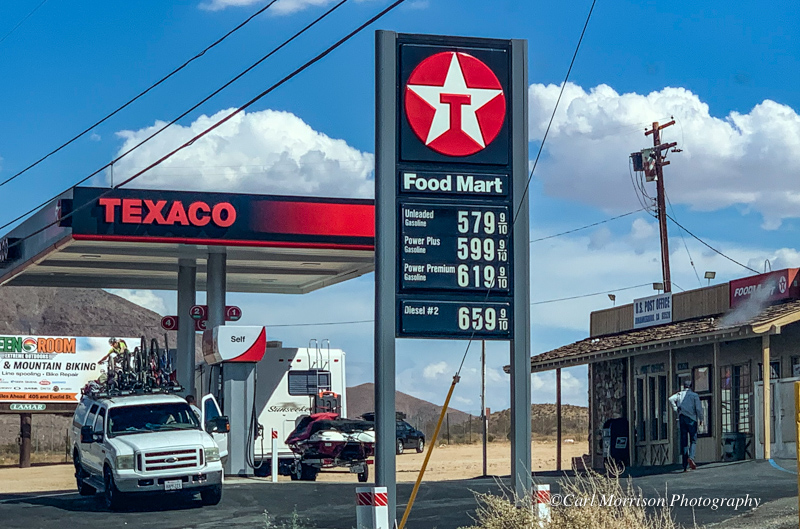 "Living Ghost Town" of Ransburg, we didn't stop but I took photos there on an earlier Tesla Road Trip which you can see at:
http://teslatouring.com/carl/PSA2022/#II
Texaco station between Inyokern and Hesperia in Johannesburg.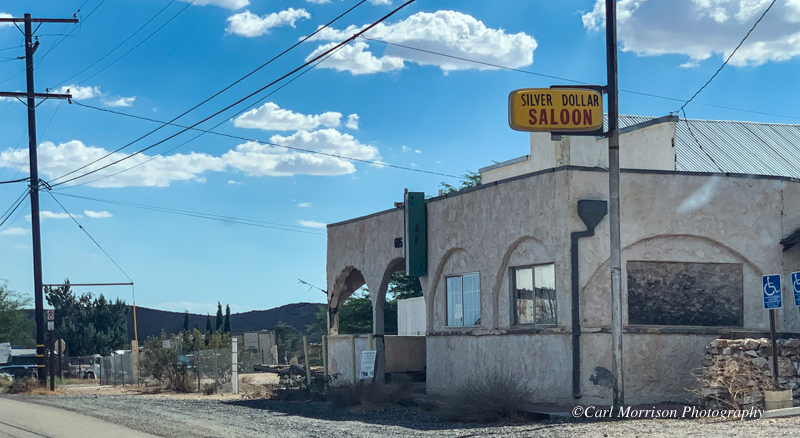 I don't believe any businesses in Johannesburg are open, but the Silver Dollar Saloon might have been the last one to close.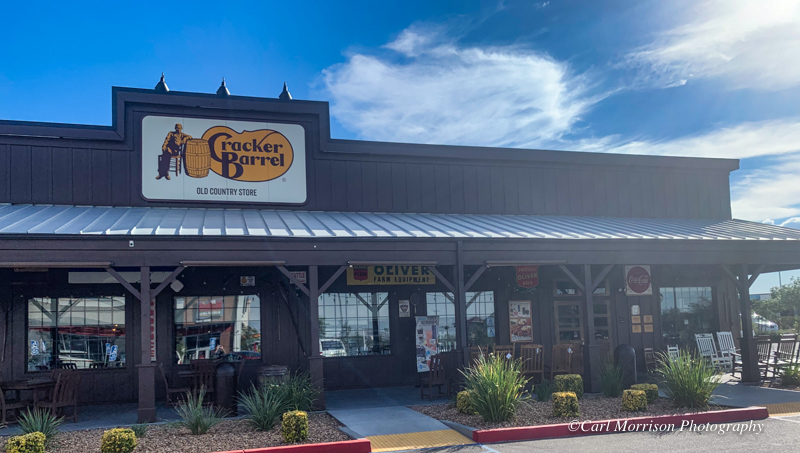 On her "Find My Husband" App, my wife saw that we were north of Riverside on Hwy. 395 and asked if I'd stop at Cracker Barrel for Googoo Clusters. Fred loved the place, his first visit.
Last charging stop of the trip in Hesperia. Sunday the chargers were much busier than on the trip up on Wednesday.
On the right were some non-Tesla chargers with a Tesla plugged in there. Wonder why, unless these chargers were free.
We charged at
Lone Pine
for 38 minutes for $15.05 for 146 miles of range, more than enough for our trip back home in Placentia.

Our charging time was so long because of our time to have supper nearby.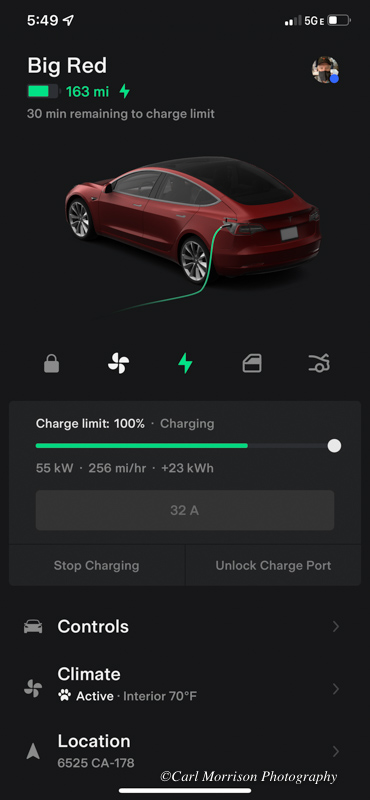 An image from my iPhone while charging at Hesperia. I like to see what the highest charge rate is at Tesla Superchargers - 256 mi/hr.
Return to the Table of Contents
---
---
Summary of Travel Statistics
Map to Return to Orange County via Hwy. 395
The temperature was in the 90s along Hwy. 395 and 80s in Reno, so we used "Dog Mode" in the Tesla when we left the car parked outside. For an 1 hr. 20 min. of "Dog Mode" to keep the inside of the car at 72° when 95° outside, it would cost 12 miles of range, or 58¢ at home or $1.28 on the road at Supercharging rate. With a glass roof and black interior it was worth every cent, and my backside, to use Dog Mode.
Dog Mode
: Since Teslas are electric, there's no engine that needs to run, meaning you can run any system in the car without needing the car to remain on. This includes the heater and air conditioner.
Dog Mode allows you to set the temperature in the car, just like you'd set it at home, and the car will keep the interior of the vehicle at that temperature until you return. It doesn't matter whether the cabin needs to be heated or cooled, the car will control the HVAC to keep the vehicle at the selected temperature.
If you have enabled Dog Mode and the battery reaches 20%, Tesla will send you a notification on your phone letting you know that the battery is getting low and that you should return to your car.
From: notateslaapp.com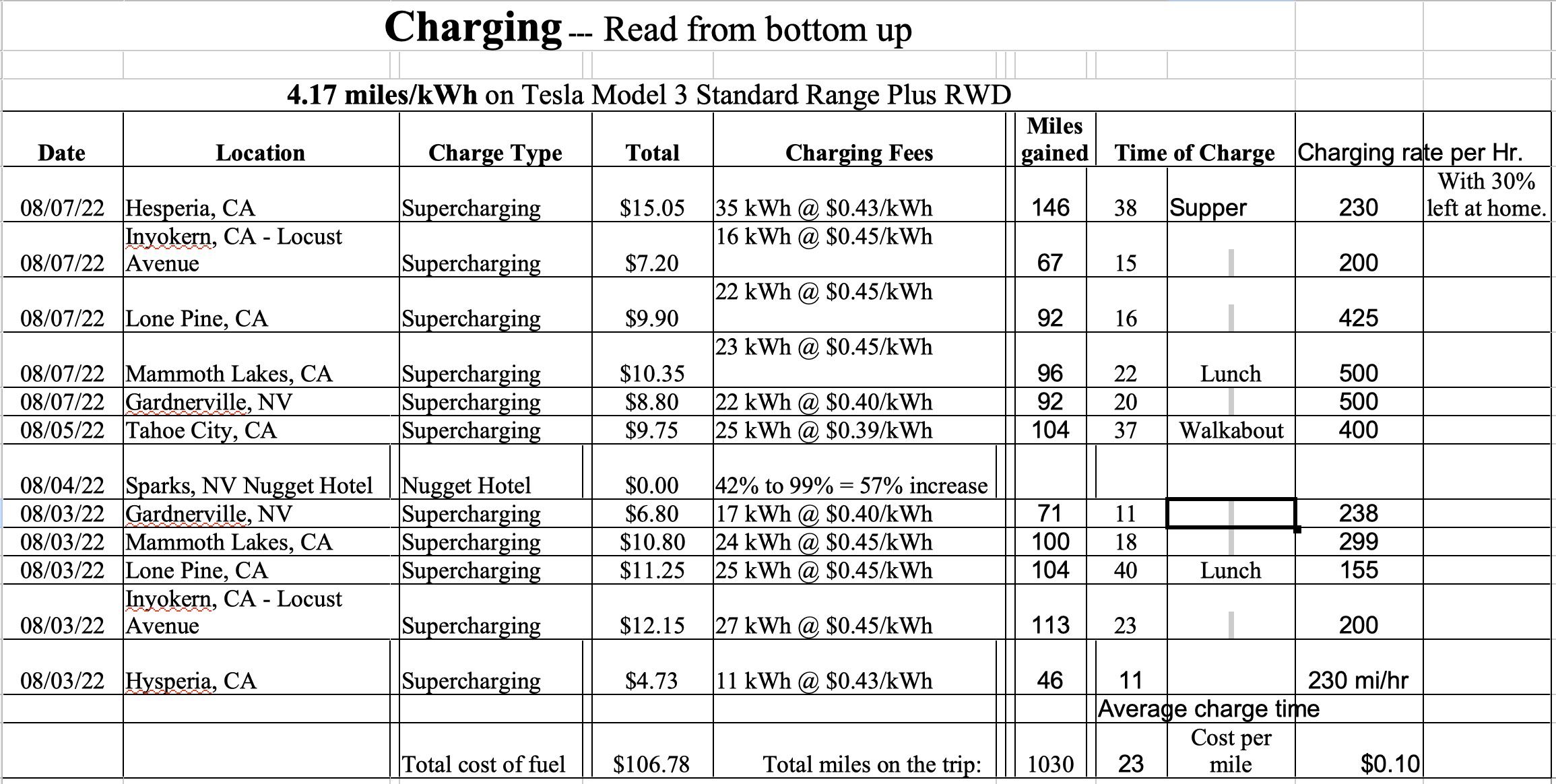 Summary of all charges during the 1030 mile trip
Notes: At busy Superchargers, you will be asked to limit your charging to 80% of capacity. (This is when charging tapers to a lower rate of charge anyway.) The message on your phone also says that you will be charged an "Idle Fee" starting 5 minutes after charging is complete. When I receive this message, if I am away from the car at a restaurant, on my phone I raise the amount of charge needed to 100% to buy some time to finish eating and return to the car.
Charging rates can vary for a number of reasons: 1. The wattage of the cabinets at the Supercharger. Some or all may have been upgraded. Always pick the newest cabinets. . 2. Try to have an empty slot on both sides of your car when charging 3. EVs charge the fastest between 20% and 80% of the battery's capacity. 4. On the car's computer, set your next destination the next Tesla Supercharger and a few miles before it will start conditioning the battery for fastest charging.
Charging prices ranged from 39¢ to 45¢ per kWh which is 4.17 miles. Or 9 to 11¢ a mile from the Tesla Superchargers which can charge our car from 155 to 500 miles an hour.
---
1. The Nugget, 1000 Nugget Way, Sparks, Nevada - 2nd floor of the Parking structure on the east side of the hotel. Destination Charger*
2. Pepper mill, 2707 S. Virginia Street , Reno, Nevada. Destination Charger*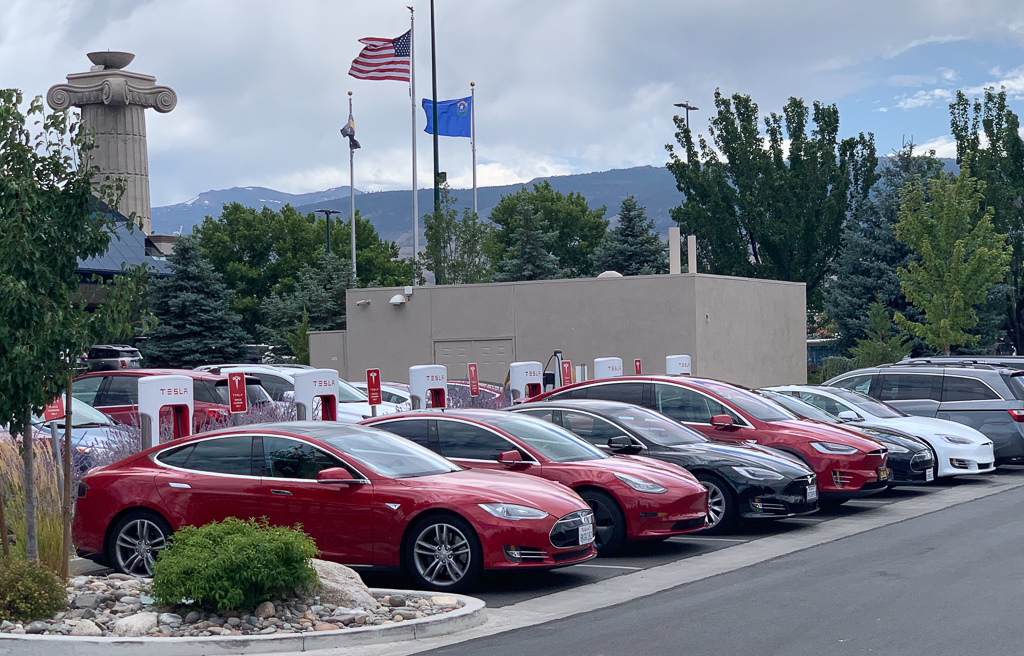 3. Atlantis, 3800 S Virginia Street, Reno, Nevada. Tesla Supercharger's not free, fast charege charged to your account.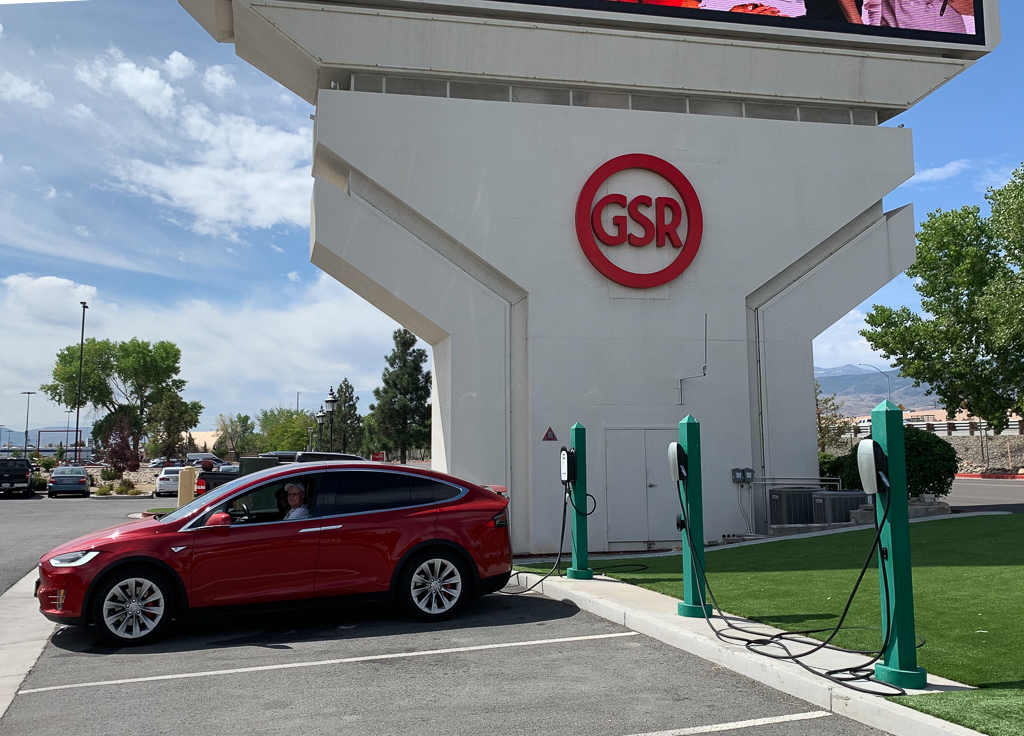 4. Grand Sierra Resort (GSR) 2500 E 2nd St, Reno, NV Destination chargers*
* Tesla Destination Charger: Park for a few hours or stay overnight. With over 35,000 Wall Connectors at Destination Charging locations in both urban and rural areas, there's likely a Tesla charging station waiting for you at the end of your trip. Recharge at popular hotels, restaurants and resorts. Charges about 30 mi/hr .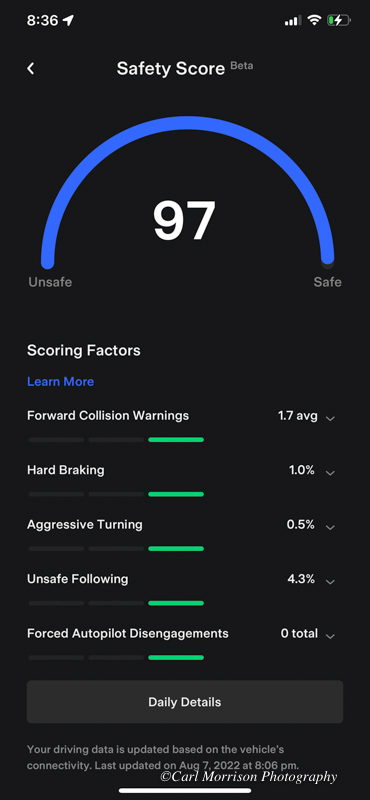 When we returned home, I looked at my "Safety Score" which I had turned on before we left. If asked why not 100%, I'll probably blame it on Fred.
Some states use this number in deciding insurance rates, but not California.
---
LINKS


.