*Pricier Model 3 configurations offer up to 322 miles of range.
**The Model 3 with rear seats folded has "almost comparable cargo capacity [to the Model Y], not as bad as those numbers from the owner's manuals suggest," according to Motor Trend.
This table is comparing the Model Y Dual Motor All-Wheel Drive, with the Model 3 Standard Range Plus with Rear Wheel Drive (single motor).
Source of the comparison image and table above, click
Source
.
Needless to say, I surely was not disappointed that I bought the Model 3 because the $12,000 difference to carry more suitcases is not worth it. Keep in mind the Y is on the 3's chassis. And,we have a Chrysler Town and Country minivan for those many suitcases.
At the end of this report is my Referral Number which you can use for free 1,000 miles of Supercharging if you buy any Tesla vehicle or other benefits for other Tesla products.
A more in depth report, from
Model3Man
, who has a 2018 red Model 3 and compares it to a friend's Model Y, at: https://www.youtube.com/watch?v=bWC21mm4ULk His summary starts at 16:48. (He says, why switch from 3 to Y.)
Best Selling Electric car in the USA and Europe
.
I guess electric vehicle engines are rated as kWh and the SR+ is 50 kWh. A Tesla Powerwall stores 13.5 kWh of usable electricity. So the Tesla 3 SR+ battery is 3.7 Tesla Wall Units.
As of March 2020, the Tesla Model 3 is the world's best-selling electric car in history, with more than 500,000 units delivered. The Model 3 was the world's top selling plug-in electric car in 2018 and 2019, and also the best-selling plug-in car in the United States. The Model 3 was also the top selling plug-in car in Europe in 2019....Model 3 sales surpassed the Nissan Leaf in early 2020 to become the world's all-time top selling plug-in electric car. Many more statistics and the history of the Model 3,
click here
.
kWh defined
.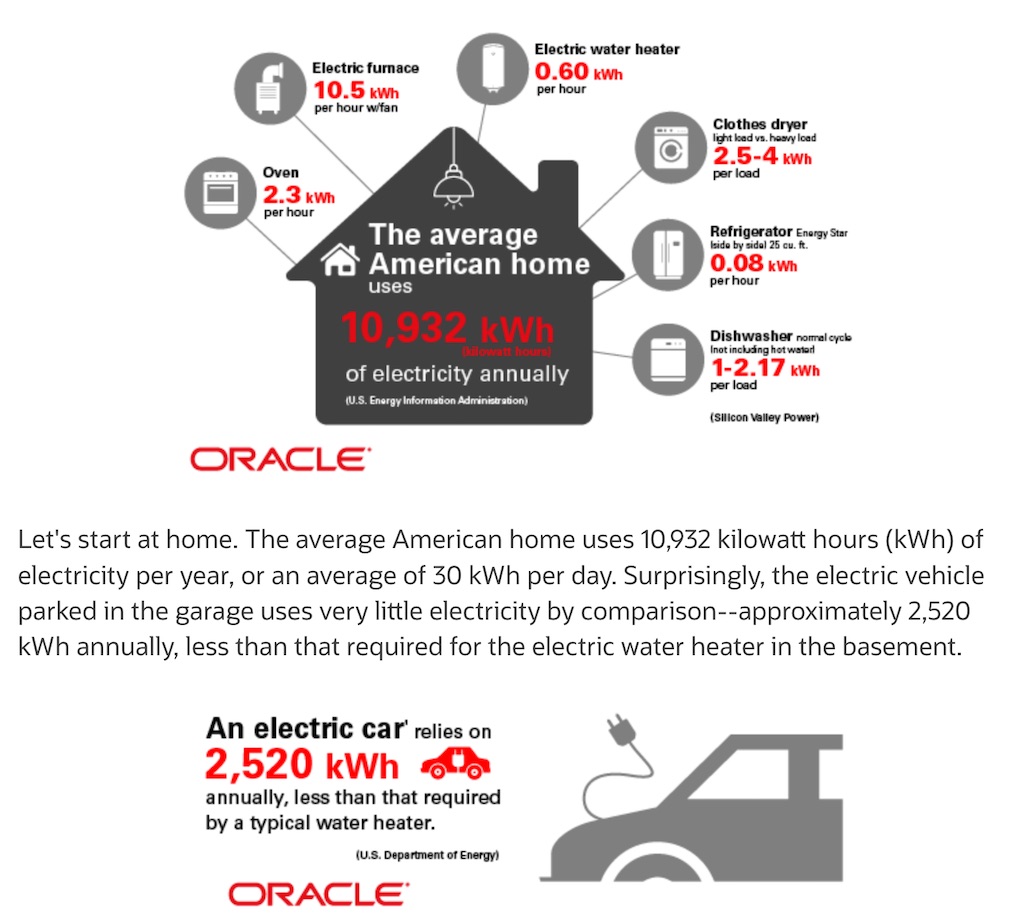 In the average home, one kWh of electricity means the ability to:

watch 10 hours of television,
wash 12 pounds of laundry,
cook a hot breakfast for 4 people,
listen to 20 hours of radio, or
use the computer for 5 to 10 hours.

According to The World Factbook, the United States alone--and it's the second-largest consumer of electricity in the world, behind China--consumes 3.832 trillion kWh of electricity annually.
From: Kate Rowland at ORACLE
This chart shows the time to charge the Tesla is between 10 pm and 8 am.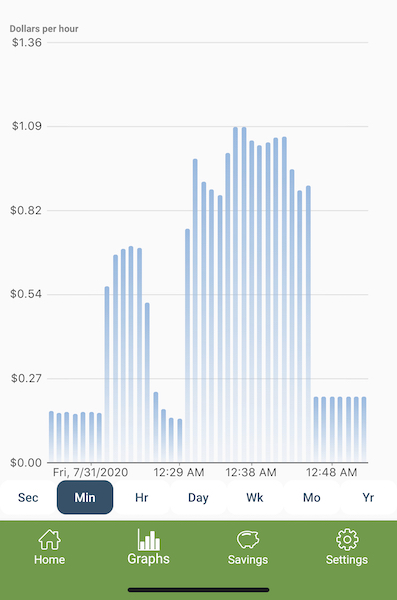 Checking one's
emporia energy
app shows starting to charge the Tesla at 12:30 am and lasting 68 minutes. Which put 30 miles in the tank at $.02 to $.03 per mile.
The spike before 12:29 was the dishwasher. The level line on the left was TV, lights, etc. at night.
Formula E Street Racing
Any image with a gray or neon border can be clicked for a larger copy.


Most passenger car owners like to follow race circuits with motors made by the same company as is in their own car. This is true for Teslas, almost, since there is Formula E. I like to follow the only American team in this International race:

The Formula E championship currently consists of twelve teams with two cars and two drivers each. The sport features electric-powered race cars similar in style to the hybrid-drive cars of Formula One. Racing takes place on temporary city-centre street circuits which are 1.9 to 3.4 km (1.2 to 2.1 mi) long.
Gen2 car (2018-2020)



Stoffel Vandoorne driving a Gen2 Formula E car at the 2019 Hong Kong ePrix.


The second generation ("Gen2") Formula E car was introduced in the 2018–19 season, and features significant technological advances over the previous Spark-Renault SRT 01E car – its 54 kWh battery and power output rising from 200 kW to 250 kW and top speed rising to around 280 km/h (174 mph). The arrival of the Gen2 car also sees an end to the series' mid-race car-swaps. The new cars are equipped with Brembo braking systems, chosen by Spark Racing Technology as the sole supplier. The new cars are also equipped with the
Halo, a T-shaped safety cage
designed to protect the driver's head in crashes, and to protect them by deflecting flying objects. Michelin remains as tyre manufacturer, supplying all-weather treaded tyres.

Gen3 car (2022– )
The Gen3 Formula E car is planned to be introduced for the ninth Formula E season (2022–23). Power levels for the car are expected to be 350kW in qualifying and 300kW in the race, whilst regeneration levels will be allowed on both front (250kW) and rear (350kW) axels for a maximum of 600kW recovery under braking. The battery will also be designed to be able to handle 'flash-charging' at rates of up to 800kW, allowing
pitstop recharging
into the championship for the first time.
From: https://en.wikipedia.org/wiki/Formula_E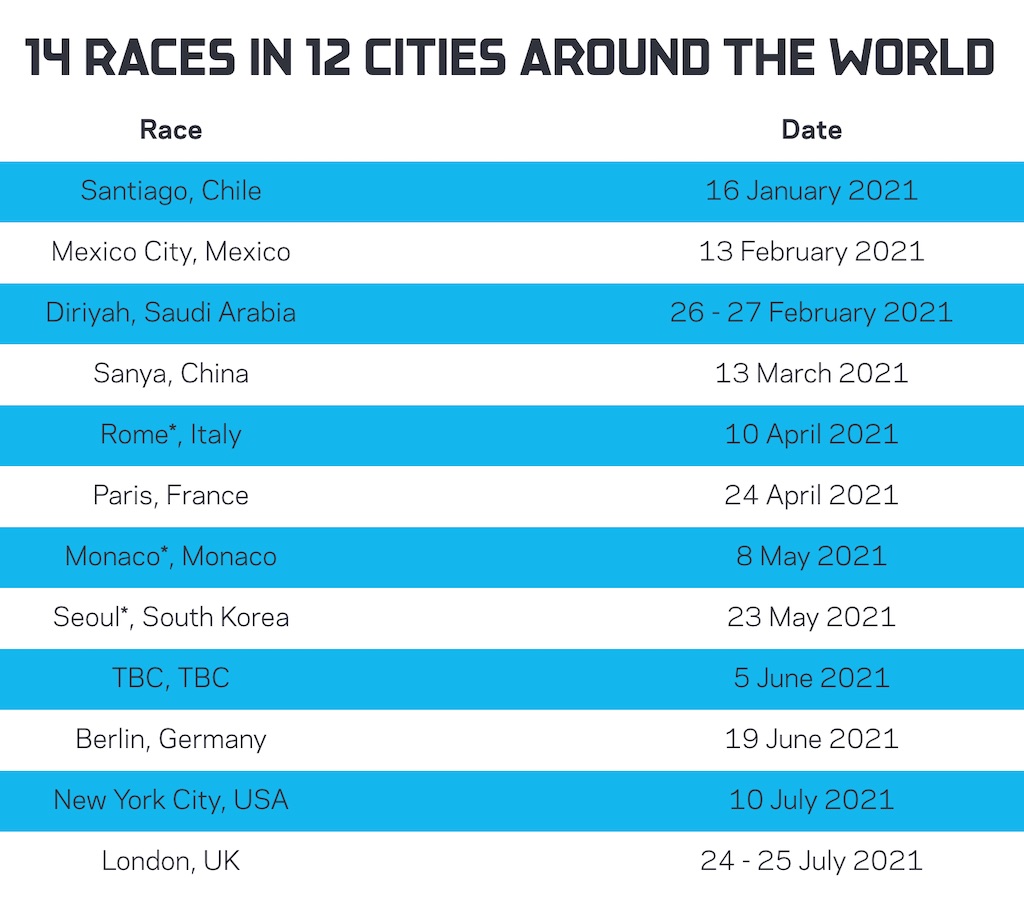 Source: Race Schedule for 2021
(and graphic above)
Formula E raced in California one year and I was privileged to attend for TeslaTouring.com.