National Drive Electric Week Event, Los Alamitos, California
Los Alamitos Admin. Bldg., 3191 Los Alamitos Blvd., Los Alamitos, California 90805
8 a.m. to Noon, September 8, 2018
Car Owner: Steve Grande & NordiLusta LLC
Driver/Photographer/Reporter: Comments welcomed.
Carl Morrison,
Carl@TeslaTouring.com
http://teslatouring.net/TeslaEVWeekLosAl2018
---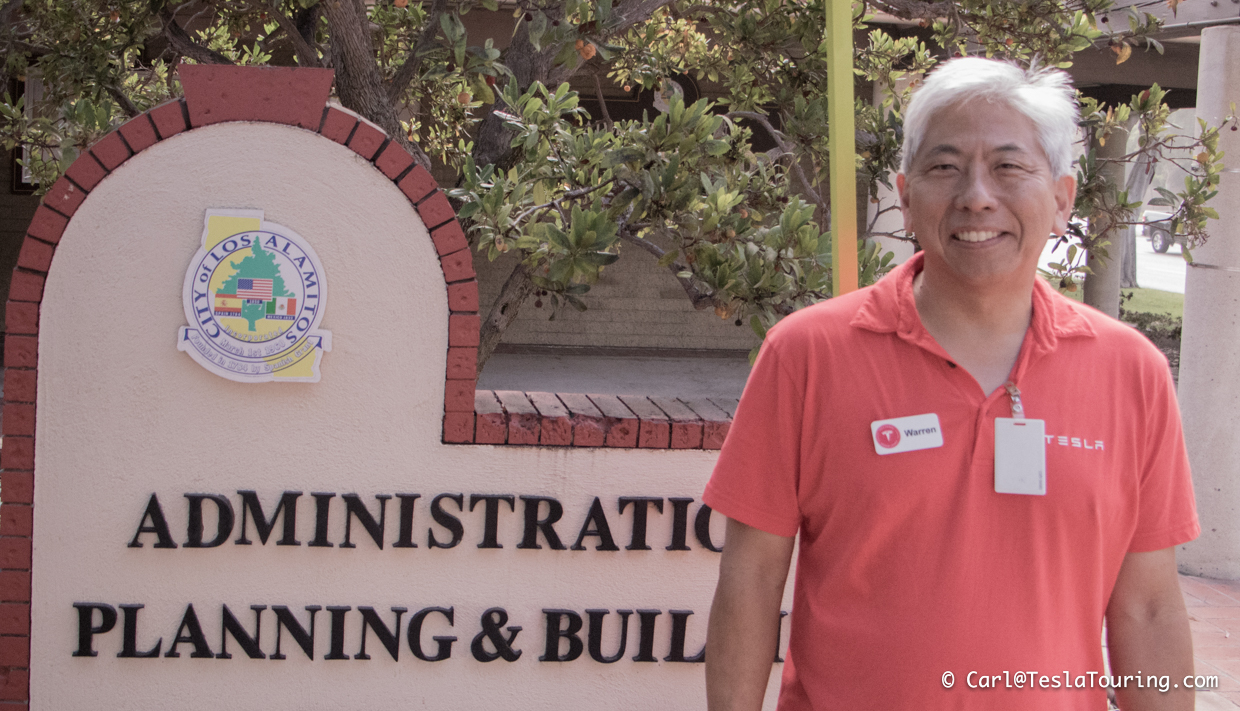 Organizer, Warren
Thanks to Warren Kusumoto for this List of Attendees and their cars:
Name Vehicle
Arunkumar Casuba 2018 Tesla Model 3
Bob Girardi 2014 Chevrolet Volt
Carl Morrison 2016 Tesla Model X
Carl Winefordner 2008 Tesla Roadster
Carla Bravo 2017 Volkswagen e-Golf
Catherine Manning 2018 Chevrolet Volt
Claire Kirk 2017 Chevrolet Bolt
Darrell Holmquist 2008 Tesla Roadster
Dennis Pascual 2008 Tesla Roadster
Diane Roe 2017 Chevrolet Bolt
Don Bullock 2018 Tesla Model X
Dorothy Owens 2017 Tesla Model X
Fred Galluccio 2011 Nissan LEAF
Harry Hanaki 2008 Tesla Roadster
Jann Bryant 2017 Tesla Model S
Jeff Emery 2018 Tesla Model S
Jim Golden 2018 Ford Fusion Energi
Jim Hein 2011 Nissan LEAF
Josh Bugni 2018 Tesla Model 3
Juan Camacho 2015 Nissan LEAF
juan B Garibo 2018 Fiat 500e
Judi Kusumoto 2016 Tesla Model S
Kenneth Jones 2018 Tesla Model 3
Kirk Nason 2017 Tesla Model X
Linda Zimmerman 2017 Tesla Model S
masayuki tamashiro 2016 Nissan LEAF
Michael Hui 2016 Volkswagen e-Golf
Michael Manning 2017 Chrysler Pacifica Plug-in Hybrid
Mike Kimura 2017 Chevrolet Bolt
phillip bickal 2011 Nissan LEAF
rafael larios 2018 Tesla Model 3
Ron Tolentino 2018 Tesla Model 3
Ron Whitten 2016 Tesla Model S
Steve Davey 2014 Chevy Spark EV
Tai Nguyen 2017 Tesla Model S
Tuan Huynh 2018 Tesla Model S
Vadim Goziker 2018 BMW i3 REx
Warren Kusumoto 2016 Tesla Model X
Yash Vaidya 2018 Tesla Model 3

Warren
562-879-0961
Warren Kusumoto <warren_kusumoto@yahoo.com>
---

The red Tesla Model X we drove to the event, next to a blue Model X.
Model X in the foreground with two new, blue Model 3s.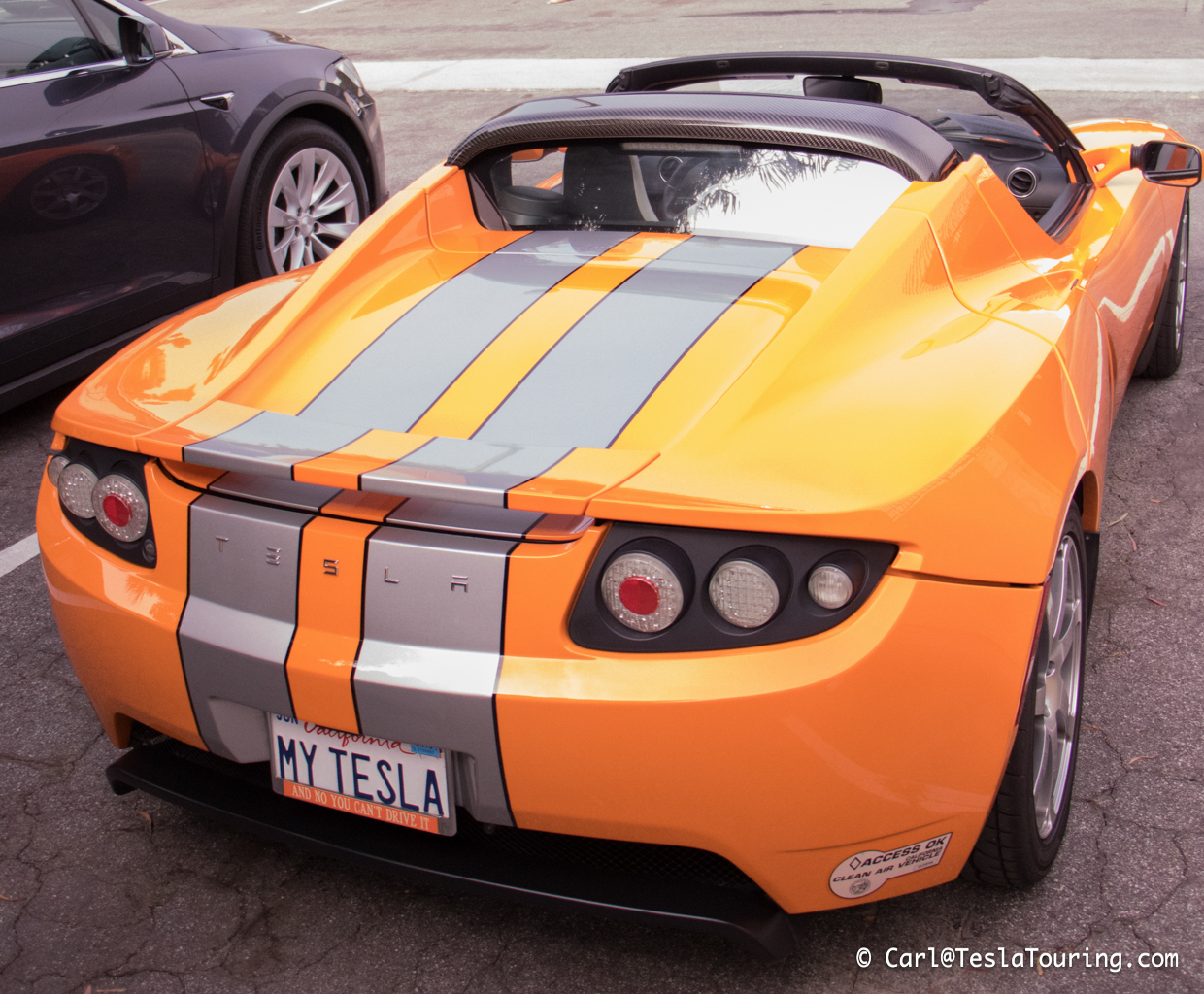 The brightest car to attend was the Tesla Roadster.
The Tesla Roadster is a battery electric vehicle (BEV) sports car that was produced by the electric car firm Tesla Motors (now Tesla, Inc.) in California from 2008 to 2012. The Roadster was the first highway legal serial production all-electric car to use lithium-ion battery cells and the first production all-electric car to travel more than 320 kilometres (200 mi) per charge. It is also the first production car to be launched into orbit, carried by a Falcon Heavy rocket in a test flight on February 6, 2018. The car is also the first production all-electric car with the top speed of more than 200 km/h.
Tesla sold about 2,450 Roadsters in over 30 countries, and most of the last Roadsters were sold in Europe and Asia during the fourth quarter of 2012. Tesla produced right-hand-drive Roadsters from early 2010. The Roadster qualified for government incentives in several nations
--From: https://en.wikipedia.org/wiki/Tesla_Roadster_(2008)

Left to right: Tesla Model S, Roadster, Tesla Model X.
The Tesla X with all seats ready for occupancy.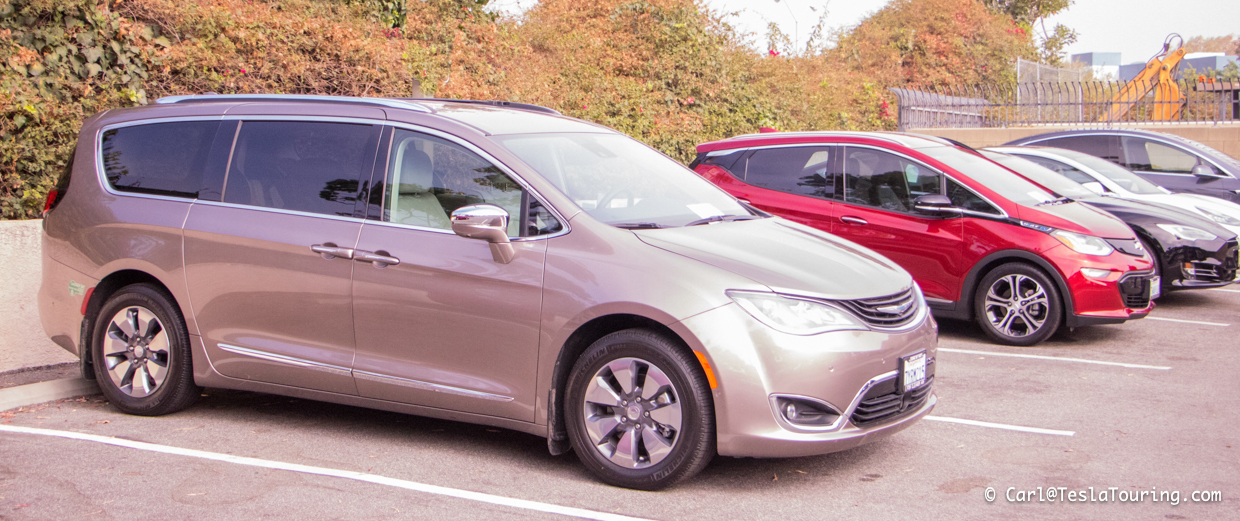 Chyrsler Pacifica Hybrid, owned by Michael Manning, had lots of interested parties. I noticed Michael said, "I pay more for car washes than I pay for gas."

A red Chevrolet Volt beyond.
Michael also brought his Chevrolet Volt. The motorcycle beyond is also an electic vehicle.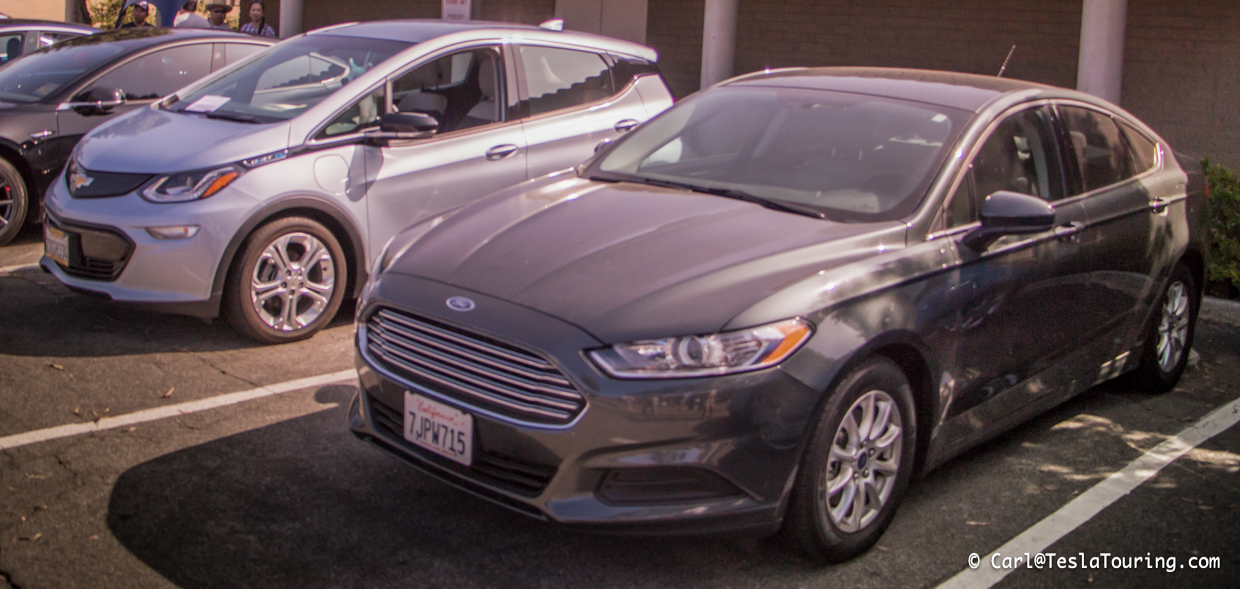 A Ford Fusion and Chevrolet Bolt rounded out the many cars in attendance.
A Tesla Roadster slipped in between the Chrysler Pacifica and the Tesla X.
---