Blake Fuller won the 2016 Pikes Peak Hill Climb in his P90DL Tesla S (above).
See an interview about how that all happened by "Now You Know" creators, Zak and Jesse.
" on YouTube, want to try the Pikes Peak run again in a Model 3. Their new YouTube Channel,
The full episode where they have the standard red Model 3 wrapped as a race car with spots for contributor's names.
Elon Musk Announced the Tesla Model 3 in 2016.
I always wanted to buy a Tesla, but not until 2016 when the Model 3 was announced at $35,000 was there any hope that I could afford it. The first edition of any Tesla is always the expensive model, later they begin to offer less than premium models.
Elon Musk announces the Model 3 in Q1, 2016.
History of Tesla Motors: 1. Roadster - Low Volume, High Price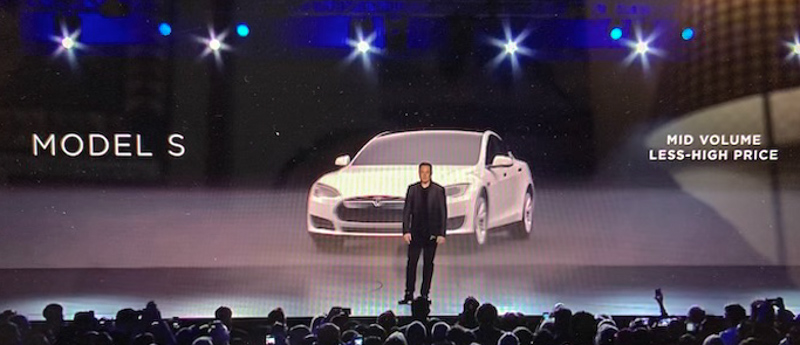 2. Model S - Mid Volume, Less-High Price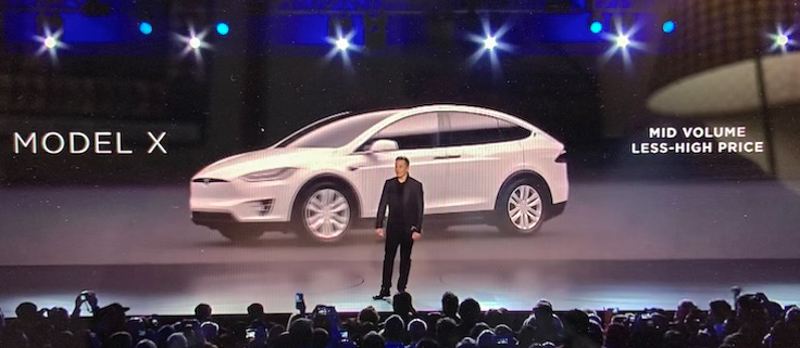 3. Model X - High Volume, Less-High Price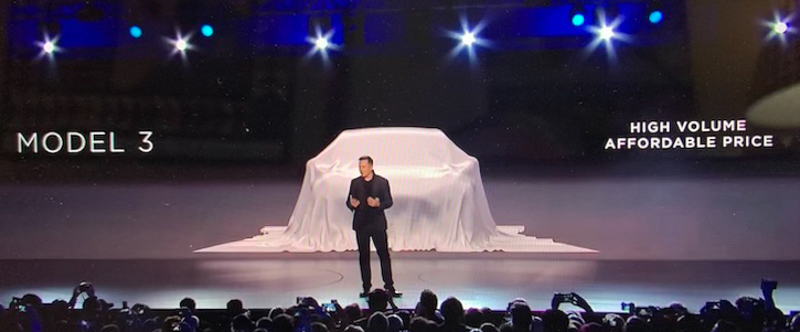 4. Model 3 - High Volume, Affordable Price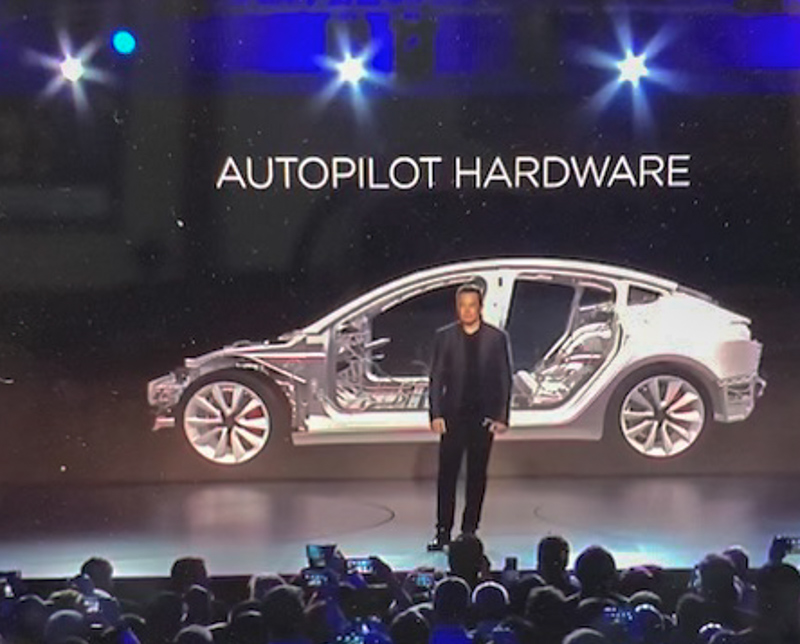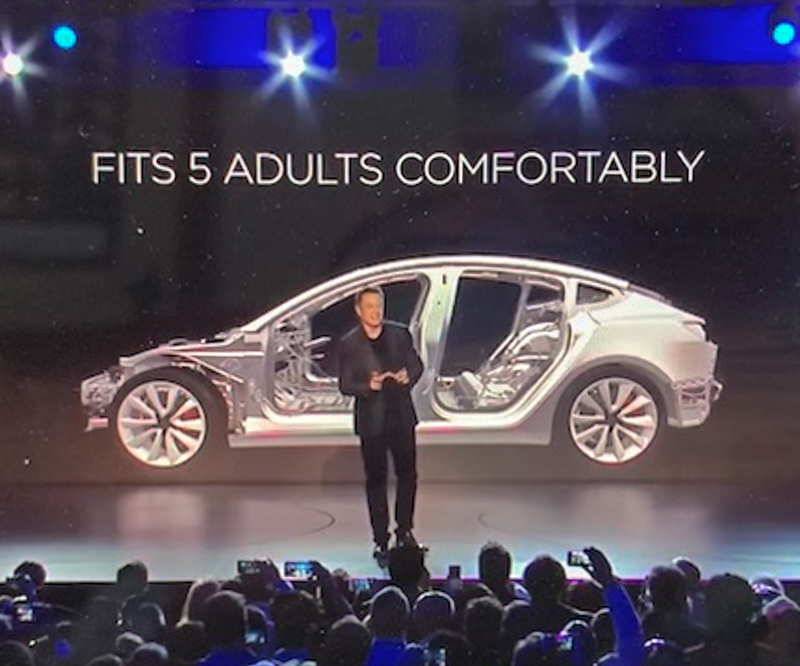 Included in the Model 3 will be: Autopilot Hardware (Model S and X owners knew what that means.), and Fits 5 Adults Comfortably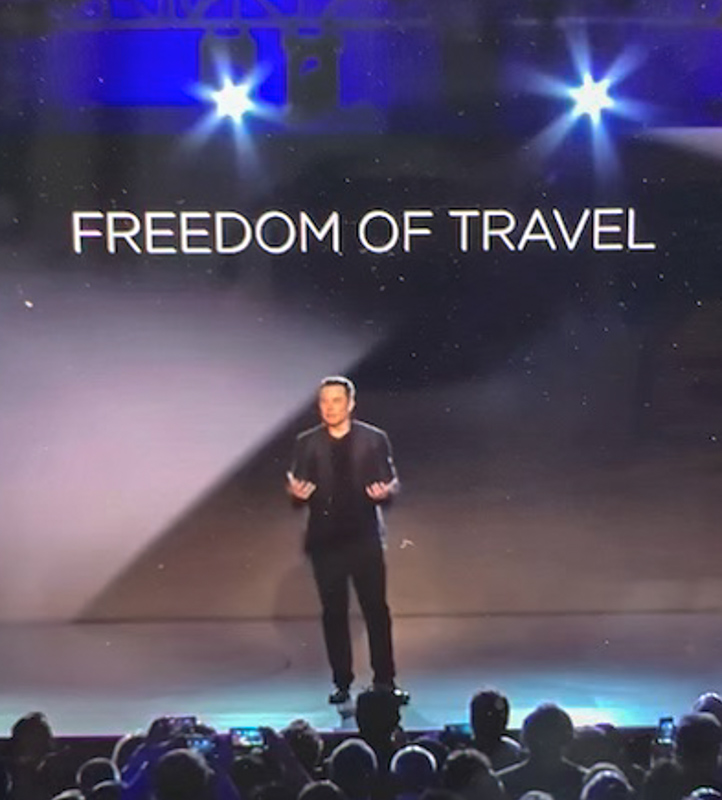 Supercharging Capability which means Freedom of Travel
Planned Super and Destination Chargers by end of 2017.
As of this writing there are 16,103 chargers at 1,826 stations and 23,963 Destination chargers at hotels, restaurants, and shopping centers.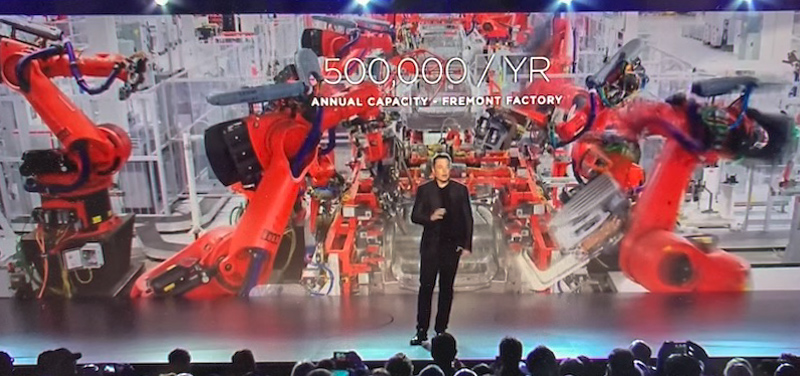 At that time 500,000 cars a year were to be built in the Fremont Factory.
In 2016, His first Gigafactory was the world's largest lithium cell producer of the most advanced batteries in the world.
We owned a 1956 Chevy show car and I reasoned that if I could sell it, that would be a nice down payment on a Model 3. I started trying to sell the Chevy when they were offering the first editions of the Model 3, but the sale didn't happen as quickly as I had hoped.
Sue and I first saw a Model 3 at the Fashion Island Tesla Store in Newport Beach, California, and decided it was what we wanted. We then took a test drive at the Brea, California, Tesla store, near hour home.
In 2018, after registering the Chevy for the Hot August Nights Car show and driving it and friend, Steve's Model X (above) to the show in Reno, I had an offer on the Chevy, and put money down and ordered a Model 3. However, that deal fell through and I canceled the order.
Eventually, in 2020, the Chevy sold and I put down my order for a Model 3, again. This 2020 deal was for less money than my 2018 deal, since they dropped the price at the end of the quarter and they were selling more than the Premium model.
INSIDE
EV
S Tesla Car Comparison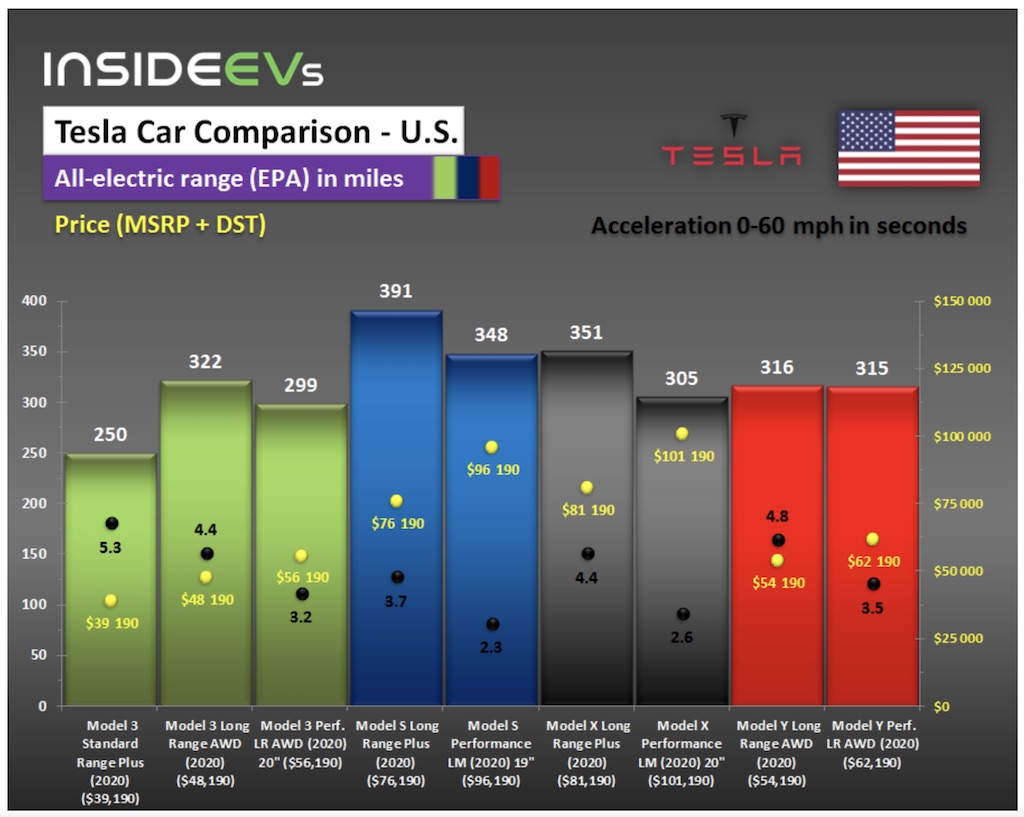 Any image with a gray or neon border can be clicked for a larger copy.



Above is the answer to, "Why didn't you buy a "Y"? Our Model 3 is on the far left.



Other EV and hybrid Comparisons at INSIDE

EV

s website.



Third-Party Tesla 3 Evaluation and Comparison

Tesla 3 owners have already done the research and decided it was the best EV on the market for the best price. However, if you want to give someone considering an EV a place to go for a comparison website with independent evaluation, send them to

Plug in Cars

2018 comparison site: https://www.plugincars.com/cars?sort_by=field_msrp_value&sort_order=ASC&field_isphev_value_many_to_one=pure+electric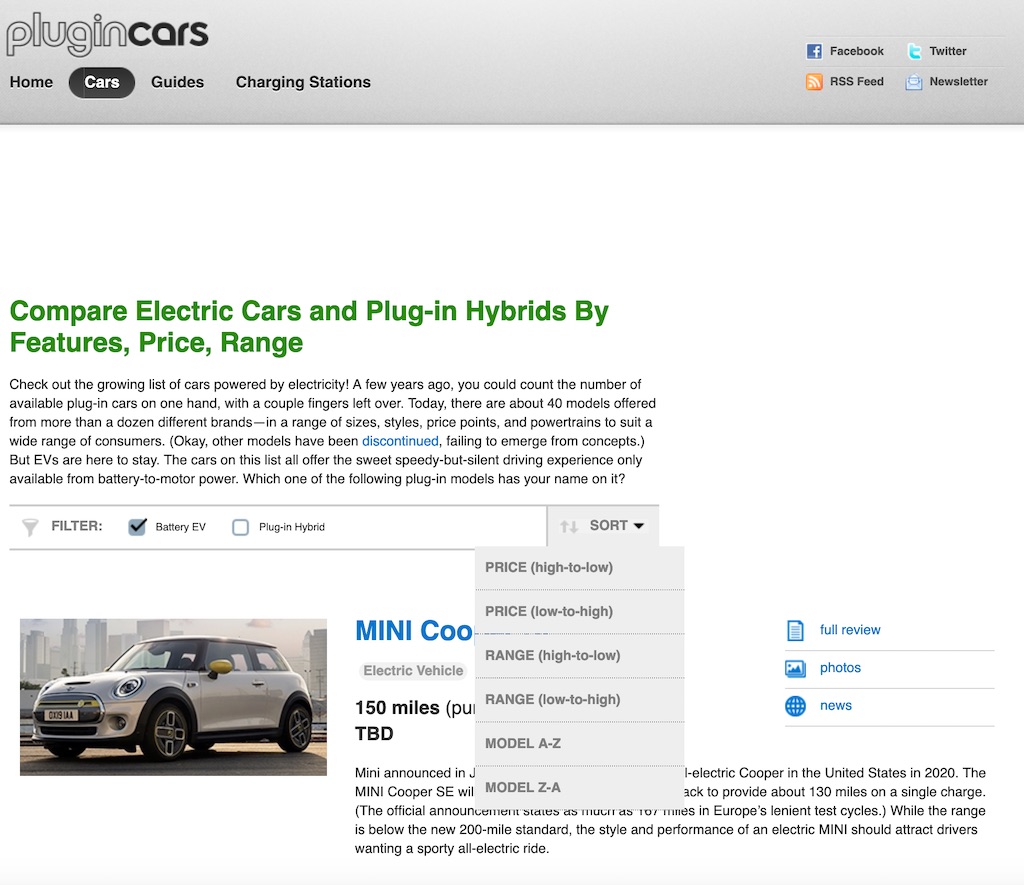 I like the option to select only Battery EV, since I am not interested in Plug-in Hybrids, and SORT in many ways.
In all cases, I am interested in taking our EV on a long trip and know that no manufacturer except Tesla has a 1,400+ network of Superchargers. So are we talking in all other cases, not ever taking your EV on a long trip of 1,000 or more miles?

On the Model 3 page (shown above), click "Full Review

" (https://www.plugincars.com/pictures-tesla-model-3.html)





Perhaps the most futuristic interior of any EVs (or proposed EVs) is the Bryton M-Byte with a 4 FOOT wide screen with screen on the steering wheel and center console for the passenger. (https://www.plugincars.com/pictures-and-video-byton-m-byte.html)

.

Finally, rather than showing research, just say a Tesla is:

Easy to drive, no gears, single pedal, quick, good for the environment and cheap.

(Maybe not cheap, but with talk of a Model C for $20,000, maybe that is closer to cheap.)




Driving an Electric Car for Maximum Efficiency





Try for over 4 kWh per mile.

[I believe the average for Teslas is 4.15 kWh.]
Although written in 2014, perhaps for Prius cars, these tips for obtaining maximum efficiency in an electric car still apply. I will give some tips from this article, but for the full article, go to the

Source

below.
"

Learn to anticipate stops and slowly coast toward a red light with your foot off the accelerator pedal [With regenerative braking, feather the pedal so you stop at the light.]. When taking off from a stop, gently ease down on the pedal until gradually reaching your desired speed. Aggressive driving is estimated to reduce efficiency by about 30 percent. On the highway, stay as close as possible to the speed limit. For every 10 mph of speed over the posted limit, it roughly costs you 10 percent of efficiency (and therefore range). Employ more energy regeneration and less friction braking—especially on downhill stretches. Look up your car's recommended tire pressure and check regularly with a gauge [or the built in gauge] to ensure the correct level. A vehicle's fuel economy goes down by about 1 percent for every 3 pounds of pressure missing from its tires. Pick a highway route with gentle gradients, minimal intersections, and light traffic [Not easy to find in suburban Southern California]. Try getting to a comfortable temperature by using your car's ventilation system to cool or warm the cabin—rather than blasting the AC or heat. Open windows drastically affect the aerodynamic flow of a vehicle, often decreasing its fuel economy even more than running the air conditioning. In cold weather, try to rely as much as possible on heated seats and a heated steering wheel (if available) to warm your body, rather than heating up the entire cabin.
The key measure of efficient driving in an electric car is miles-per-kilowatt-hour (kWh). Most electric car dashboards provide efficiency stats as miles-per-kWh—either on a trip or lifetime basis. Efficient EV drivers should aim to go four or more miles on a kilowatt-hour of juice, while wasteful driving results in three miles or less on that same kWh."
Our Tesla 3 does not give miles-per-kilowatt-hour anywhere on its many computer screens, but these Tesla Forum contributors tell you:
1. In the lower left part of the car's screen - slide to the right or left (over the windshield graphic). One side is tire pressure. The other is efficiency stats and history. Or hit the up arrow on the bottom of the screen to see current mileage and projections.
2. Take the roughly 250 Wh/Mile figure shown on the screen and divide it into 1,000 to get the value in the miles per kWh units you're asking for. If you see 250 Wh/mile on the screen that equates to 4 miles per kWh.
Applying the steps above: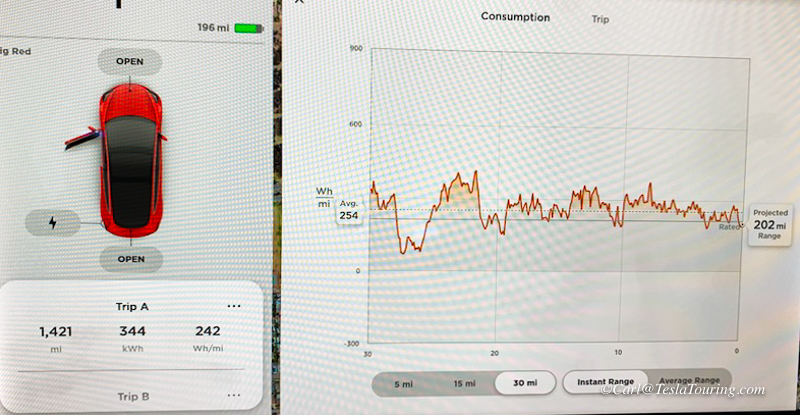 Trip A (left) 1,000/242=
4.13
Last 30 mi. (above) Avg. 1000/254 avg Wh.mi =
3.93
Projected (above right) 1000/202 =
4.95
Since I have owned the car for 1,421 miles and used 344 kWh, I am getting
4.13
miles per kilowatt hour.
Today I took a short trip of 25 miles and used 195 Wh/mi which is
5.128
mpkWh and I went over the speed limit to pass trucks before my exit came up, but stayed speed limit otherwise.