TeslaI
Tesla 3 - 1,000+ mile Road Trip
Orange County to Lake Tahoe via Hwy. 395, and return via I-5.

Report 10 by Carl Morrison, September 10 - 13, 2020
Comments welcomed at:
Carl@TeslaTouring.com
or in "Comments" below the Facebook
report.
http://teslatouring.net/TeslaI

/
This is my tenth report on our 4-month-old

2020 Tesla 3 Standard Range Plus

, posted at TeslaTouring.com/carl. In this report I cover: 1. Driving a Tesla Model 3 fully-electric car 500+ miles following Hwy. 395 from Orange County, California, to Homewood, California, on the northwest side of Lake Tahoe. 2. Driving around Lake Tahoe and visiting Truckee, California. 3. Round trip - Tahoe City, California, over Mount Rose to Virginia City, Nevada. 4. Driving from Tahoe City, California, via I-80, Hwy 99, and I-5 to Orange County, California. 5. Safe
Photography from the driver's seat.
6. Summary.
Driving a Tesla Model 3 from Orange Country, California, north following Hwy. 395,
and I-80 to Northwest Lake Tahoe.
With COVID-19 in its 6th month, the Three Comb Over Brothers needed some relief from the close quarters and decided to take a 1,000-mile road trip. The trip would be in our 3-month-old Tesla Model 3 from Orange Country, California, north following Hwy. 395, documenting our Supercharger stops along the way to Reno, Nevada, then to Lake Tahoe for a couple of days. Finally, we would return following I-5, documenting the Super Chargers on the way back to Orange County. It was during the fires of 2020, so many hazy photos to prove the point.


Click the image for a larger copy.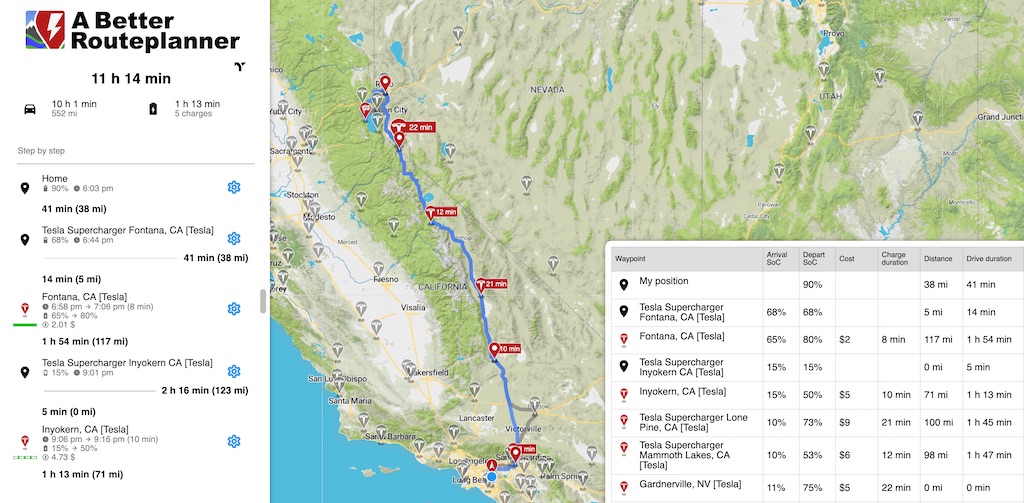 Route to Fontana and Inyokern Superchargers using "A Better Routeplanner".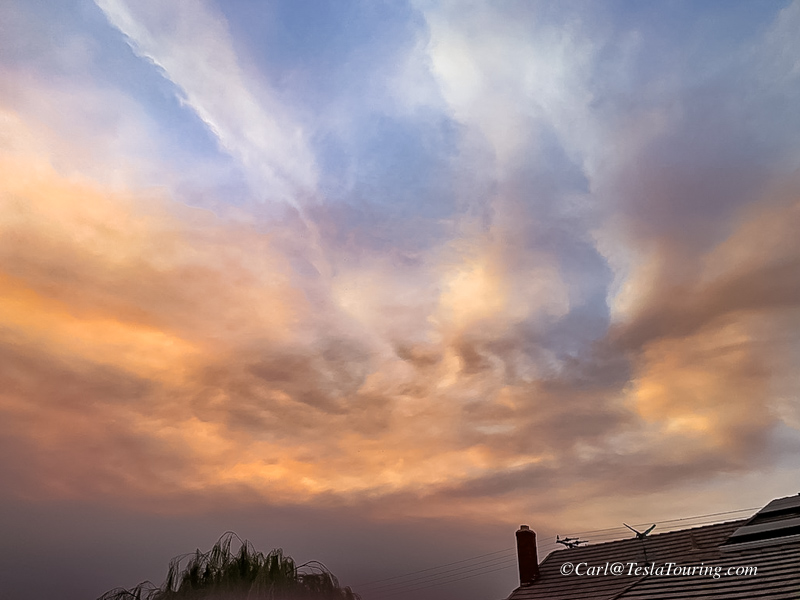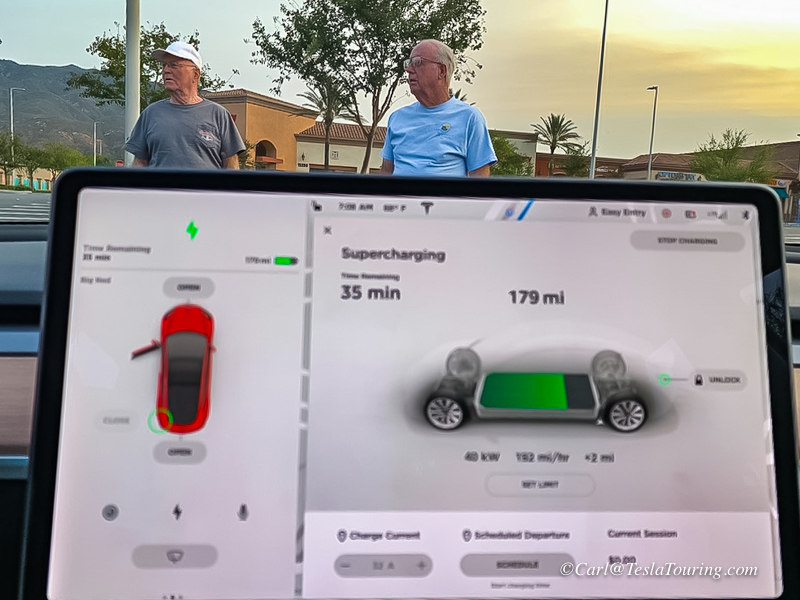 Left, Orange County about sunrise with smoke in the air from multiple fires on the west coast. Right, First charging at Fontana Supercharger.
24 Superchargers, available 24/7, up to 72kW



Added a "few" center markers since our last trip up 395 north of Adelanto.



Good rate of charge - 579 miles charged per hour at Inyokern.
4 superchargers, available 24/7, up to 150kW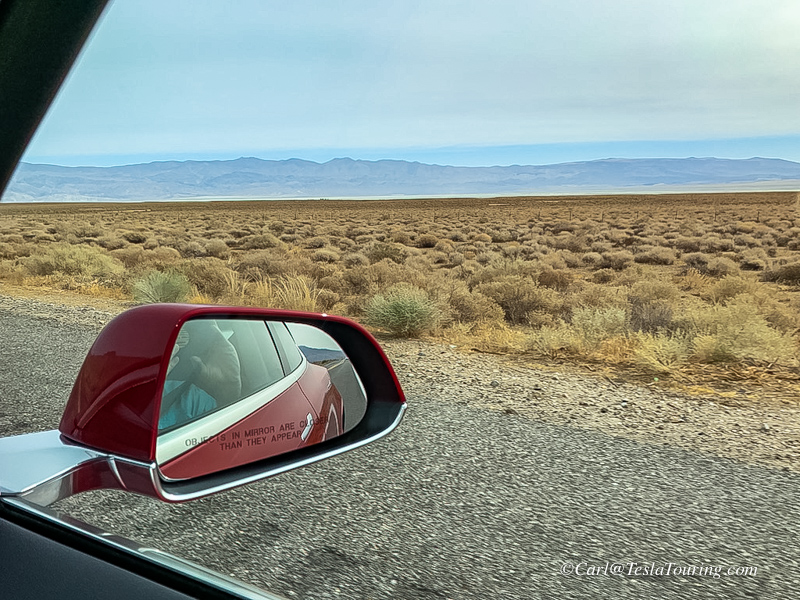 Hwy 395 between Inyokern and Lone Pine. "Objects in mirror are closer than they appear."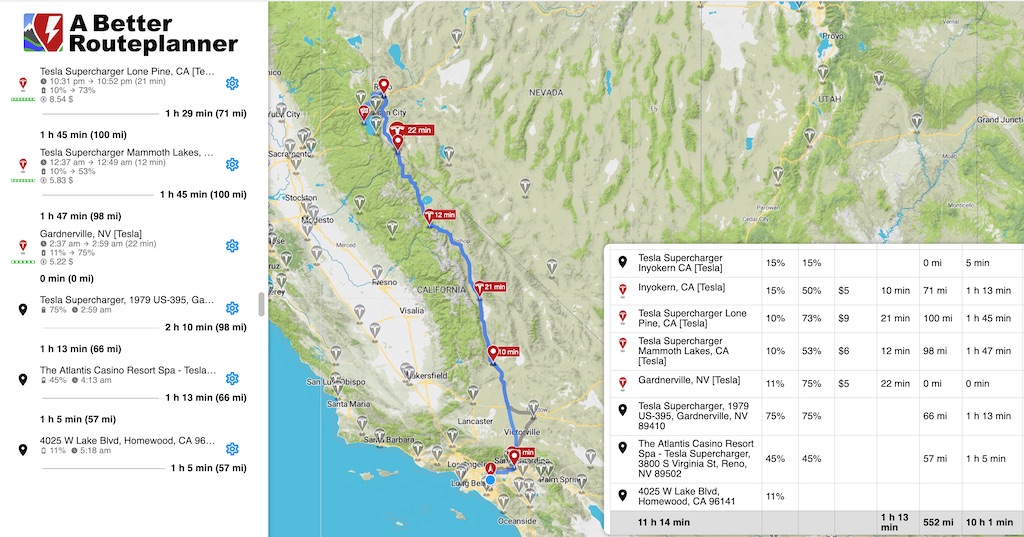 Lone Pine to Lake Tahoe information.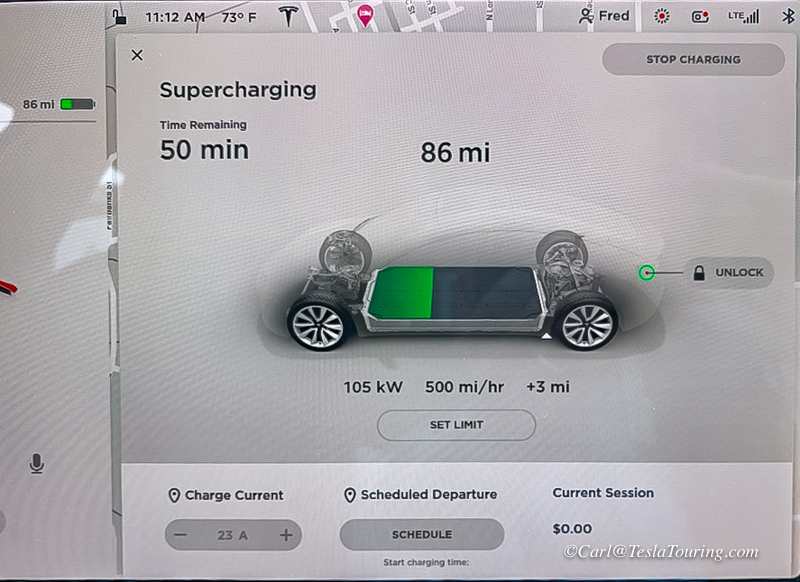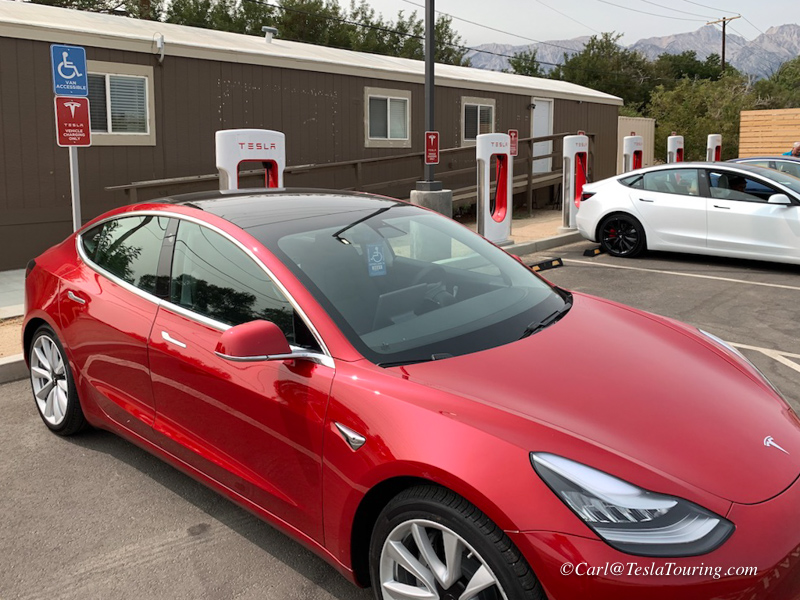 Fast charge at Lone Pine Supercharger where the 4 chargers had been moved and 4 others added.
8 Superchargers, available 24/7, up to 250kW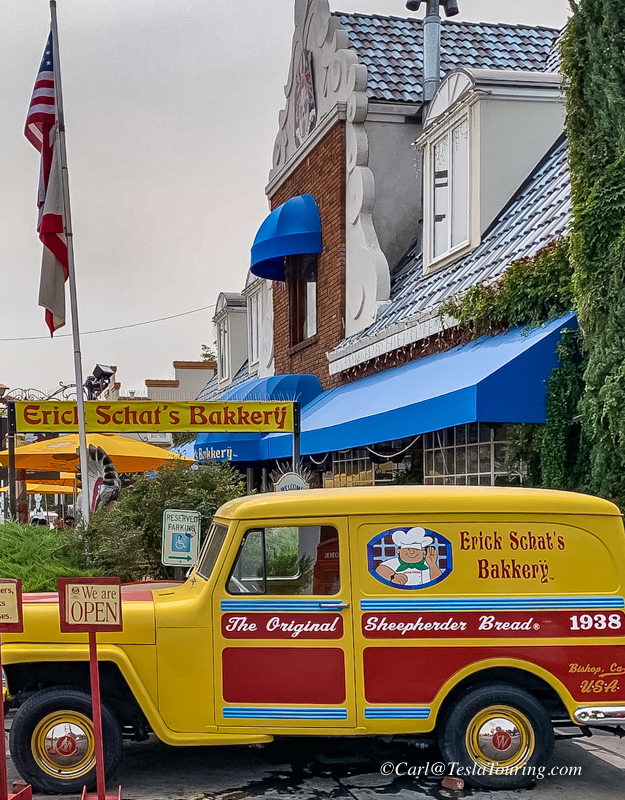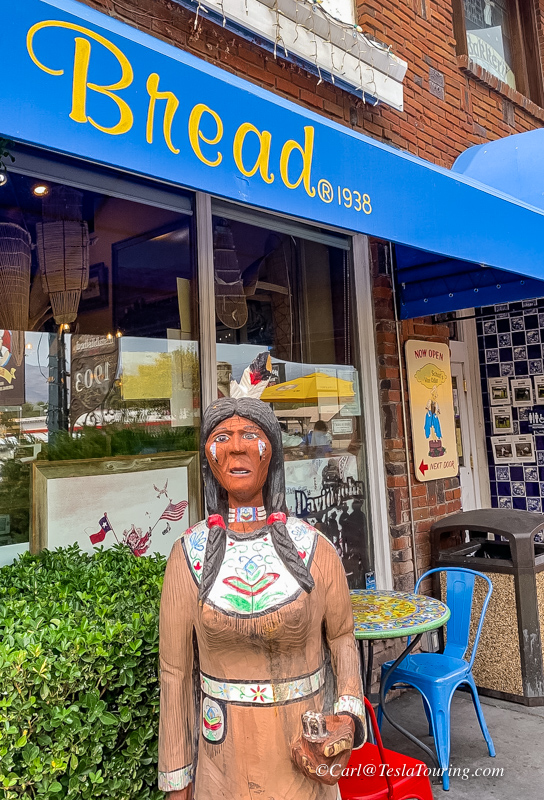 A stop in Bishop for Pecan Coffee Cake and Macaroon Cookies at Erick Shat's Bakery..

North of Bishop the smoke gets thicker.



South entrance to Mammoth.


Mammoth Lake Supercharger. Left, At the end of charging one can see the amount of the charge in the bottom right corner. Right, Mammoth pull through chargers.
8 Superchargers, available 24/7, up to 150kW
Gardnerville Supercharger Stop at the state line, to get us to Reno.

We completely missed this Supercharger in past years because the address says, "Gardnerville, 1979 US 395, Gardnerville, Nevada 89410-7081". Now wouldn't your start looking at addresses as you entered Gardnerville? Be aware, this Supercharger is actually in Topaz Lake, near the state line, 21 miles south of Gardnerville!
Charging Details: 6 Superchargers, available 24/7, up to 150kW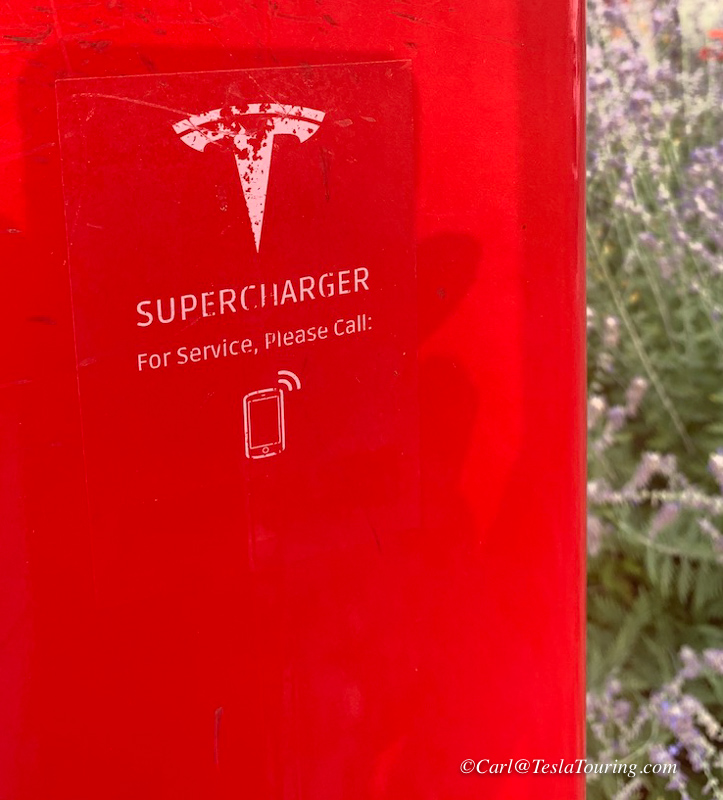 Knowing there was an In-N-Out on South Virginia St., we stopped for supper. Eating was allowed inside this Nevada Restaurant, socially distanced. We then continued north on Virginia St. to the Atlantis' Supercharger. I noticed the blue Model 3 next to us had a wrap license place on Carlos M.'s car. He said he got it from wrap.com for $50 and that wrap license plates were a pilot program in California. In reading YouTuber, SpawnPoint in the UK, I notice they have wrap license plates. When reporting a broken Charger to Tesla, I've read that there is a phone number on each stall, The red notice on the stalls at the Atlantis has, "Please Call:" and an image of a cell phone, how does that work?
6 superchargers, available 24/7, up to 150kW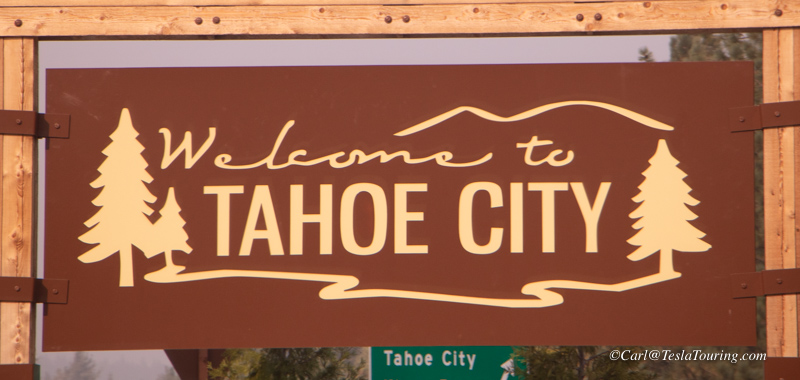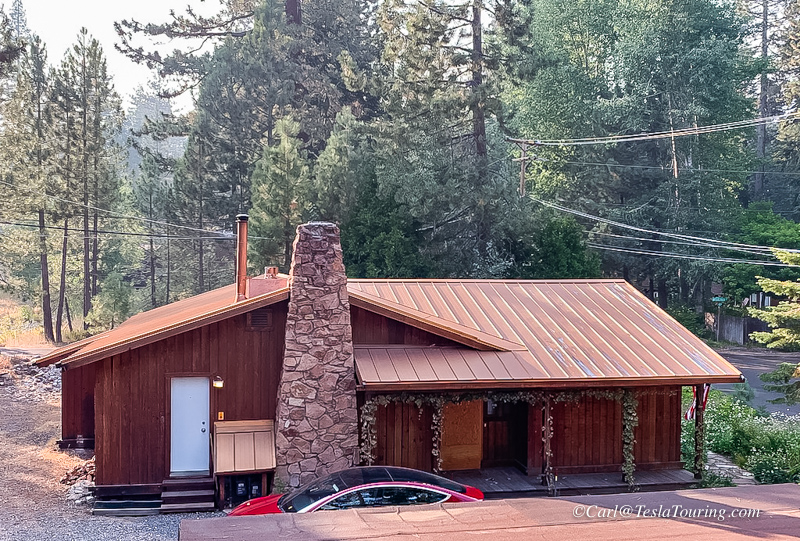 From Reno, we took I-80 west then south to our destination: Homewood, CA. Right, Our accommodations for a couple of nights.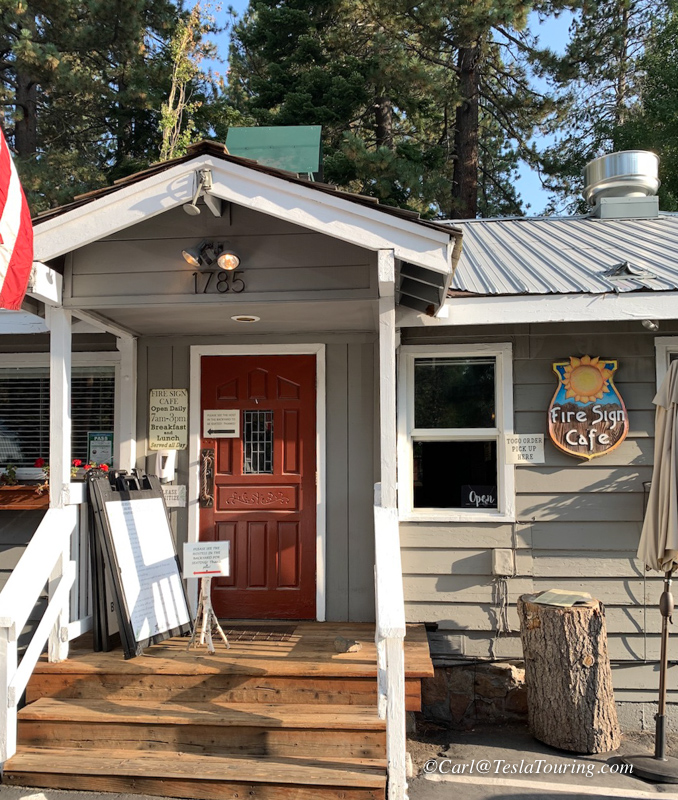 The plan for the next day was to drive around Lake Tahoe. First, breakfast at the Fire Sign Cafe with seating in the back, outside. Very refreshing in the cool, 6,000+ ft. air.




The Tahoe Lake Superchargers have an excellent location with the Information Center on the same lot, the Lake Tahoe Truckee River outlet dam and park, and the Dam Cafe across the street.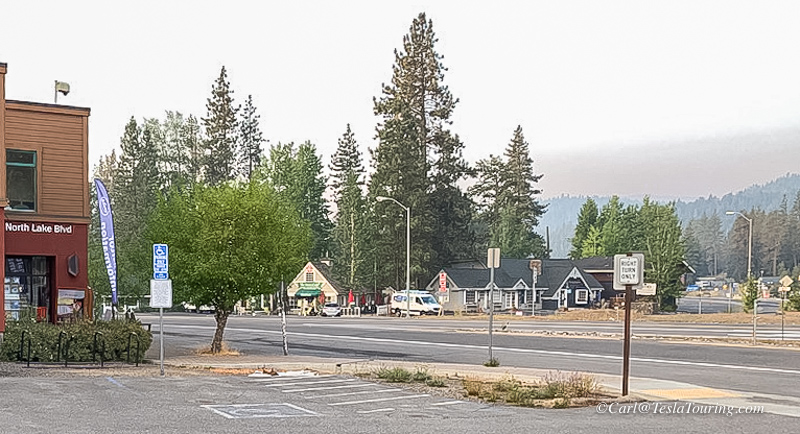 View from the Tahoe City Superchargers.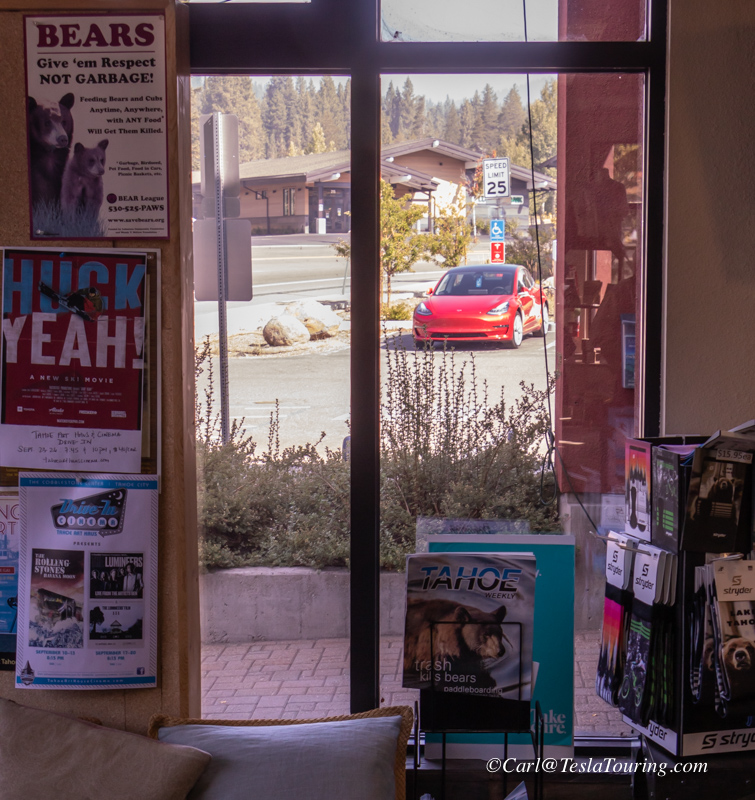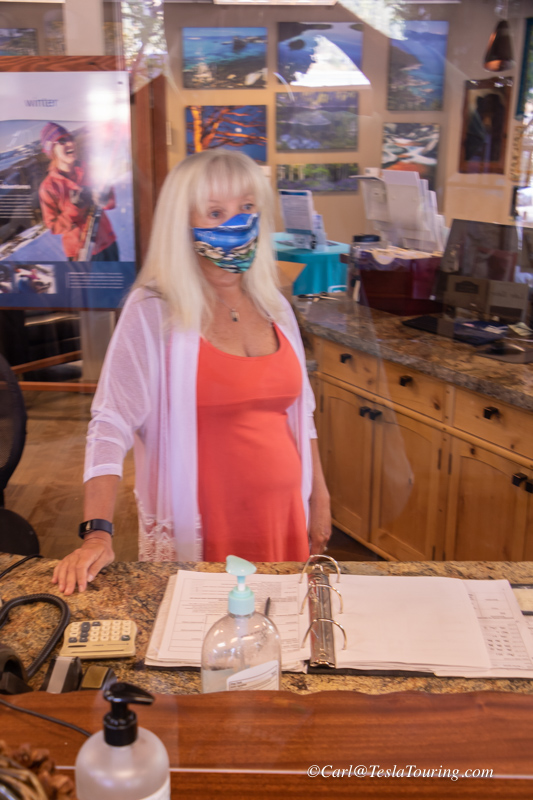 The Information office has restrooms and is on the same lot as the Superchargers. The Dam Cafe is across the street.

Click any image for a larger copy.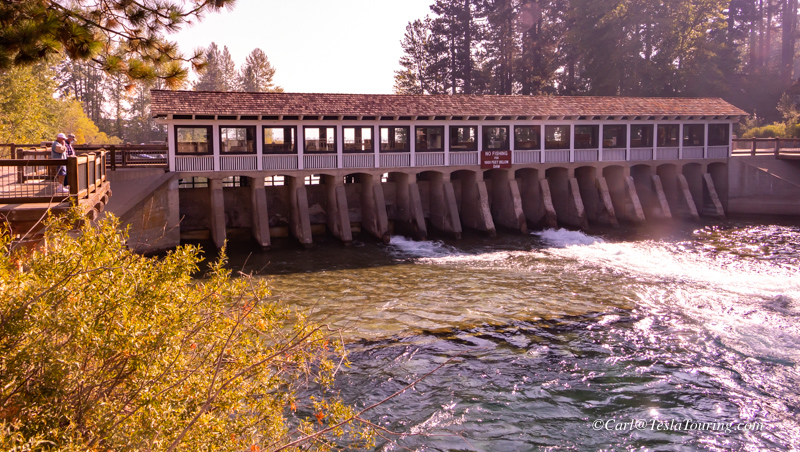 Lake Tahoe Dam



A pedestrian bridge is on the lake side of the operations covered bridge.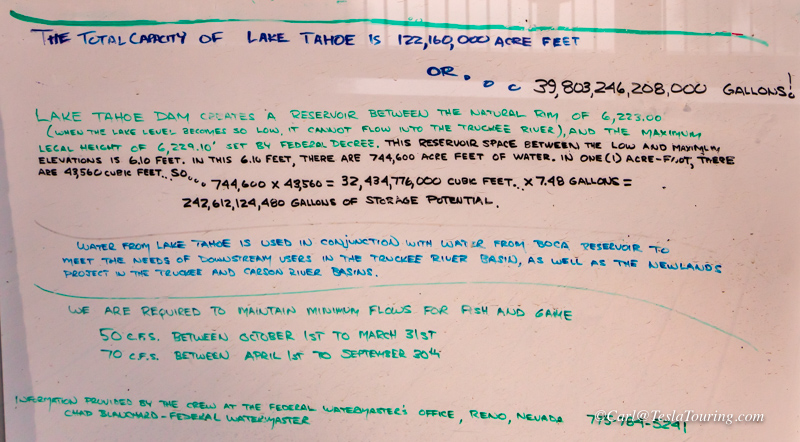 Informative signs can be seen through the operations building's windows.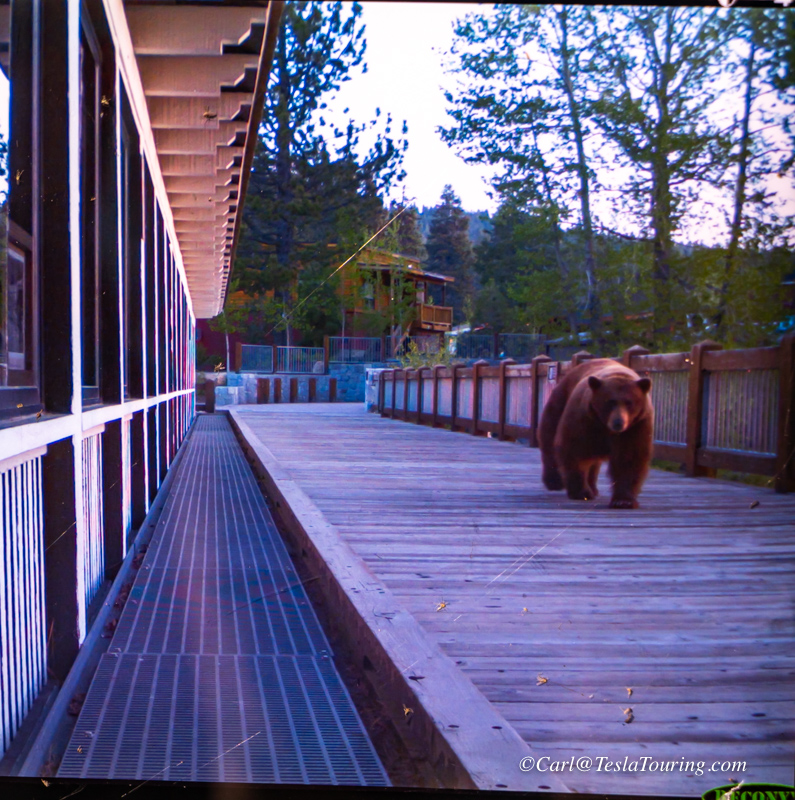 Evidently the 4-legged friends enjoy the bridge as well (not my photo). Very large fish can be seen below the highway bridge.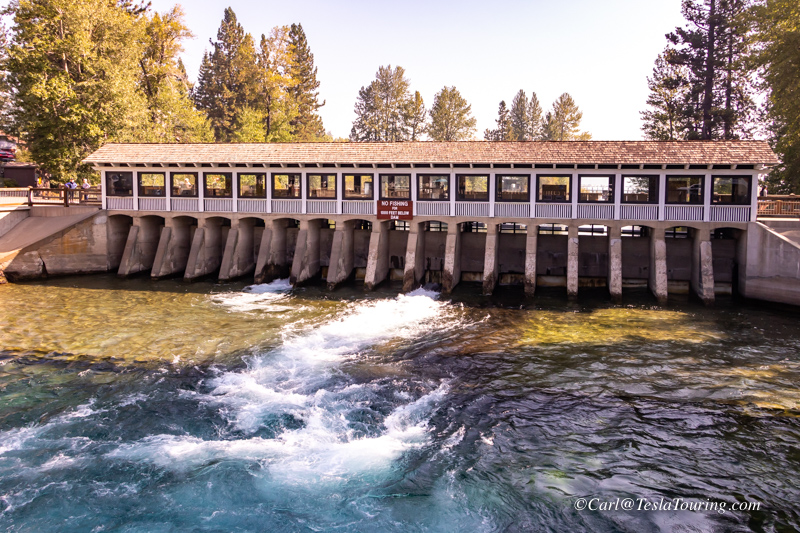 View of the dam from the highway bridge with fish below.



Any image can be clicked for a larger copy, then "X" that image to return to this report.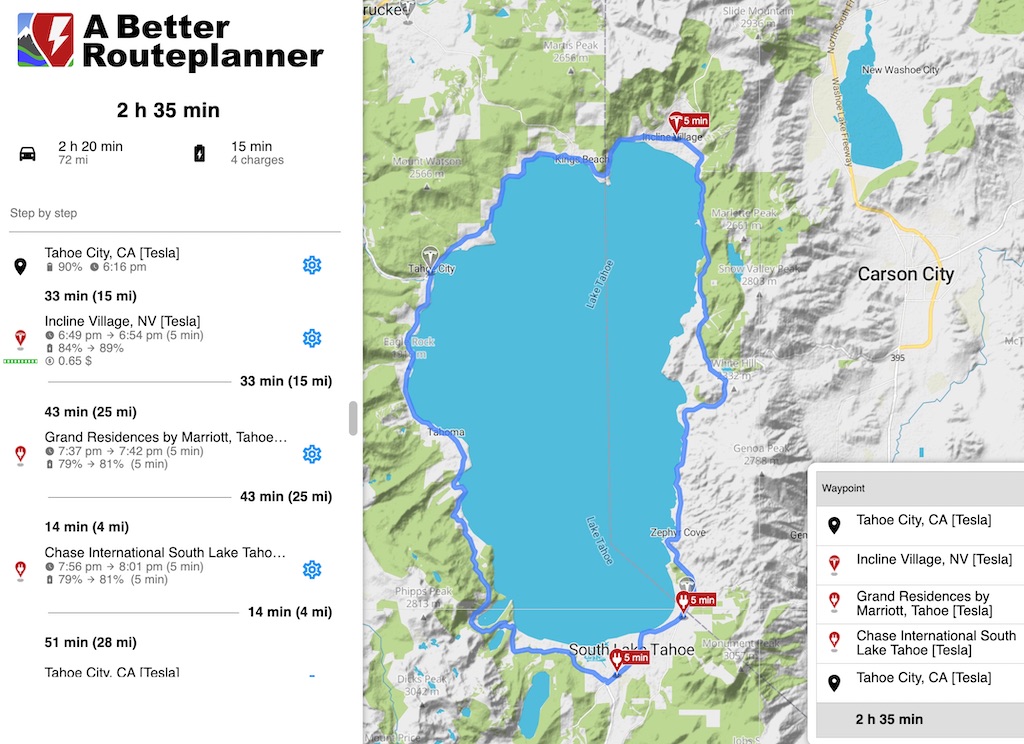 After a good night's sleep in Homewood, CA, we drove around Lake Tahoe. We "juiced up" at Tahoe City (top left) and drove clockwise around the lake. Superchargers are on the map for your convenience, but we did not need any charge for this 51 mile drive. Pay no attention to the time of day, that is just the time I created the map. Distance between Superchargers is valid.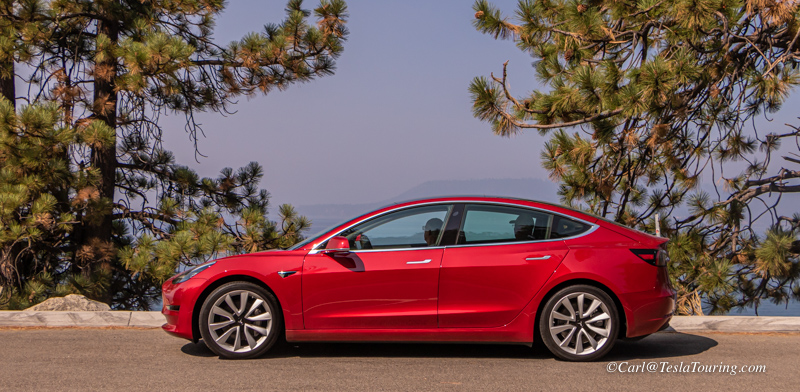 I knew there would be some scenic overlooks where I could get a shot of the Model 3 with the lake in the background.
North Shore with plenty of smoke from California fires.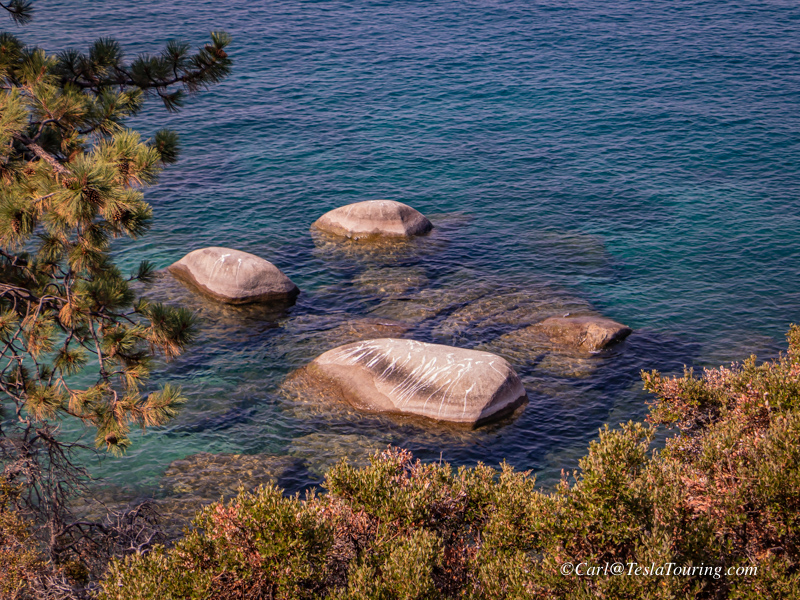 Around on the southwest side, Emerald Bay
.
Pull off for Emerald Bay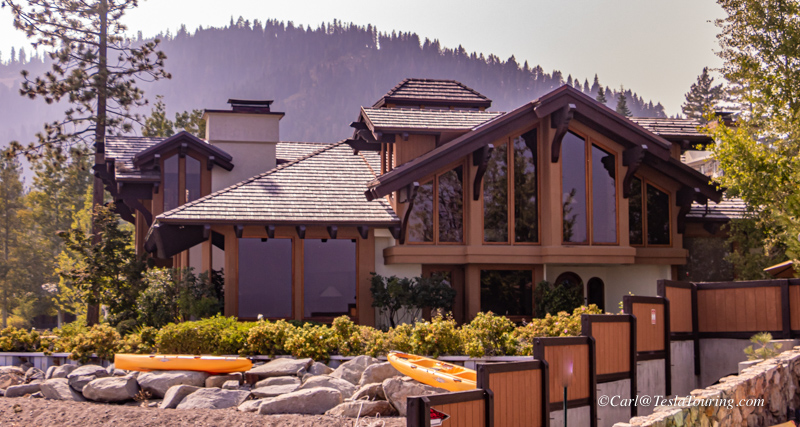 Henry J Kaiser Estate in Homewood, California, on northwest Lake Tahoe.



For more information on the Kaiser,
Fleur-Du-Lac,
Estate, go to: http://www.fdlestates.com/fdle/fleur-du-lac-estates-history/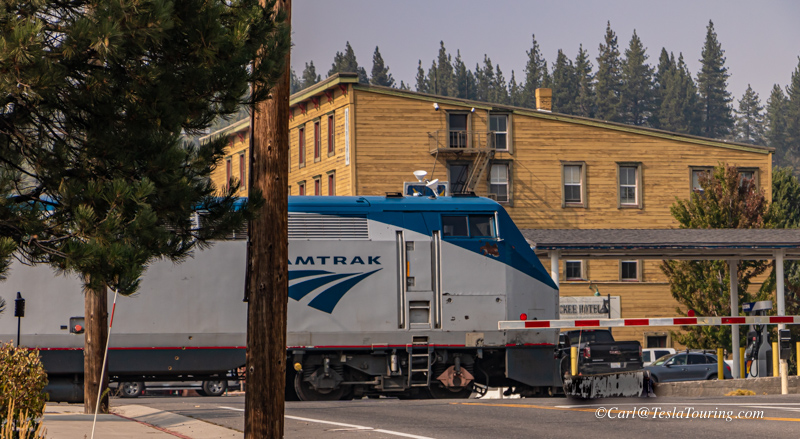 As we entered Truckee, the Amtrak California Zephyr was about to leave town heading east to Chicago.



We dashed east of town a bit to get the Zephyr underway.
The bi-level consist was two Genesis locomotives, a baggage car, a transition/crew car, two sleeping cars, a diner, a sightseer/lounge car, and two coaches.




This UP freight was awaiting the Zephyr's move out of Truckee so she could proceed west.



A closer view of the freight with an unusual consist - a whole train of large creations in wooden freight boxes. Any idea what would be in these boxes too large to be trucked?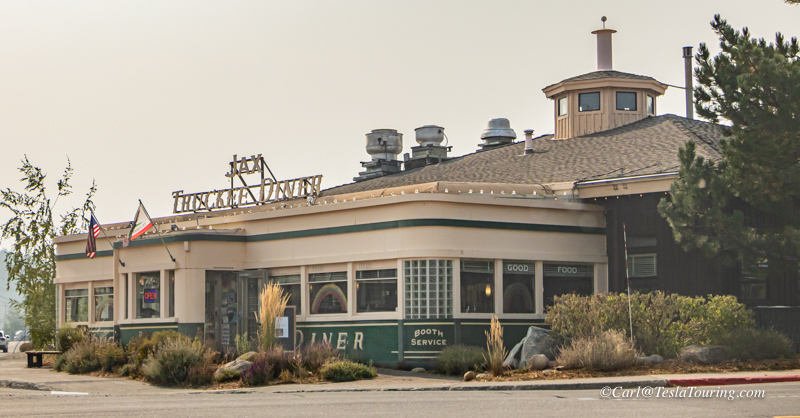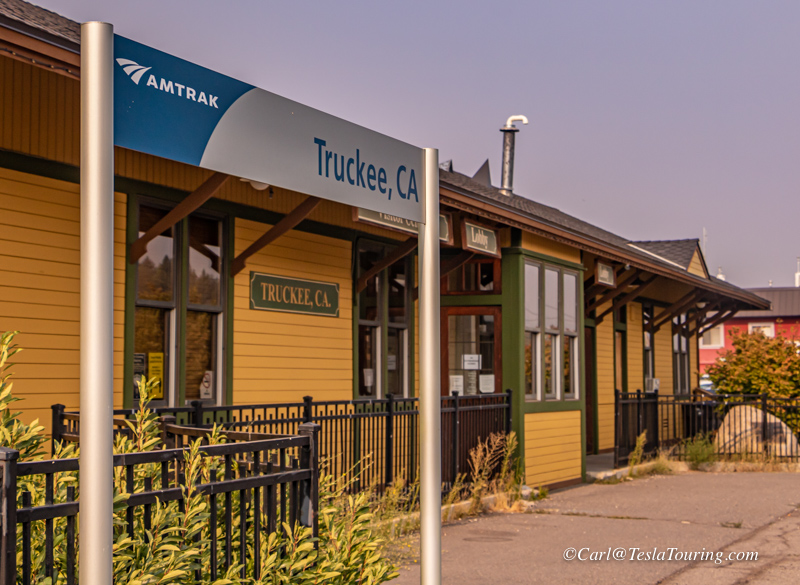 Truckee Diner and track side of the Amtrak Truckee Station.



My two loves - Trains and Teslas.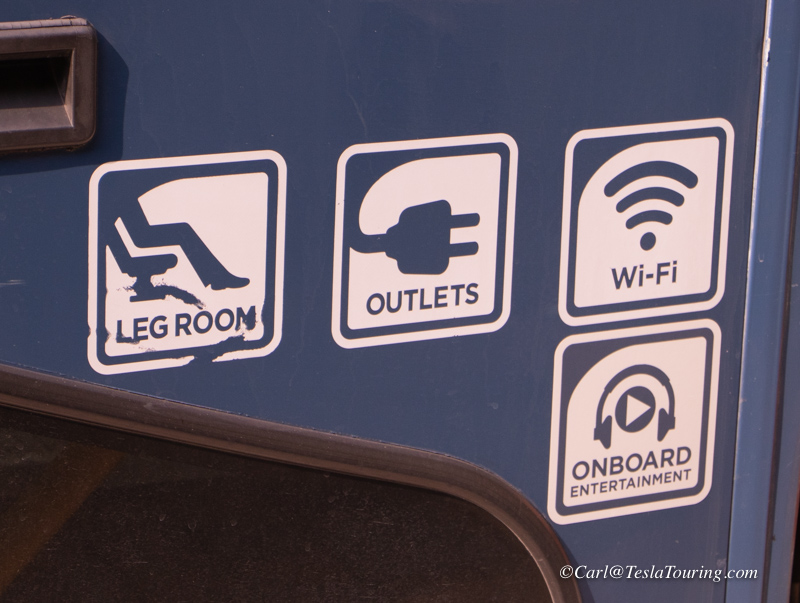 A Greyhound bus pulled into the Truckee Amtrak Station and I noticed the onboard amenities they now advertise.



Adjacent to the Truckee Amtrak Station is this restored Flying A Service station.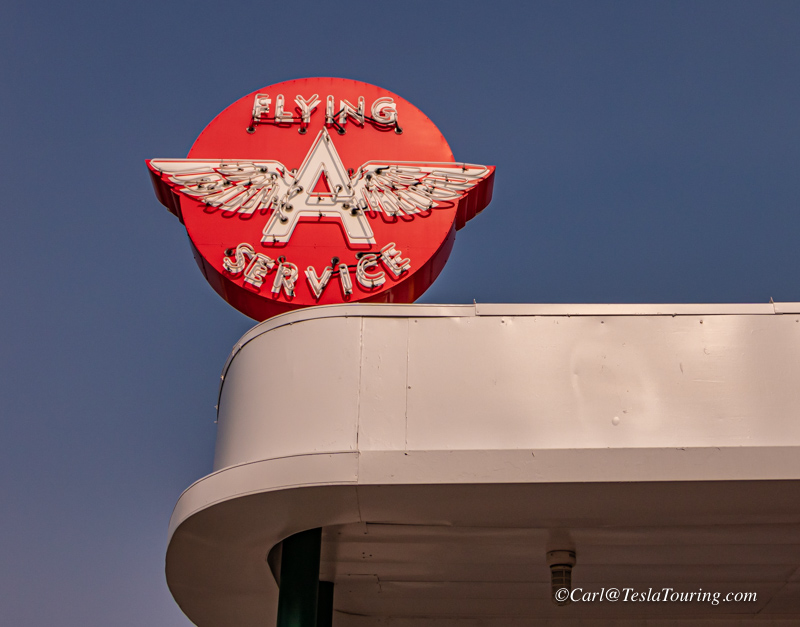 The price of Regular was set at 27.9¢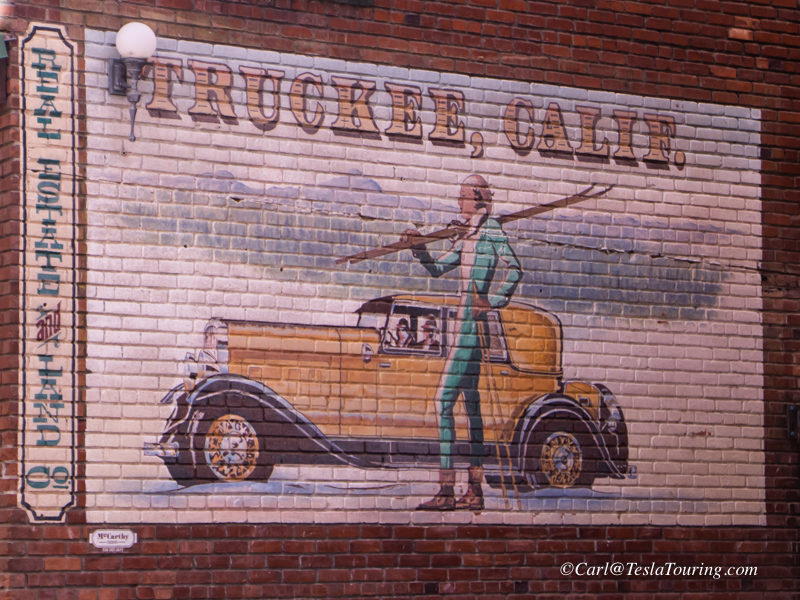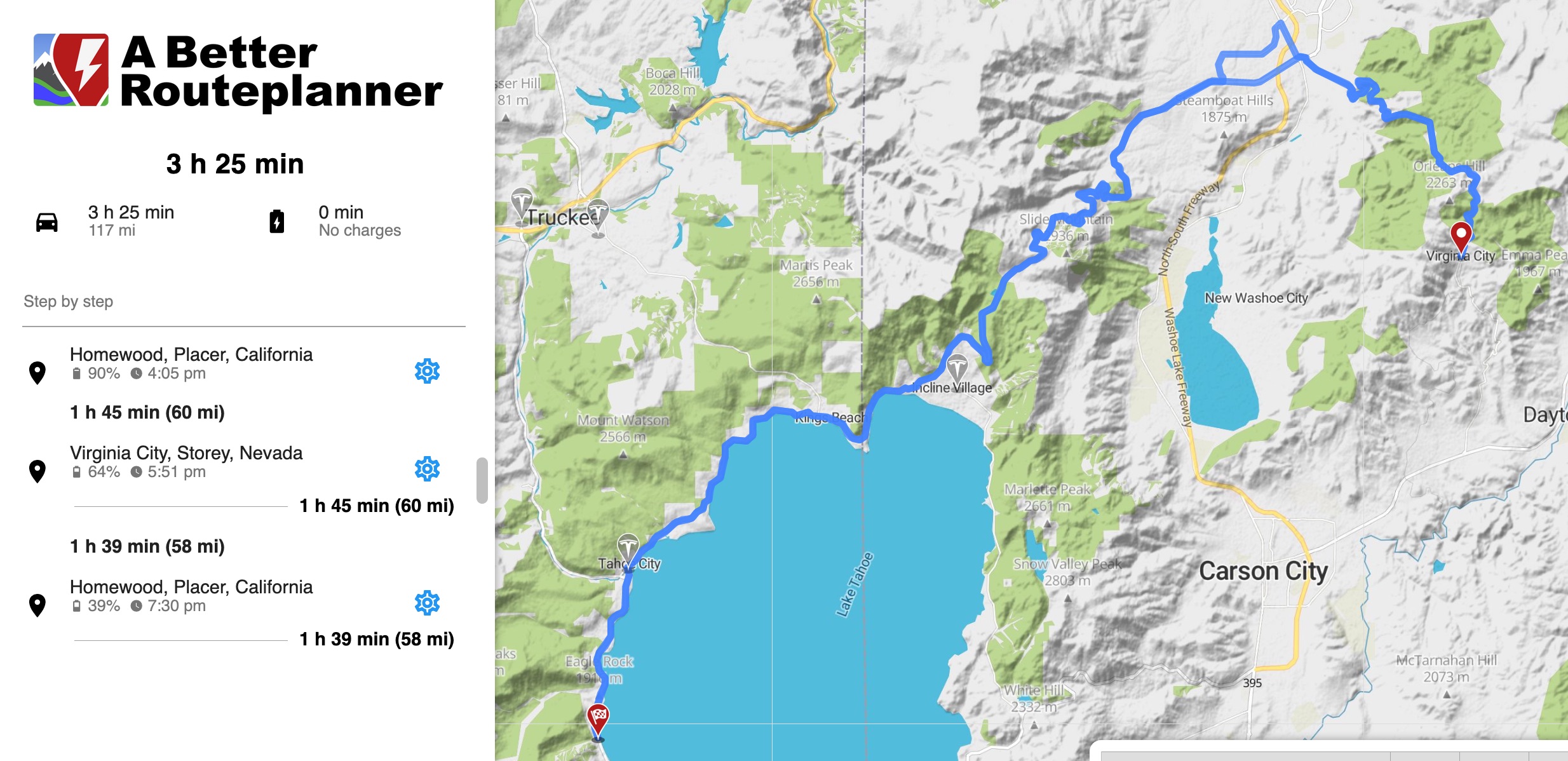 16 Superchargers, available 24/7, up to 250kW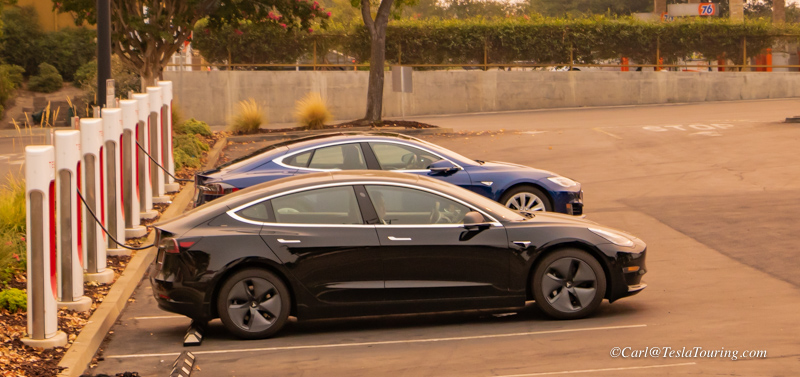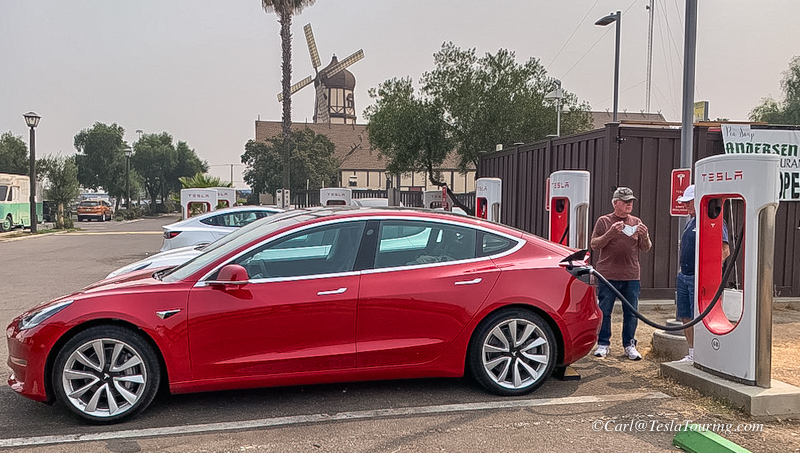 Gustine, California, Supercharger between Pea Soup Andersen's and Hwy. 99.
12 superchargers, available 24/7, up to 150kW
There was an In-N-Out at the same exit as the Gustine Superchargers.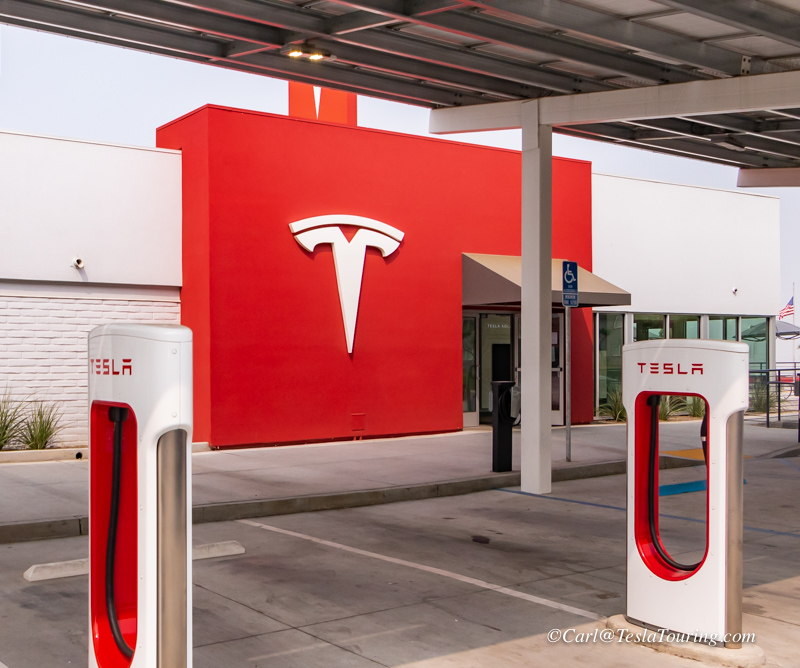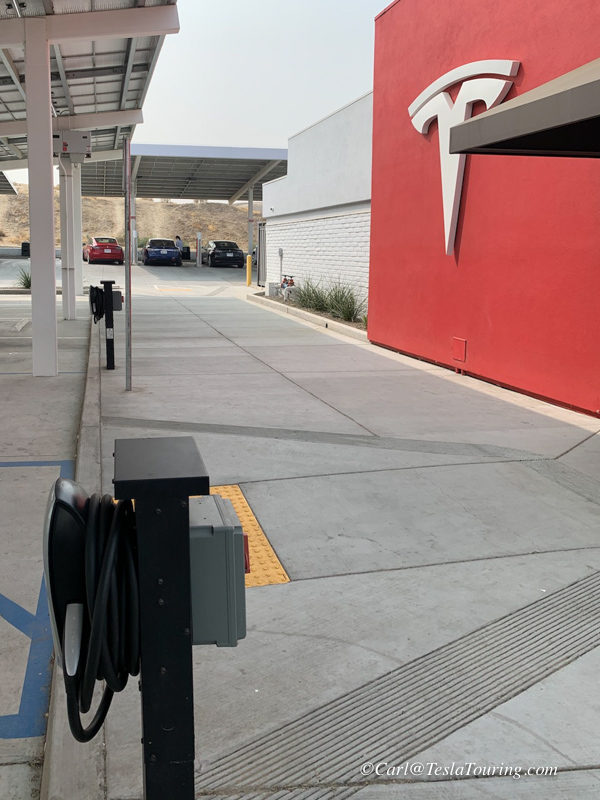 Kettleman Superchargers

40 Superchargers, available 24/7, up to 250kW
24H Tesla Customer Lounge (With a code of 0106#, but the door was open).



All parking stalls were covered by solar panels.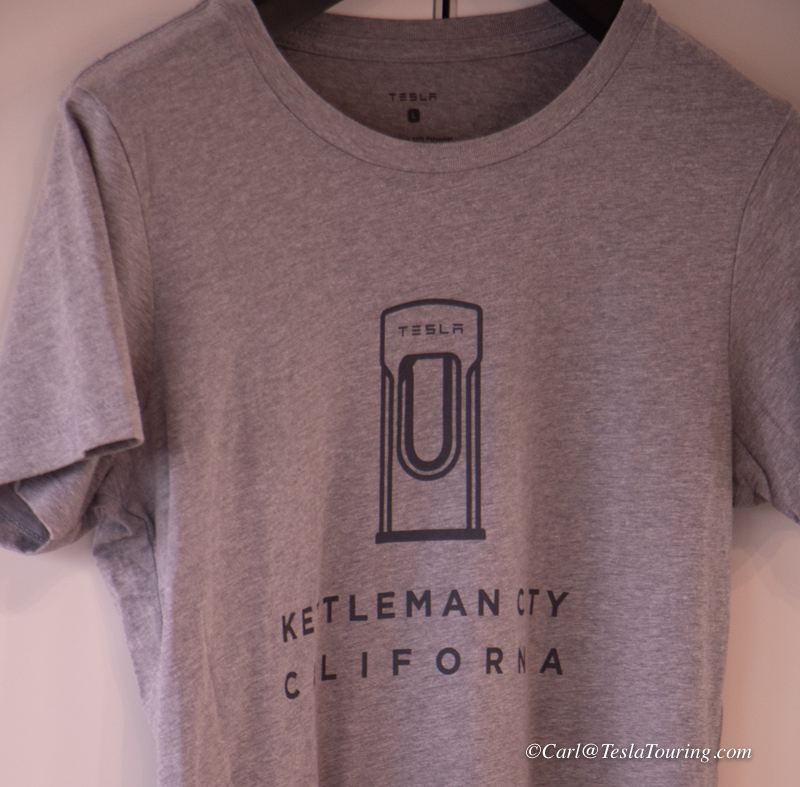 Because of COVID-19, all tables and chairs were stacked and store items very sparse.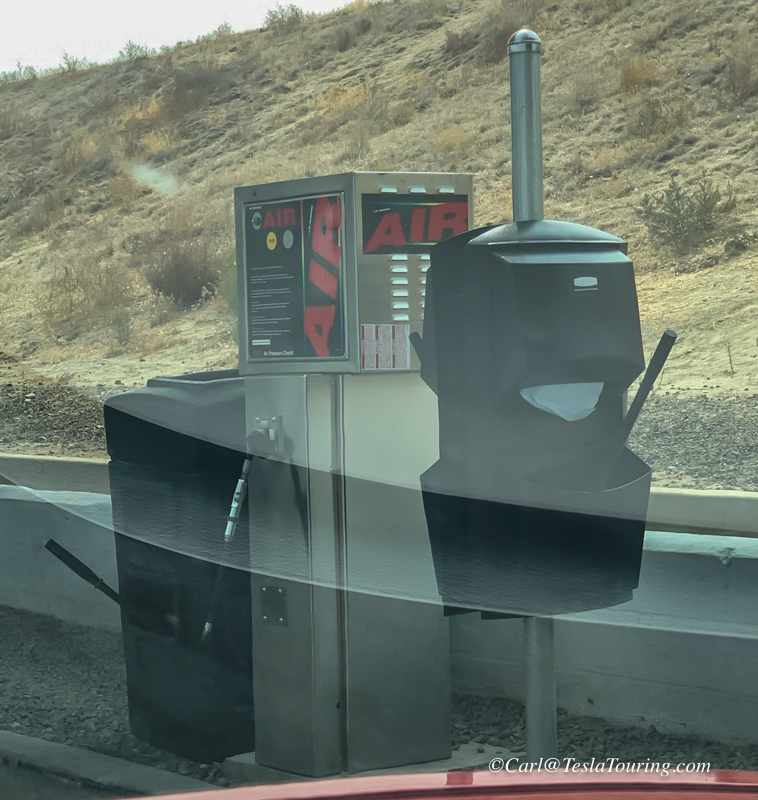 Things I've never seen at a Supercharger. On the right, air pump, trash can, and windshield cleaner. Several pulled in, but no charger at this spot.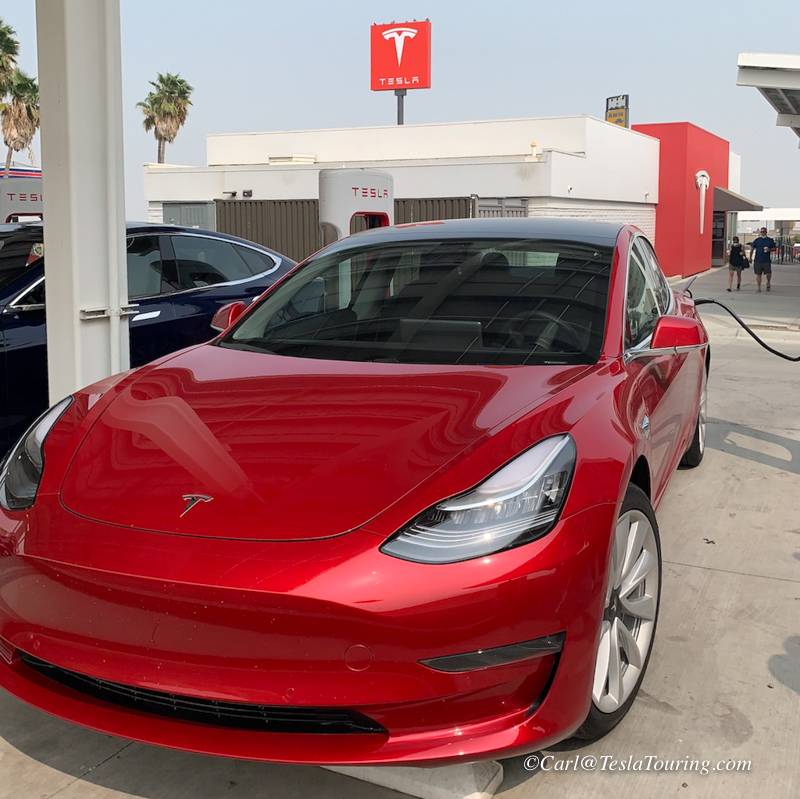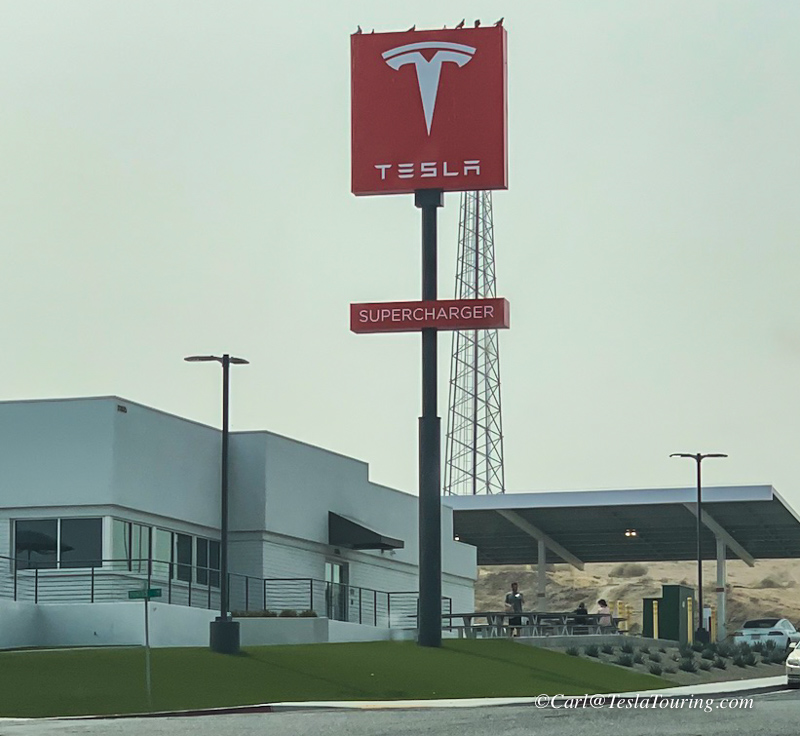 We unplugged and drove back to I-5 noticing a drive all around the structure, perhaps a showroom for future Teslas for sale as in traditional auto dealers.



Final charge at Tejon Ranch, north side of the Grapevine, just south of the I-5 - Hwy. 99 split
24 Superchargers, available 24/7, up to 150kW



Heading south on I-5, north of the Grapevine.



Southbound I-5 over the Grapevine following two Model 3s. This is where you might encounter internal combustion vehicles overheated and pulled to the side, but this is not the case for an electric vehicle.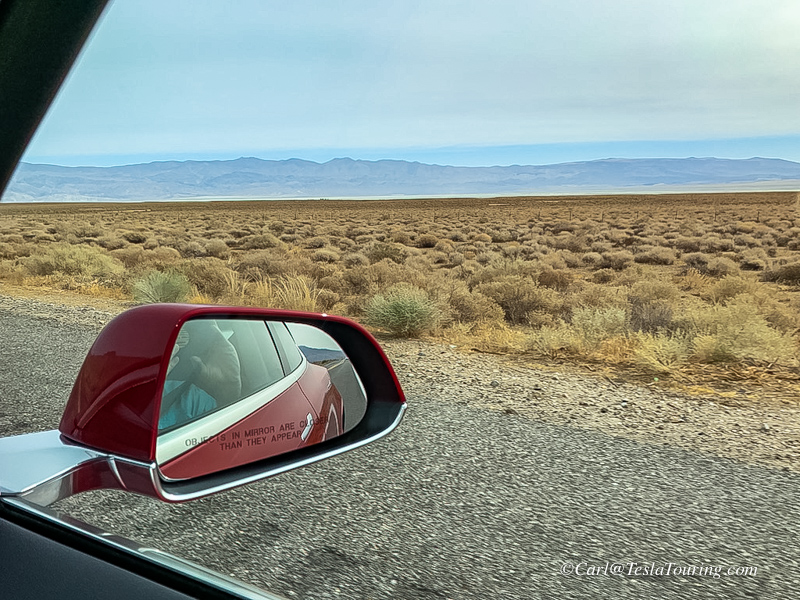 "Looking Back" on this trip of over 1,000 miles with Fred and Paul, it was a great way to escape the COVID-19 isolation, and still stay safe with masks and social distancing.