TeslaK
This is my Twelfth report on our 5-month-old

2020 Tesla Model 3, Standard Range Plus,

Rear-Wheel Drive

,

19" wheels, Multicoat Red

posted at TeslaTouring.com/carl. In this report I cover:



Photographing a Tesla in Southern California




The owner
of TesaTouring.com likes a different photo of my Tesla Model 3 at the beginning of each of my reports. Therefore, on a recent vacation in Carlsbad, California, I decided to take several photos of the car with the Pacific Ocean in the background. In case you want an ocean view behind your Tesla, here are a few locations I found in San Diego County, California. One camera I used was my iPhone MS Max which not only records the image, it records the GPS location where the photo was taken. I also used my Canon T6i, but used the GPS data from the iPhone for location. One advantage of my Canon is the tilt screen on the back which allows me to hold the camera near the ground and manage framing before releasing the shutter by using the tilt screen.


Professional auto photographers suggest shooting so low that you can see all four wheels.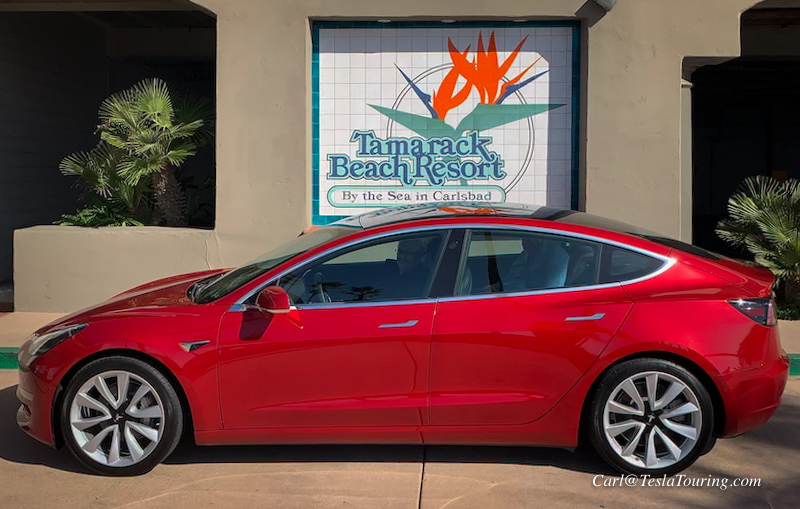 I took a photo of our Model 3 at the resort where we were staying. Not a 4-wheel shot, but I wanted the words on the sign all showing.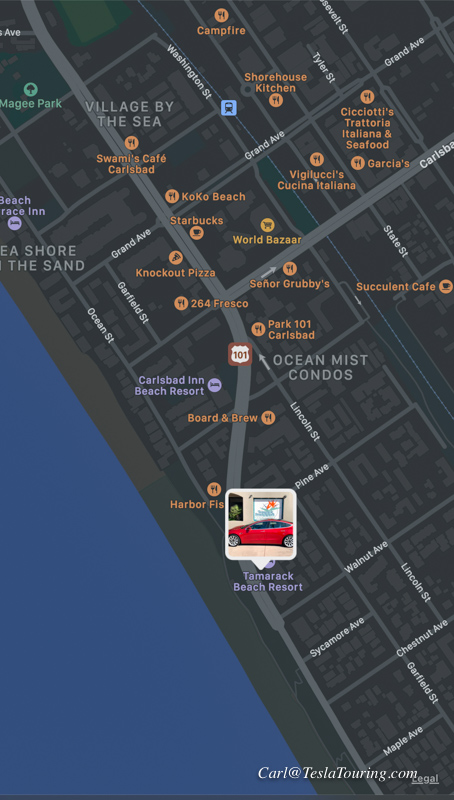 Photo Location: 3200 Carlsbad Blvd. Carlsbad, CA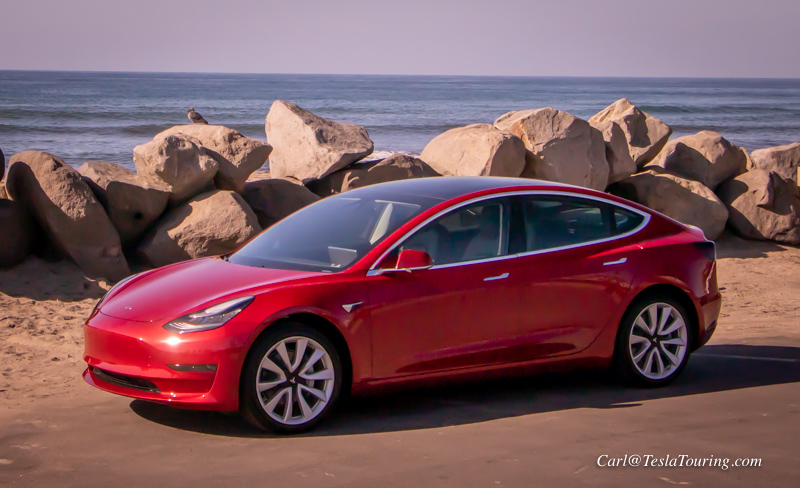 With my camera on a raised tripod and 10-sec. timer, I raised my camera to show some ocean beyond the rocks.



The photos of the Tesla above and below were taken at the Tamarack State Beach's south (lower) end. It is lower than 101. The rocks have been placed between the lot and the ocean. The lifeguard towers were stored for the winter along the lagoon inlet.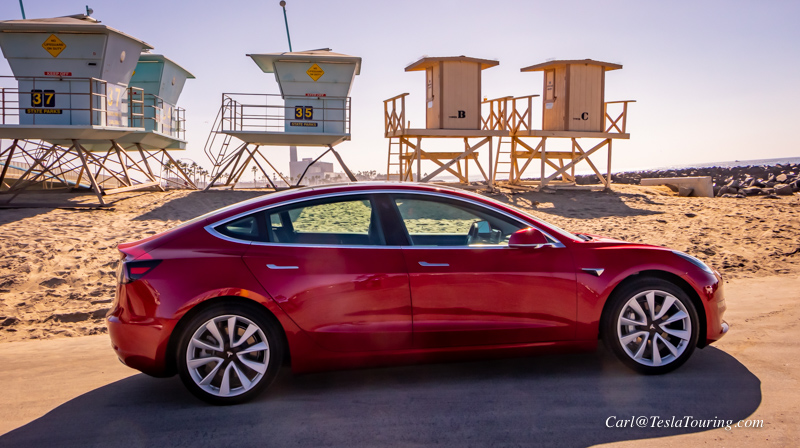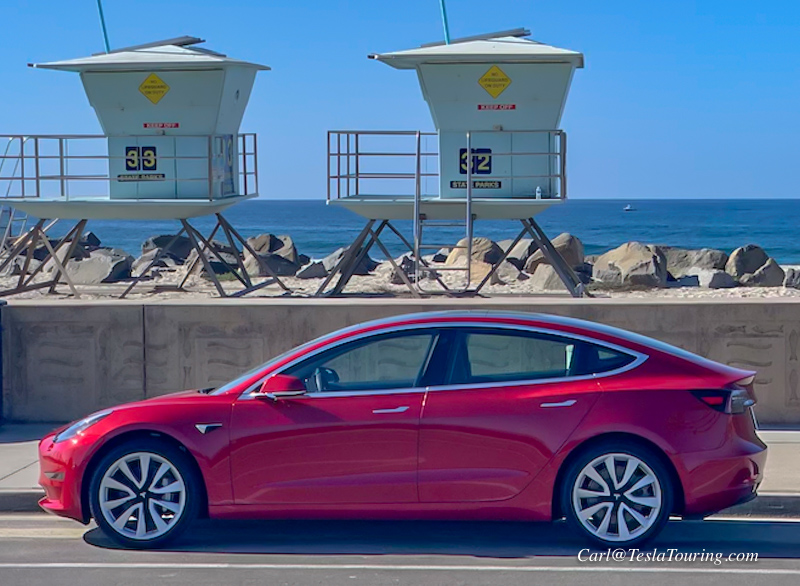 Another ocean background shot with lifeguard towers. This image was a bit farther south on 101.



Now, farther south, on a bluff above the shore, I walked to the median and held my camera at arms length above my head and with surfers.



At the Midway in San Diego, I was able to pull over quickly for a shot with the victory kiss modeled after the renowned photograph by Alfred Eisenstaedt taken at the end of World War II in front of the Midway.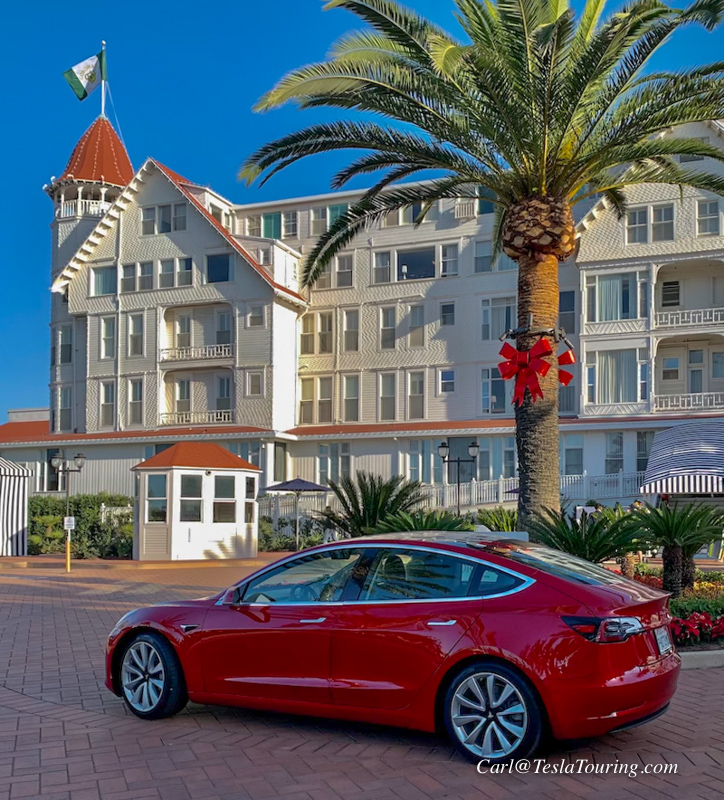 Final photo of the "beach model" was at the Hotel Del Coronado
.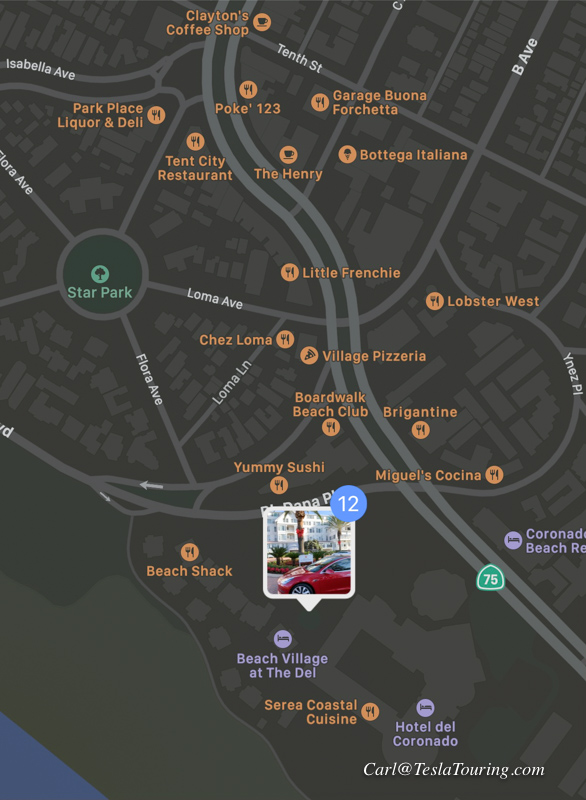 You may notice in the map above, that the photo was taken on the north side of the Hotel Del Coronado. The reason for taking the photo on this side of the hotel was because the front (south) main portico was completely closed for renovation. My wife said to include the photo with the iconic red roof so readers would know where the photo was taken.

Finally, the most traditional photos from the day were the two above which showed the front of the car and one side..a traditional 3/4 shot.


"Photos of railroad locomotives, classic cars, airplanes, etc. are often shot in 3/4 view so that both the front and sides of the subject are visible. Sometimes an elevation is also used so that the top of the subject is also in view. The elevated 3/4 view is often used in product photography as well. The term 3/4 view is also very common in the rail fanning community in the United States. The most desirable shot imaginable to many in that hobby is a "3/4 shot with a cloudless sky and a sunlit nose." Any other aesthetic qualities the photo may or may not posses seems immaterial to many, if not most, railfans."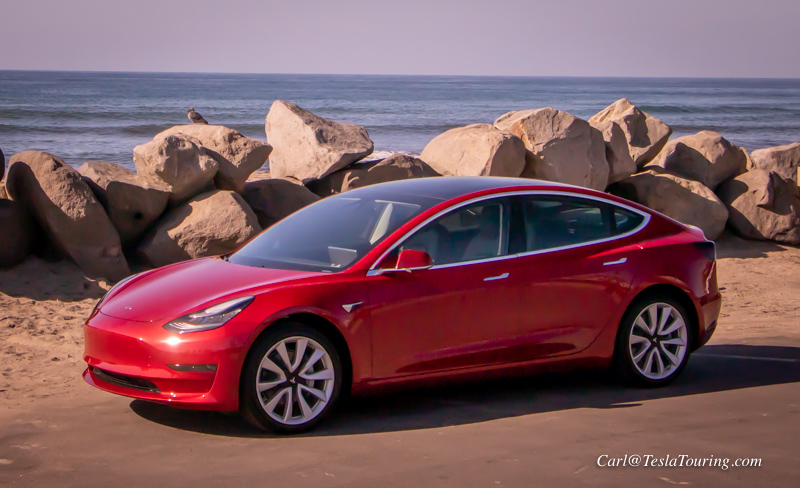 So this image seems to best match the description of a "
3/4 shot with a cloudless sky and a sunlit nose
."
Professional auto photographers suggest shooting so low that you can see all four wheels. I found this 3D rendering which I rotated to show the 4-wheels-showing angle for photographing a car.



However, go to the site and you can use your mouse to rotate the car and see it from any angle. Click Here.

I think Mike might have done this 3D drawing of Model 3 before it was announced. mike.c.pan@gmail.com

---
For more on automotive photography, including more than Teslas photos and more than Southern California backgrounds
Click Here
or copy and paste this: www.moknowsphotos.com/AutomotivePhotography/
---

What does the "5-Star" safety rating of a Model 3 mean


National Highway Traffic Safety Administration (NHTSA)
"Each year, NHTSA crash tests vehicles as part of our 5-Star Safety Ratings program. In addition, we do verification tests on advanced crash avoidance technology systems in vehicles. The 5-Star Safety Ratings program evaluates how vehicles perform in crash tests. NHTSA conducts frontal, side and rollover tests because these types account for the majority of crashes on America's roadways."

The graph above is broken down and explained at the Source. Also at this site, you can enter any year, make, model.
---

Tesla Model 3 2021 changes from 2020.
Our 2020 Tesla Model 3 is not the newest Model 3 out now even though it is only 5 months old, but ,
this YouTuber gives a rundown of the changes in the 2021 Tesla Model 3:
Click Here.
---
Outside speaker Pedestrian Warning sound will be music, not fan noise.
Samples:
Snake Jazz

(One I like):
spotify:album:1CATZM1wZNtLXoj5QXJCK4
Polynesian Elevator Music
: spotify:playlist:0IUe0L9G37igNrfOoZt9HX
Tropical Elevator Music

(I like this better than Polynesian Elevator Music):
https://www.youtube.com/watch?v=pmrf38MoSqk
---
The future of "gas" Stations?
WAWA, Pa. — Wawa Inc. plans to double the number of convenience stores that have Tesla Superchargers by the end of 2020.

Wawa began opening Superchargers in 2017 after customers who were also Tesla drivers began requesting them. Wawa stores with the charging stations typically have eight Superchargers per site.


"Wawa proudly hosts 33 electric charging stations to date — with a goal of reaching 40 by year end, across our entire operating area, with the purpose of providing 'boundless convenience,' for friends and neighbors seeking access to food, beverages and charging stations at one destination," said Brian Schaller, chief real estate and fuel officer for Wawa. "We selected our Vienna, Va., store as a backdrop to announce this sweepstakes as it's the first store in company history to open with EV chargers only, no fuel pumps, which demonstrates our commitment to innovation, sustainability and our continued desire to meet the needs of our customers."

Wawa began offering EV charging stations at its first convenience store in 2017. To date, it hosts 33 EV charging stations, including 31 Supercharging sites and two Electrify America CCS and CHAdeMO stations.

The retailer currently has 16 locations with the proprietary charging stations: six in New Jersey, three in Delaware, two in Virginia and five in Florida.

The next Wawa store to offer Superchargers is currently under construction on Route 73 in Maple Shade, N.J., and is expected to open by December. Pennsylvania will also see its first Superchargers at Wawa during the coming expansion, according to Wawa spokesperson Lori Bruce.

A Supercharger allows drivers to add approximately 150 miles of driving time with 15 minutes of charging. The company's newest charger model allows around 75 miles of driving per each five minutes of charging, but it is not yet available on the East Coast."

Source.



"Wawa" is a Native American word for the Canada Goose that was found in the Delaware Valley over 100 years ago. Our original Dairy farm was built on land located in a rural section of Pennsylvania called Wawa. That's why we use the goose on Wawa's corporate logo."

Source.

---
Plug-in-Hybrid Vehicles for Sale in the US.

Link to the original article and the 58 other Plug-In Hybrids: Click Here.


Link from Pacifica article: Click Here
---
Formula E, how the cars have evolved through the years.

(2021 Model below).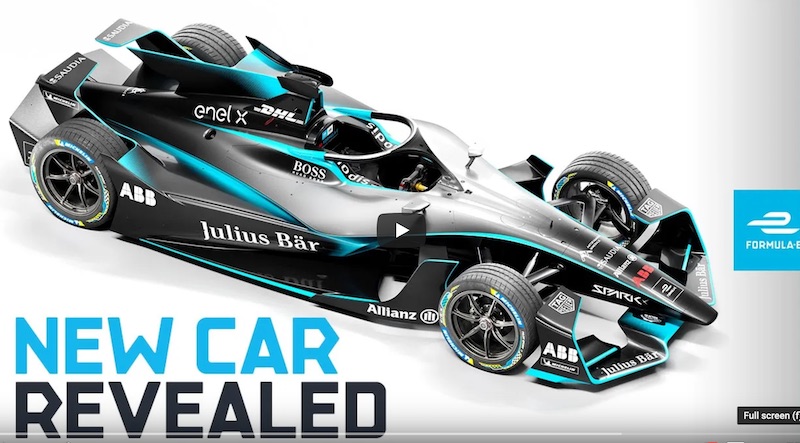 I've followed Formula E (fully electric race cars) since their inception (2011) and even attended their only west coast race in Long Beach, CA. I found this article interesting
about the evolution of the cars. They originally had 2 cars for each driver because of the lack of range, but they now have one car with enough range for the whole race and instant power boost from driving over a section in the track.
BMW has had a car in the series and is now applying some of their research to consumer models.
Click the title below to be linked to the interesting article.
How Formula E Cars Have Evolved Through The Years
---
The ongoing argument that EVs are not less polluting considering production pollution, debunked.
U.S. Department of Energy - Energy Efficiency and Renewable Energy
Alternative Fuels Data Center
Emissions from Hybrid and Plug-In Electric Vehicles
"Hybrid electric vehicles (HEVs), plug-in hybrid electric vehicles (PHEVs), and all-electric vehicles (EVs) typically produce lower tailpipe emissions than conventional vehicles do. When measuring

well-to-wheel emissions, the electricity source is important: for PHEVs and EVs, part or all of the power provided by the battery comes from off-board sources of electricity.

There are emissions associated with the majority of electricity production in the United States.

Electricity Sources and Emissions
EVs and PHEVs running only on electricity have zero tailpipe emissions, but emissions may be produced by the source of electrical power, such as a power plant.

In geographic areas that use relatively low-polluting energy sources for electricity generation, PHEVs and EVs typically have lower emissions well-to-wheel than similar conventional vehicles running on gasoline or diesel.

In regions that depend heavily on coal for electricity generation, PEVs may not demonstrate a strong well-to-wheel emissions benefit."
So, electrics have lower emissions than gas or diesel, even in states which generate the electricity by other than coal.
Let's take California for instance, the state with the most electric vehicles:
Click to enlarge
Bottom line is the "All Electric" bar above..in all cases, is less wheel-to-wheel polluting than any other type of car.
"Direct and Well-to-Wheel Emissions
Vehicle emissions can be divided into two general categories: air pollutants, which contribute to smog, haze, and health problems; and greenhouse gases (GHGs), such as carbon dioxide and methane. Both categories of emissions can be evaluated on a direct basis and a well-to-wheel basis.
Conventional vehicles with an internal combustion engine (ICE) produce direct emissions through the tailpipe, as well as through evaporation from the vehicle's fuel system and during the fueling process. Conversely, EVs produce zero direct emissions. PHEVs produce zero tailpipe emissions when they are in all-electric mode, but they can produce evaporative emissions.
When using the ICE, PHEVs also produce tailpipe emissions. However, their direct emissions are typically lower than those of comparable conventional vehicles.
Well-to-wheel emissions include all emissions related to fuel production, processing, distribution, and use. In the case of gasoline, emissions are produced while extracting petroleum from the earth, refining it, distributing the fuel to stations, and burning it in vehicles. In the case of electricity, most electric power plants produce emissions, and there are additional emissions associated with the extraction, processing, and distribution of the primary energy sources they use for electricity production."
Check your state at the Source of this article.
Source.
---
Tesla's heated seats are just what the Physical Therapy Doctor ordered for back pain.
Can a Tesla with heated seats be written of a medical expense?
I go to Physical Therapy for an arthritic back. I asked Dr. Tom whether heat or cold would be best for my back. He said, "Heat, that's why cars with heated seats are so popular." Whoa, I have a Tesla with heated seats, do you think the IRS would accept my car as a medical expense?