At Tesla, we believe that technology can help improve safety. That's why

Tesla vehicles are engineered to be the safest cars in the world.

We believe the unique combination of passive safety, active safety, and automated driver assistance is crucial for keeping not just Tesla drivers and passengers safe, but all drivers on the road. It's this notion that grounds every decision we make – from the design of our cars, to the software we introduce, to the features we offer every Tesla owner.
Model S, Model X and Model 3 have achieved the lowest overall probability of injury of any vehicle ever tested by the U.S. government's New Car Assessment Program

. Much of this has to do with the rigid, fortified structure of the battery pack that is mounted to a car's floor, which provides a vehicle with exceptional strength, large crumple zones, and a uniquely low center of gravity. Because of their strength, Tesla's battery packs rarely incur serious damage in accidents. And, in the extremely unlikely event that a fire occurs, the state-of-the-art design of our battery packs ensures that its safety system works as intended and isolates a fire to select areas within the battery while simultaneously venting heat away from the passenger cabin and the vehicle.
While no car can prevent all accidents, we work every day to try to make them much less likely to occur. Active safety features come standard on all Tesla vehicles made after September 2014 for an added layer of safety beyond the physical structure of each car.

Because every Tesla is connected, we're able to use the billions of miles of real-world data from our global fleet – of which more than 1 billion have been driven with Autopilot engaged – to understand the different ways accidents happen.

We then develop features that can help Tesla drivers mitigate or avoid accidents. Through over-the-air software updates, we're able to introduce safety features and enhancements long after a car has been delivered, as well as release updated versions of existing safety features that take into account the most up-to-date real-world data collected by our fleet.
In October 2018, we began voluntarily releasing quarterly safety data in order to provide critical safety information about our vehicles to the public, and in July 2019 we began voluntarily releasing annually updated data about vehicle fires as well. Accident rates among all vehicles on the road can vary from quarter to quarter and can be affected by seasonality, like reduced daylight and inclement weather conditions.
Accident Data
Q4 2020
In the 4th quarter of 2020, we registered

one accident for every 3.45 million miles driven in which drivers had Autopilot engaged.




For those driving without Autopilot but with our active safety features, we registered one accident for every 2.05 million miles driven.




For those driving without Autopilot and without our active safety features, we registered one accident for every 1.27 million miles driven.




By comparison, NHTSA's most recent data shows that in the United States there is an automobile crash every 484,000 miles.*
*Note: Since we released our last quarterly safety report, NHTSA has released new data, which we've referenced in this quarter's report.
Source: https://www.tesla.com/VehicleSafetyReport
Why Teslas are the Safest car on the roads?


Tesla vehicles were approximately ten times less likely to catch fire per mile driven compared to average gas vehicles.

Twelve ultrasonic sensors and eight cameras with 360 degrees of visibility and forward-facing radar can detect both hard and soft objects, including surrounding vehicles. Whether driving through heavy rain, fog or dust, your vehicle helps provide exceptional environmental awareness.


These 4 features are
included
in AutoPilot as standard feature.

Nice visuals and videos about Tesla Safety - Click Here.

The Most Satisfying Car by owners of 27 Brands - Tesla Model 3



Consumer Reports

surveyed new car owners, who've owned their cars 1 to 3 years, about their satisfaction with their car, not just EVs, but 27 different kinds of cars. The car which most owners are happy about their ownership was...Tesla Model 3. It is No. 1 of the top 10 with 3 other Teslas in the top 10 as well.


See the whole story, including the Least Satisfying Overall, by Zak and Jesse . Click this link: https://www.youtube.com/watch?v=EPrYmfdVsu0


Top 20 Global EV sales in 2020.
Top of the list is the Tesla Model 3 with 12% of the market with 365,240 units sold globally. PHEVs (Plug in Hybrid EVs) did not make the top 10.)
Number 2 on the list you've never heard of because it is made and sold only in China, for about $5,000, but it still ranks No. 2 Globally!
Perhaps there is a market for such an inexpensive town car in the US.

Hear the whole story of Zak and Jesse at

Now You Know

. Click: https://www.youtube.com/watch?v=REYFd-Qf2eQ

---
Differences in A Winter Tesla Road Trip compared to the same drive in summer.
Jason's Tesla Model 3 Performance in the snow on his 2,500 mile winter drive.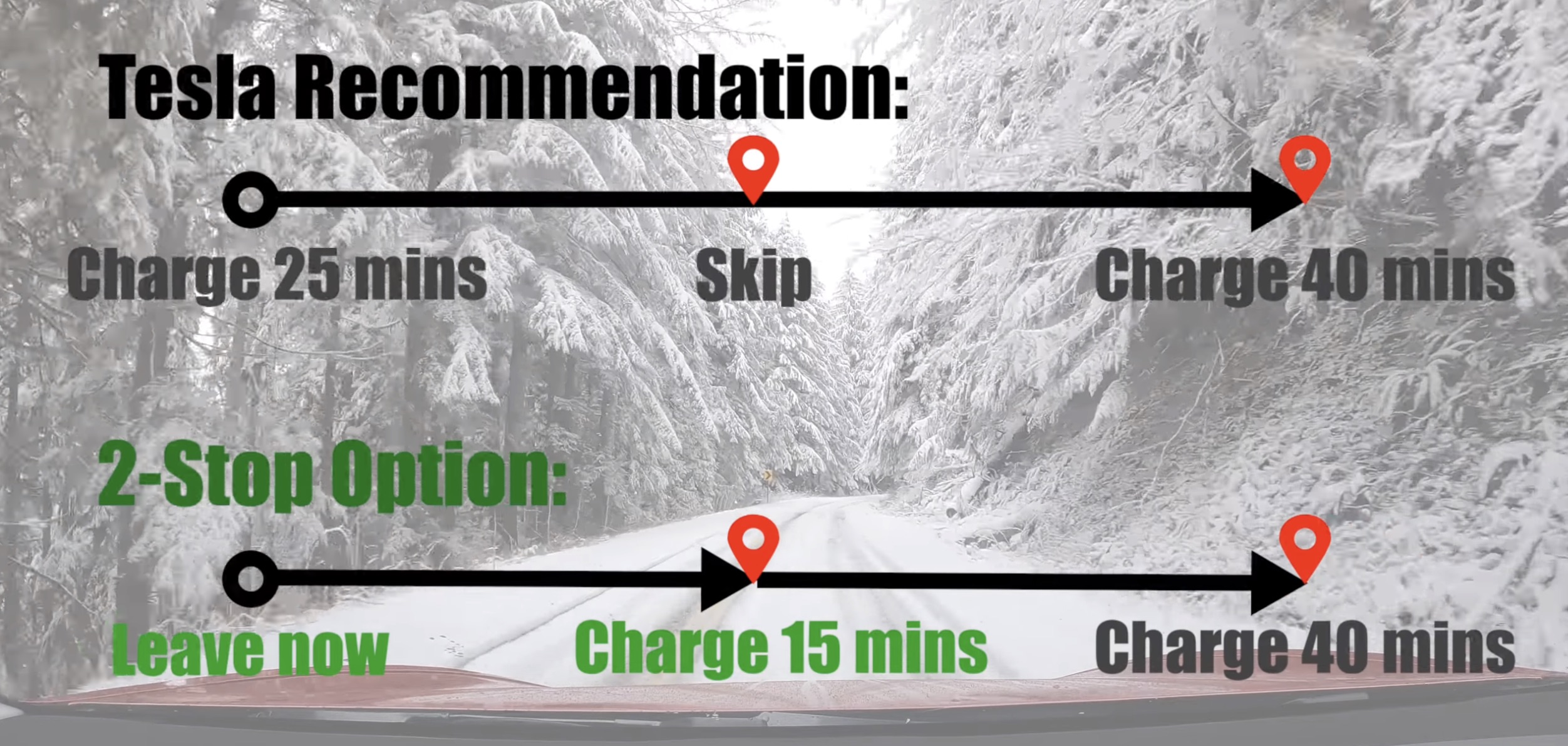 Tesla's navicomputer will track your trip with the fewest Supercharger stops, but with longer charging times, even skipping chargers in between. He had reached the 70 - 80% charge and the charger began to taper down, so he went to the bottom line (above), stopped charging, stopped at the skipped charger, charged for only 15 minutes and got to the final charger quicker overall. He concluded, as another YouTuber I follow, Kyle Conner, promotes: charge only long enough until the charger begins to taper down, then go to the next charger on your route. On this trip he charged more times than the Tesla computer suggested, but saved time overall.
Charge at the end of your day's drive, when the battery is warmer than in the morning. However, in winter your Tesla may lose 8 to 10% sitting overnight. He kept the inside of the car around 72° throughout - to keep his cat comfortable on the heated seats during driving times.
His winter drive took 19% more charging electricity than his summer drive.
Finally, he averaged 118 miles-per-gallon-equivalent in Summer and 100 mpge in winter.
Most readers wanted to know how much it cost him to drive 2,500 miles using only Superchargers - $177.65.

With gas calculated at $2.50/gal. and considering 30 mpg in an ICE car, he saved about $25. My second car does not get 30 mpg as above and around here gas is not $2.50, but gas savings over an ICE car is not the only reason one buys a Tesla.

Another statistic he kept was driving 75 mph compared to driving 80 mph. 75 mph saves 8.7% on range.
The trip was LA to St. Joseph, Missouri. As mentioned above, he learned not to charge to 100 or 90% because of the taper at that high percentage. He averaged 25 minutes per charge for 18 charges in Winter, and 40 minutes of charging for 12 charges in Summer. That's about 8 hrs of charging for the trip each season. Overall, that is one and one-half
extra
battery packs earned by charging more at lower battery levels. He charged at an average of 100 miles between charges.
The full story at

Engineering Explained

on

YouTube

click: //www.youtube.com/watch?v=UskzfQJt2Bc
---
Model S and X changes for 2021
Biggest difference is interior - steering wheel, horizontal screen and interior colors and textures.

Ford Mustang Mach-E compared to the Tesla 3 and Y
The full story from
Engineering Explained
double click: https://www.youtube.com/watch?v=WlLC9axmJlU
---
Tesla Auto Insurance.



In an earlier report, http://teslatouring.net/Tesla3b/, I discussed Tesla auto insurance before I took delivery of our Model 3. You need a VIN number before you can get an accurate quote from a insurance company. I have heard that you can look at the available inventory online and select the exact car and use its VIN number to get a quote making sure you tell the insurance company that is not your VIN number, but one just like the one you plan on ordering.

Tesla offers their own insurance only in California as of this report, but they will insure a second car on the same policy.

Insurance on our Tesla 3 by itself would be $783/6 months
When we added a 2nd car it became $630/6 months for the Tesla 3
Our 2013 Chrysler Town and Country was $400/6 months
By adding the Chrysler as a second car it was $506/6months for the T&C
Therefore, I saved $45/6 months by insuring both cars with Tesla.

However, insuring our Tesla 3 with my original auto insurer, 21st Century Insurance, wold have cost me $927/6 months ($144 more).
A recent notice says they will soon be expanding to other states.


---

Many environmental groups, including the one above which sponsored an event I attended and which contacted me, are interested in creating new EV charging building codes for homes, apartments and condos in California. The vote on a bill to make these chargers available in new buildings was on February 16.

A GUIDE TO MULTIFAMILY PLUG-IN ELECTRIC VEHICLE CHARGING

Introduction: Electric vehicles (EVs) are fueled by electric
through an outlet or charging station, which allows owners to plug in at their homes, work and public locations. As EVs have grown rapidly in recent years, many multifamily communities have begun to help out their EV-owning residents by installing charging stations as an added amenity.
More on this guide, click here: https://website.kiuc.coop/sites/kiuc/files/documents/A%20Guide%20to%20Multifamily%20Plug-in%20Electric%20Vehicle%20Charging%20.pdf


---
Chronological History of 75 100% EVs

world wide
by Fully Charged on Youtube.
Every ELECTRIC VEHICLE : Robert's 2021 round-up of 75 EVs | 100% Independent, 100% Electric
Each with information like this:
---
Comparison of Tesla's Autopilot

(which we have and is included in the purchase price)

and Full Self Driving

(FSD)

(which costs $10,000 more than what we paid).



YouTuber, Cf, has a video showing what Full Self-Driving, at this stage of development, looks like on the road: "How Often Does The Average Tesla Driver Use Autopilot Today?" •Feb 8, 2021 By: Cf Tesla. As you watch this video, remember, I do not have lane change with the turn signal nor automatic on- and off-ramp driving. I do have Auto Steer and Traffic aware cruise, which they call

On ramp to off ramp driving

.
To see his driving video click: https://www.youtube.com/watch?v=U-G7f607VVA
---
Interactive Map of Wind Turbines in the United States
---
California city becomes first in U.S. to ban new gas stations
Source
---



West Coast Clean Transit Corridor Initiative

was created 9 months ago (June 17, 2020) Learn more about the West Coast Clean Transit Corridor Initiative and how this unprecedented collaboration among nine electric utilities and two agencies representing more than two dozen municipal utilities aims

to electrify 1,300 miles of I-5 from the Mexican to the Canadian border for freight haulers and delivery trucks.




Full report: https://www.westcoastcleantransit.com/

---

Tesla Forums have been replaced by
Tesla Engagement Hub.
---

Aptera assembles production advisers, acquires factory space in Sorrento Valley, San Diego County,

California, and takes deposits on reservations on their website.
The only color I had seen was black, maybe that is the only prototype they have so far. However, I found at their website some paint schemes I like a lot better than black:


After watching the "Now You Know" YouTube show and Sandy Munro's Interview of the Aptera Co-CEOs, (Links below) I asked Aptera
one question:

I asked
info@aptera.us
:

Do all Apteras have solar panels? If not, how do the prices break down on your models which do and do not have panels?



The very next day they responded: