After two nights in the Nugget in Sparks,we drove west on I-80, through the smoke from northern California fires to Fred's brother's home in Homewood, California on Lake Tahoe.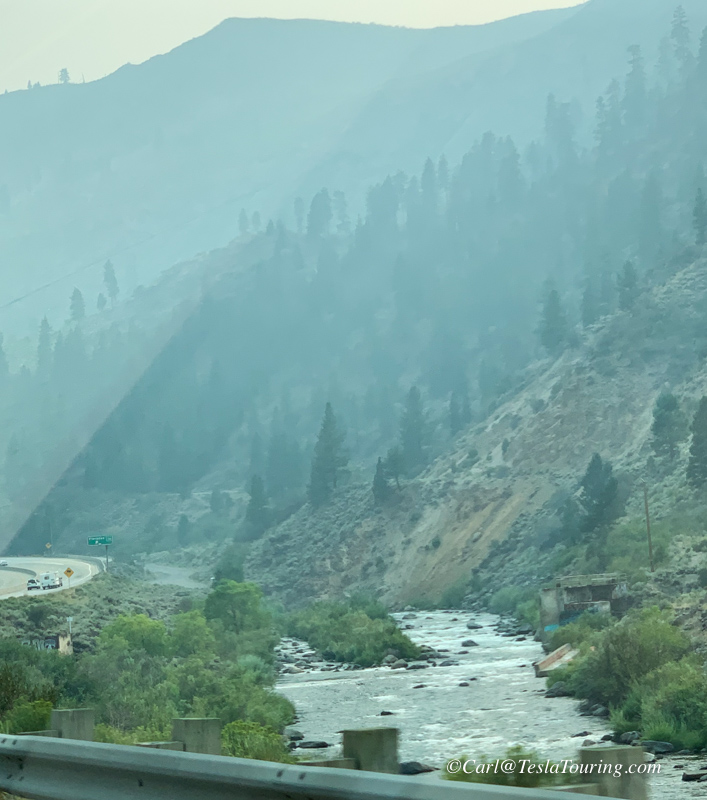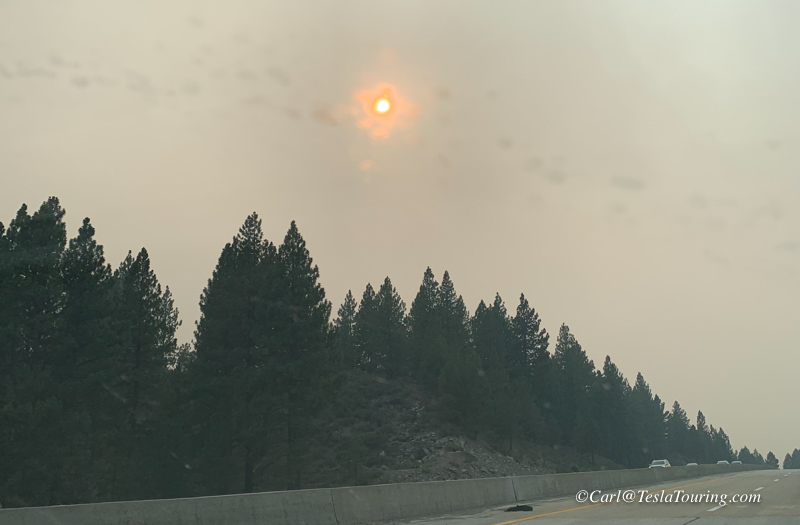 Usually beautiful scenery shrouded in smoke on our one-hour drive from Reno to Homewood, CA.
California inspection station at the Nevada border.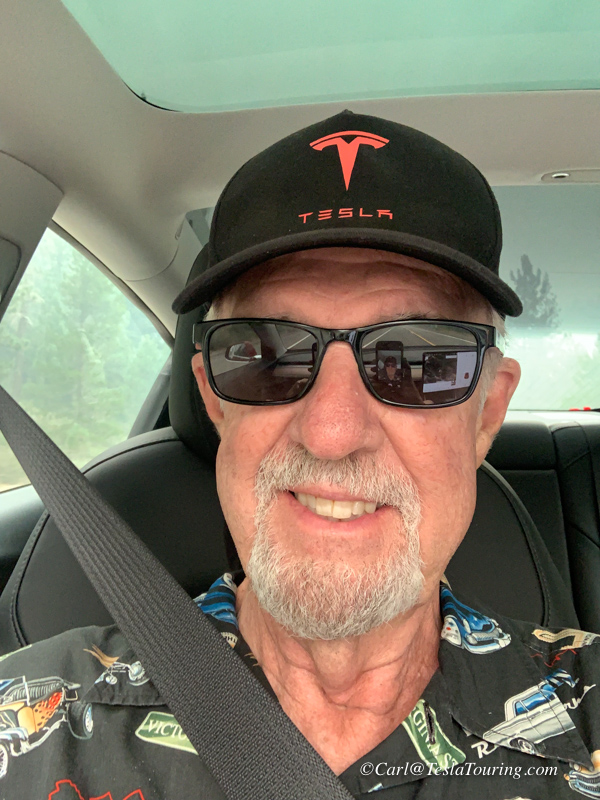 Squaw Valley Olympic village near Lake Tahoe. I took a self-portrait from the passenger seat.
With Tesla's included Basic AutoPilot, the car will stay in the lane and cruise at a set speed, slowing down if the vehicle in front of you slows down. This gives the driver time to do tasks that require both hands, such as open a drink bottle, or take a photo, or reach in the back for something without veering out of your lane.

When Fred was driving he began to get a right leg cramp. I had him put the car into Traffic Aware Cruise portion of AutoPilot (One click down on the right stalk) allowing him to move his leg and get some relief. TAC keeps the speed you set it, but slows down if the vehicle in front of you is slower. On city streets the Tesla will stop and when the next vehicle starts up to go through a light, the Tesla will start as well.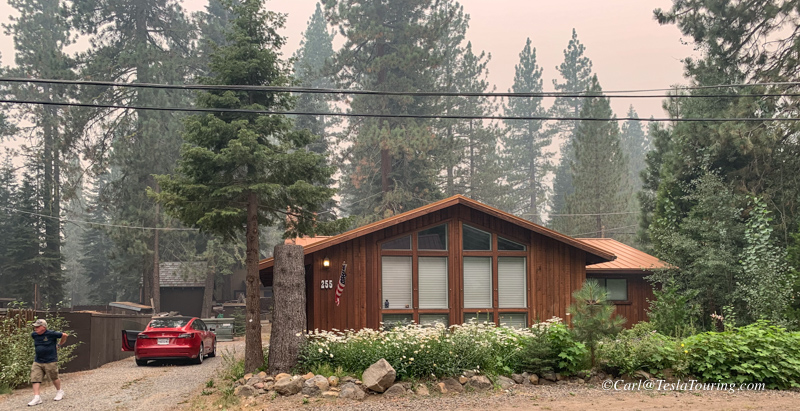 Our destination in Homewood, California on the northwest shore of Lake Tahoe.

Tahoe City Supercharger. First car was a Model 3 with gold brightwork, second car is our Big Red.
A short walk to the right of the Tahoe City, CA, Supercharger is an excellent park overlooking Lake Tahoe.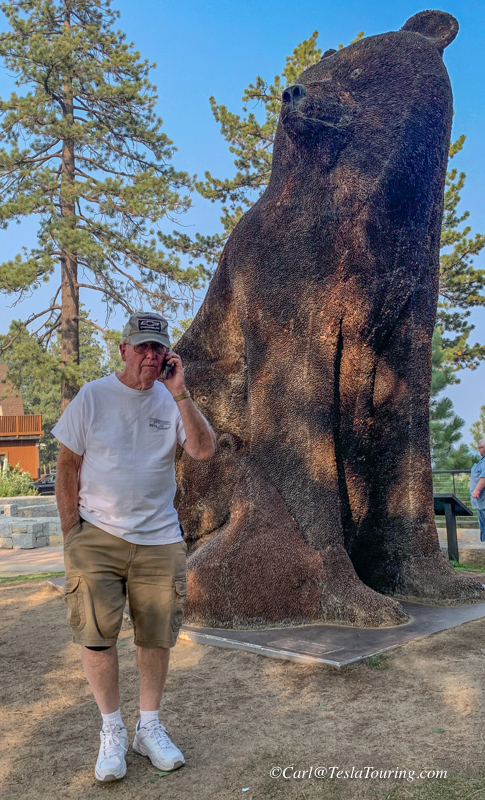 Twelve-foot bear and cubs made of 200,000 pennies with Fred as a size indicator.
By Tim Hauserman
A walk along Tahoe City's lake front bluff has a new and surprising addition at the Heritage Plaza. A huge 5700 pound bear statue covered in 200,000 pennies…yes, pennies. The twelve foot tall grizzly bear and cubs called Ursa Mater was built by the artist team known as "Mr and Mrs. Ferguson" for Burning Man in 2017 and came to Tahoe City this summer. It will remain in town until July 31,2019.
The sculpture was created out of foam, layered in concrete stucco and then covered with pennies which were attached vertically into the stucco to give the appearance of hair. It took 12 artists four months to complete the work.
Robert and Lisa Ferguson are regular Burning Man attendees who met and married at Burning Man. Many of their ideas popped up while returning from Black Rock Desert, and a few years ago an after burn thought of Lisa's was to use pennies to show the texture of fur on an animal art work. Ursa Mater is their third use of pennies in a sculpture. There was another bear and a goose. And then this year they also completed an eagle that has pennies, nickels and quarters for feathers.
The Penny Bear came to Tahoe City via the assistance of Tahoe Public Art, as well as through the efforts of a number of local Tahoe burners who were impressed with the bear when they saw her at Burning Man. The project was originally created through a grant from the Burning Man Arts organization and hundreds of dollars of pennies were donated to the project by the artists friends.
Pick a nice sunny day and wander down to the Heritage Plaza in the center of Tahoe City. There the mamma bear and her cubs sit proudly in the midst of a grassy circle surrounded by walkways. Behind the bear, Lake Tahoe can be seen filtered through the trees. I found it interesting to walk around the bear several times to catch her from all directions, and of course to get up close to see the intricate detail of the individual pennies attached to the sculpture. Bring a lunch and enjoy the sunshine and quietly thank the artists and those interested in art that have brought this bear to Tahoe City. It can't help but make you smile.
Filed Under: Lake Tahoe information tagged With: Heritage Plaza in Tahoe City, Tahoe City
Source: https://www.northtahoehomes.com/tahoe-citys-penny-bear/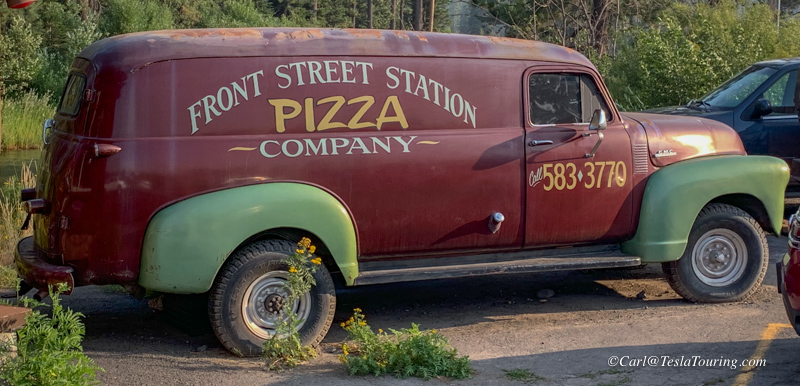 From the Supercharger in Tahoe City due west, we found the Front Street Station Pizza place.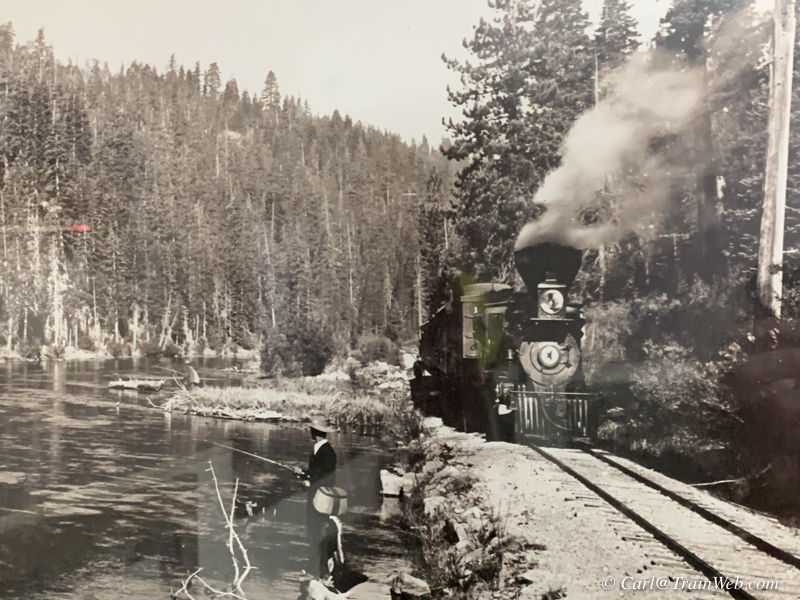 Inside they had some vintage train photos and out back was a patio on the Truckee for waiting for your order of pizza.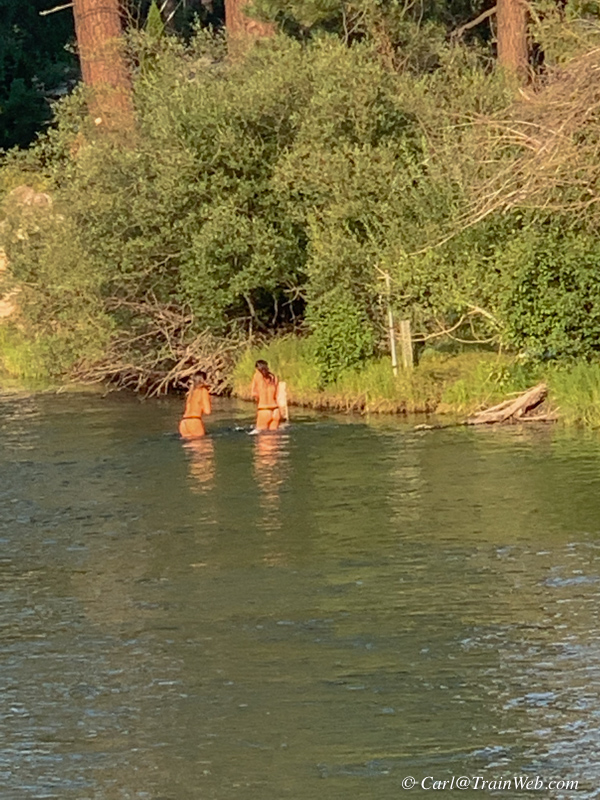 The Truckee invites skinny dippers who find it too cold to stay in very long.
---
Virginia & Truckee Railroad
One day we drove the Tesla over to Virginia City, Nevada, to ride the Virginia & Truckee Railroad's Steam Train Excursion to Gold Hill.
That part of the trip I have posted on the TrainWeb.com site and a link is
http://trainweb.org/carl/Virginia&Truckee2021
and another link is at the end of this report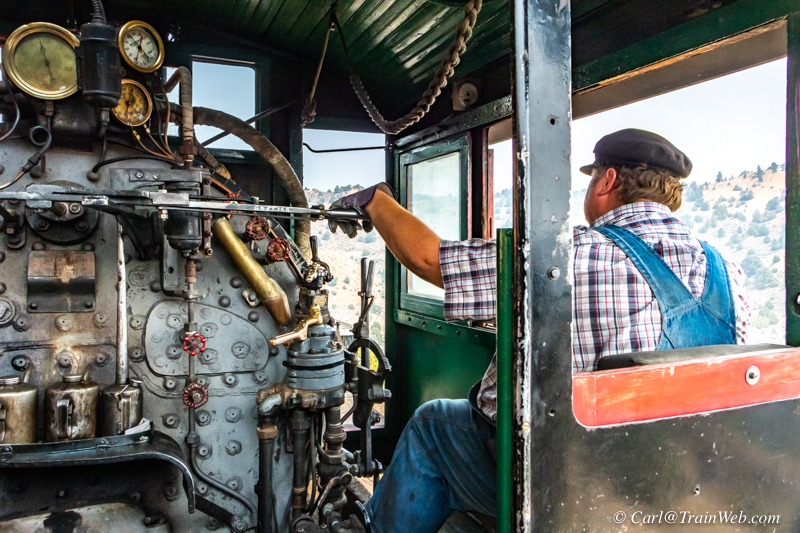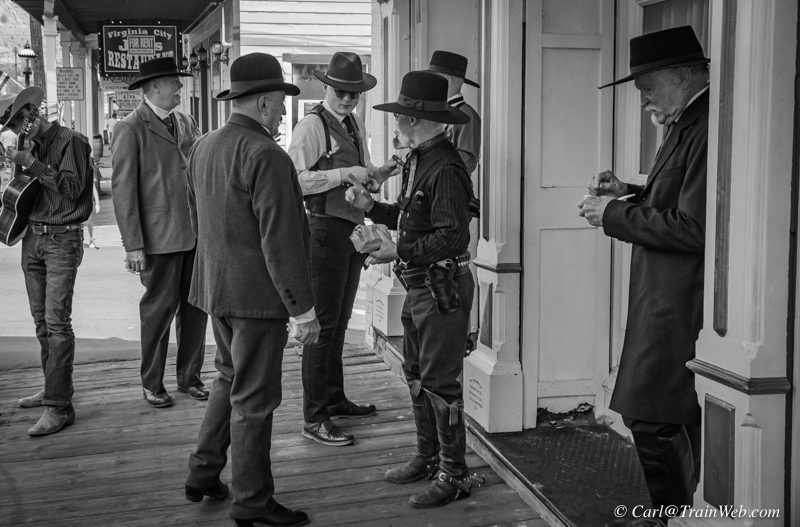 In that report I have some photos from Virginia City, Nevada, as well.
---
---
Tesla Model 3 trip from Sparks, Nevada, to Orange county, California, via I-80 and Hwy. 101, over 600 miles.
Sunday we headed back to Orange County via Hwy. 101. Again, we had plenty of Superchargers to chose from even though it was not an Interstate.
We skipped the Greenfield charger and stopped at Oxnard for our last charge, then at an In-N-Out and made it home safely.
We headed west on I-80 from Tahoe City, then Hwy. 99 south crossing Hwy. 50. Of course the Hwy. 50 sign reminded me of the trip Coast to Coast with Paul in 2004 when we followed Hwy. 50 all the way to Ocean City, Maryland. I drove our 1956 Chevy and Paul drove his '57 Chevy convertible.
You can always tell what vegetable is in season when you drive Hwy. 99 through California's Central Valley "Salad Bowl of America". August is tomatoes.
At the Hollister Tesla Supercharger and adjoining Casey de Fruta Chevron Store, there is a great display of antique trucks and farm equipment.

Casa de Fruta RV Orchard Resort's small train runs past the Tesla Supercharger as well.
Many pieces of retired farm machinery line the road behind the Hollister Supercharger.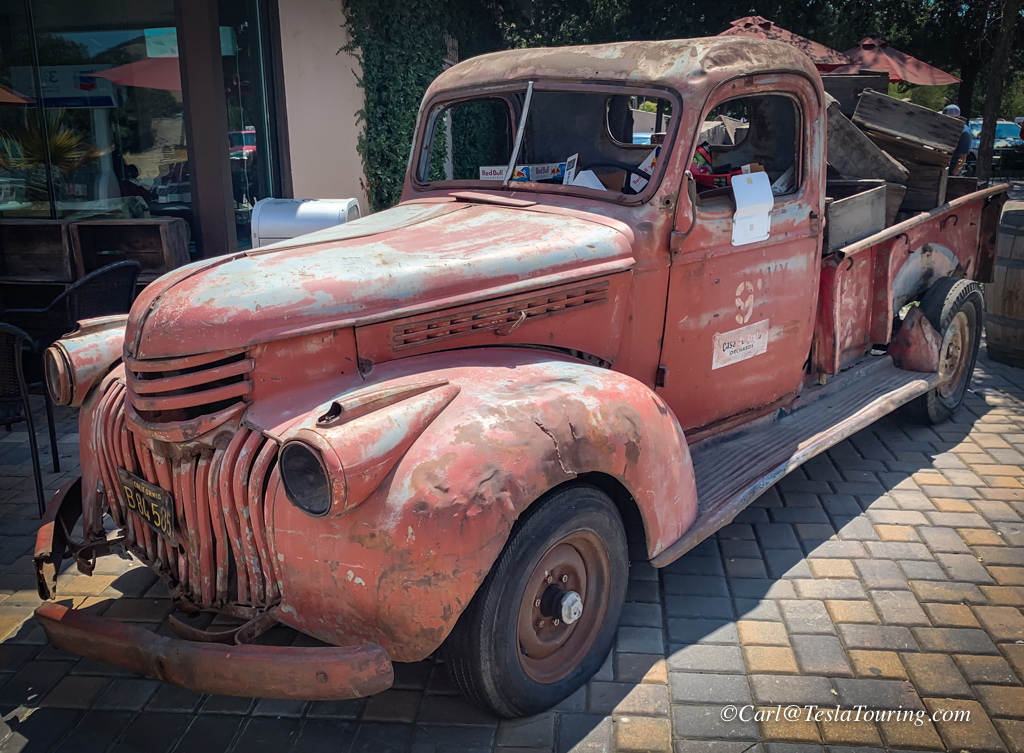 Familiar names in the farm and orchard equipment fields.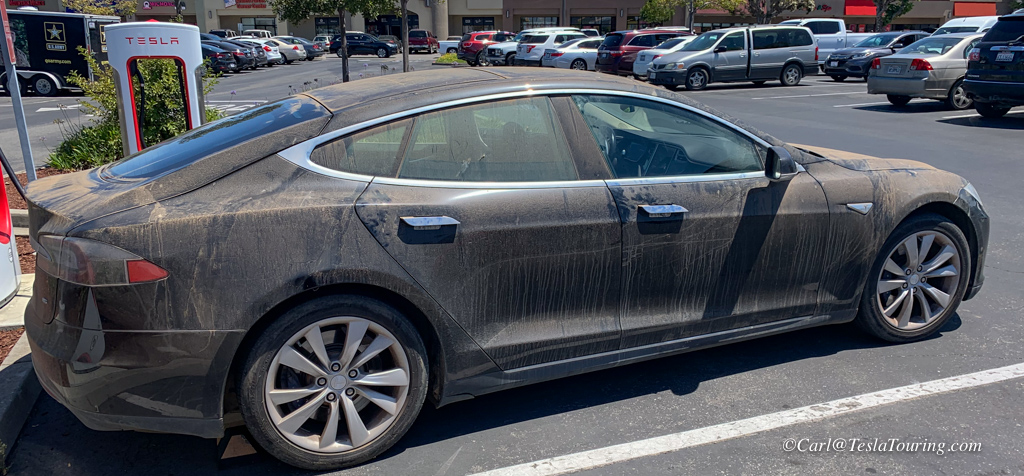 At the San Luis Obispo Tesla Supercharger the only thing worth a photo was the dirtiest and most damaged Tesla I've ever seen.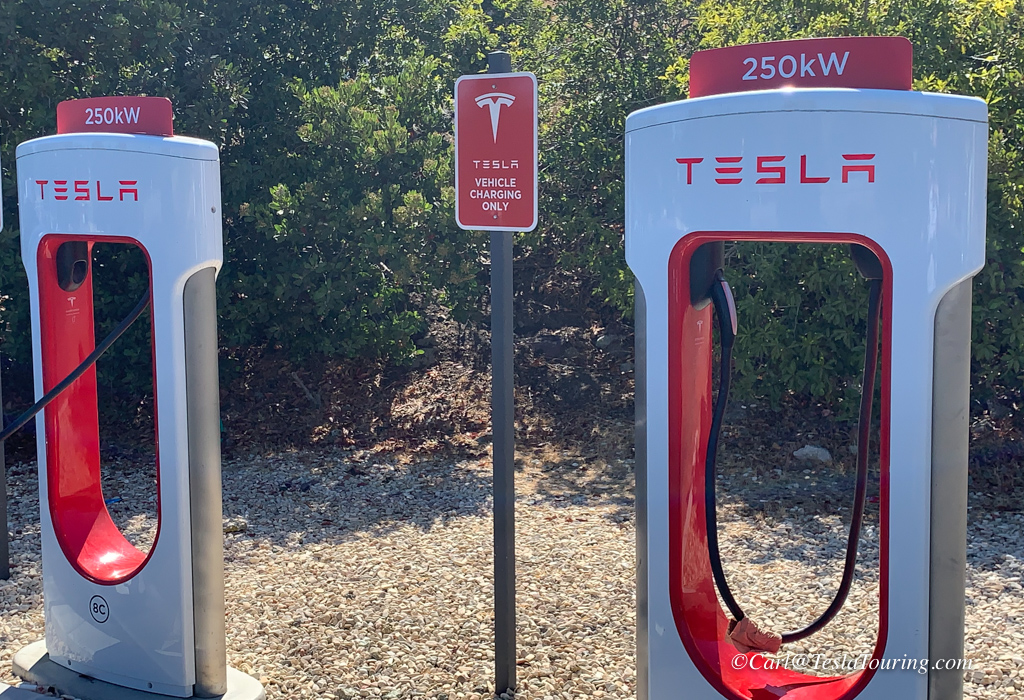 A unique thing at the San Luis Obispo Supercharger, at the Madonna Inn, they have the chargers labeled as to 150W and 250W.
The right photo shows how drivers hang the cord of non-working stations.

The chargers are next to the Madonna Inn's gas station, which is now closed. At least one charger is pull-in type.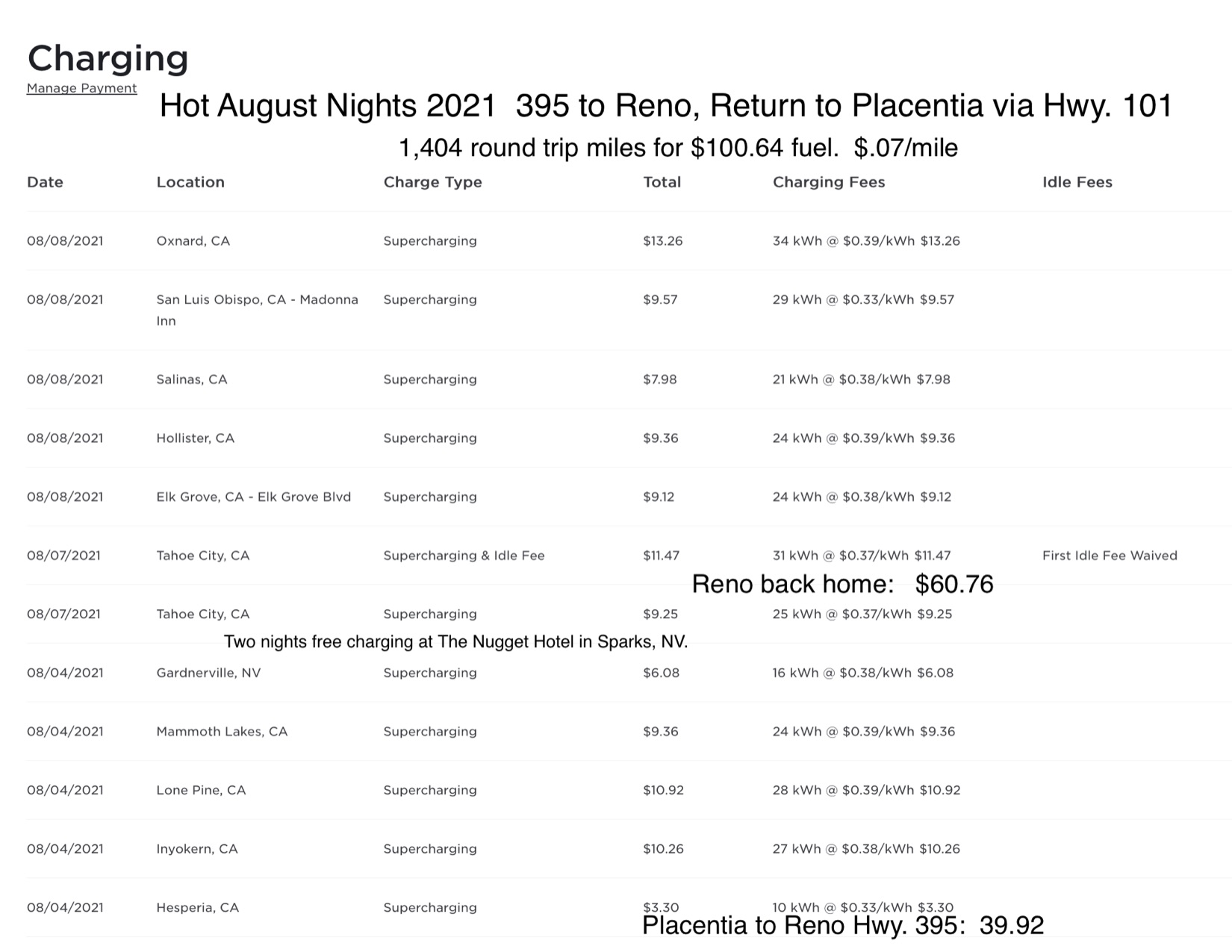 A repeat of the charging cost for the 1,404 mile trip. Double click to enlarge.
We stopped at the Oxnard Supercharger along Hwy. 101 for our final charge. We had supper at In-N-Out in Camarillo then drove on around the north side of Los Angeles on Hwy.s 134 and 210 then drove south on Hwy. 57 to our home. We concluded that next Hot August Nights we would just return via Hwy. 395.
We found that there are more Tesla Superchargers than wed needed on both non -Interstate California Hwys. 395 and 101.
Thank you for reading this report. Links to the Virginia & Truckee Railroad portion below as well as links to other TeslaTouring reports.
---